Although Android phone help us carry out our daily activities, it can be nerve-wracking when they decide they won't turn on. If this happens don't-panic buy another device, try to run your device through a few troubleshooting processes to see what wrong. You never know! It might be something you can fix it yourself.
Has your Android phone stopped turning on? Here are two effective methods that can help you get your Android phone running again.
1. Common reasons of Android phone won't turn on
2. Force restart your Android phone
3. Android phone won't turn on: Fix system issues using software

Common reasons of Android phone won't turn on
Many issues can make an Android phone fail to turn on. Some common issues include:
Hardware Damage
Is your phone screen damaged or cracked?  Did it drop on water? Check the Memory and SIM card slot to see if there are water droplets.
Your phone might fail to turn on because a piece of hardware is damaged and needs replacement. If that's the case, take it to the repair shop.
Battery
Sometimes when a battery is completely drained, your phone won't turn on right away. Try charge to charge it for 5 minutes before trying to turn it on with the charging cable connected.
Check also if the battery is swollen or damaged. Most Android devices have batteries that rapidly decline in quality after a few years of use.
Damaged charging port
A damaged or broken charger might prevent your phone from charging. So confirm that your phone is charging and you can see the charging icon. When your phone has died, just press the Power button and you will see the charging symbol on the black screen.
Conduct a physical check of your charging port to see if anything has lodged itself in the port, blocking it from charging the phone.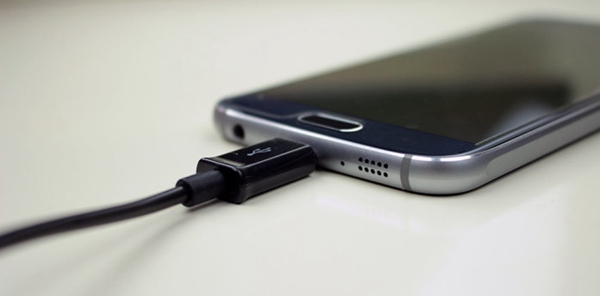 Broken power button
If the Android Device power button is stuck or damaged, then there is no way you can turn it on.  If you see a sign of damage on the power button, try to get it replaced.
Firmware
If your phone's software or Operating system is corrupted by a bug, then your phone's functionality will get affected.  Your phone might even turn off and fail to turn on.
Messing around with custom ROMS and performing other software enhancement tweaks can damage your system software.  To resolve this issue, you can reinstall the phone's original firmware.
Force restart your Android phone
We all know how devastating it is the when phone turns off and won't turn on. What makes it even worse is the fact you can't access your files. But it's possible to overcome this situation. You just have to force restart your device: as long as it has power, this simple trick will work.
For most Android device
When your phone fails to turn on, force restart it by pressing and holding the Power button (or Power button and Volume up button at the same time) for 10 seconds.  This usually restarts the Android device.
For Samsung Galaxy
For the new Samsung Galaxy S20/S10/S9/S8 and Galaxy Note 20/Note 10/Note 9/Note 8 that without Home button, you may have to press and hold the Power button and Volume Up buttons simultaneously for 10 seconds until Samsung logo appears.
In an Android phone with a removable battery, you can just remove the battery for a few minutes, then return it before trying to force reset it.
Android phone won't turn on: Fix system issues using software
If your Android phone won't turn on, don't worry! FORecovery – Android Repair will fix the cause of the problem and your phone will be up and running within minutes.
FORecovery – Android Repair can fix a variety of issues affecting the functioning of Android phones, including black/white screen, phone won't boot up, and device stuck in a boot loop.
It's designed and developed for the most advanced technology of system repairing.
This toolkit features a simple and easy-to-use interface, meaning you don't need any technical skills to use it.
1000+ Android models supported, including the latest Samsung Galaxy S10/S9/S8/S7 and Galaxy Note 10/Note 9/Note 8, and other earlier models.
Steps to fix an Android phone that won't turn on via FORecovery:
First, download, install, and launch iMyFone Fixxpo for Android on your computer.  Next, tap "Start" from the program interface.
Select the right device information. This helps the program to download the right package file to repair your Android device. You need to select the correct information, then hit "Download Firmware".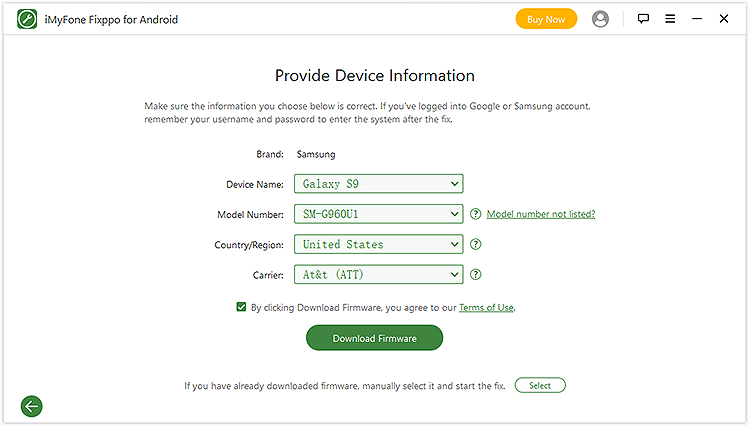 Wait for the software download firmware.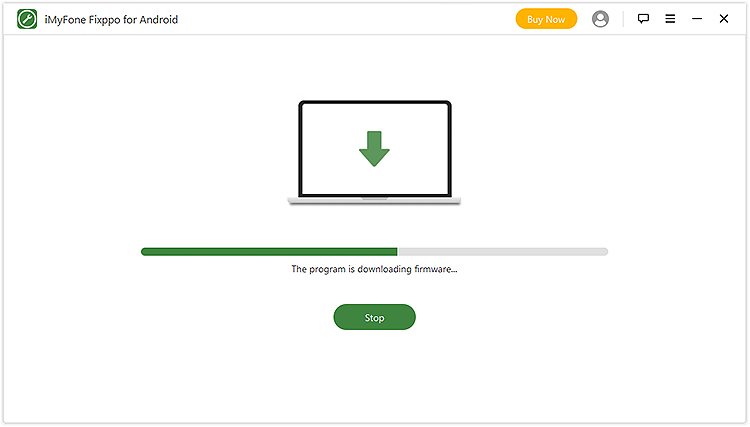 Connect your device to your computer using a USB cable and enter it into download mode. The on-screen instruction will help you place your device into download mode.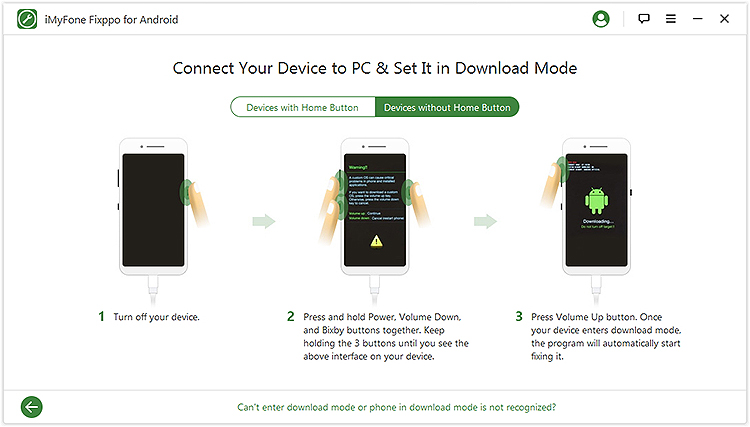 Once your device enters download mode, the repairing process will automatically start. After a few minutes, the process will end and your device will be completely repaired.  Ensure your device stays connected to your computer throughout the process.