We rely so much on our phones. They have become devices we use to store virtually everything that's important in our lives, not just phone numbers. When something catastrophic happens like for instance you happen to drop the phone and crack the screen and damage it so much that it becomes hard to check emails and social media messages. It can be a crippling experience to be stuck with a phone whose screen is blacked out, cracked and unresponsive. How do you recover all the important information that's stored in your phone?
The smart thing to do to avoid such a catastrophe from crippling your life is to back up your Android phone and to sync your Google account as frequently as possible. This way you can have access to your files via your Google account and their solid cloud sever that keeps all your things safely stored away. This might be the best preemptive measure, but most people do not take such preemptive measures because we like to believe that our phones should last for as long as we need them to. So for the majority of us who do not back up our devices is there something we can do, or should we accept that we are doomed? The good news is that there is a way to recover information from phones even when we've damaged our screens even of we have neglected to backup up info on a daily basis.
But, if you never backed up your Android phone and all of a sudden if your smartphone get damaged or broken due to some accident or maybe water damaged by your children then it becomes a very problematic situation as all of your data contained on your smartphone will be automatically lost. But never fear, we have come up with some tips that will help to recover data from broken or damaged Android phones. That's where Android Data Extraction software comes into play.
So you have smashed up your Samsung Galaxy phone and you now have a touchscreen that has gone black and unresponsive? Don't fret, there is a way for you to recover the information stored in your phone.
Part 1: Dealing with a Black Unresponsive Screen
Part 2: Retrieving Data from A Broken, Unresponsive Screen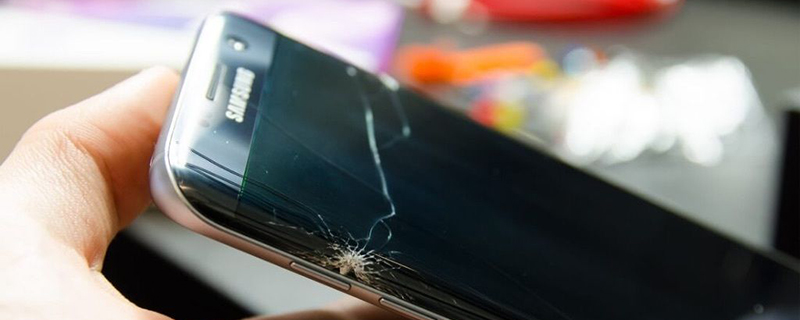 Part 1: Dealing with a Black Unresponsive Screen
Let's look at the things that you can do if you find yourself in this unfortunate situation:
Step 1: A black screen is annoying to say the least. The first thing you should try is to reboot or reset the phone by pressing the on button for about 10 seconds. If this does not get the phone going then you can move to the second step.
Step 2: Charge the phone. Sometimes the screen goes blank because the power in the battery has run out. Give it a couple of hours on the charger before trying to turn it on. If this still does not work move to the next step.
Step 3: Press the volume button on the side of the phone, the power button as well as the home button. This is meant to Hard-boot the phone into recovery mode.
If the screen comes on, scroll down the main menu using the volume button and select "Factory Reset" by pressing on the Power button. This method will unfortunately delete all the data in your phone and you will have no way of recovering any of it unless you have backed it somewhere else.
Part 2: Retrieving Data from A Broken, Unresponsive Screen
Assuming you have tried the first part and your screen is still black, cracked and unresponsive then you need to take more serious measures. The most obvious one is to have it fixed by a qualified and certified technician. This could be a more expensive undertaking and there is no guarantee that you will get all your data back. The answer is to first use the Android Data Extraction software – A powerful data restoration software for android devices. This software is designed and created specifically for Samsung smartphones.
Download WinDownload Mac
Note: Currently this function is only available for Samsung devices.
Let's assume you have the Android Data Extraction software on your PC. You will have to launch it first and choose the Recover option. Choose 'Recover Android data'. Use a USB cable to plug your Android phone to your PC. You will find that there are 8 types of files that can be recovered. These will be your contacts, messages, Photos, WhatsApp messages, videos and documents.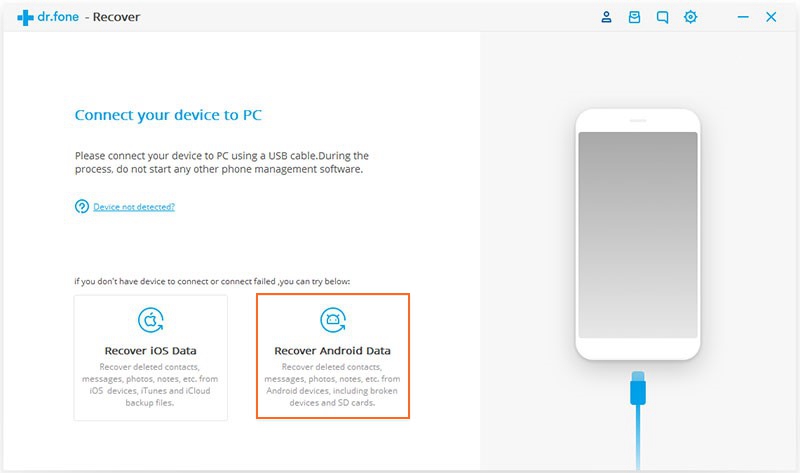 Choose your device name and model or simply select the instruction at the bottom. Tap Next to move on.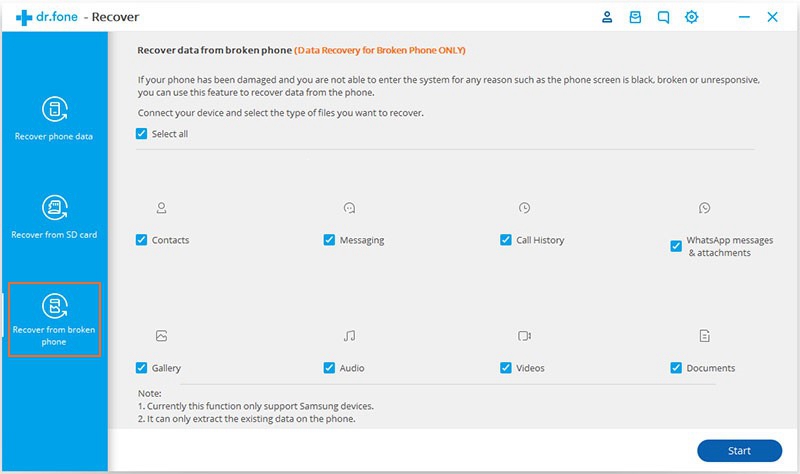 It should be noted that if you select the incorrect device name and model this may lead to more errors. If the information is correct then you can click the confirm button to continue.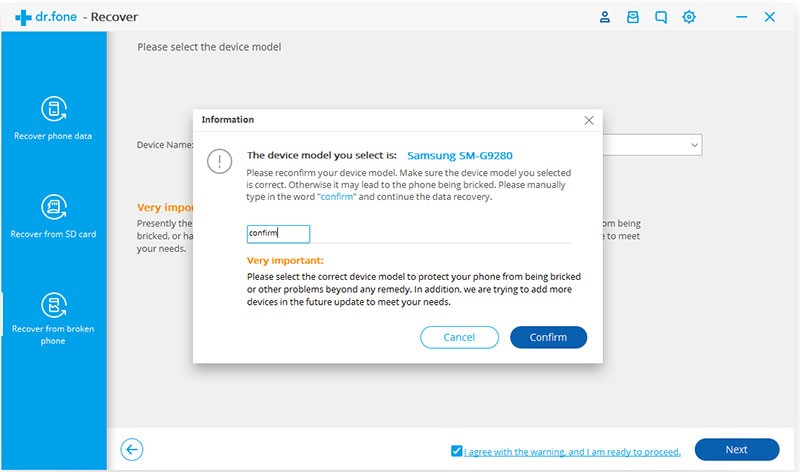 The next step is to root your device into "Download mode". This should take your phone out of the black screen mode.
The following steps should be taken:
#1. Press the power button for 10 seconds to switch the phone off.
#2. Put the phone to Download Mode by pressing the volume down button, home and power button simultaneously for 5 seconds and then release the buttons when the phone vibrates. If the phone does not vibrate then repeat the step once again.
#3. Press the volume up button to confirm that you have entered the download mode.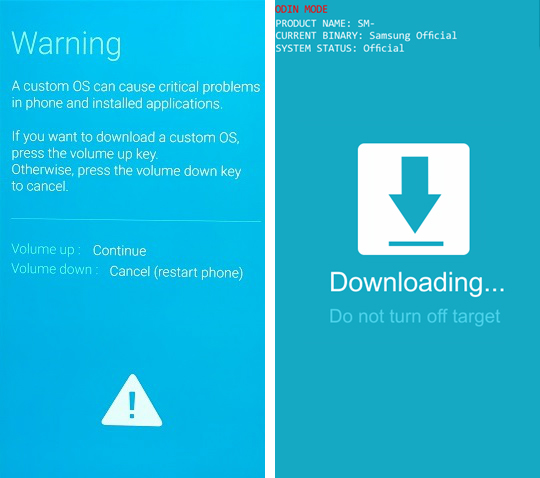 The phone will begin to countdown and it will then go into a scanning process. This can take a while depending on the amount of data that has to be recovered.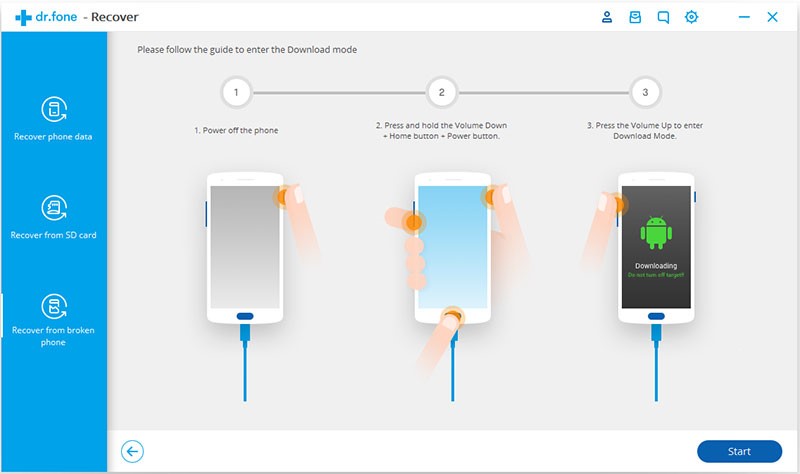 You should be able to get a preview of the files that are recoverable. These will include call logs, contacts, SMSs, WhatsApps Messages, photos, videos and even music and everything else that had been backed up on your PC or Cloud Service.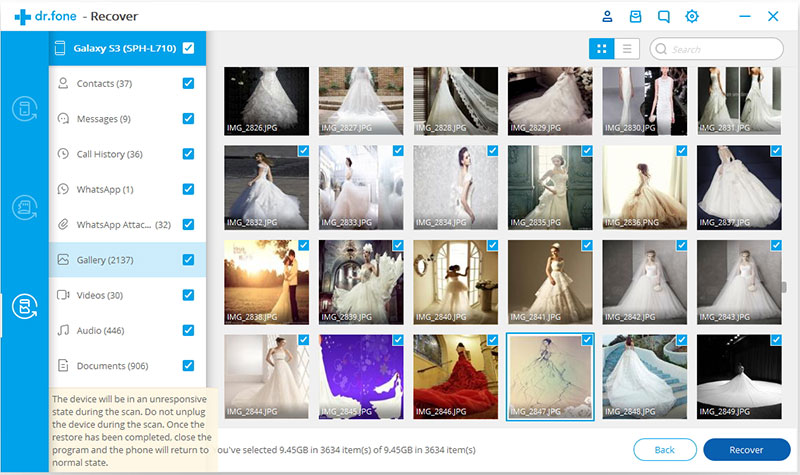 There you go. Your data is safely retrieved from your device and you can now take it to a repair shop to have it fixed. FORecovery Android Data Extraction Software is an amazing software designed to retrieve deleted data on Android phones. It is designed specifically for Samsung and offers the highest data recovery rate on broken and damaged Samsung smart phones.
Download WinDownload Mac
This program is easy to use. You don't need any special skills or computer knowledge to use this software. If you follow the instructions and the prompts that will come on your computer screen, you should be able to recover that all important data from your phone with no hassle.