Smartphones have become an integral part of our lives to an extent that some people can't imagine life without these tiny prized possessions. Smartphones have revolutionized how we access and share information on the internet, shop online and communicate with our loved ones. Over time, your smartphone is likely to encounter problems such as accidents or damages from mishandling. No matter how careful you are, accidents are inevitable. A common problem that most smartphone users face is related to cracked screen issues. Maybe your phone fell off while getting out of your car or the screen got crashed by keys in your pocket. Reputable phone manufacturers like Samsung have introduced damage-resistant protective layers to protect phones from sudden drops, but there are still many reported cases of broken screens.
If you have ever broken your Samsung Galaxy phone, then you understand the frustrations that come with recovering precious data like messages, contacts, videos, photos, documents and other files. Losing all your data is stressful enough, and now you have to deal with recovering the data. Getting your phone repaired is another option, but you will have to part with a lot of money. In fact, many Samsung users prefer buying a new device to replacing a broken screen. But buying a new phone won't solve the problem of recovering data on the broken one.
You may be unable to enter the system, experience a black screen or unresponsive touch screen. Normally, when your Samsung Galaxy phone is badly broken, the glass is damaged causing the screen to become unresponsive to any tap or touch. This makes it impossible to unlock or gain access to your phone. This, however, does not mean that your phone has become completely useless. Whether the screen of your phone shows a blacked out screen or distorted view, your phone could still function and your sensitive data is safe. The problem comes when you want to recover this data. Lucky for you, this tutorial introduces 4 possible ways to recover data from your broken Samsung Galaxy S5/S6/S7/S8/S9 and Note 4/5/8. Read each of detailed guideline carefully and choose a method that best works for you to recover all your data from your broken Samsung Galaxy phone.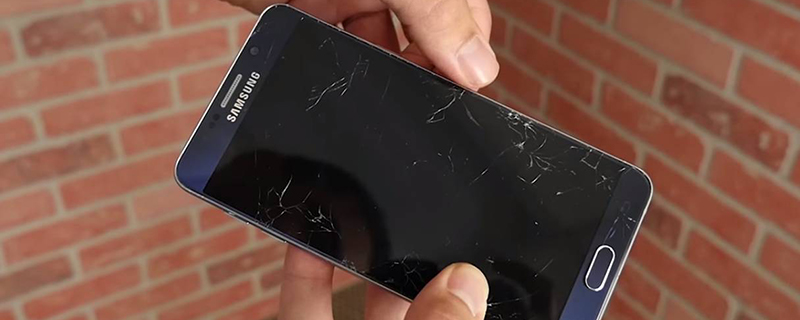 We will break down the process into four parts:
How to recover data using a PC.
What to do if your computer fails to recognize your phone.
How to recover data using android data extraction.
How to retrieve data from a broken Samsung Galaxy screen using Samsung Smart Switch
How to Recover Data Using A PC.
This is the most common and by far the easiest way to recover lost data from your broken or cracked Samsung Galaxy phone. All you need is a USB cable and a computer.
Here is how to go about it:
Step 1: Plug in your broken screen Samsung Galaxy to your computer using a USB Cable. If your PC doesn't recognize your device, you will need to install some drivers.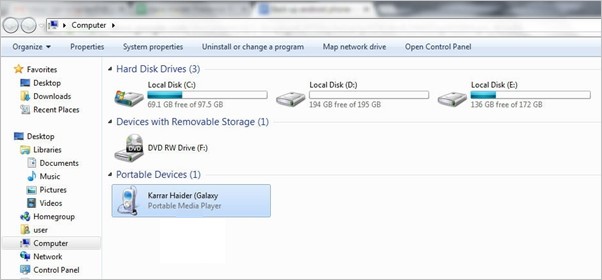 Step 2: An AutoPlay will pop up once you phone is recognized. Click 'Open Folder to View Files.' If it doesn't appear, head to 'My Computer' and double click the disk that displays your phone's folder name. Here you will find all your multimedia files and documents stored on your broken smartphone. To find your photos, click on the DCIM folder.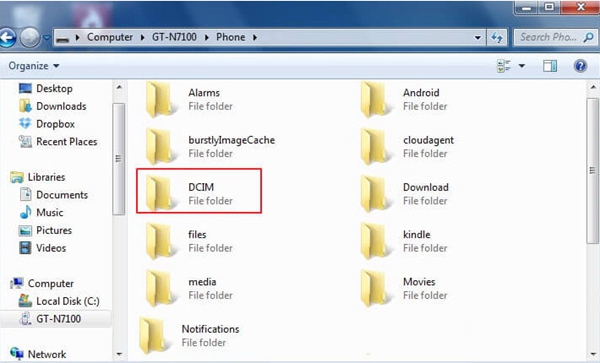 Step 3: Mark the files and documents you intend to recover. You can either cut or copy them to your computer by right clicking on the files.
Step 4: Create a new folder on the desktop and right-click 'Paste' to paste the cut or copied files from your cracked Samsung Galaxy and you're good to go!
As mentioned, you will need only a few minutes to recover your files using this method. The only downside to it is that it is limited in terms of the types of data you can recover. You will not be able to recover data such as text messages, call logs, contacts and notes. You PC may also fail to recognize your phone. But no need to panic as there are still other methods you can use to recover data from your broken Samsung Galaxy.
What To Do If Your Computer Fails To Recognize Your Phone.
We have received tons of emails from concerned Samsung Galaxy owners on receiving the 'device cannot be recognized' error message when they try to connect their phones to the computer using a USB cable. If you are among this lot, we are here to give you another way out to recover data. If you have a Samsung Account and it is logged in, you can make use of Samsung's Find My Mobile site to unlock your smartphone so that your computer recognizes your device. Here is a step-by step guide on what you need to do:
Step 1: Go to the official Samsung Website using your PC and log in with your Samsung Account.
Step 2: All the options regarding using your Samsung smartphone remotely will appear on the screen. From the 'Find my Mobile' section on the left hand side of the screen, click unlock my screen.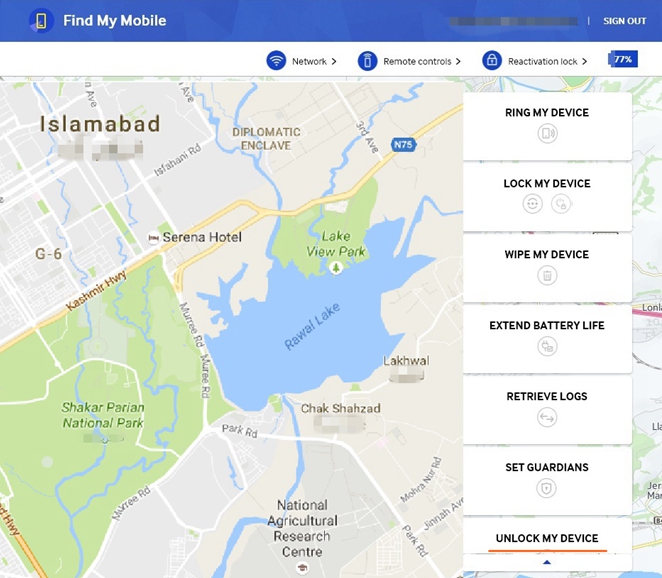 Step 3: Connect your broken phone with your computer using a USB cable and you will be able to access your files.
Step 4: Follow the steps in Part A to retrieve files from your broken Samsung phone.
How to Recover Data Using Android Data Extraction.
Sometimes, you may need to have a third option when trying to output all the data saved in your broken Samsung phone. If you have unsuccessfully tried other methods to recover trapped files like contacts, WhatsApp messages, videos, photos and other data from your broken Samsung device there is another viable option – Android Data Extraction (Damaged Device). This method scans out existing data from your broken Samsung phone and displays the data by types. The software has an impressively high retrieval rate and can retrieve almost any type of data. There are several third-party android data recovery software but we recommend you use Android Data Extraction (Damaged Device). This software can help you rescue you data from your broken Samsung device with simple clicks. Here is what you need to know if you opt for this method:
Download WinDownload Mac
Step 1: First of all, download, install and run the software on your computer as prompted. Launch the software and connect your broken Samsung smartphone to the computer using a USB cable.
Step 2: Open the tool on the PC, select 'Recover' at the left hand side of the interface. If the software fails to detect your device for whatever reason, select 'Recover Android Data' manually.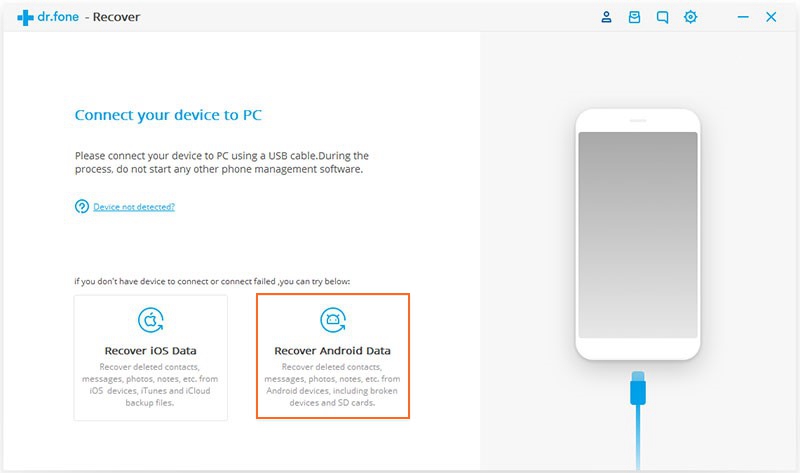 Step 3: When the software manages to detect your Samsung phone, head to the left side of the interface and click 'recover from broken phone.' The software allows you to recover 8 types of files: Messaging, Contacts, Gallery, Call History, WhatsApp Messages and Attachments, Video, Audio and Documents. Pick the file types you wish to recover. It is worth mentioning that this function only supports Samsung devices at the moment and it can only extract the existing data on the device.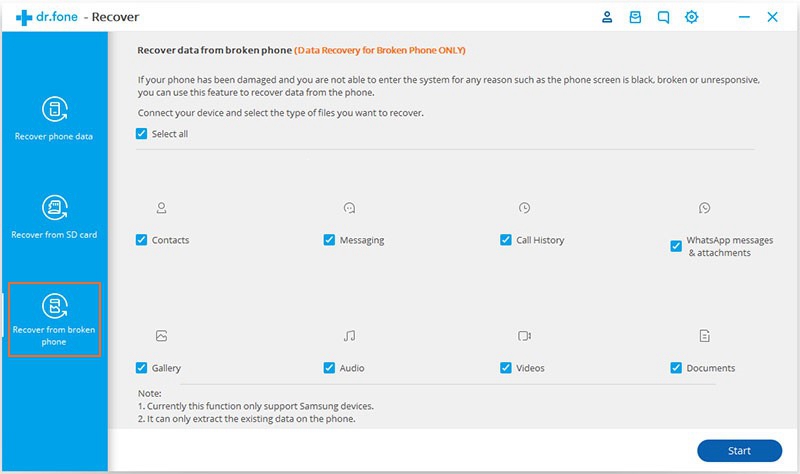 Step 4: Carefully select the type of damage that matches the current state of your phone. This software offers you two options. It can either be 'Black/broken screen' or 'Touch doesn't work or cannot access the phone.' To continue, click the 'Next' button.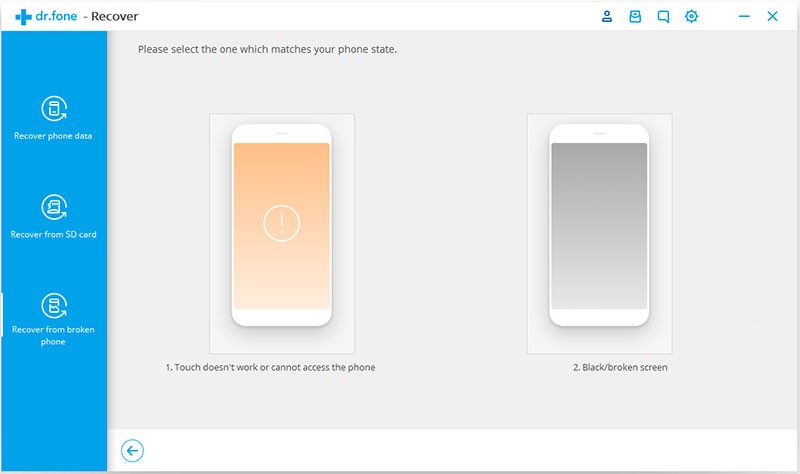 Step 5: After selecting the problem that matches the state of your broken phone, carefully select the name and model of your device. You can find this info on the original box of the device. This will protect your phone from being bricked or experiencing other complications that could cost you a lot. We are working on increasing the number of devices to meet the rising demand. If you have no idea of what your device model is or can't find your type, don't worry. Just click on the sentence highlighted at the lower bottom of the interface and press 'Next' to continue.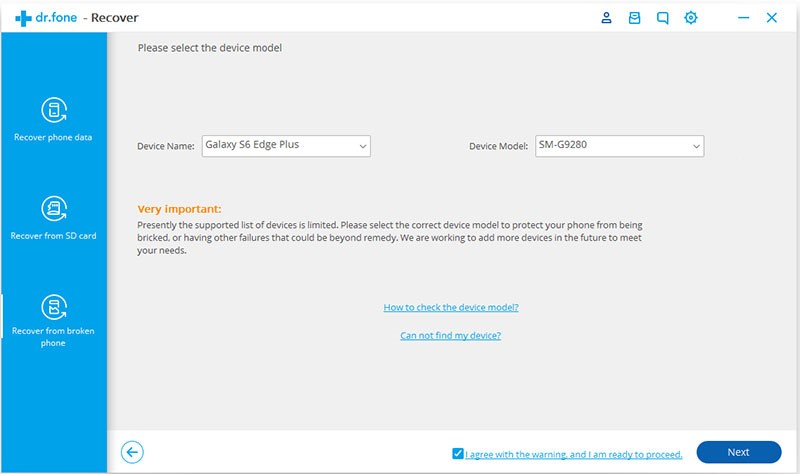 Step 6: Boot your broken Samsung Galaxy into the Download mode. Be careful to strictly follow the on-screen instructions provided by the program. Click the 'Start' Button when you are ready.
Here's is a detailed process on how to boot your Samsung device.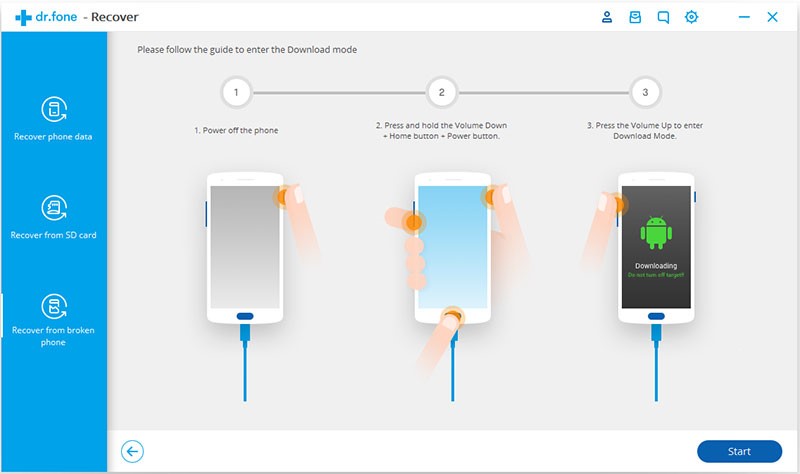 1. Turn off your broken Samsung Galaxy device by long pressing the power button for a few seconds.
2. Put your phone into download mode by long pressing the Power Button + Volume Up Button + Home Button for 5 seconds until you feel your device vibrating. If it doesn't vibrate, try again.
3. Press the Volume Up button to confirm that you intend to start download mode.
Tip: It is not a must you follow the countdown in the windows as it is fast. If your Samsung phone can display, you will see the screen shown below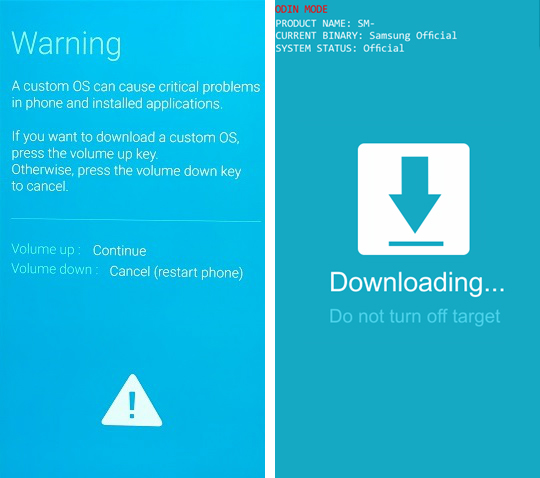 Step 6: After detecting your device, the data recovery tool will initiate to scan your smartphone and download the recovery package. This step needs patience as it is important and may take a while.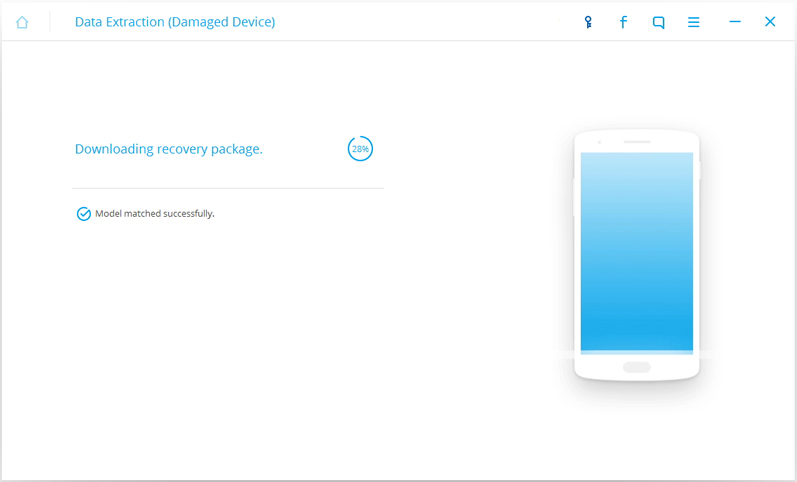 Step 7: You will receive a list of recoverable files. Preview the recoverable files one by one and carefully mark all the items you wish to recover in the appropriate box. By clicking 'Recover', you will retrieve them and successfully save them to your computer.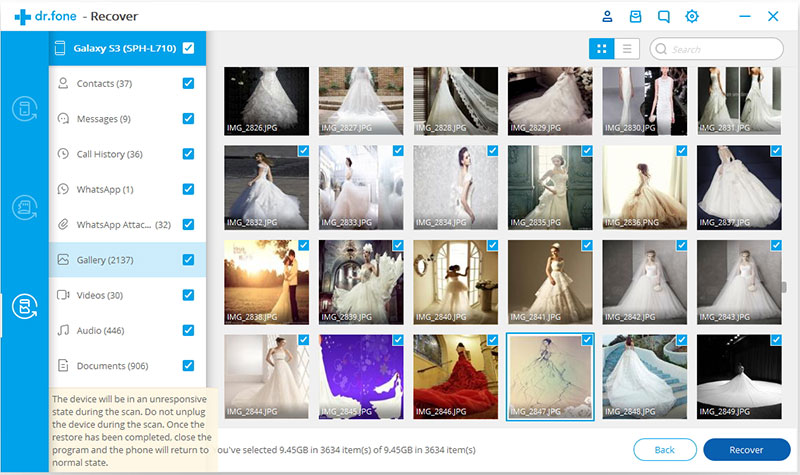 Download WinDownload Mac
How to Retrieve Data from a Broken Samsung Galaxy Screen Using Samsung Smart Switch
Samsung Smart Switch is another method you can use to retrieve data from your broken Samsung phone. You can safely and easily backup data from a broken Samsung Galaxy and restore it on a working Samsung device,
Step 1: Download Samsung smart Switch and run it on your PC.
Step 2: Back up your files to your computer by clicking 'backup'.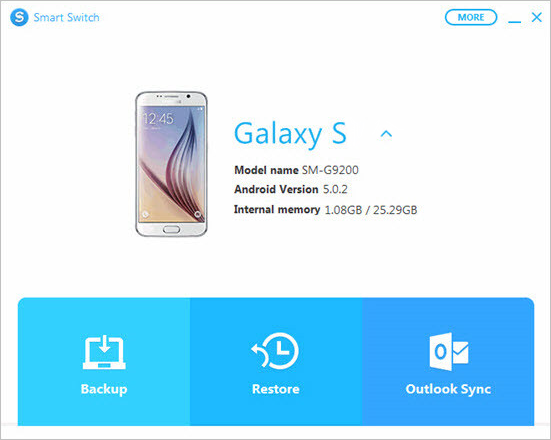 This may take a while.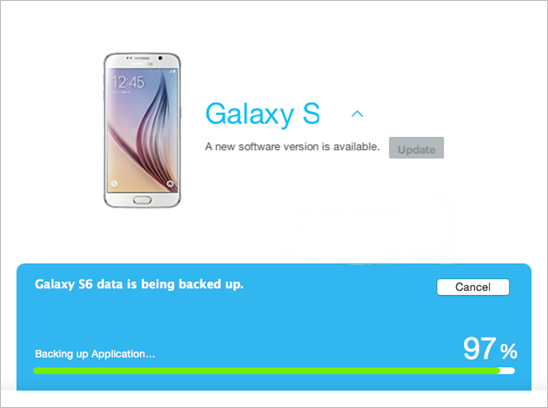 Step 3: Restore the data to a working Samsung Galaxy Phone from Backups. You can do this by plugging your device to the PC after running Smart switch.
Step 4: Tap the 'Restore' button to initiate the restoration process. You phone will reboot after the process.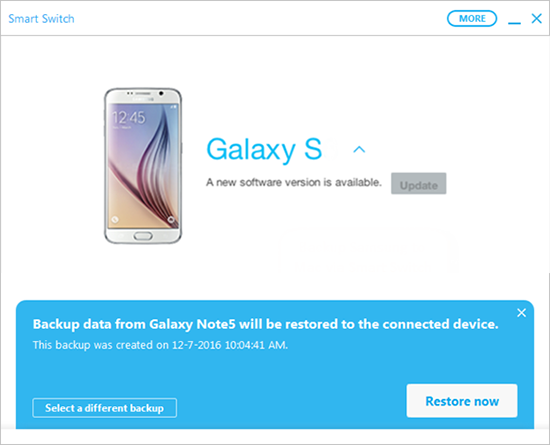 Conclusion
There you have it, you have successfully recovered data from your broken Samsung phone. It is bad enough that you have broken the screen of your Samsung Galaxy phone, recovering data doesn't need to be as stressful. As a qualified user, you should understand the importance of protecting vital but vulnerable data by backing up the data periodically using Android Data Backup and Restore. You can also invest in high-quality protective cases and screen protectors. I hope that this guide will come in handy the next time you encounter this kind of problem.
Have you tried any of the methods discussed above? If yes, how was your experience? Do you know any other method/s that has worked for you? Let's get interactive, share your experience with other readers in the comments section below.