My 7 week old Verizon Samsung Galaxy S6 G920V, android version 5.1.1. died yesterday for reasons unknown. It is now back on but has been wiped clean. I had to do what I believe is called a hard reset. I don't care about anything else on this phone but I'm desperate to get back the pictures and videos. By any chance is it possible yet to recover deleted photos off of a Verizon Samsung Galaxy S6? I've been reading about it since yesterday and everything tells me I must root my phone; however, it looks like from what I am reading, even if I wanted to, I canNOT root my particularVerizon S6 model. None of the android data recovery tools appear to work without 1st rooting my phone. I stupidly do not have a backup of my phone as I believed the VZW cloud was backing up all my data. It did not save my pictures/videos, only my contacts.
From forum.xda-developers.com
Pictures are one of the most important files in our devices, so photo-losing can be really unpleasant and frustrated. If you are a Samsung Galaxy/Note user, having the same or similar trouble as the above user does, perhaps you can try the following instructions to regain your valued photographs. Although they do not 100% work, it is still worthy of a try.
Part 1: Restore data from cloud backup – Google Drive
Part 2: Restore deleted pictures from Samsung Galaxy/Note via Android Data Recovery
Part 3: Take backup as a part of your daily life
Restore data from cloud backup – Google Drive
First of all, If you have used some cloud storages such as Google photos and Dropbox, it will be super convenient to retrieve pictures from trash of such cloud drive. Next, I would take Google photos as an example to illustrate how to complete this operation.
1.Open Google Photos and tap on "Trash"
2.Select the deleted items that you feel like recovering
3.Finally tap on the recover button at the upper right. Finished.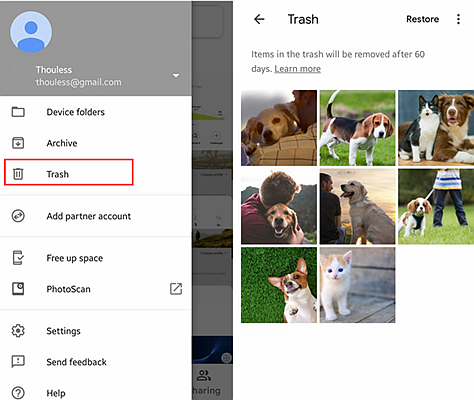 Note: Items in trash of Google Photos will be permanently deleted after 60 days, while Trash of Dropbox is only available in the webpage version and saves photos only for 30 days.
Then Let's see how to use it to recover deleted items from your Samsung Galaxy/Note!
Restore deleted pictures from Samsung Galaxy/Note via Android Data Recovery
In case you couldn't find out the missing photos you want (in this condition, maybe it is because you have not turned on the "Back up & sync" button in Google Photos and delete your pictures in local gallery or you haven't done recovery within 60 days), it is possible for you to get them back with the assistance of the Tool Android Data Recovery.
Download WinDownload Mac
When it comes to retrieve lost photos from Samsung phones, surely the Tool Android Data Data Recovery would be the best preference, which will bring you incredible and amazing effect. Besides photograph, Android Data Recovery can also recover other types of files, including contacts, messaging, audio, video, documents, etc. Then please follow the instruction below to do recovering.
Step 1: Download and install the latest Android Data Recovery into your PC. Launch the program, select "Recover" option among all the toolkits and connect your Samsung to a computer.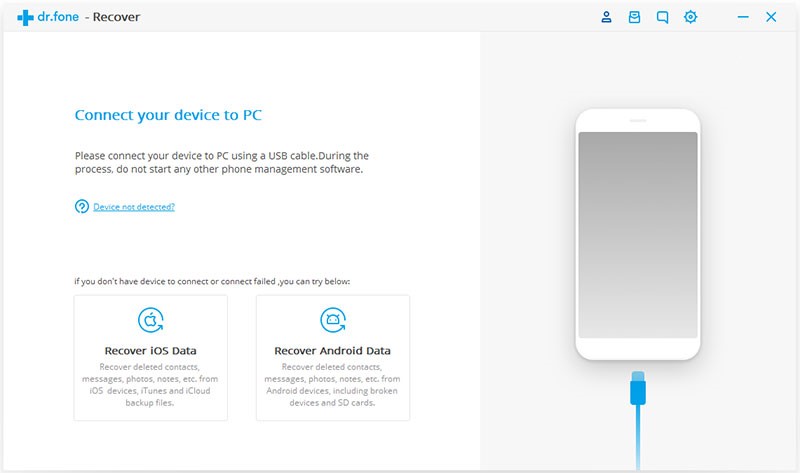 Step 2: Please enable USB debugging according to the given instruction. There will be a pop-up prompt on your screen, tap on OK to allow USB debugging.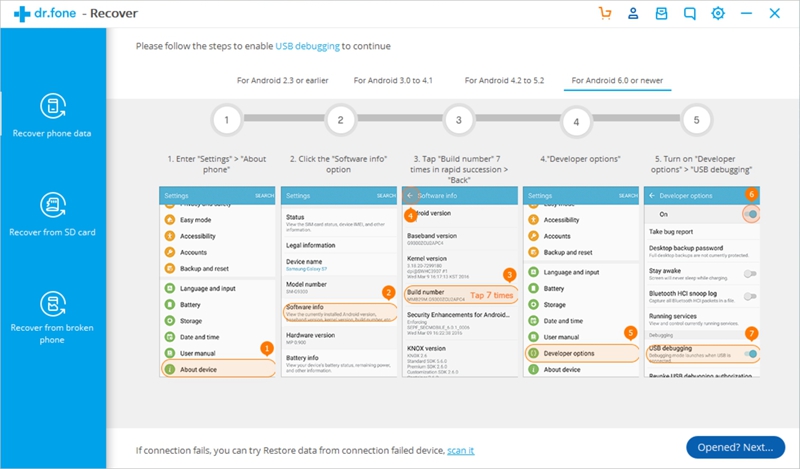 Step 3: You are going to select the recoverable data types displayed on the screen, but in this case, it will be faster to choose "Gallery" only. Click on the "Next" button.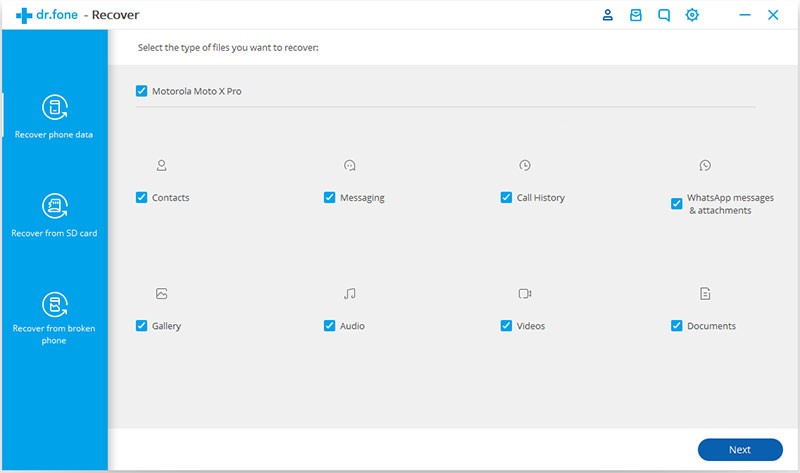 Step 4: You are to choose either the "Standard Mode" or the "Advanced Mode" to do scanning. We recommend you to select "Standard Mode" first, which takes a shorter time. If it cannot find the files you need, try the other one. Click on "Start" to begin analyzing and scanning your device.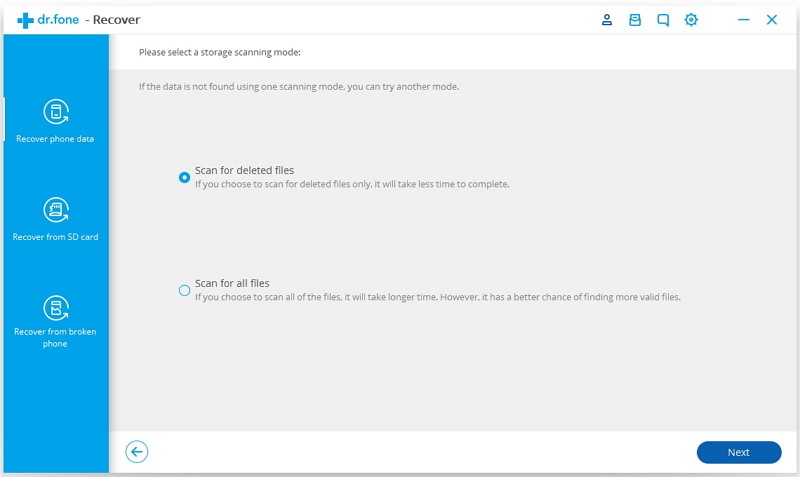 Step 5: Please wait patiently for a few minutes in the scanning process, then the recoverable photos would be displayed to you.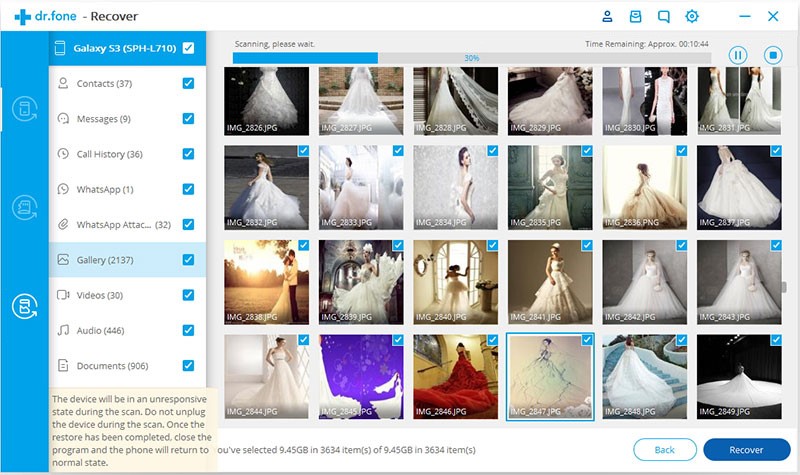 Note: Superuser authorization might pop up on your device during the scanning. If it occurs, click "Allow" to move on. If not, just skip this step.
Step 6: The restored pictures are coming towards you after previewing, JPG, PNG, OR GIF files, selecting and clicking on the "Recover" button.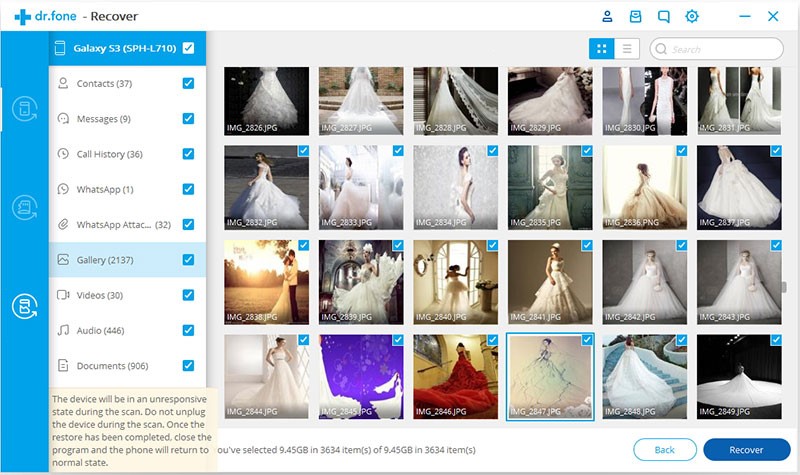 Within several minutes, you have successfully gotten your deleted items back and saved them in computer. Later on, it is super handy for you to transfer them back to your Samsung device. In short, the magical effect of Android Data Recovery is far more than that, still waiting for your further exploration!
Download WinDownload Mac
Take backup as a part of your daily life
Using extra tool to recover important photos should be the last thing you choose to do, because backup data frequently is the most secure and reliable method to maintain things that you value. We recommend to back pictures up in your personal computer before accidental loss happens. There is almost no space-limitation in your PC, which is super convenient and incredible.
Concerning regular backup, Android Data Recovery toolkit for Android – Data Backup & Restore would be in the top choice list. Backing up data has never been easier. The program can selectively restore backed up files to your Samsung Galaxy S8/7/6/5, Galaxy Note 7/5/4. Now Let's see how to make good use of this practice tool.
Step 1: Run Data Backup & Restore among all the toolkits, link your Samsung phone to a laptop or a tablet via USB cable and make sure you have enabled USB debugging on the phone.
Step 2: By default, Android Data Recovery has selected all types of file for you, but you can do selection by yourself. Then click on "Backup" to start.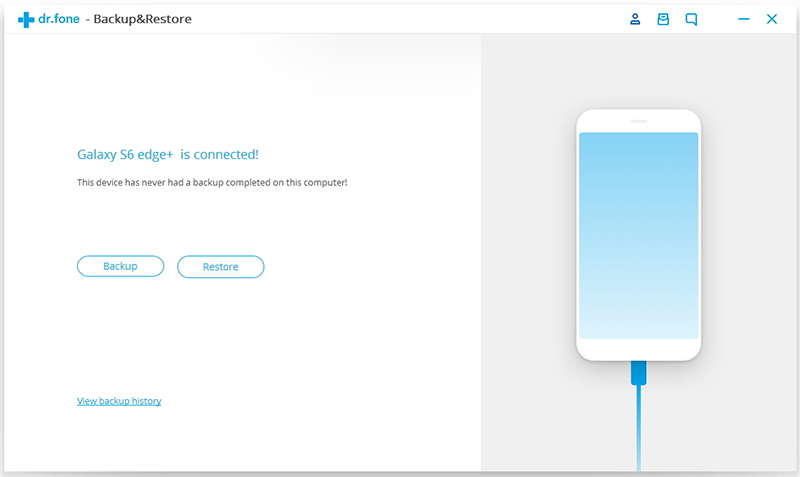 Step 3: It takes only a few minutes to do backup. During this process, neither can you disconnect your Samsung phone nor use it.
Step 4: After the backup procedure is completed, click on "View the backup" button to see what's in the backup file. Finished!