Mobile cameras can record our life events anytime and anywhere. Lovely sceneries, joyous moments with family and friends among others can be properly stored in our Samsung phones. Nonetheless, have you been faced with the challenge of accidentally deleting your photos? Have you suffered from the lament of losing valuable photos? Are you anticipating to retrieve your deleted pictures from Samsung Galaxy S/Note? Do not worry. You can try to follow these instructions to recover your valued pictures. Despite the fact that the results may not be 100%, it is still worth a try.
Restore lost data from cloud backup/Google Drive.
Restoring deleted Photos from Samsung Galaxy S/Note by Android Data Recovery
Take backup seriously as a daily routine
Restore lost data from cloud backup/Google Drive.
To begin with, in case you have used cloud storages like Google photos and Dropbox, it will be very convenient to recover photos from cloud drive trash. Subsequently, for the case of Google photos, you can follow through these simple steps.
1. Go to Google Photos and select click on "Trash"
2. Pick the deleted pictures that you want to recover
3. Lastly, tap the recover option at the upper right and you are good to go.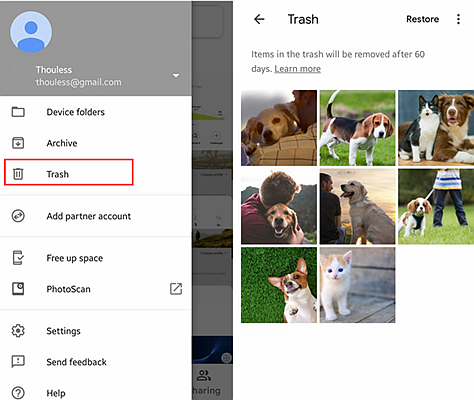 It is important to note that items under trash in Google photos will permanently be deleted automatically after 30 days, while for Dropbox is available in the webpage variant and saves pictures for only 30 days.
Restoring deleted Photos from Samsung Galaxy S/Note by Android Data Recovery
If you did not get the missing pictures you needed, it is possible to get them back with the aid of the Tool Android Data Recovery. You did not find the missing pictures because you did not turn on the Backup and Sync button in the Google Photos and erased your photos in the local gallery or never recovered them within 60 days.
Android Data Recovery is a user-friendly data retrieval program to assist you directly scan the internal memory or memory card and retrieve the lost or erased pictures from your Samsung Galaxy device without destroying the original data on your phone.
To retrieve lost photos from Samsung Galaxy/Note, the Tool Android Data Recovery is the best option, and it will offer you great effect. Apart from a photograph, the Android Data Recovery can also retrieve other file types such as contacts, messages, audio, video, documents among others. To do the recovery follow these instructions. Note that when you have erased photos or videos from your Samsung phone, stop using the phone to capture any fresh pictures and videos, or else the new data may overwrite the erased files and render them unrecoverable.
Download WinDownload Mac
Step 1. Download and install the current Android Data Recovery on your computer. Initiate the program and select the 'Recover' option in the toolkits and connect your device to a PC.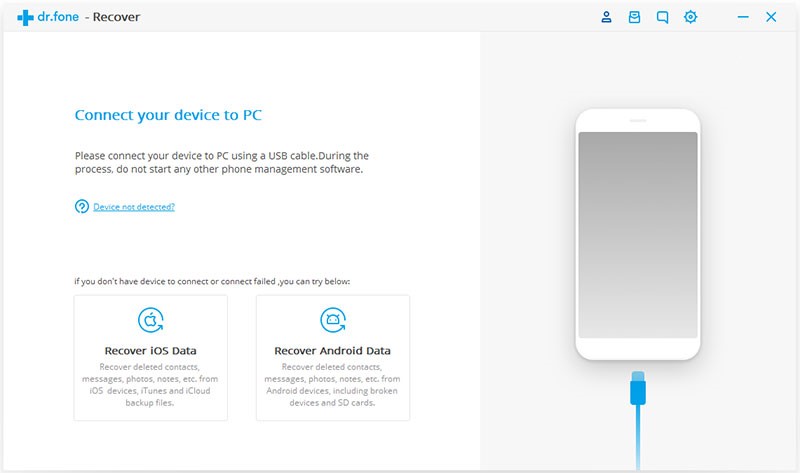 Step 2: Initiate the USB debugging as per the provided instructions. A pop-up alert will appear on your screen and follow the instructions to enable USB debugging on your phone.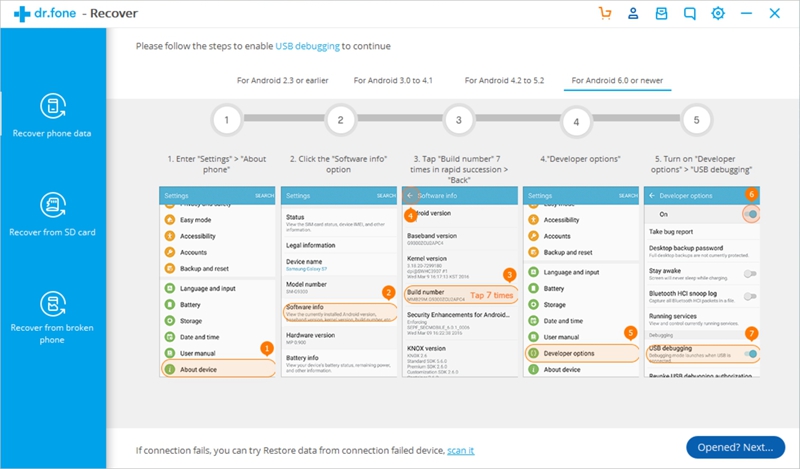 Step 3: You will pick the recoverable data types shown on the screen. In this case, it will be quicker to select "Gallery" only. Click the "Next" button.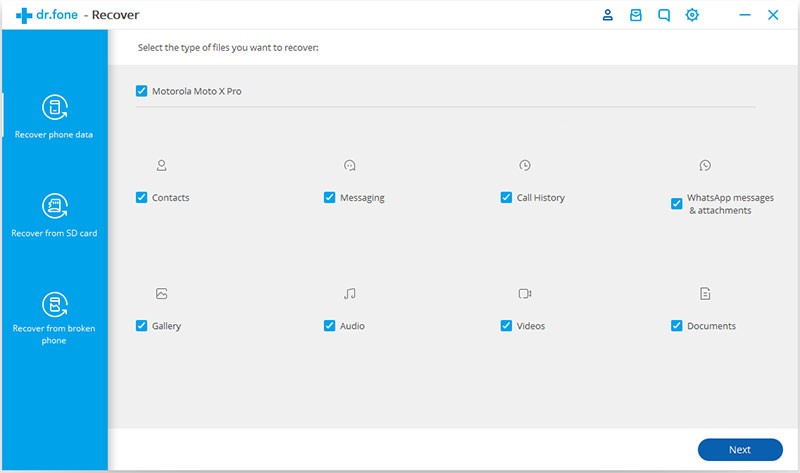 Step 4: You should select either the "Standard Mode" or "Advanced Mode" to scan. Selecting "Standard Mode" first is recommended and takes a shorter time. In case it can't get the files you require, try the latter. Click on "Start" to start analyzing and scanning your Samsung device.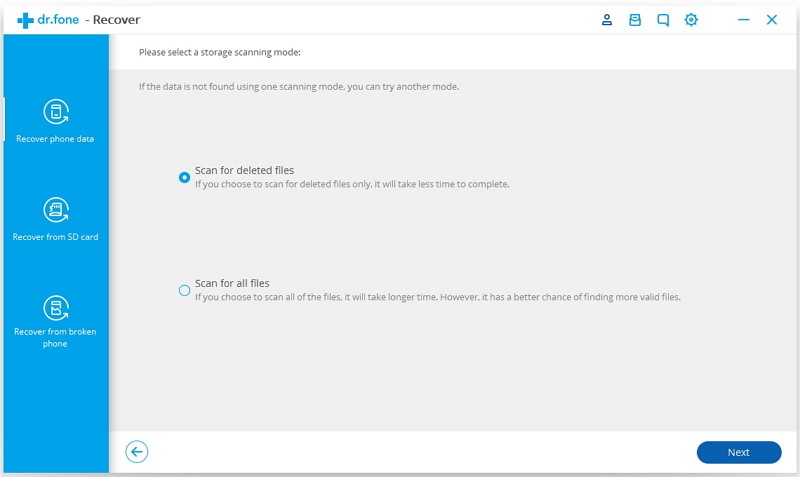 Step 5: Patiently wait for a couple of minutes during the scanning process, after which the retrievable photos will be shown to you.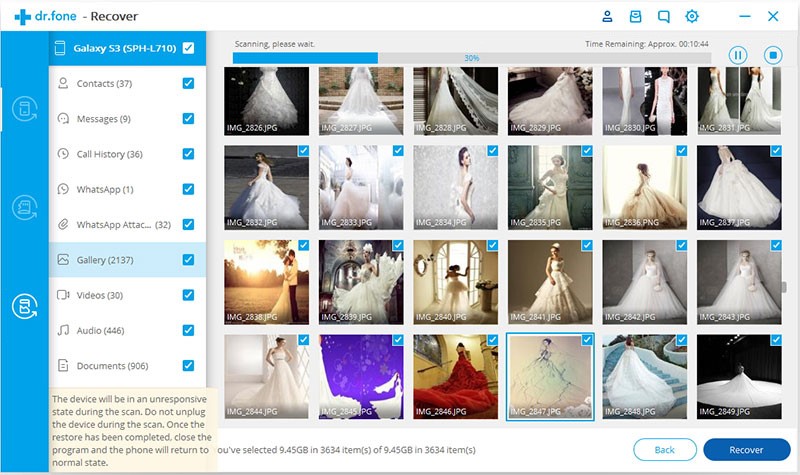 Note that the superuser permission may pop up on your phone during the scanning. If it appears, click "Allow" to continue. If not simply skip this step. During this process ensure that your Samsung phone battery is more than 20%. If the scanning process becomes stuck, it implies that the auto rooting failed and you need to root the device manually.
Step 6: The photos restored will come to you upon previewing, PNP, JPG, or GIF files, choosing and clicking the "Recover" button.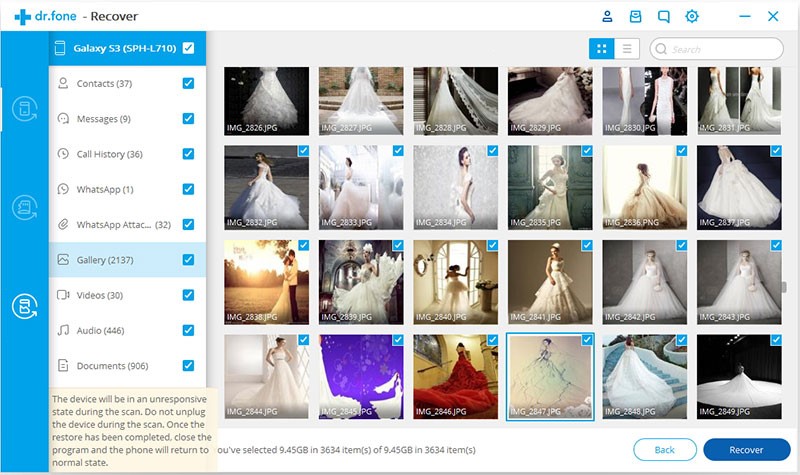 Over the course of time, you have successfully recovered your deleted items back and stored them in PC. Afterwards, it is important for you to copy them back to your Samsung device.
This Samsung data recovery is set up with detailed functions; advanced data retrieval technology and user-friendly interface. It can perfectly be ideal for your Samsung Galaxy phone. It can recognize your phone type and scan swiftly and automatically. It is also capable of scanning CARDS, and SD card quickly. When you understand the operating fundamentals, you will never fear the worries brought about by accidental photo deletion.
Download WinDownload Mac
Take backup seriously as a daily routine
Having an added tool to retrieve important photos should be your last option as backup data often is the most secure and efficient way to maintain things that you value. We recommend photo backup in your PC before accidental losses happen. PC is very convenient and incredible with no space-limitation.
Regarding constant backup, Android Data Recovery toolkit – Android Data Backup and Restore is in a top choice list. The software can selectively restore files that are backed up to your Samsung Galaxy s/Note. You can make good use of the program with these simple steps.
Step 1: Initiate the toolkits and choose "Backup&Restore" feature.
Link your Samsung device to a PC/laptop/tablet using a USB cable and ensure USB debugging is enabled on phone.
Step 2: Android Data Recovery, by default, chooses all file types for you. Next click on "Backup" to begin.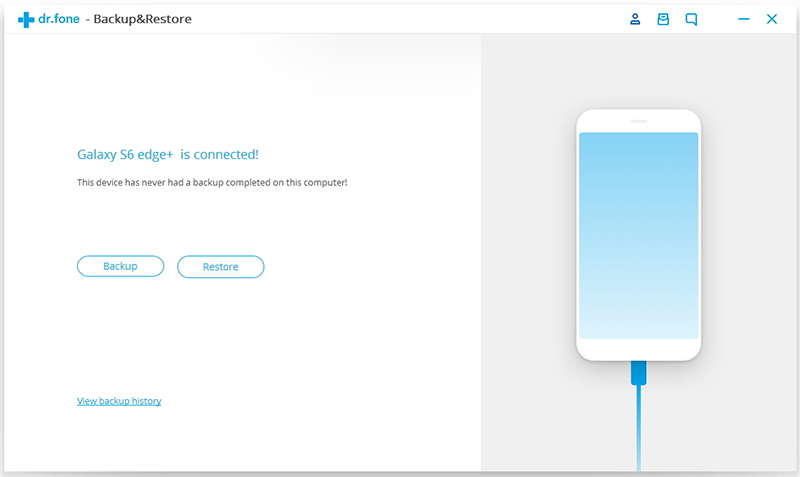 Step 3: It simply takes a few minutes to complete the backup. In the process, you can neither disconnect your Samsung device nor use it.
Step 4: On completing the backup procedure, click on "View the backup" button to view what is in the backup file and you are done.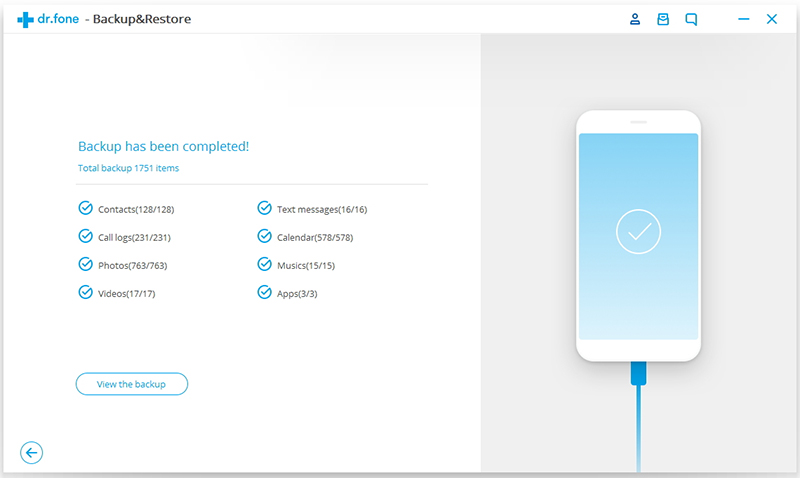 Download WinDownload Mac
Samsung Galaxy S and Note series, including S5, S6, S7, Note5 and the newly launched Samsung Galaxy S8, S9, Note8,Note9 are the highest rated Android phones on the mobile market. Users can take amazing photos in memorable moments. Nonetheless, loss of photos on Samsung Galaxy S phones can frequently happen due to many reasons. One wrong move, an evil bug, or quick navigation: there are several unfortunate events that can result in accidentally deleting a file, video or photos. But not all is lost! Once you accidentally delete or lose important pictures from your device, you need to use the data recovery software with the download link, it's free for download.