It's delightful when you buy a new Android phone in place of your old iPhone, but will you feel frustrated when you log in WhatsApp and discover the disappearance of all your previous WhatsApp messages on iPhone? For the reason that your WhatsApp messages may include plenty of chats as well as attachments related to personal life or official business, you may tend to suppose that transmitting WhatsApp messages from iPhone to Android will be time-consuming and nerve-racking, even improbable. In order to save you from the mass and pointless speculation, I am going to recommend an effective method, which is by using the powerful and easy-to-use program – WhatsApp Transfer, Backup & Restore. Your previous WhatsApp conversations could be moved successfully if you follow the steps written below.
Move WhatsApp Messages Through WhatsApp Transfer, Backup & Restore
The best way to transmit WhatsApp messages from iPhone to Android is via this software: WhatsApp Transfer, Backup & Restore, which enables you to copy WhatsApp Messages with attachment files from iPhone to Android on the computer. The outstanding point of this APP lies on its safe-time and simple operation. Let's follow the easy operational procedures and appreciate its powerful function thereinafter.
Download WinDownload Mac
Detailed Steps:
Step 1: Install WhatsApp Transfer, Backup & Restore on your computer and launch it, from the features that have been provided, select the "Backup&Restore" icon on the toolkit and then click the trial version.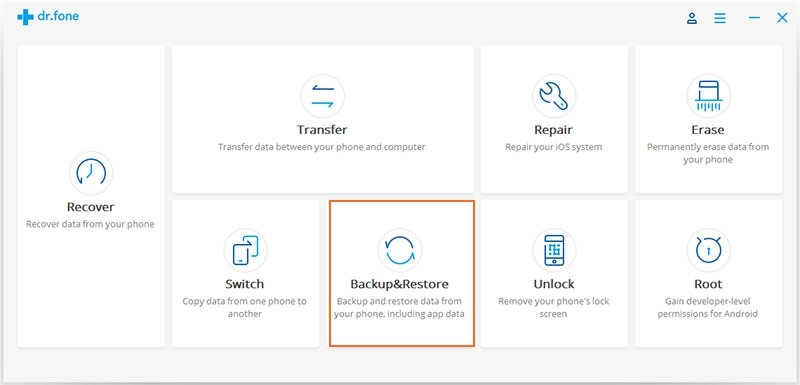 Connect your iPhone to computer using data cable.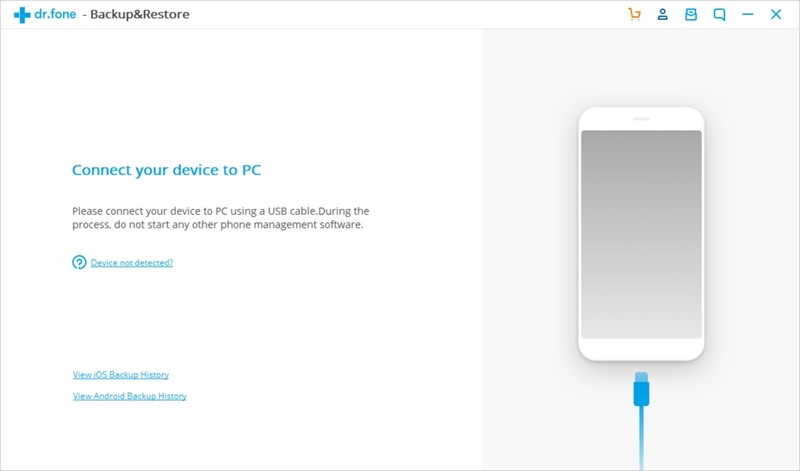 Step 2: Once the software recognizes your device, click on the "WhatsApp Backup&Restore" option present on the left side.
Next simply choose the "Transfer WhatsApp messages" icon.
Note: When you click on it, it may takes you to the Apple's official website where downloading the latest version is enabled on iTunes. After installing the latest version, click on the retry icon below.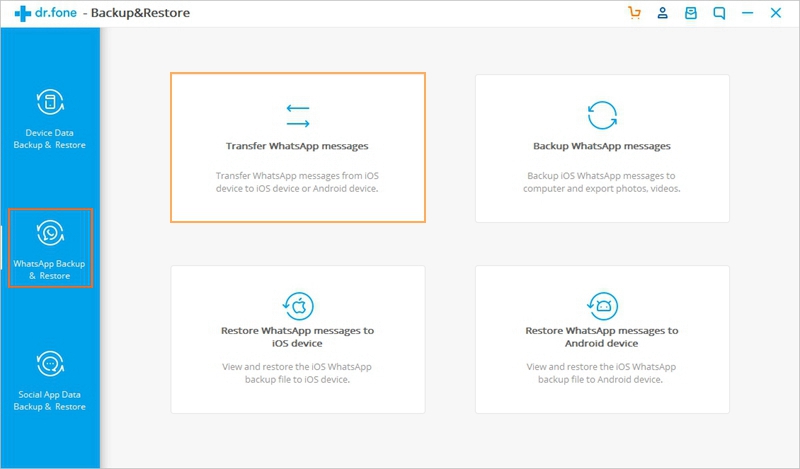 Step 3: Make a connection of the two devices you have to the computer while using a USB cable.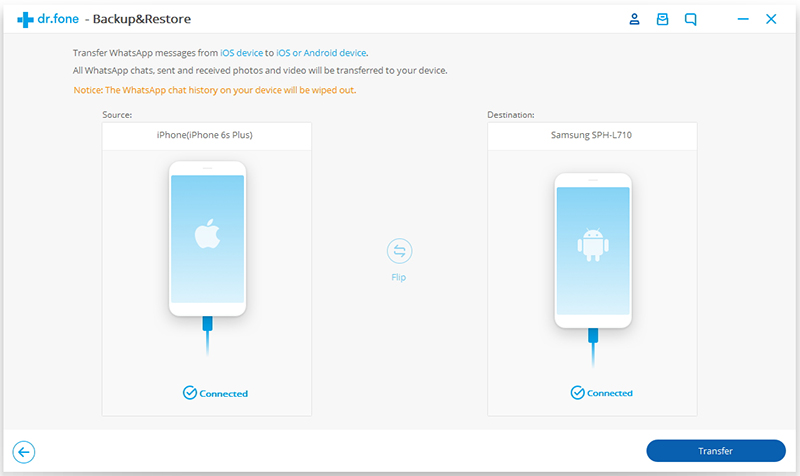 When your Android phone can't be recognized:
– Plug your USB line into other available port of the PC. (If this doesn't help, follow the next step.)
– Turn on your Android phone, tap in order: Settings > Software information > Built number (7 times), after that, return back to the last page, choose "Developer options" and turn it and "USB debugging" on. )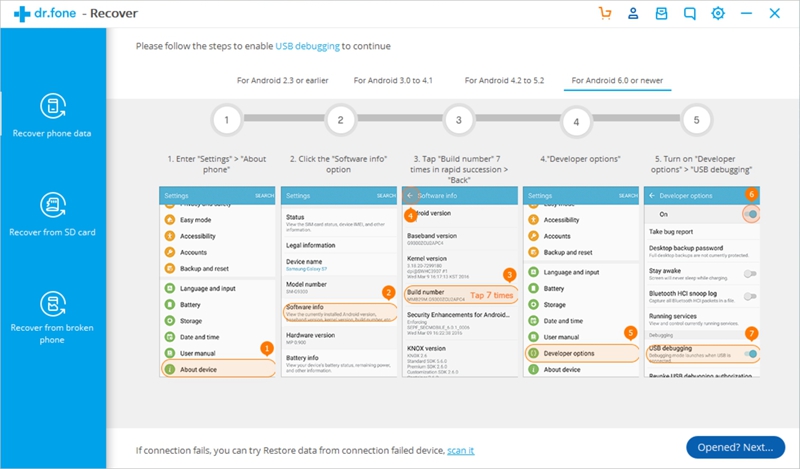 Step 4: After this, locate the "Transfer" icon and click on it to start off the process.
Note: The existing WhatsApp messages on destination Android device will be overwritten. You should, therefore, be able to confirm this happening when the popup window appears.
Recommend you backup the WhatsApp messages on your Android phone before you decide to transfer and click "yes".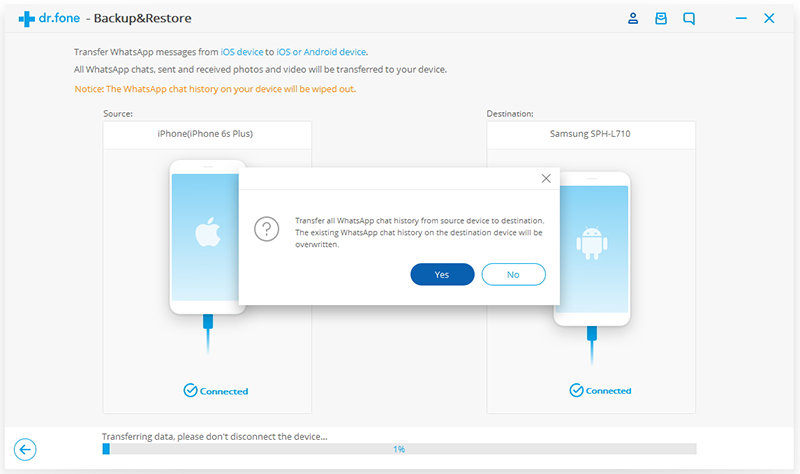 Step 5:  Wait for the transfer process to be completed. You will see the following confirmation window, once the process is complete.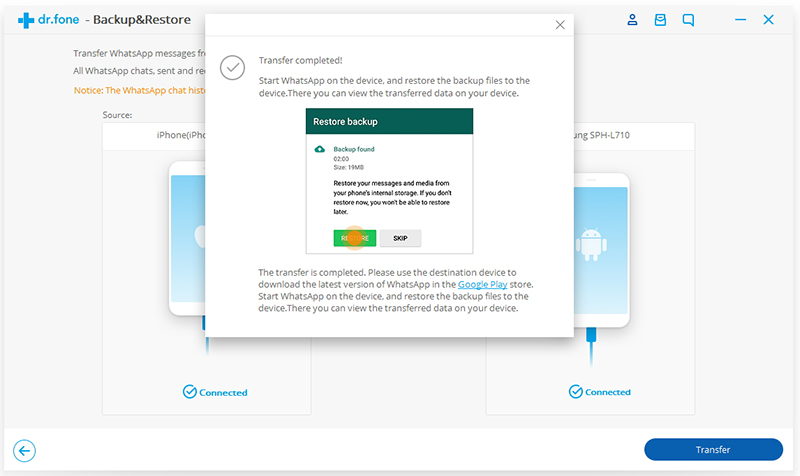 Conclusion
With the help of WhatsApp Transfer, Backup & Restore, moving WhatsApp messages from iPhone to Android is quite easy. After you have installed the program and plug your iPhone and Android phones into the computer, all you need to do is click once and wait until the automatic transfer is completed. The process is very convenient and won't cost you much time as well. It is better to develop a good habit of backups your WhatsApp data spontaneously. If you have any problem or suggestion, your additions are welcomed in the comments.