There are many reasons why a Samsung phone might freeze or die of a sudden. Some of the major and common causes include the following:
• Android system file error
• Crushing app
• Incompatible custom ROM or Recovery Mode
• Firmware update fail
Are you in this situation? Don't worry anymore. There are so many techniques out there you can use to fix various Android system issues. Move ahead and read on to learn about how to fix a frozen or dead Samsung Galaxy.
1. Force Restart your Samsung Galaxy if Freezes for a long period
2. How to fix a dead Samsung Galaxy in one-click
3. 5 Ways to fix a frozen or dead Samsung Galaxy
1. Force Restart your Samsung Galaxy if Freezes for a long period
If your Samsung Galaxy phone freezes and you can't wait for a few minutes before it resurges back to life again. You can forcefully reboot the phone.
• Samsung Galaxy can turn off: 
Press and hold the Power key, after a few seconds, you will see three icons on the screen: Power off, Restart, Enable Emergency Mode. Tap 'Restart' to reboot your phone.
• Samsung Galaxy doesn't respond at all
Press and hold both the Volume Down and Power keys (Side key for Samsung Galaxy S20/Note 20) together for about 10 to 15 seconds until you can see the Samsung logo, provided the battery is enough for the rebooting process.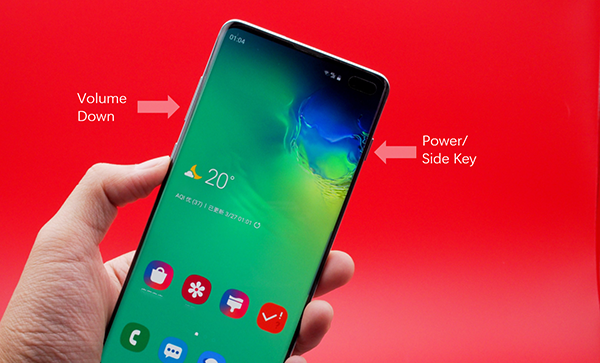 Note that this is not a permanent solution but a way to work around the problem. Try to figure out what might be the problem and get it fixed.
How to fix a frozen or dead Samsung Galaxy in one-click
The FORecovery – Android Repair is an amazing tool that can fix various Android system issues just in a few clicks.
• This software gives you the highest success rate when it comes to fix Android system issues such as frozen/bricked Samsung device, black screen of death, Samsung device stuck on Samsung logo.
• Its user-friendly interface is very easy to use with the on-screen step by step instructions.
• The toolkit program is safe to use, it will flash stock firmware to repair system files
• Compatible with all the Samsung phones included Samsung Galaxy S10/S9/S8/S7 and Samsung Galaxy Note10/Note9/Note8.
Download Win
Step 1: Launch the toolkit and Connect Your Samsung Phone
Step 2: Input your Samsung Phone Name and Model
The software will request you to enter the make and model of your Samsung phone. This way the software can be able to download the right firmware for your dead phone. Make sure the information you provide the software is correct. If you aren't sure then confirm your phones make and model on the internet.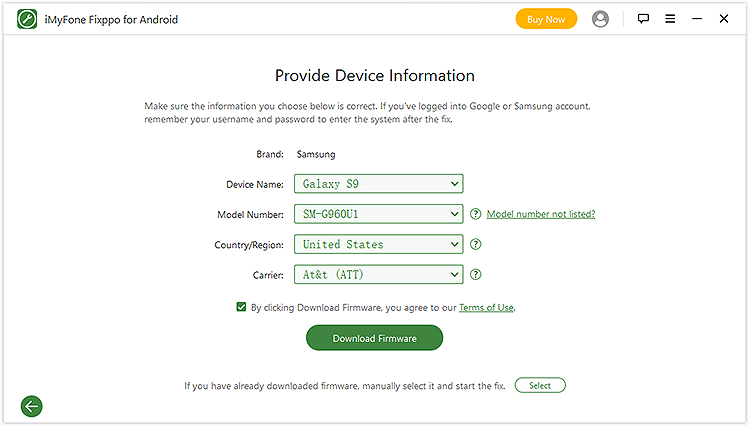 The software will automatically download your recovery package.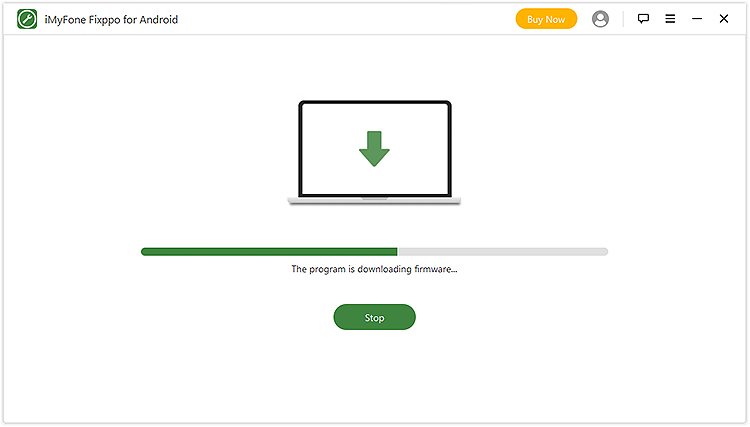 Step 3: Switch to Download Mode
After downloading the firmware, the toolkit will request you to switch your phone into download mode with on-screen step by step instructions.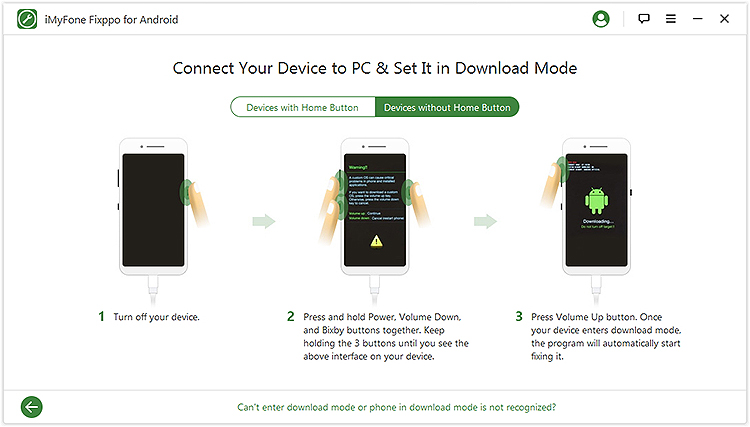 Step 5: After the complete download of the firmware, the software will start analyzing and repairing your dead Samsung phone.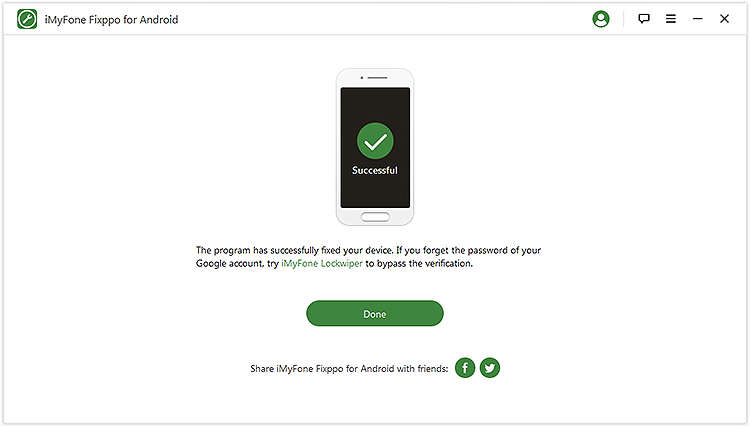 4 Ways to fix a frozen or dead Samsung Galaxy
1. Memory problem
If you stay for several days without restarting your Samsung Galaxy phone, apps start to freeze and crash randomly. This is mainly caused by memory glitches. You can easily tackle this issue by turning off your Samsung Galaxy phone.
If this doesn't work, then try the following procedure:
• On the Home Screen, click Apps.
• Touch Manage Applications.
• Click the application that keeps crashing
• Select, Clear Data and Clear Cache.
When the reason for failure is lack of enough memory. Unstable apps might not have enough memory on your device to function properly. You can try uninstalling or deleting unused apps or media file, to create extra memory space.
2. Boot your phone in Safe Mode
You can try to get to the root of the problem by booting your Samsung Device in safe mode. Why? once in safe mode third-party apps are temporally disabled. If the phone freeze or death is caused by a third-party, then the Play Store won't crush in this mode. To reboot your Galaxy in Safe Mode, do the following.
• First, press and hold both the Power Key (Side key for Samsung Galaxy S20/Note 20) and Volume Down Key.
• As soon as you see the "Samsung Galaxy" on the screen, let go of the Power Key but keep holding the Volume Down Key.
• Keep holding the Volume Down key until the device finishes rebooting.
• Release it when you see "Safe Mode" in the bottom left corner of the screen.
3. Delete temporary files or Caches
When you update your phone firmware, some of the files might get corrupted but the system may continue using them. When this happens, your device will experience performance issues like app crashing, phone freezing. To overcome this problem, you will have to wipe the cache partition. If this fails the next solution might help.
4. Reset your phone
This should be your secret weapon; you only use it when everything else has failed. Resetting your phone means deleting a lot of important files or data saved in your phone's internal storage. You are bringing your Galaxy back to its default settings. This might fix the freezing problem but there's no guarantee.
If your phone continues to freeze of doesn't come back to life after this process, then the firmware needs to be re-flashed or re-installed. Look for phone tech wiz who can do that.