Sometimes we don't have control over a situation, and things do not turn out the way we want them to. Sometimes these unavoidable incidents can result in some major damage. We all have found ourselves in a situation similar to this, especially when it involves our beloved smartphone. System update failed, factory reset,  screen crashed, some glitch decides to happen and boom all your data lost without giving you a chance to back your data up. This post will walk you through the procedure to help you recover your data such as contacts, messages, photos video WhatsApp Facebook messenger from your Samsung Galaxy including Samsung Galaxy S10/S10+/S10e/S9/S8/S7 and Samsung Galaxy Note10/Note 9/Note8 and simultaneously talk about the different ways you can sync your Samsung Galaxy to back up your data.
1. Recover data from Samsung Galaxy using software
2. How do I sync my data on Samsung Galaxy
2.1. Use Samsung Smart Switch to back up your Samsung Galaxy
2.2. Sync to Google Account
2.3 Transfer phone photos and files to PC
1. Recover data from Samsung Galaxy using software
Android Data Recovery toolkit is a recovery tool kit that helps you recover all of your deleted data no matter how it was lost. It is not only completely effective but extremely easy to use. The following is a complete step by step guide on how to retrieve your lost data using the external software.
Download WinDownload Mac
Step 1: First, you will need to download the toolkit and install it on to your computer. Next, connect your Samsung Galaxy (any model) using the USB cable and launch the software and select "Android Data Recover."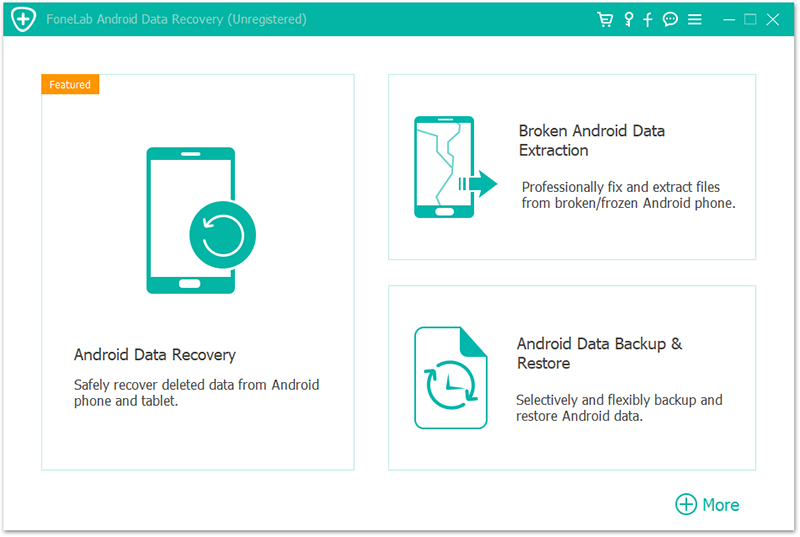 Step 2: Before you begin, enable USB debugging on your device to allow the software to gain access to your internal data.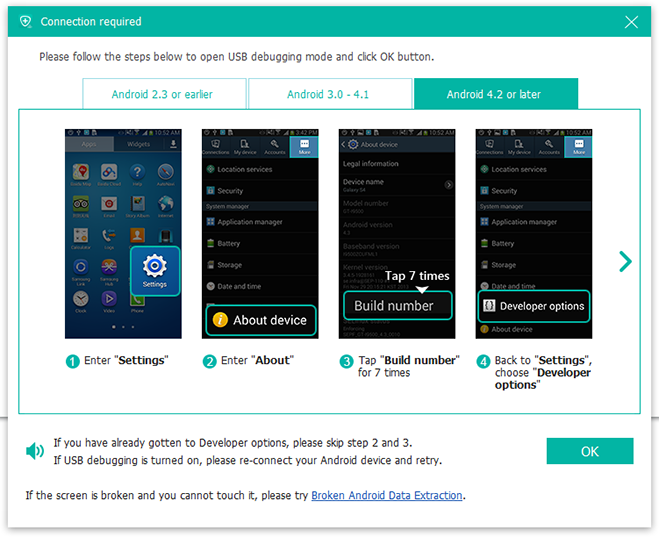 Step 3: To simplify the process, the software will ask you to select the type of files you want to recover. Check the boxes according to your preference and click on "Next."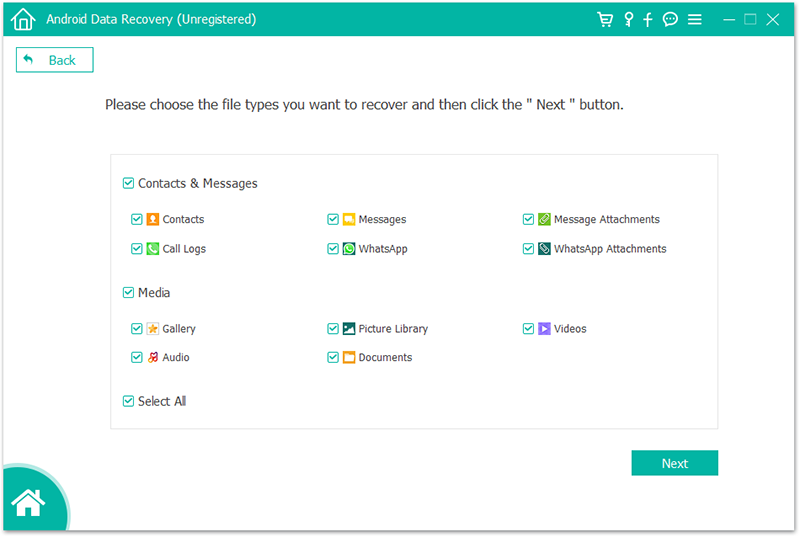 Step 4: Now, the software will begin to scan your device for all the deleted and display them in a pop-up window. To filter out, the deleted files enable the "Only display deleted items." You can also choose files you want to recover and select "recover."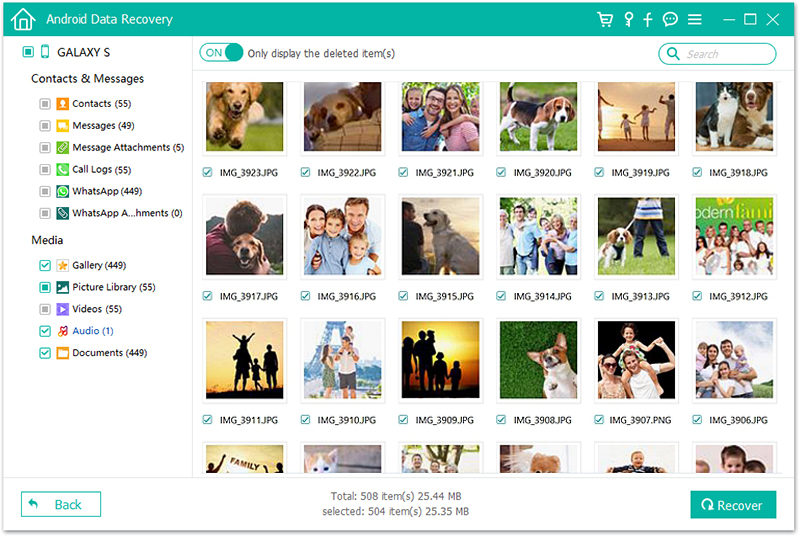 Pretty simple isn't it? With a touch of a single button, you can recover all your deleted files. The next time you find yourself in a jam like this don't panic and recover your important data using dr.fone. You can also use it to create a complete backup of your phone and avoid the hassle in the future.
2. How do I sync my data on Samsung Galaxy
Planning ahead is the single easiest thing you can do to avoid losing your data even if it gets run over by a car. Fortunately, google syncs all your contacts, calendar appointments, docs, and even app purchases automatically only if you allow it to do so. Google is just one of the many ways you can back up your data.
2.1. Use Samsung Smart Switch to back up your Samsung Galaxy
Google services allow you to keep a copy of your back up on the cloud. While it may be trickier to backup certain types of local data, it is much easier to back up our basic phone storage such as contacts, photos, WhatsApp messages, etc. All you need to do is sign back into all of your apps using your Google account; however, Samsung's Smart Switch app makes this process a lot simpler, especially when setting up your new phone.
All you have to do is download the application on to your PC and connect your phone. Your phone will be up and ready in no time. Below is a set of instructions to help you back up your phone.
1. Open the Smart Switch App on your personal computer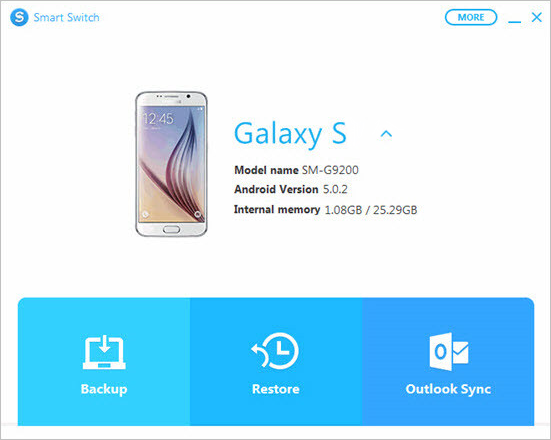 2. Click on Back up and allow access permission on to your phone.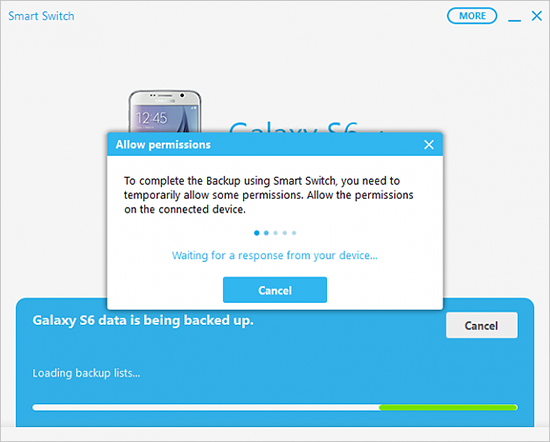 3. Tap on allow, if you have a micro SD card installed in your phone then another option to back it up as well will also be shown.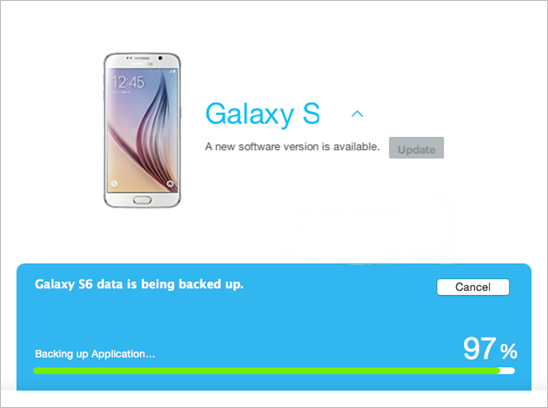 The backup will begin, and once it's done a brief summary of the backup will be presented on to your screen. The backup will be successful click "ok' to finish.
2.2. Sync to Google Account
Backing up using google is another way you can secure your data. Allowing Google to back up your data may vary depending on the device. There are multiple ways to back up using google. The most basic method to do this is by navigating to settings and scroll to find "google" and then tapping onto Backup and follow through to Back and Restore and then tap onto google account.
For Google pixel or other stock android devices navigate through to settings> System >Advanced >backup. Backup to Google Drive. For android devices above 8.1, you can back up the following data: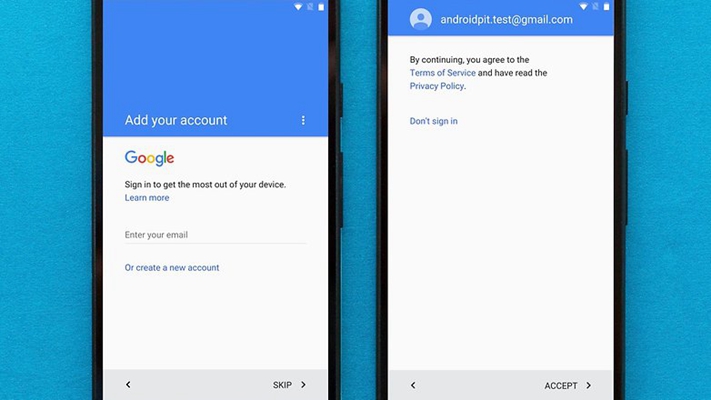 • Calls
• Contact directory
• Device settings including Wi-Fi passwords and wallpapers
• Photos and videos (By Google Photos)
• App data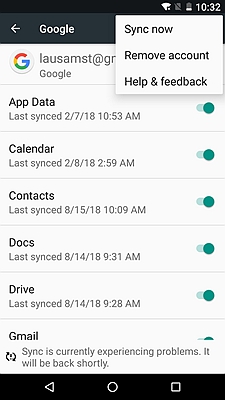 2.3 Transfer phone photos and files to PC
Another possible method to back up your data is by directly dragging and dropping it to your pc and is one of the simplest methods. Photos, videos, and music from your android device can be transferred directly to your PC by connecting it through your USB cable and manually copying and pasting them onto your hard drive. It's not a complete solution but a quick and easy one, especially on a PC where windows mounts it as an external drive.
To play it safe, it is always recommended that you back up your important data onto cloud storage or a hard drive. All the different methods described above may not work for every situation; therefore, we strongly recommend to not completely depend on them but keep them as your last resort. You may find plenty of third-party software's who claim to recover your data, but not all of them are true to their words. Some of them cost you a few bucks too before you can access your deleted data. So it is best that you plan a backup method once you are done setting up your new smartphone. Even if you haven't decided on a backup plan yet, it's never too late.