According to me, contacts are probably one of the most important things on an Android device. Have you ever lost your contacts before? The first time I lost my contacts, my friend thought it was weird, "who loses his contacts", he said. But trust me, if it happened to me, it can also happen to yo u. Losing your contacts is so easy, you might be rooting your Android device, factory resetting it or doing any other kind of twerking & tinkering, then boom! Your contacts disappear.
But don't despair, contact recovery is surely possible. Let me walk you through various steps on how you can recover your seemingly lost and deleted contacts.
1. Restore Recently Deleted Contacts from Google Contact
2. Recover Deleted Contacts from Android without backups
3. How To Transfer Contacts from Android to PC (export contacts from Android)
1. Restore Recently Deleted Contacts from Google Contact
Google Contact is a service that will auto sync Android contact data to Google Cloud storage if you have log in your Google account on your Android phone. Restoring deleted contacts on Android devices using Google Contacts is possible.
Because the information is stored in Google you can access it from anywhere in the world, as long as there is an internet connection.
So, how can you restore your deleted contacts?
Steps
1. First, you need to go to Google.com and click the dots in the top right corner next to your profile picture.
Then select 'Contacts'. The service will open in a new tab.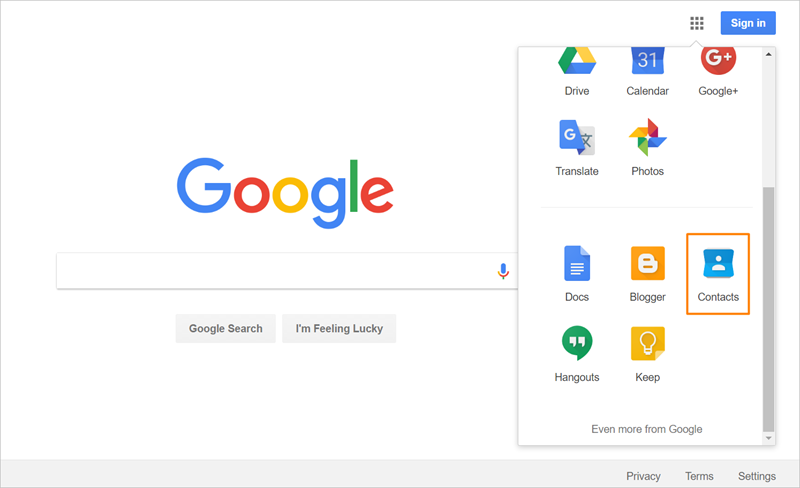 2. In the menu find "Undo Changes". Sometimes it might be hidden by default. So, press "More" and a list with import, export, print and restore will appear or open.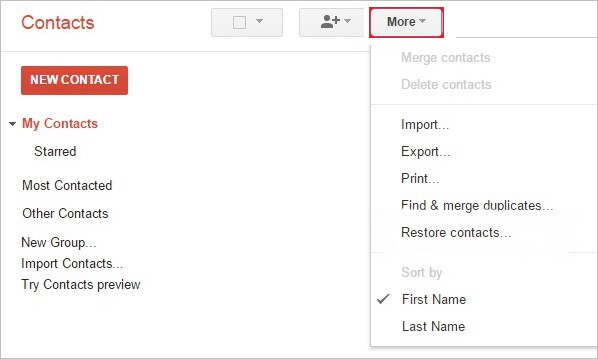 3. To restore Google Contacts press "Undo Changes" and select how many days or hours ago you want to roll back the state of your address book. Well, if this option doesn't satisfy you, then you can click "Custom "and specify the number of days. Remember it should be less than 30 days.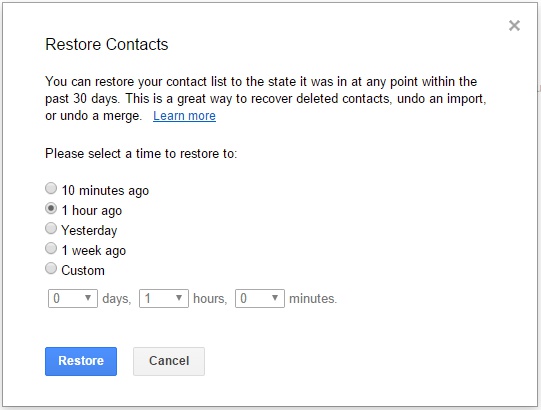 4. Finally, confirm the changes and check whether the contacts are restored.
Note: The recycle bin only holds contacts that were deleted less than 30 days ago.
2. Recover Deleted Contacts from Android without backups
Can I still recover deleted contacts if I haven't log in my Google account and sync the contacts? Yes! Am being for real here. By utilizing using a one-click tool such as Android Data Recovery toolkit, the task of retrieving contacts can be accomplished easily.
Android Data Recovery software is a quick, safe and simple android data recovery tool that will definitely solve your problems. This Android data recovery tool lets you restore deleted or lost contacts, photos text messages, WhatsApp messages, music, videos, and more documents. You can use this Android data recovery software to recover lost data on over 6000 android phone and tablets.
Advantages of Android Data Recovery toolkit
• The software is compatible with a lot of Android devices from Samsung Galaxy, Moto,
• You can recover your lost items by using selective option.
• The software handles data loss caused by restore, OS update, rooting failure and mistaken deletion.
To retrieve your lost or deleted contacts, follow the steps below.
Steps
1. Download and install the software. Launch it and select 'Android Data Recovery'.
Then connect your Android device using USB cables.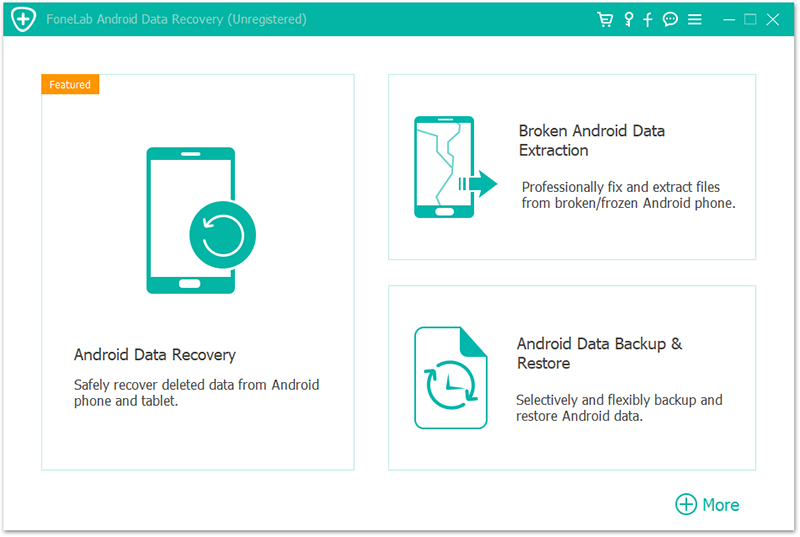 2. Make sure the USB debugging mode is enabled. This ensures the software recognizes the Android device. As a result, your computer will be able to detect your Android device.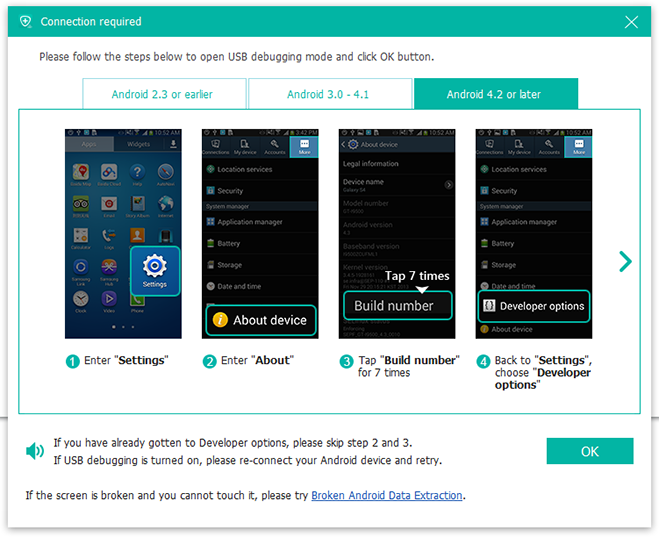 3. Choose the type of files you want to recover. In our case it the contacts. Click "Contacts" and then click "Next".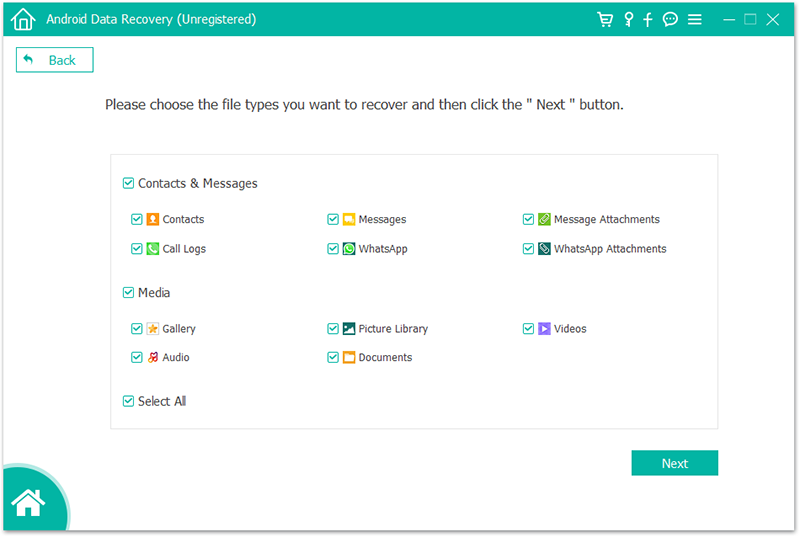 4. Analyze the Android device. This process helps to analyze the phone and fix any issues with the operating system.
After the software has completely analyzed the data, it will start scanning your phone.
5. When scanning is completed a tab will be opened. Select the data you want to retrieve, in our case we just have to select the contacts and hit "Next" to let the software scan for lost or deleted contacts. Choose a folder on your PC to save the recovered contacts and then you can transfer the data onto your Android device.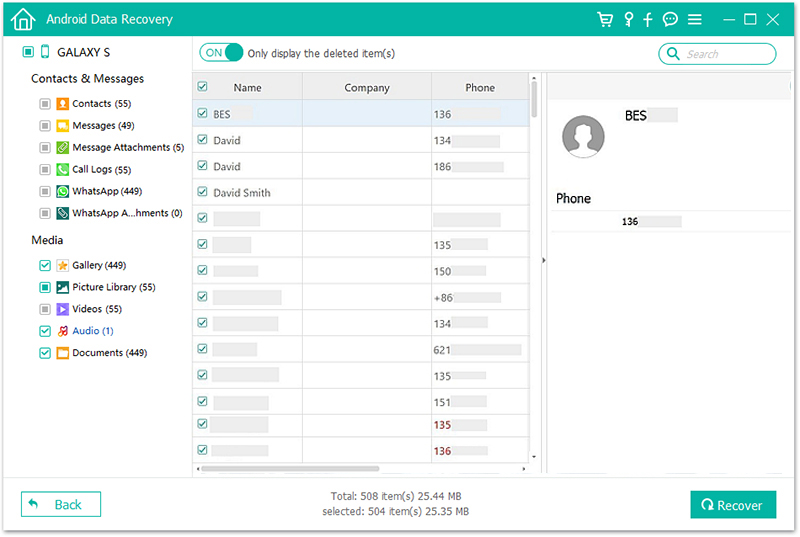 3. How To Transfer Contacts from Android to PC (export contacts from Android)
Contacts play a crucial role in our daily life. The number of contacts we are storing in our Android devices is increasing every day. They occupy a lot of space as a result, the Android device storage space is being used gets depleted.
Besides, in case you accidentally break or lose your device without backing up all your contacts, it will be a terrible mess. By transferring these contacts onto the PC for backup, you will make everything easier.
How? Well stick around and you will know.
Step 1: On your Android device, go to "Contacts" and click on "More", then choose "Settings".
Step 2: Tap on "Import/Export contacts", then "Export to device storage", selecting the target contacts from the list, and tap on "OK " to confirm export.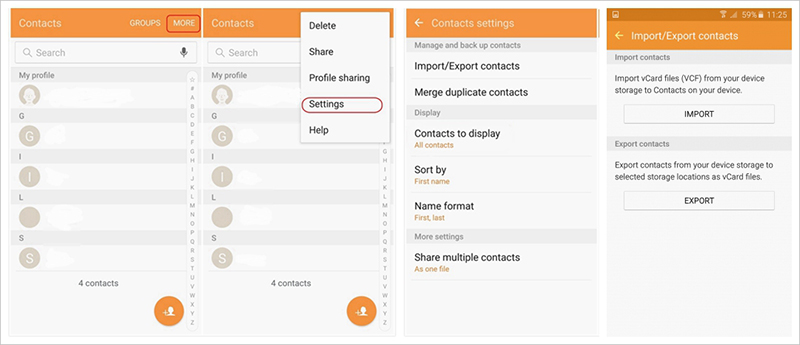 To import the contacts back to your phone, copy the vCard file to your Android phone internal storage.
Then go to  Contacts app and tap "Settings> Import/Export contacts > Import from device storage".