Your deleted photos may be caused by the following situations:
1. Deleted a photo album by mistake
2. Storage space reach the ceiling
3. Lost your pictures due to the factory reset
4. Memory card is broken or overwritten
Never fear, whatever cases your deleted photos still exist in some place. There is no doubt that you can easily get them back. First action is to stop using your phone in order to avoid data overwritten by new data. You can find it from Google Photos if you have one. If Google Photos failed to recover, turn to Data Recovery Toolkit for Android phone. Get more details in the ensuing paragraphs.
If you have installed Google Photos and turned on the backup, you can firstly go to Trash to retrieve your pictures.
Part 1: Recover Recently Deleted Pictures from Google Photos Backup
Part 2: Recover Deleted Pictures by Android Data Recovery without any Backup
Recover Recently Deleted Pictures from Google Photos Backup
Google Photos is an official app that manages your pictures on backup and restore. After you associate with Google account on your phone, Google Photos will sync your pictures to cloud automatically, and the pictures you deleted will be put into the Trash in Google Photos and be saved for 60 days until the app permanently delete the pictures. How to recover them before you lost them forever?
Step 1: Open your Google Photos and tap the menu icon on the top left
Step 2: Tap "Trash" from the options
Step 3: View and select the deleted pictures available. Long press a picture you want until the box of it appears, and then select the pictures you want by tapping them one by one.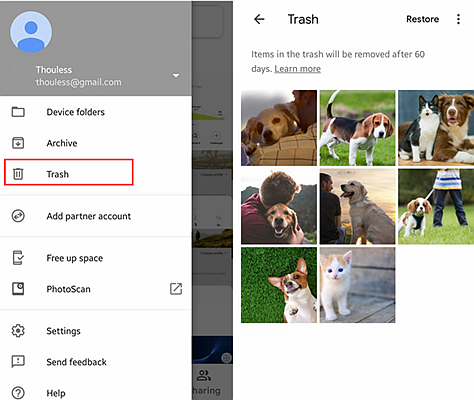 Step 4: Tap on the Undo icon at the top right corner.
After that your chosen pictures will be back to your Google Photos and Google Drives. You can recover them to your phone later then.
If you don't have any backup or copies of your deleted pictures, you have another good way to recover your pictures.
Recover Deleted Pictures by Android Data Recovery without any Backup
The alternative is the third-party data recovery toolkit for Android phones called Android Data Recovery, the most convenient and efficient program across multiple platforms and devices including Samsung, Huawei, LG, Motorola, Sony and so on, Let's see how to retrieve deleted pictures from your phone in the blink of an eye.
Download WinDownload Mac
Step 1: Connect your phone to Data Recovery program
1. First install and run the Data Recovery Toolkit. Select its feature "Recover" once you see the initial window.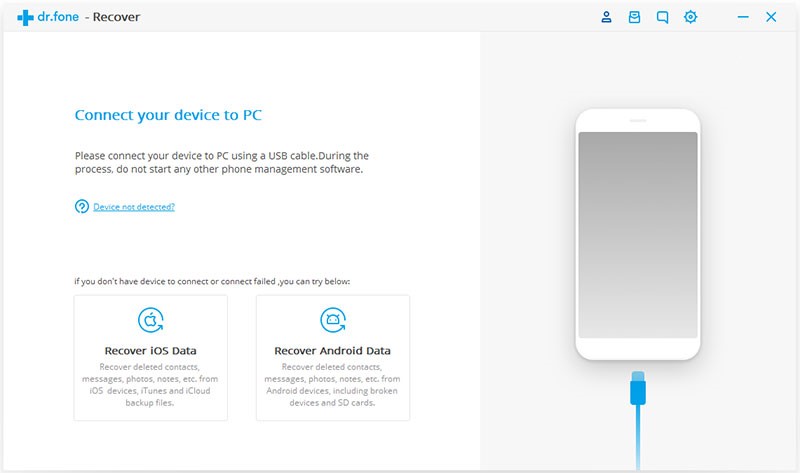 2. Connect your phone to computer.
If you haven't enabled USB debugging, you should follow the pop up of your phone and the window of the program. Only after you allow the USB debugging can your phone be detected and scanned.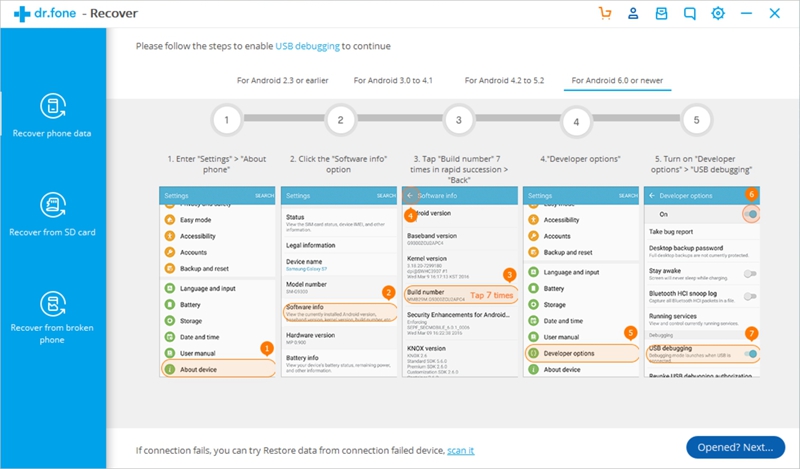 Step 2: Choose the data to start scan
1. The data types will be displayed in the window for you to choose. Tick "Gallery", the data type you want to scan and click "Next".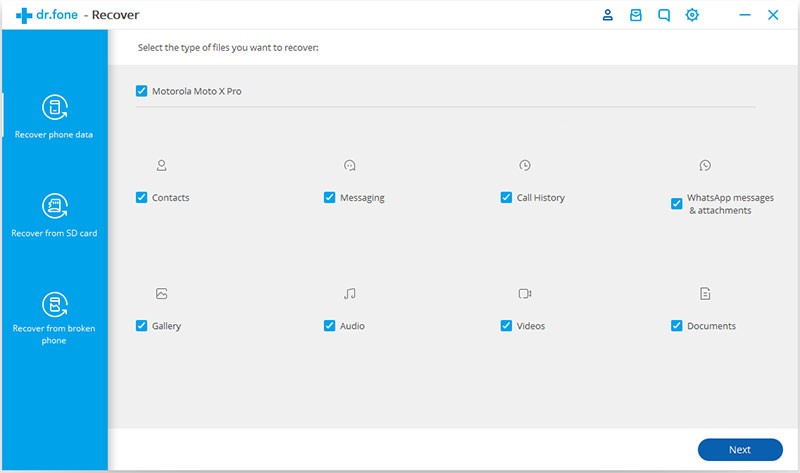 2. Select the scan mode "Standard Mode", which would take less time to complete.
Note: If you cannot see the data you want, please back to scan Advance Mode.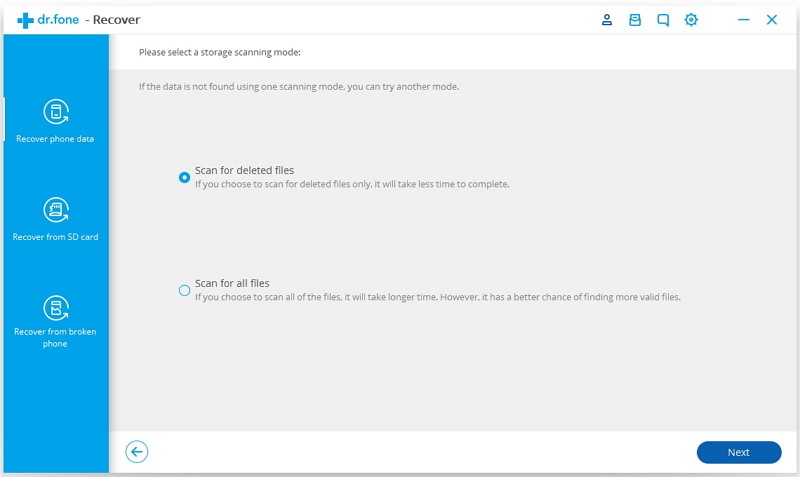 3. To continue recovery, the program has to root your phone and install root access management app SuperSu which may ask for your allowance, so you should tap "Allow" on your phone once you see the prompt. Wait for the progress bar to finish. Do not quit the process or disconnect your phone.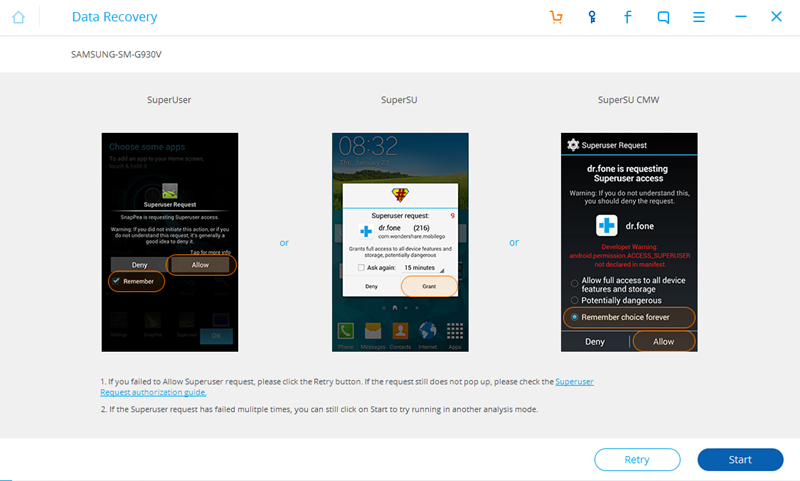 4. Select the pictures to recover. As you can see from the below page, your chosen file types will be on the left side of the window, and the concrete photos listed in the main window. Check the checkbox to select them and then click on "Recover". Your deleted pictures will be back in one click.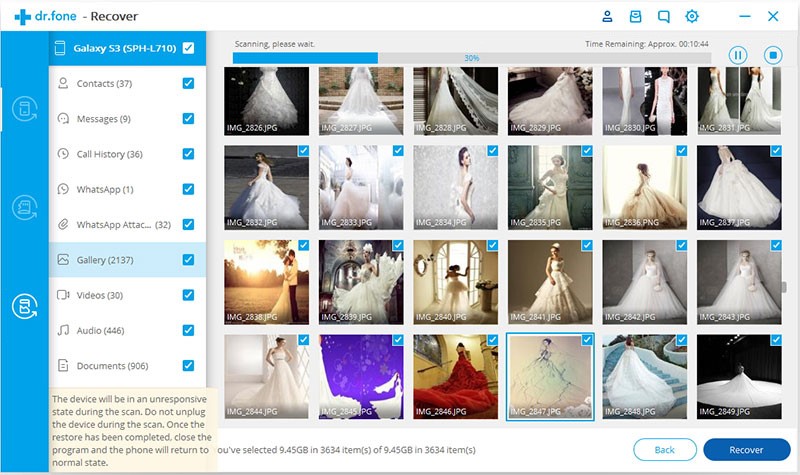 Download WinDownload Mac
Above is all suggestion for you to recover your deleted pictures from Android phone. For the most part, many of you don't have a recent backup so your best and only way is to recover by third-party software, such as Android Data Recovery.