WhatsApp plays a crucial role in our everyday communication. It has practically changed the way we interact or share information with friends, colleagues, and acquaintances. You can effortlessly send text messages, videos, photos, and group chat with friends on WhatsApp.
However, any loss of data, be it photos, videos, and text messages can be utterly frustrating. Losing your valued media files clips is like wiping clean your memorable moments. It's simply scaring. What then should you do when photos or videos are accidentally deleted?
If you are a victim of data loss, this step by step guide on how to restore your lost images and videos on WhatsApp will certainly be a big relieve for you.
Part 1: Recover Recently Deleted WhatsApp photos and videos from Auto-Backup
Part 2: Recover WhatsApp photos and videos with Android Data Recovery
Recover Recently Deleted WhatsApp photos and videos from Auto-Backup
WhatsApp automatically creates a local backup for all data derived from chat history at 2.a.m every single day. This is just but good news.
How to restore WhatsApp messages from local auto-backup
At times we delete images or clips only to regret later. However, all is not lost as you are totally covered by WhatsApp auto-backup. Having anticipated the possible data loss, the backup software automatically saves your chat history and creates a local backup.
How then do you retrieve images and videos deleted from WhatsApp? By following a three-step process, you can be able to restore all the lost data.
Step 1: Uninstall and reinstall WhatsApp on your device
Step 2: Verify your number in the setup screen, then you will be asked to restore your chats and media from a local backup or Google Drive backup, click the "Restore" option when prompted to.
By clicking on the restore button when reinstalling your WhatsApp, you will be able to get back all your lost data. Your cherished pictures and other attachments that you may like to restore will all be available for you to access on your device.
Note: You may be asked to restore from Google Drive backup or local backup, it depends on whether you have set up a Google Drive account to sync your chats.
Restore messages from your phone's internal storage: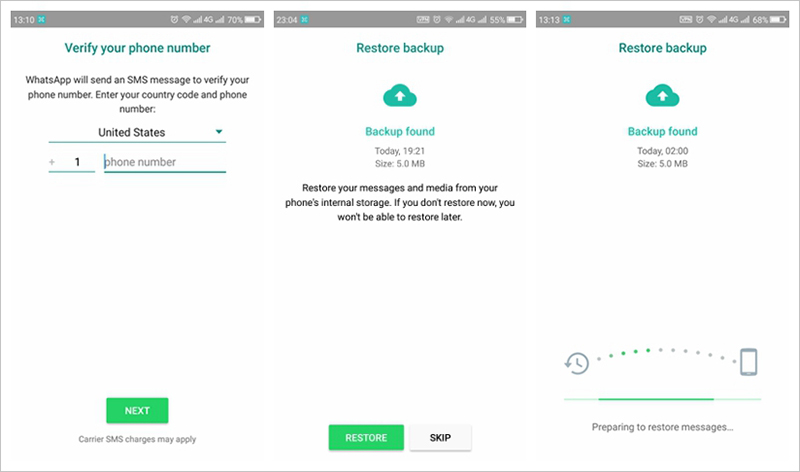 Restore messages from Google Drive: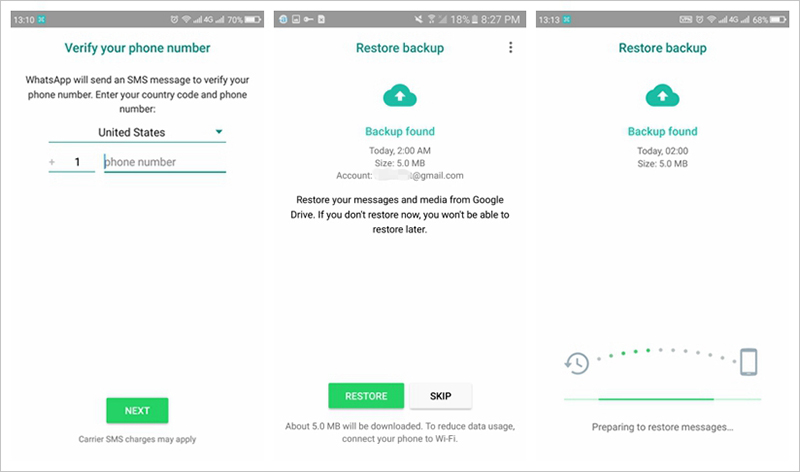 How to back up and restore WhatsApp messages with Google Drive
Besides, you can equally backup all your chats that include video clips and photos to Google Drive. It, therefore, means that any of your valued chats can be restored by following simple data recovery steps even your phone is broken or has been stolen.
So how to back up to Google Drive? Install Google Drive and log in your account. Next, open WhatsApp, tap the Menu Button > Settings > Chats > Chat backup, tap on Back up to Google Drive and Add account when prompted. Now you can restore or transfer your WhatsApp with Google Drive.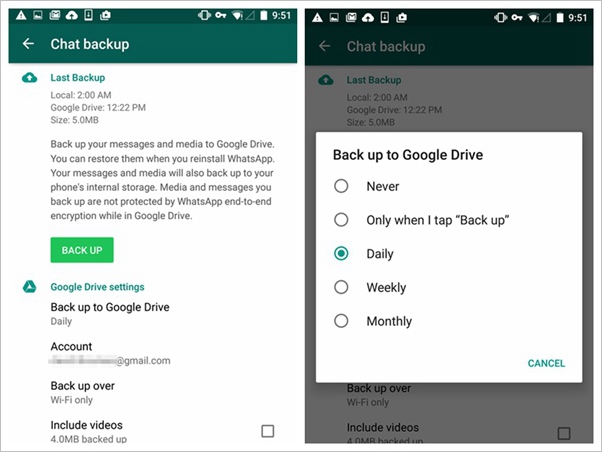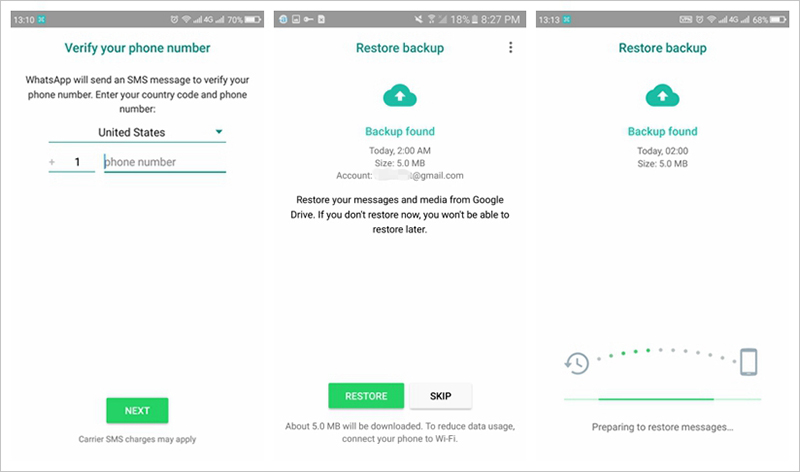 Recover WhatsApp photos and videos with Android Data Recovery
However, only recently deleted messages can be restored with method 1. But don't be frustrated, you can have an easy to use and flexible data recovery software to dig up your less recently deleted messages.
Android Data Recovery is a program that is compatible with many Android supported devices include Samsung Galaxy, LG G, HTC One, MOTO, OnePlus with exclusive ability to restore lost data. The software has a world-class user interface that enables users to get back their lost data with a lot of ease. It has instructions that are availed to users in sequential steps. As a result, you will be able to retrieve your WhatsApp videos and pictures by following the simple data retrieving instruction prompts.
Download WinDownload Mac
The sequential steps include:
Step 1: Prevent overwrite and download Android Data Recovery software
Begin by preventing data overwrite. This step is very crucial as any form of overwriting can result in an irreversible data loss. How do you prevent overwrite from happening? By not taking any image, recording video, or sending messages you will avert any possibility of data overwrite. After that, download Android Data Recovery software to your PC.
Step 2: Connect your Android device to a computer with the use of a USB cable.
After downloading the software, launch it on your PC. Once the interface of Android Data Recovery is visible, select "Android Data Recovery" and connect your device to the PC via a USB cable.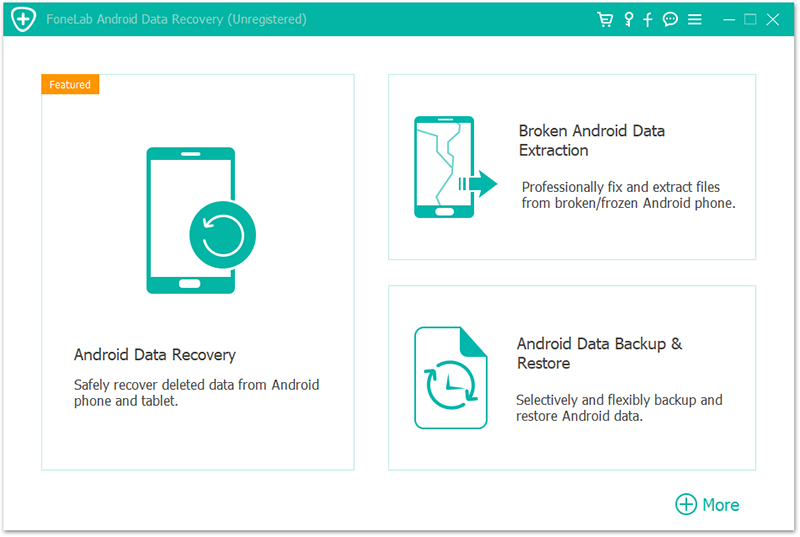 Step 3: Enable USB debugging
You will be in a possible to initiate Android USB debugging process once the Android software has detected your device. Depending on the type of device that you want to debug, the software will prompt you to select the correct format that is compatible with your device.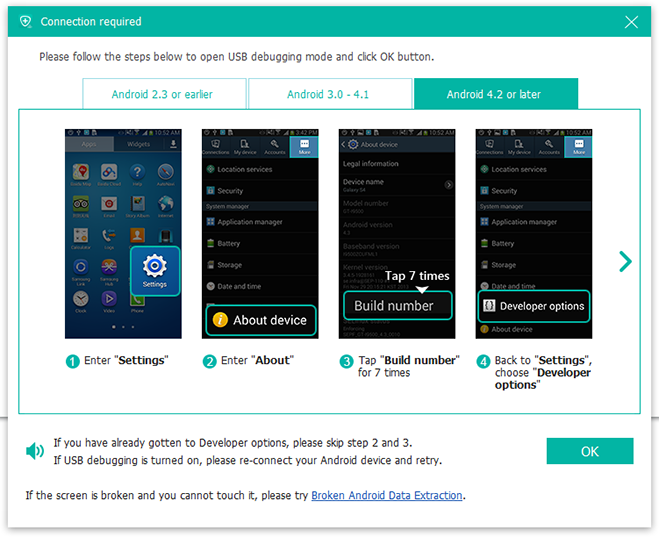 Step 4: Select the kind of data you would like to scan, in this case, tick on "WhatsApp messages & attachments".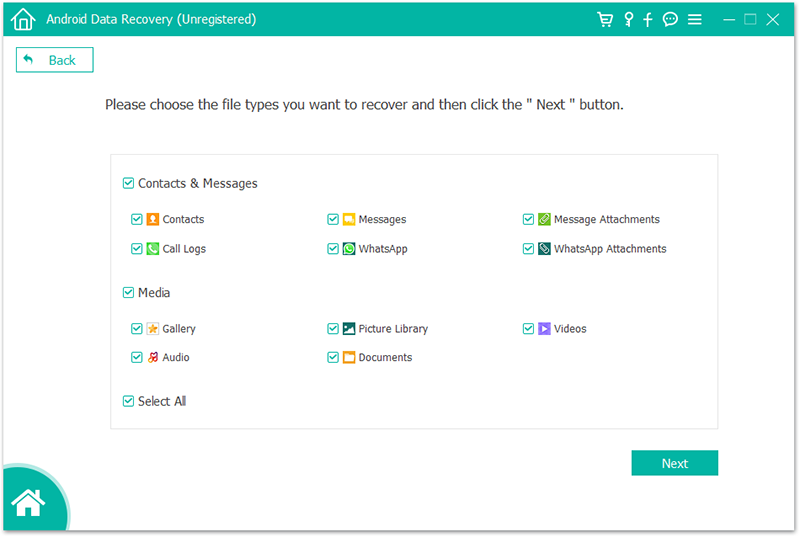 Step 5: Preview and subsequently restore the lost video and photos.
Once the scan is over, the device will allow you to preview all the potentially retrievable data. Select WhatsApp category and tick the video clips and photos that you would like to restore. Click "Recover" option to get back all your lost data.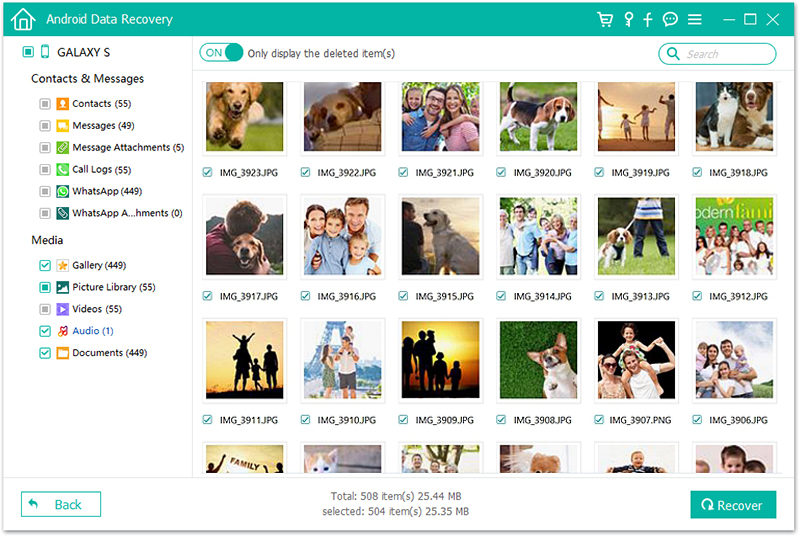 Conclusion
The Android Data Recovery software has made it possible for you to retain those precious moments even when you accidentally delete them. You can get exclusive data retrieving software that is not only compatible with your device but comes with a user-friendly interface. By following the simple prompts, you can recover your all pictures and videos in a breeze.