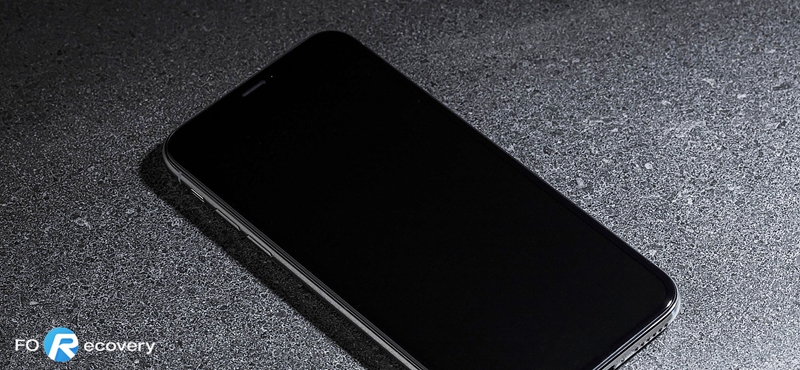 If your iPhone happens to be not responding, it is often categorized as being bricked. The non-working condition of the iPhone is a common problem that can be quite annoying as you find yourself not being able to access your iPhone. For example, when someone calls, you will be able to hear your device ring but since the screen does not turn on, remains black; you are not able to answer the phone. That is even though the phone may have a charge. Your iPhone may get bricked and won't turn on if it suffers from a hardware problem like running low on storage, improper screen replacement, and device dropping. Moreover, jailbreaking, and a system or software crash can also cause a bricked phone.Here are the 5 effective methods to help you unbrick your device.
1. Check Your Data Cable And Charge Your Phone
2. Hard Reset Your iPhone
3. Unbrick Your iPhone Using 3rd-Party Toolkit (Without Data Loss)
4. Restore Your iPhone To Factory Settings Using iTunes
5. Backup Your Phone Data And Check Hardware
1. Check Your Data Cable And Charge Your Phone
Your phone may not turn on for the simple reason that it has run out of charge or power. You should plug your device into a wall charger or into a computer. Leave the iPhone for a while to be charged since if the battery is completely drained it will not be able to turn on immediately.
It is important to note that if your iPhone data cable or charger does not appear to be working, you can use another cable or charger. Alternatively, you can try charging another iPhone with your USB cable or charger and thus see where the problem lies.
If your data cable is okay and your phone is fully charged and though still not turning on, here are other solutions for you to try.
2. Hard Reset Your iPhone
If your iPhone encounters a black screen and it is not able to turn on, performing a hard reset may help you solve the underlying issue.
To reset your iPhone:
For iPhone 6s and earlier – you are simply required to hold down both the Sleep/Wake button and the Home button at the same time for 5-10 seconds until the Apple logo is shown.
If you happen to have iPhone 7, instead of holding the Home button, you are supposed to hold the Volume down button.
For iPhone 13, iPhone 12, iPhone 11, iPhone X/XS/XR, iPhone 8 – Press and release the volume up button, press and release the volume down button. Then press and hold the Sleep/Wake button.
The time taken while holding the buttons tends to vary and that depends on your device state. Your iPhone will be able to boot or restart in a normal manner.
3. Unbrick Your iPhone Using 3rd-Party Toolkit (Without Data Loss)
It is also possible to fix the black screen problem of your bricked iPhone using 'iOS System Recovery' Toolkit without loss of data. It is professional software that enables device system errors to be restored in a safer manner. The process is fairly simple and less complicated and you do not need to worry about the risk of data loss.
The software is compatible with all iOS devices: the newest iPhone 13 series, iPhone 12 Series, iPhone 11 series, iPhone X/XS/XR series, and earlier iPhone 8/7/6/5, and iPad, iPad Pro, iPad Air, etc with iOS 15.
Download WinDownload Mac
Here is how to use 'iOS System Recovery' tool to unbrick your iPhone.
Step 1. The toolkit for system recovery must be downloaded, installed and launched on your computer.
Step 2. From the displayed main menu of the software, proceed to the left bottom and select the option 'More Tools'. Then click 'iOS System Recovery' for the process of fixing iOS to start.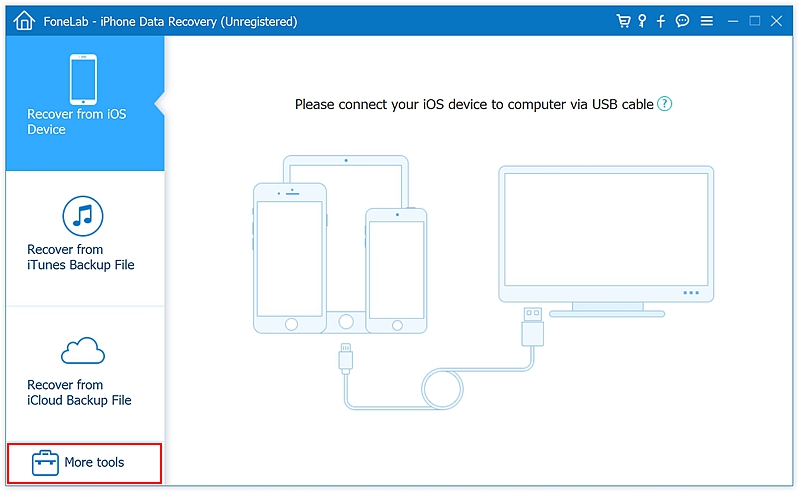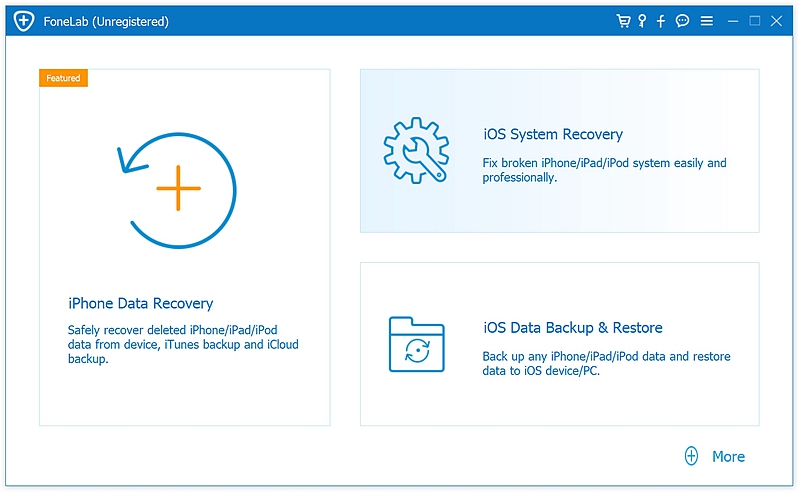 Step 3. Use your USB cable to connect your bricked phone to the computer. The toolkit is able to automatically recognize your phone and display the system issue of the phone. Click the option Start to continue.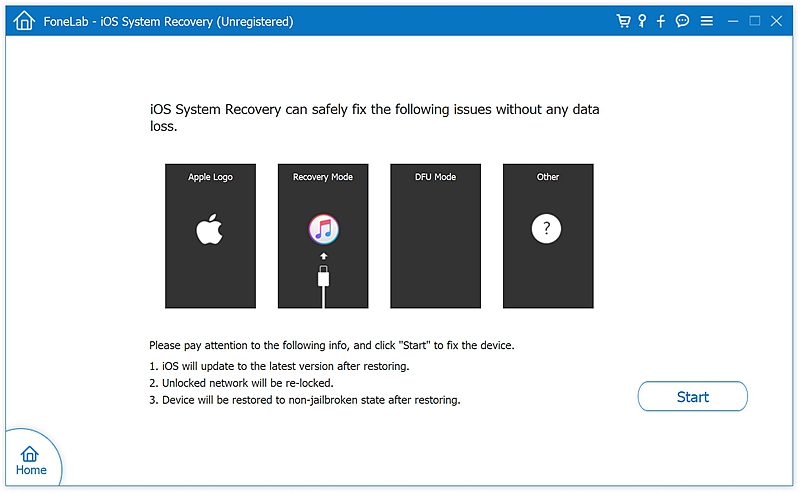 Step 4. After the software recognize your iPhone, click 'Repair' and the software will download and reinstall the latest iOS firmware to fix your bricked iPhone.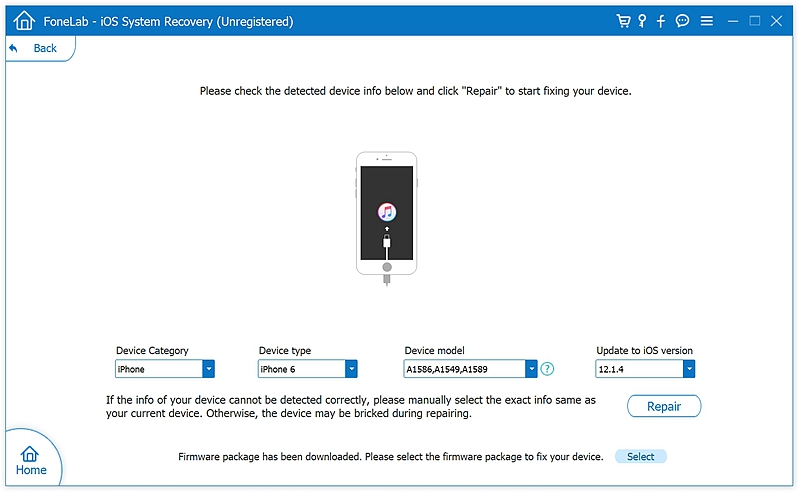 Step 5. The process of recovering the system of your bricked phone will take a little longer. Ensure that you do not disconnect your phone when the process is underway since it will lead to a failed repair.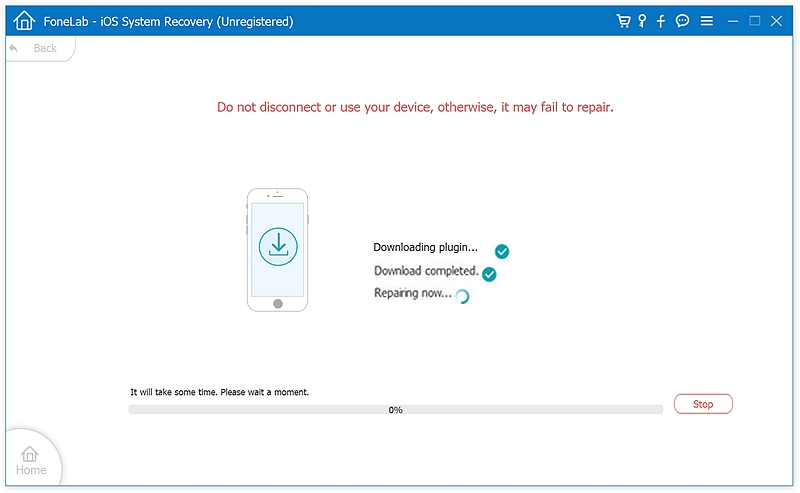 You will be informed once the process of repairing your phone's system is complete. Your phone will now be able to normally turn on or off.
4. Restore Your iPhone To Factory Settings Using iTunes
If the solutions provided above do not work then you can also employ the use of iTunes. It is important that you have an iCloud or iTunes backup of your data before subjecting your iPhone to this process. That is because the use of iTunes to restore your iPhone to factory settings ensures that all phone data is deleted.
Here is how to use iTunes to fix your bricked iPhone.
Step 1. Simply download, install and launch the latest iTunes version on your computer.
Step 2. Use a USB cable to connect your phone to the computer and iTunes will be able to detect your connected device. Proceed to the Summary section and you will see various options including for checking for updates and restoring iPhone.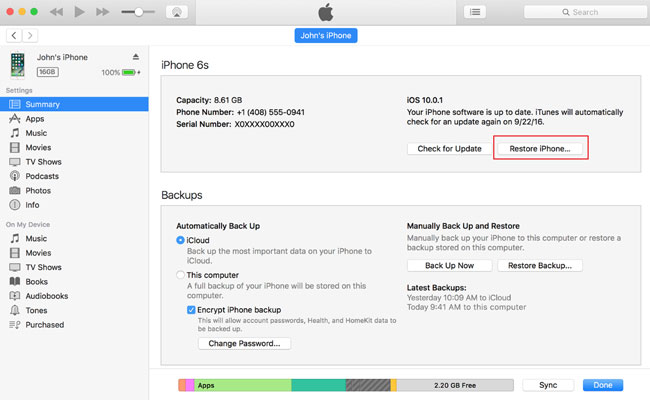 Step 3. If you click the Restore iPhone button, a pop-up message will be seen. You are supposed to agree to a restore for your device to be reset.
5. Backup Your Phone Data And Check Hardware
If your iPhone's black screen is not as a result of liquid or physical damage, and you are under warranty, the repair cost will be covered by Apple with no charge. If you have to incur repair expenses, you should note that Apple can be an expensive repair option.
Note that checking your hardware may result in the phone data being lost or compromised. Therefore, you must first backup your important phone data with iTunes before performing a hardware check.
In conclusion, if you have used any of the options provided here for repairing bricked iPhone, it would be nice to hear about your particular experience by leaving a comment. As well, since sharing is caring, you can share this article with your friends to help them avoid relying on inaccurate information available concerning how to fix a bricked phone.