We all hate it when our contacts get deleted. When it happens, you have to start building your contact list from scratch unless you had back up. That means asking whoever is calling or texting their name and if you're lucky, they won't get offended and hang up. Then you have to explain what happened to your phone. This might not be a problem for some people, but if it fell in the water, one of a couple of things might have happened and it's not always a sink or bathtub if you know what I mean. You need to have a way to avoid these tricky situations and the safest bet it to back up your contacts. if you have no way to back up, stick around.
When you are an iPhone user, whether its iPhone 4, 5s, 6, 7, or the newest iPhone X/8 with iOS 11,  there is a similar way to back up or restore lost contacts. You have a number of ways to do this.
Method 1. Restore Contacts from iCloud Backup
Method 2. Restore iPhone Contacts without Backup
Method 3. Restore iPhone Contacts from Gmail
Method 1. Restore Contacts from iCloud Backup
iCloud has been exclusively provided to all Apple devices. It is easy to use it, using the following steps.
Step 1: Go to your settings and select the iCloud icon.
Step 2: Turn your contacts off. You will see a pop up. Select the option to keep synced iCloud contacts on my iPhone.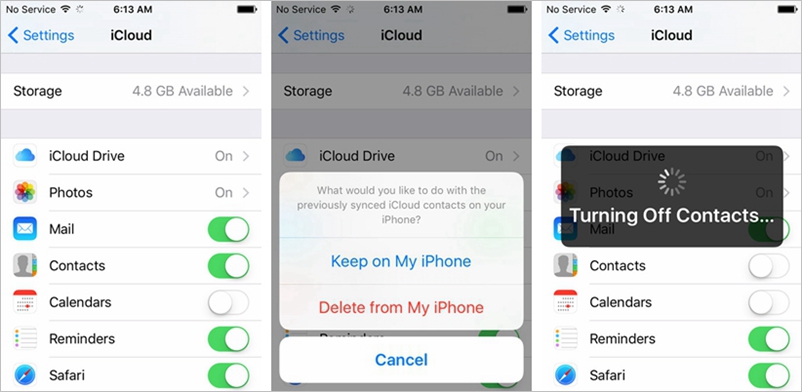 Step 3: Wait until contacts are completely turned off then turn them on again.
Step 4: To successfully finish this process merge the contacts from iCloud with existing ones on your phone.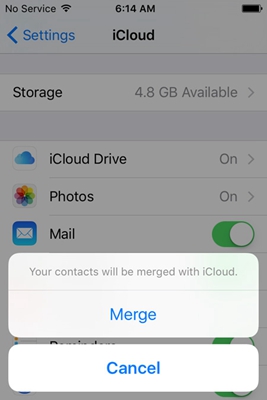 In order to effectively use this method, you will need good internet connection and your contacts must have been backed up during the previous 180 days.
There are a few downsides to backing up using iCloud. For starters, this method cannot be used without downloading the latest iOS. Also versioning history is not retained. Whenever you make changes to anything on your device, it's old version is retained, just in case you need to check it out or use it later. This is versioning and it is not possible when using iCloud to back up your contacts. Another disadvantage is that you can only have one iCloud account for all your Apple devices. This account only has 5GB of space, and if you have a lot of data to store, 5GB might not be enough.
Method 2. Restore iPhone Contacts without Backup
You must be thinking that if you do not have iCloud or if it's full, you're toast. Luckily, you're not. There is software that is great for retrieving deleted or lost contacts. The iPhone Data Recovery software for instance.
This is a toolkit that will allow you to restore your old contacts with some very easy steps.
Download WinDownload Mac
Step 1: Download iPhone Data Recovery toolkit and click on "Recover" feature.
Step 2: Connect your iPhone to computer.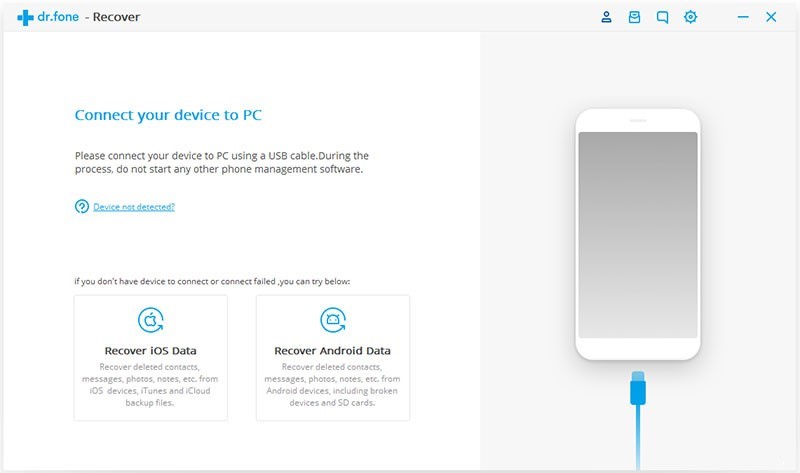 Step 3: Tick on the Contacts check box only from the "Deleted Data from the Device" section, then click "Start Scan" button.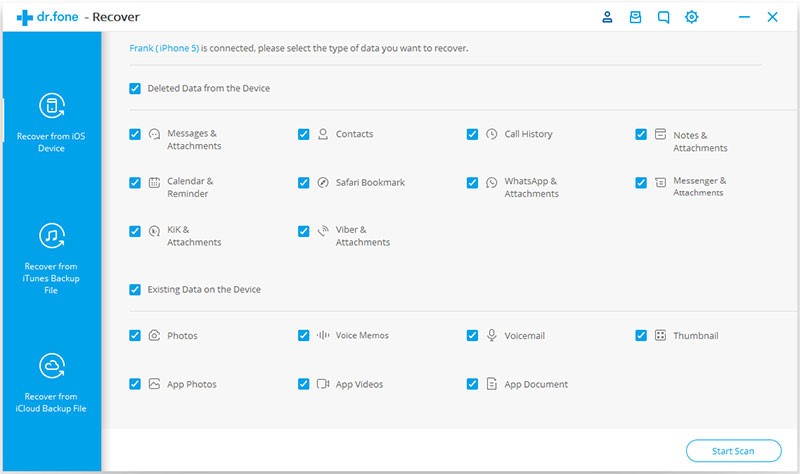 Note: On the left window, there are three parts to using this; you can either recover data from the iOS device directly, recover data from iTunes backup or iCloud back up. Since you have no back up you have to recover data from iOS device directly.
Step 4: If you happen to see the contacts you were looking for before the scan is over, you can pause it because scanning everything will take some time. The results will be displayed on lost data and existing data in separate categories.
If you only want to see the deleted items, swipe the "display deleted items" on. At this point you can search for specific contacts by entering the keywords in the search box at the top right of the window. In case you're not sure of what you're looking at, preview the said item by clicking "file type" on the left side.
Step 5: Check all the contacts you want to restore and click the "Recover" button at the bottom right. You can choose to recover it to your computer or device. Choose the preferred option and voila! You have your lost contacts back.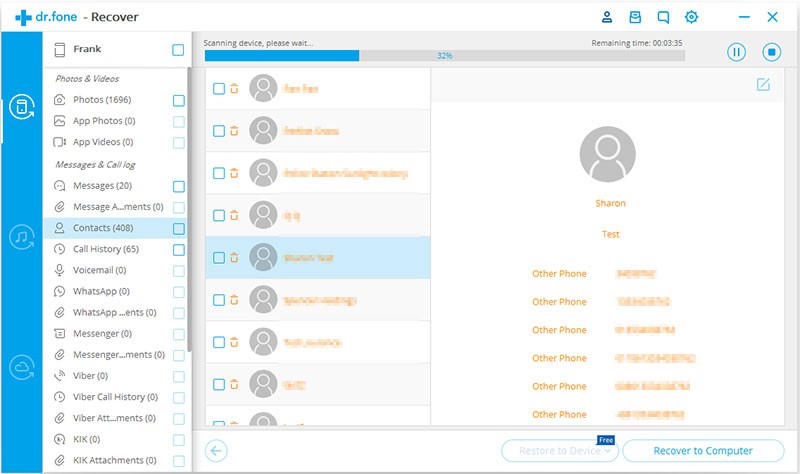 A few things to note if you want to use this method; you need to have the latest version of iTunes. If you already have it, do not launch it when running dr.fone toolkit.
Download WinDownload Mac
Method 3. Restore iPhone Contacts from Gmail
The advantage of using Gmail is you only need your phone but make sure there is internet connection. You also need a Gmail account that has synced your contacts before.
Step 1: On your iPhone's home screen, select settings, tap contacts > Account. The next window that should pop up is "Add Account". Select Google.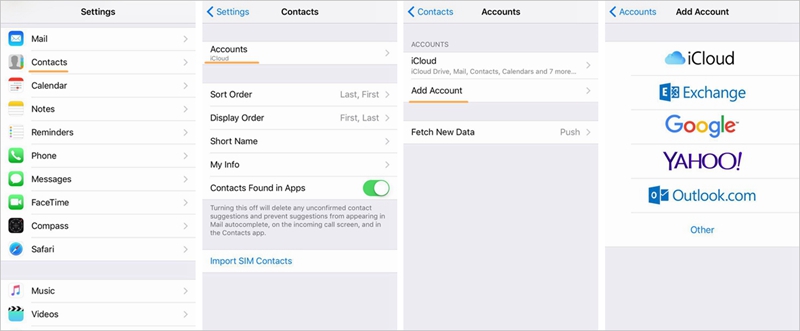 Step 2: An accounts.google.com window appears. Enter your Gmail account and your password in the relevant fields. Click allow in the next window where iOS requires permission.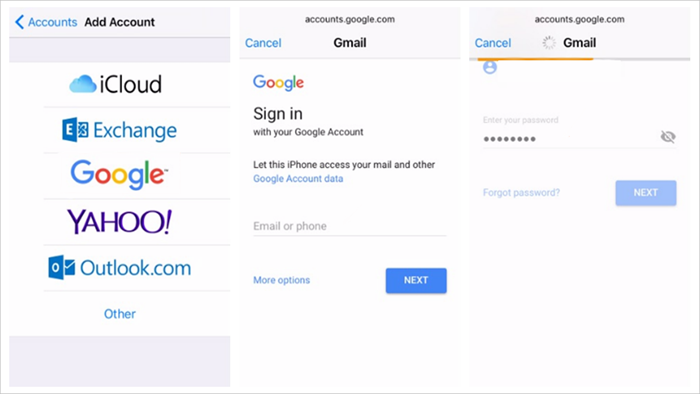 Step 3: Enable the app by sliding the contacts button to the right on the Gmail window. Keep your existing contacts intact by tapping "Keep on My iPhone" on the pop up. Tap save on the top-right corner to finish.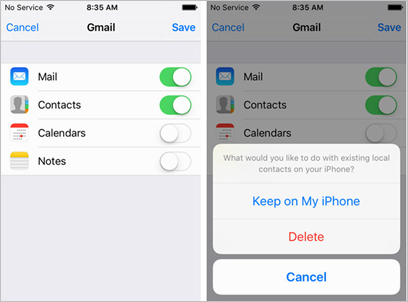 Wait for the Gmail account to be added to your iPhone, and contacts will automatically get restored. Remember, if a contact already exists in your Google contacts, an imported one replaces it. You can however merge duplicate listings for the same person in your Google contact.
Conclusion
All the above steps will help restore lost contacts from iPhone 7, 6, 5s and 4. All you will need is an iCloud or Gmail account, or download the iPhone Data Recovery toolkit if you never backed up your contacts. So be prepared and back up your contacts now, then retrieve them whenever you need to.