Apple is always trying to come up with new software updates to enhance security and improve its features. With the new iOS 11 update, iPhone and iPad users will be able to automatically update their devices to this version.
The new iOS 11 update will not support iPhone 5 or iPhone 5C users or the 4th generation iPad and thus users may be required to upgrade to the newer versions of this devices to ensure they receive important performance and security updates.
However, as is with the previous history of updating software, problems have been encountered to the point of freezing the device during the process. Here is a breakdown of the hows and whys and the solutions to the problem of freezing during the update so that when it comes to installing the new iOS you do not have a problem.
Part 1: Why iPhone Freezes During the Update
Part 2: Procedure to fix Frozen iPhone.
– Force Restart the iPhone
– Restore in Recovery Mode/DFU Mode
– Fixing an iPhone Frozen with iOS System Recovery
Part 3: How to Prevent an iPhone from Freezing During an Update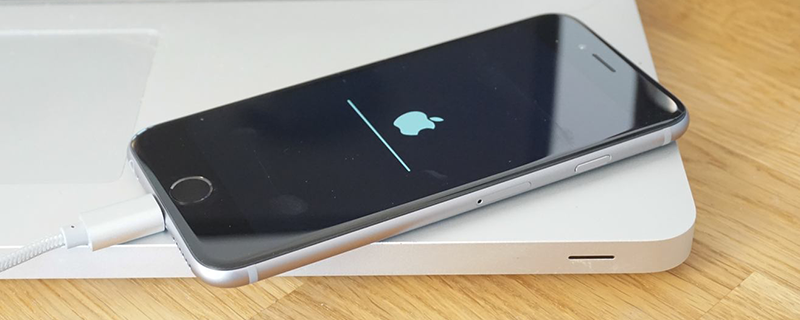 Why iPhone Freezes During the Update
Your iPhone may freeze because:
Your phone may have low internal memory and cannot accommodate the new software.
There is a corrupted file or application on your device that is incompatible with the new software.
Your phone may be low battery or overheated and cannot perform the update process effectively.
Whatever the reason your iPhone froze, you need a reliable and simple solution to get your iPhone back to utilizing. Here is the procedure to fix the problem.
Force Restart the iPhone
This is also known as a hard reset. You can do this by;
Holding the Home button and the Power/Sleep button together for at least 10 seconds. Do not let go until you see the Apple logo appearing. After this, the phone should be unfrozen.
Note: If you are using the latest iPhone versions (iPhone 7/7 Plus or newer) you hold the Power button together with the Volume down button.
Restore in Recovery Mode/DFU Mode
Try the following procedure if the hard reset fails.
PROCEDURE
Step 1: Connect the iPhone to your computer and open iTunes.
Step 2: Go to Recovery Mode –  Hold the Home button on your device as you open iTunes. Release the Home button only after you see a message on iTunes stating that recovery mode has been detected in the device.
Go to DFU Mode – If you fails to go to the Recovery Mode, try the DFU Mode again.
Press and hold the Home and Power/Sleep buttons (Volume Down and Power/Sleep on an iPhone 7/7+) at the same time for 8 seconds, until the screen turns black, then release the Power/Sleep button but continue holding the Home/Volum Down button. You should see a message in iTunes saying a phone in Recovery mode has been detected
Step 3: Click on the "Restore" in iTunes.
Note: This process is risky and you are advised to have a backup of all your data on iCloud or iTunes because your device may lose all its data after this process. After the reboot, you can restore all your data.
Fixing an iPhone Frozen with iOS System Recovery
Another method to unfreeze your phone is provided for by iOS System Recovery and it works very fast. This system recovery is designed specifically to make sure your device is unfrozen.
Download WinDownload Mac
It has the following characteristics:
· It can fix iOS problems such as upgrade failure or when your iPhone is stuck on the white screen or blacks screen.
· It is compatible with the newest iOS versions.
· Its compatibility with multiple iOS devices including the iPhones and the iPads makes it even more efficient.
· It fixes your iPhone with no data loss.
· It is compatible with Windows 10 or Mac10.11
How to fix your iPhone using iOS System Recovery
Step 1: Download iOS System Recovery and install it on your computer.
Launch it and then select "System recovery" in the dash board.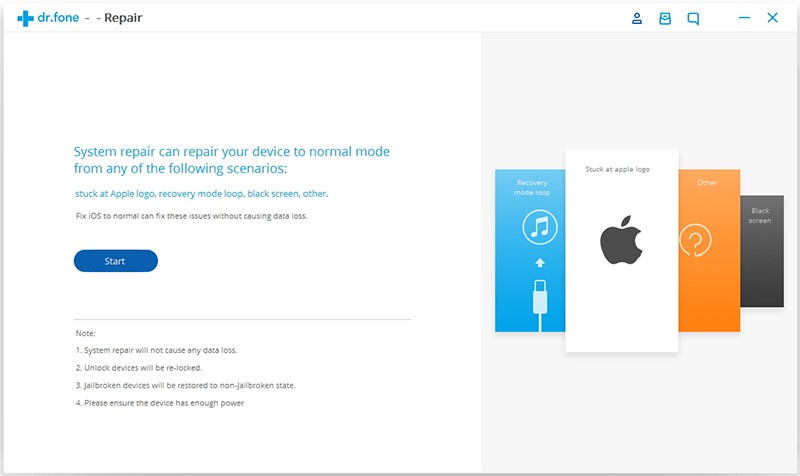 Step 2: Use a USB cable to connect your iPhone/iPad to your computer. The program will detect your device. After ascertaining this, click start to continue.
Step 3: For the unfreezing part now, the software will need to download a firmware for your iOS device.
iOS System Recovery becomes advantageous at this point because it is able to recognize the iOS on your device and offer the latest version.
A firmware that is compatible with your iPhone should appear on the program. Click download and then wait until it is fully downloaded.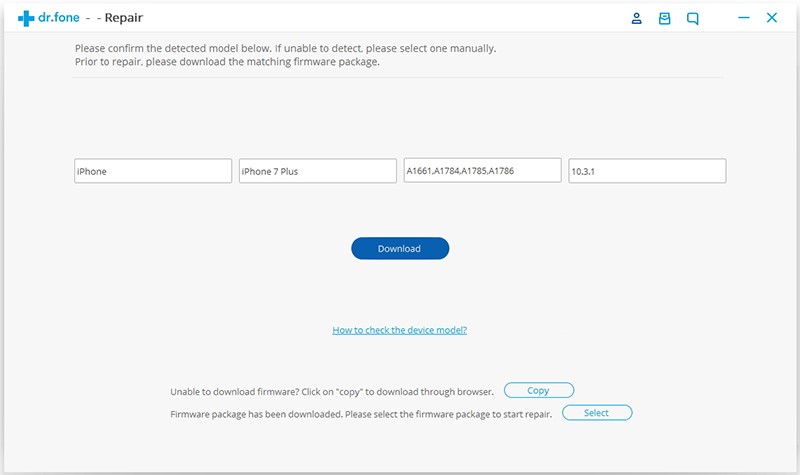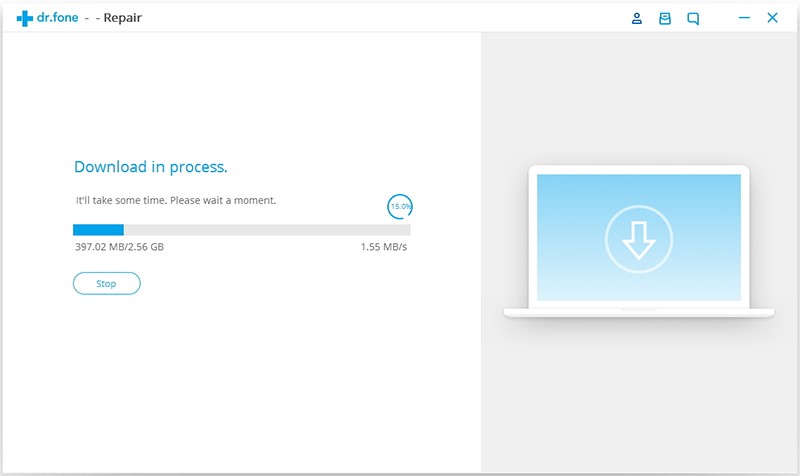 Step 4: After the download, the program should start fixing your phone. The progress will appear on the screen.
iOS System Recovery will notify you after a few minutes that the device is restarting in its normal mode. This process takes less than 10 minutes and your iPhone will be back to normal.
The consequences of using this method include the fact that;
If your device was locked before the freezing problem, it will go revert back to its locked state.
If your device was jailbroken, it will be non-jail broken after unfreezing it.
Your device will be automatically updated to the latest iOS version.
How to Prevent an iPhone from Freezing During an Update
In as much as we are providing ways to solve the problem of your iPhone freezing during a software update, it is better to avoid this problem before it actually happens.The following measures enable you to prevent the problem of freezing.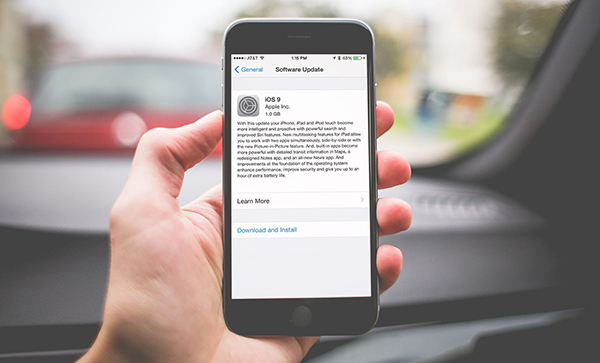 1. Make sure your phone always has enough memory space not only in times of software updates but at all times. The recommended space is 250 Mbs of memory space should always be free. This is in line with the problem of having insufficient memory during an update being one of the reasons that may cause your device to freeze.
2. Always back up your device either on iClouds or iTunes, whichever you deem fit. Knowing all your data is backed up in a safe place will enable you to clear up your phone more often and have the required free space that is recommended. Your phone will not always be overcrowded and the problem of freezing will be avoided, among others.
3. Always ensure that your software is up to date and that you are enjoying the benefits of the latest software. It is known that freezing occurs during the update and this is where you may need the procedures stated above to restore your phone to its normal state. iOS System Recovery software update is highly recommended.
CONCLUSION
With the launch of the new iOS 11 update, iPhone and IPad users are getting more advantages as their devices are more powerful and intelligent. This software update is thus very essential to iPhone and iPad users.
Difficulties encountered during the update, especially freezing as in this case will be solved with the procedures provided above. iOS System Recovcery software comes as the best option and it takes not more than 10 minutes to update your device. The tips provided will definitely be useful to your device.