Almost every day we use WhatsApp to chat with our family, friends, lovers, etc; we use WhatsApp to send photos or documents about business to coworkers or bosses; we use WhatsApp to make voice calls or video calls to any of our contacts. So we can draw to a conclusion that along with the popularity of WhatsApp, we rely more and more on it for daily communication. Similarly, we find it desperately necessary to transfer messages on WhatsApp between two phones when we change a new phone. If you haven't figured out how to transmit WhatsApp messages from Android to Android, please refer to this article and I will show you 3 effective ways.
Method 1: Transfer WhatsApp Messages from Android through Google Drive
Method 2: Transfer Android WhatsApp Messages Through Local Backup
Method 3: Transfer WhatsApp Messages Through Phone to Phone Transfer
Method 1: Transfer WhatsApp Messages from Android through Google Drive
Before use Google Drive to transfer your WhatsApp Messages, make sure that your phone has installed Google Drive. And notice that the Google Drive only upload the chats of latest 7 days, which means that you can only restore the message partly. The transfer process is quite simple, please read on.
Detailed steps:
Step 1: Using your old Android device, open the WhatsApp and in a logical order, tap the Menu Button, then the Settings > Chats > Chat Backup and add the Google Drive account, lastly the Backup.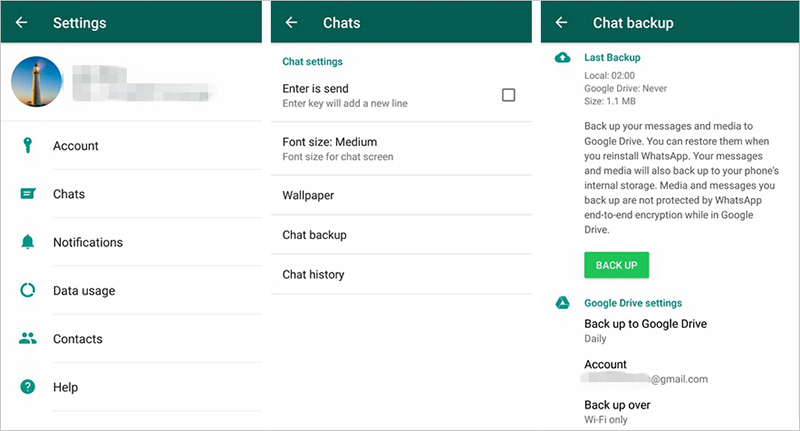 Step 2: Using your latest Android device, you can install WhatsApp and then log in through a similar account by using a phone authentication.
Next, you can tap "Restore" button and then wait for a few minutes for the completion of the backup process. Ultimately, the previous chats messages would have been transferred to your new Android device.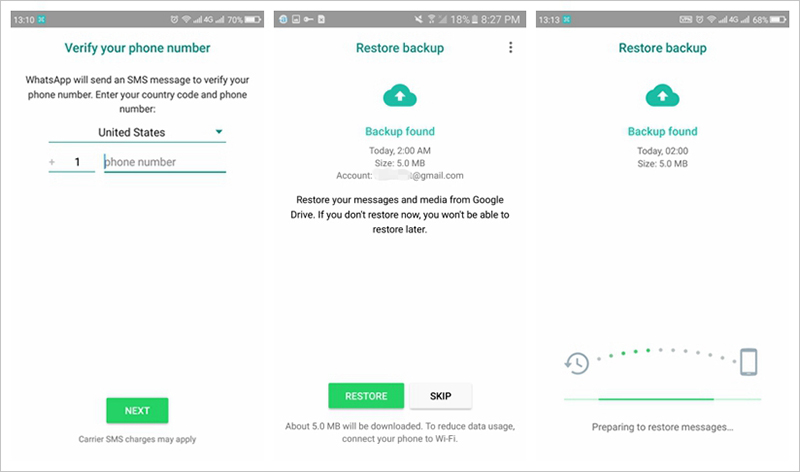 Method 2: Transfer Android WhatsApp Messages Through Local Backup
The method proves itself as an alternative solution to the utilization of the online service back up. The service sends files through the internet and ensures that security of data stored in the facility becomes a guarantee.
Detailed steps:
Step 1: Open the WhatsApp on the old Android device and then tap the icon having three dots on it. Select Settings, Chats and lastly Backup on a one by one basis.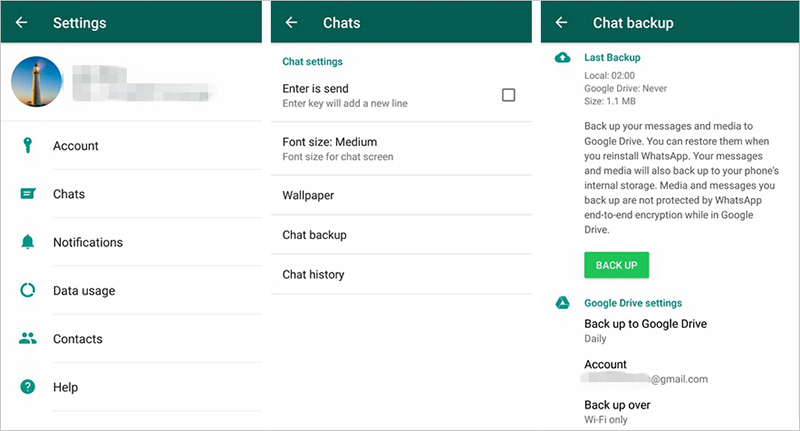 Step 2: You can install the new app on the new Android device
Step 3: Verify the old Android specification about the type of memory card available. In ascertaining this specification, there exist two scenarios:
When your Android phone has an external storage, unmount the memory card and mount it on the present new one.
When your used Android phone has an internal storage, the whole process in operation becomes less simple
When you have located your Android folder in its own storage, you can copy all the files to the new Android phone just in the very folder named as "WhatsApp/ Databases" and "WhatsApp/ Media".

Note: Please double check if all your needed files have been chosen so as to avoid creating any problem more than necessary.
Step 4: As the last step, you can run the WhatsApp on the new Android device and consequently verify the phone number used by logging into the old Android phone. After the verification process, tap the "Restore" button and view all your previous chat messages on the new device.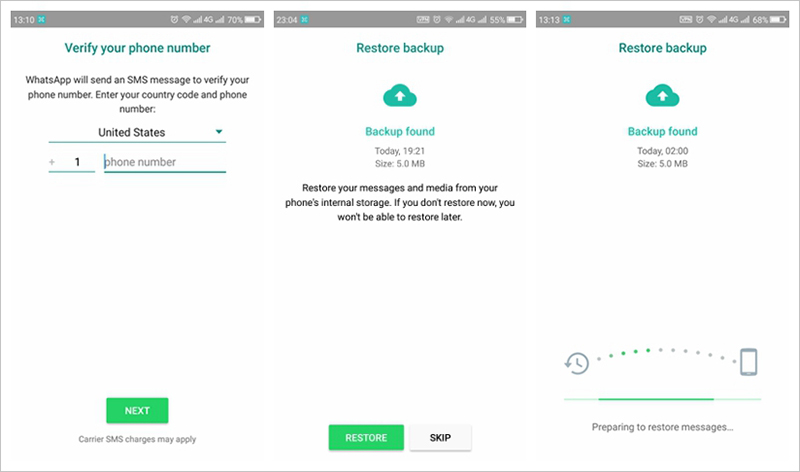 Method 3: Transfer WhatsApp Messages Through Phone to Phone Transfer
The two methods mentioned above are either partly transfer or complicated operation, but method3 is a powerful and user-friendly tool – Phone Transfer. It only requires the use of two USB lines for the Android device. Its execution involves:
Download WinDownload Mac
Detailed steps:
Step 1: Download and install the Phone Transfer software and then select "Switch"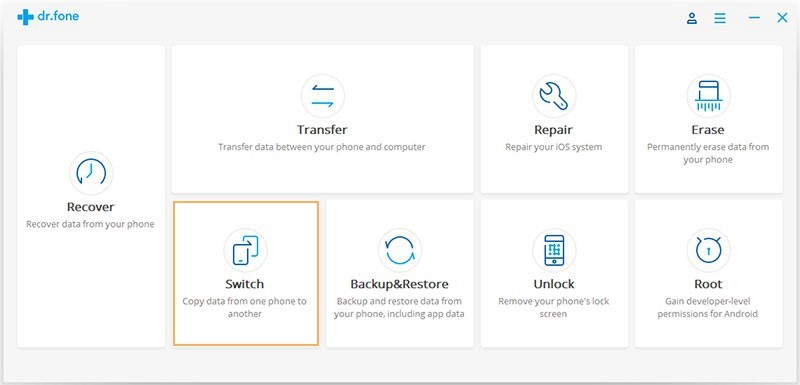 Step 2: After completion, go to your computer where you first make a connection of the two devices you have to the computer while using a USB cable. At the icon referred to as "Flip", click on it and you can slowly switch position of the start and the destination of the phone.
Note: Below the image of the destination phone, you can see the option "Clear data before copy", which is better not to be ticked in consideration of the completeness of data in the destination phone.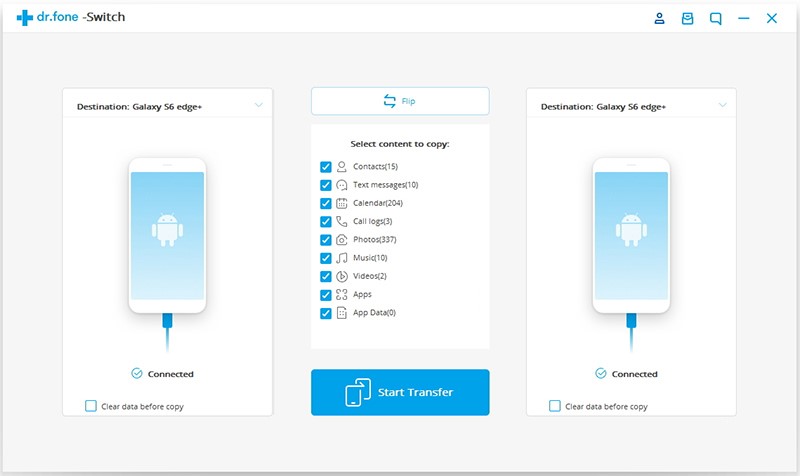 Step 3: You can select the "Apps" and "App Data" types and then begin the transfer using one click on the blue button and after a few minutes, all the WhatsApp messages would get transferred to the new Android phone.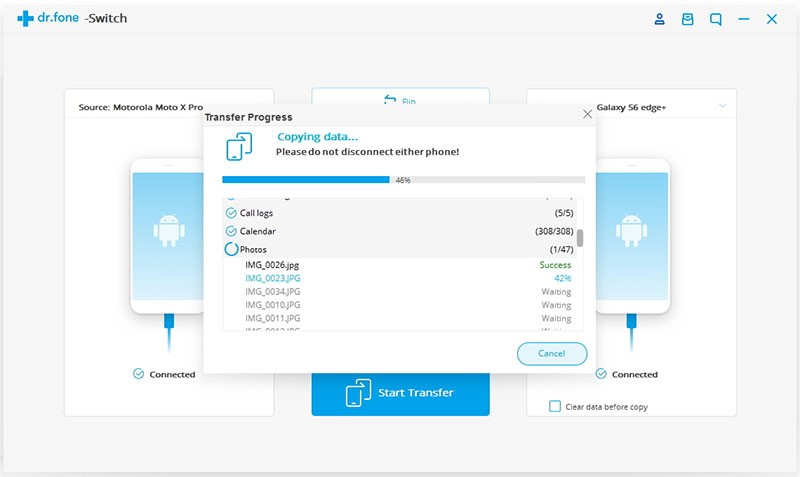 Note: Be patient because it may take a longer time to transfer if the quantity of your chat histories is huge.
Conclusion
Above all, the introduced three ways are respectively through Google Drive, local backup and MobileTrans. Though I recommend the Method3 most, you can choose one of them to move WhatsApp messages between two Android phones according to your actual situation and preference. I hope the recommended methods can help you successfully sync all your former precious WhatsApp chat histories so that your personal life will not be disturbed by losing WhatsApp messages. If you have any idea or suggestion, feel free to write down your comments. Thank you for reading!