The new iPhones boost a variety of new features that are very attractive to the modern generation. So, it is not so uncommon to find Android users switching from their Android devices to iPhone devices.
However, there is a limitation of this kind of move. Androids and iPhones devices use very different operating systems, which makes data transfer between them difficult. The data and app formats are very distinct, therefore migrating WhatsApp messages is not that easy.
This brings us to our main questions; is there a way of transferring WhatsApp Messages from Android to iPhone? Well, there a few solutions you can use, and we have addressed them in detail in this article.
1. Can I transfer WhatsApp messages from Android to iPhone via Google Drive?
2. Transfer WhatsApp messages from Android to iPhone using toolkit
3. Email your WhatsApp chat history to your iPhone
4. How to backup your WhatsApp messages to PC
Can I transfer WhatsApp messages from Android to iPhone via Google Drive?
To back up your WhatsApp messages on your Android device, you need the Google Drive. Android devices use Google Drive to back up and restore WhatsApp messages, while iOS devices use the iCloud. The two have very different encryption protocols, therefore they are not compatible.
Even with an iOS Google Drive app installed on your iPhone, you won't be able to restore your Android WhatsApp chat history with Google Drive, because the iOS WhatsApp will only communicate with iCloud backup file. As a result, you cannot transfer your WhatsApp messages from Android to your iPhone via official cloud backup and restore.
Transfer WhatsApp messages from Android to iPhone using toolkit
You can use Forecovery WhatsApp Transfer, Backup & Restore toolkit. It can transfer all your WhatsApp text messages, voice messages, photos, and videos from Android to iPhone and vice versa.
The toolkit transfers your WhatsApp chat history between iPhone and Android with much ease and convenience, it supports all iPhone devices from the newest iPhone 11 and iPhone X/XS to the previous iPhone 6/7/8, and all Android brands like Samsung Galaxy, Moto, LG, Huawei, Google Pixels.
Here is how you can use this amazing tool to transfer your WhatsApp data.
Step 1: Connect your Android and iOS devices to your Windows computer via a USB cable and launch the WhatsApp Transfer toolkit on it.
Step2: Navigate to the sidebar, then go to the "Transfer WhatsApp between devices" option. The display will show you the connected devices instantly. Use the switch button to verify their position as either source or destination.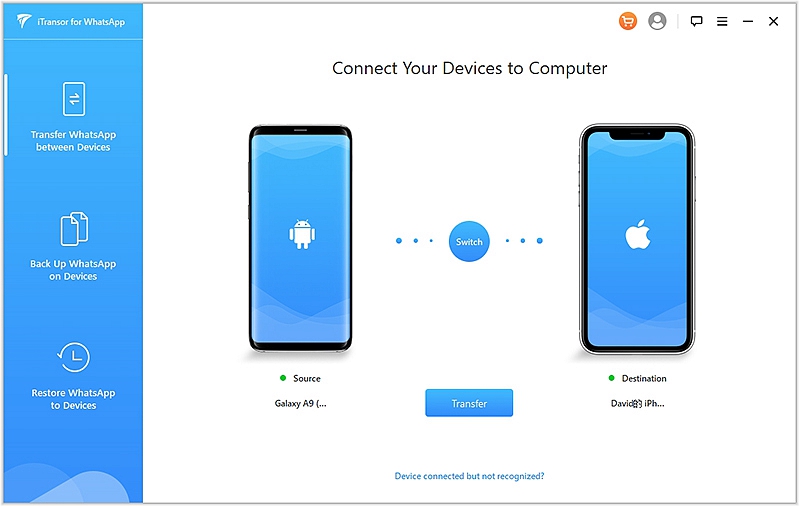 Step 3: Next, click the "Transfer" button to move the WhatsApp messages. Be patient as the process might take some time.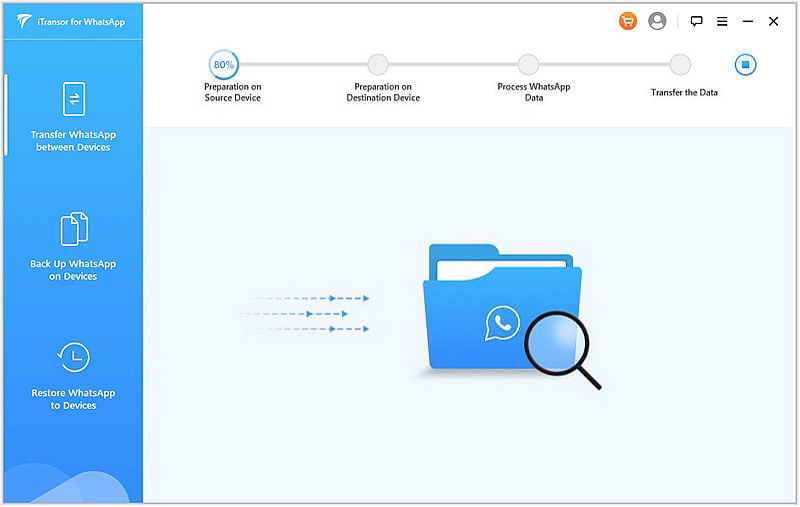 Step 4: Once the data transfer is complete, the program will inform you and you can safely eject your iOS and Android Devices from your computer.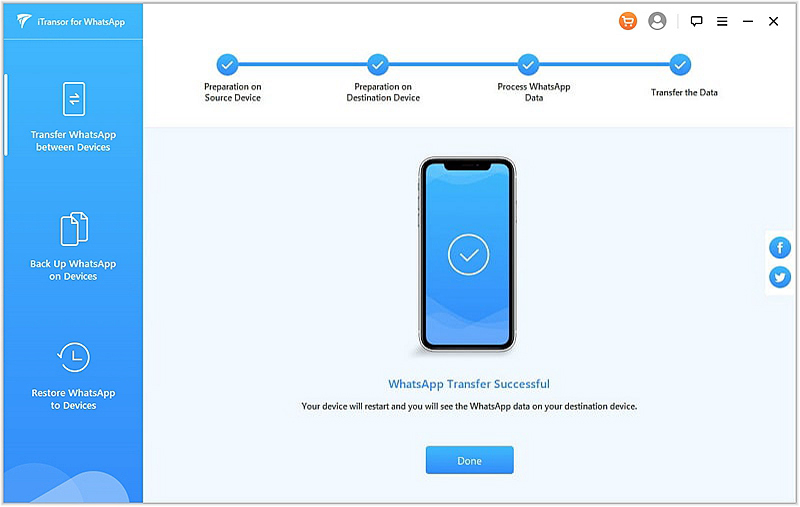 Email your WhatsApp chat history to your iPhone
Unfortunately emailing WhatsApp messages and attachments have some limitations, this makes it hard to export all media and messages in your chat. There are two options you can use to email your chats. They include:
With media files
When exporting with media files, you can only send a maximum of 10,000 messages. This size drastically reduces with the number of videos or images attached. WhatsApp creates a "Package" with the latest attachment and texts. The package is limited to only 18 MB of data.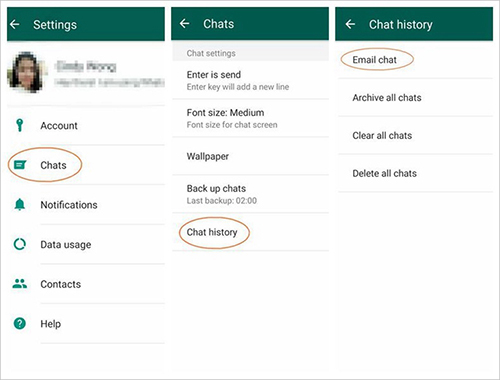 Without media Files
If you are transferring pure text, you can only email the last 40,000 messages. Because photos, audios, and videos are not exported you will find only blank spaces.
How to backup your WhatsApp messages to PC
You can also use the Forecovery toolkit to back up all your WhatsApp data to the local computer and preview the conversation any time, or later restore it to your phone.
Step 1: Launch the toolkit and go to the "Back Up WhatsApp on Device" section. Link your Android device with the software via a cable. Upon detection of the device, click "Back Up".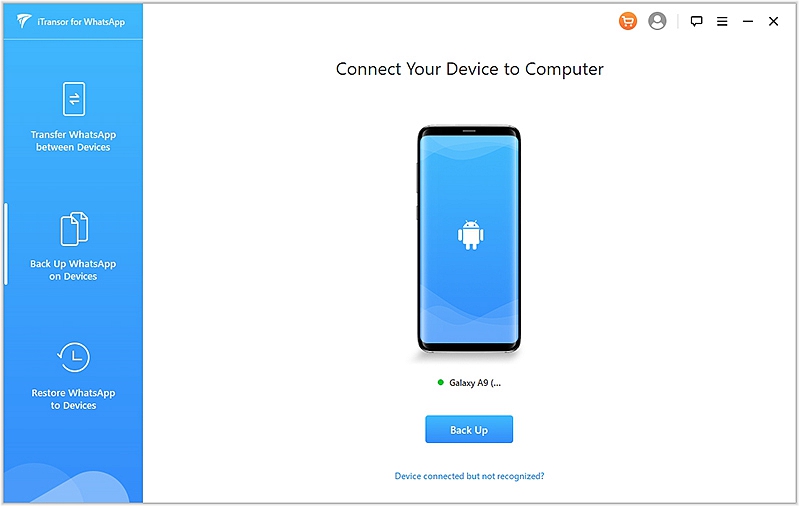 Step 2: Wait for the program completes the backup processes.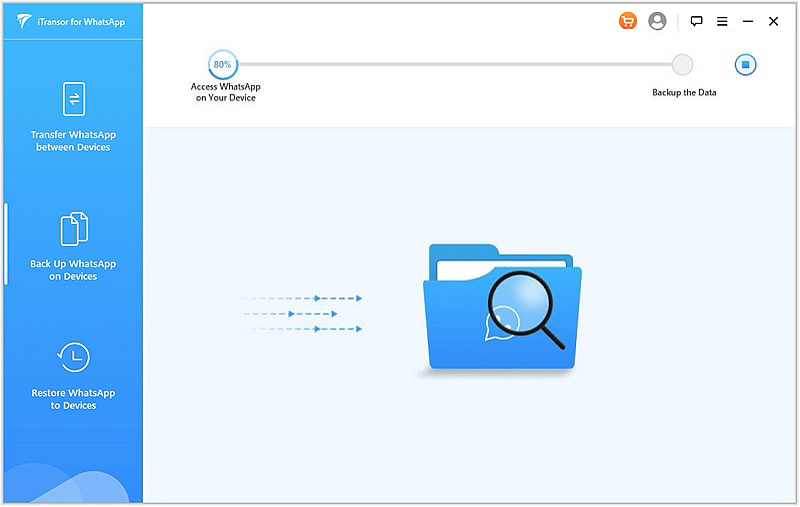 Step 3: To restore WhatsApp messages to your Android phone or iPhone, tap "Restore WhatsApp to Device" section on left side window.
Here you will view the backup list made by the software. You can preview the backup content using Forecovery Phone Transfer Lite.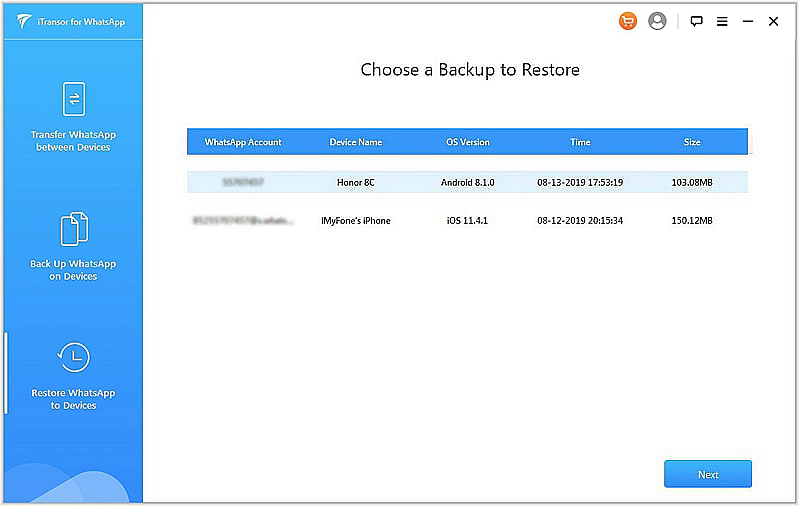 Step 4: Connect your Android device or iPhone to the software. Once it's detected click the "Restore" button and then wait.