Small wonder that some Android users would like to try something different and buy themselves a new iPhone. It is cheerful to buy a new iPhone, but is it unbearable when you couldn't get access to the WhatsApp messages on your old Android phone and therefore brought great trouble to your ordinary life? As WhatsApp is a popular communication tool, it may contain important information like texts, photos, and files that we need at work or in personal life. However, what will make you feel relieved is that there are multiple methods. In this passage, I will offer you two solutions about removing WhatsApp messages from Android to iPhone.
Method 1: Transfer Android WhatsApp Messages to iPhone Through Email
Method 2: Transfer Android WhatsApp Messages to iPhone via Backup
Method 1: Transfer Android WhatsApp Messages to iPhone Through Email
In this method you can transfer your chat through Email, next I will show you the process.
Step 1: On your Android phone, go to WhatsApp and tap Settings > Chats > Chat history > Email chat.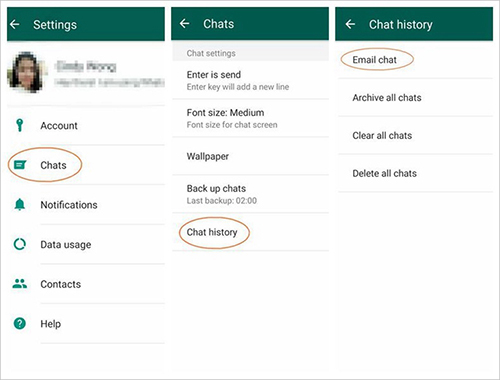 Step 2: Choose ones of the chats you want to transfer, a popup window will ask you whether to transfer your messages with or without media.
Note: Transferring with media may generate a larger email messages.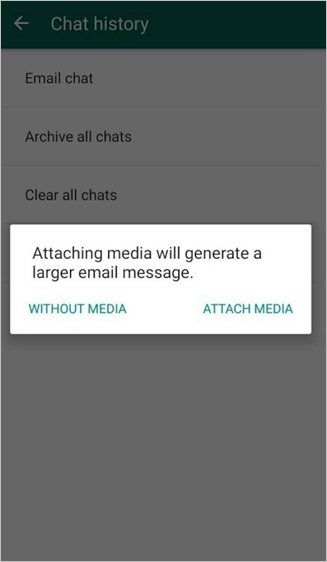 Step 3: Then it will come to the sending page. Provide an email account and press "Send".
Step 4: Log in your email account in your iPhone, you can view your  chats in the Email, but you can't check the messages on the WhatsApp.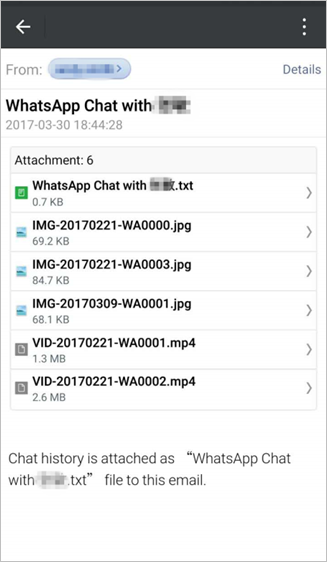 In fact, the chat histories can only be checked in emails instead of WhatsApp. In another word, you just backup your WhatsApp chats in the mailbox, but better than no.
Method 2: Transfer Android WhatsApp Messages to iPhone via Backup
The method introduced here is more convenient and practical than Method 1 because you don't need to move WhatsApp chat histories one by one and the previous messages can be viewed in your new iPhone. The operational steps are as follows.
Step 1: Turn on your old Android phone and start WhatsApp, tap the icon at the top-right corner which is constituted by three solid dots, then hit in order: Settings > Chats > Back up chats.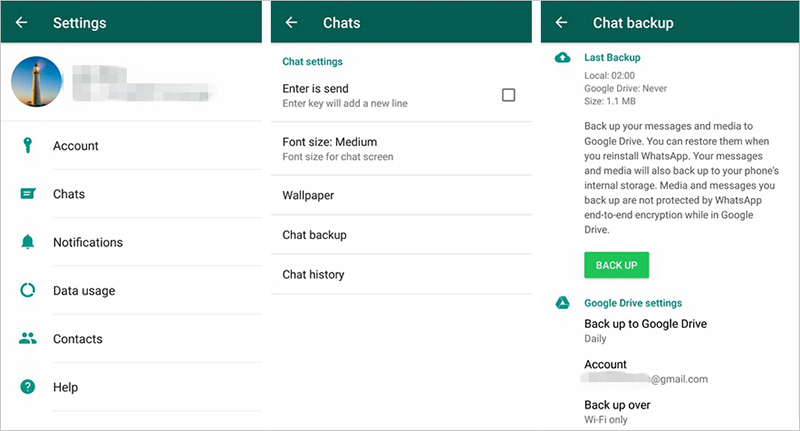 Step 2: Add a Google Drive account if you haven't add one, then tap "Back Up" to sync your latest messages and media to Google Drive.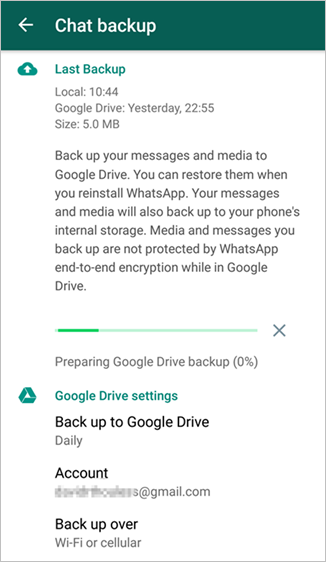 Step 3: On your Android phone, uninstall the app – WhatsApp.
Step 4: On your iPhone, download, install and launch WhatsApp. Then, log in your previous account. Tap the "Done" in the top right corner, check whether your number is right, then choose "Yes" in the popup window. At this time a message included your WhatsApp code will be sent to your Android phone and you are required to type the numbers on your iPhone.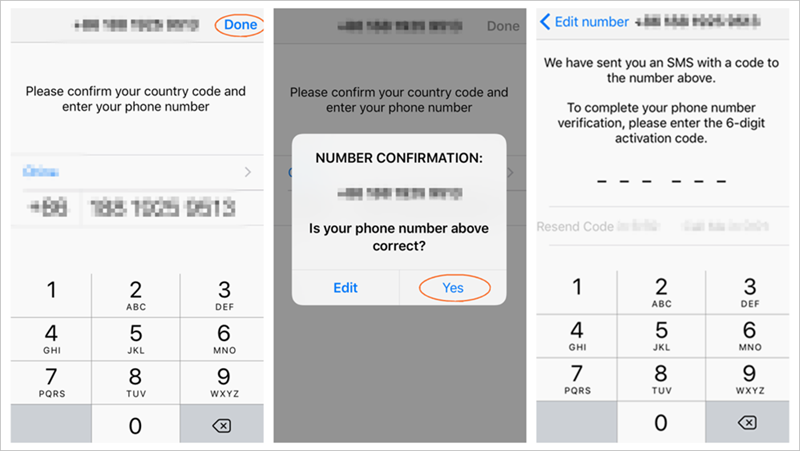 Note: If you don't receive a message, you can tap the button "Call Me", then your Android phone will ring to broadcast the code used to verify your account.
Step 5: A popup window will inform you that "Message Backup Found", then tap "Restore". You will discover your previous WhatsApp messages on your Android have been successfully transferred to your iPhone.
Conclusion
As I already mentioned at the beginning, maybe there are many ways to transfer WhatApp messages from Android to iPhone, and I list two methods for your reference. You can try either of them based on your needs. I hope this passage can help you move your precious WhatsApp chat histories and store the messages as well as attachments with your family, friends or workmates. Last but not least, backing up is a guarantee to your important data. Welcome to share your ideas in the comments area.