Have you been locked out of your phone because you've forgotten your password or PIN? Don't fret! This is quite normal and you're not the first one to find yourself in this situation. Thankfully, there are numerous methods out there that can help you bypass the screen lock and still save your data. We've tried to cover two of the methods in this guide, but we have also provided you with information on locking mechanisms and legitimate ways to unlock them. Without wasting time let's start.
How to unlock Android Lock Screen using FORecovery without losing data?
Factory reset Android to get rid of Android Lock Screen.
Lock mechanisms and bypasses methods.
How to unlock Android Lock Screen using FORecovery without losing data?
FORecovery -Android Lock Screen Removal is a powerful third-party app that can unlock phones in minutes. It works on all Android phones from Samsung, Moto, LG, OnePlus, OPPO, VIVO, Huawei, Xiaomi regardless of the Android version. With its help, you can remove fingerprint, face lock, pattern, or password on your Android device seamlessly.
Follow these steps if you want to unlock your Android device:
1. Connect your device via a USB cable. Ensure the phone remains connected throughout the process.
2. Click "Start" on the software interface screen- Your Android device will get loaded automatically.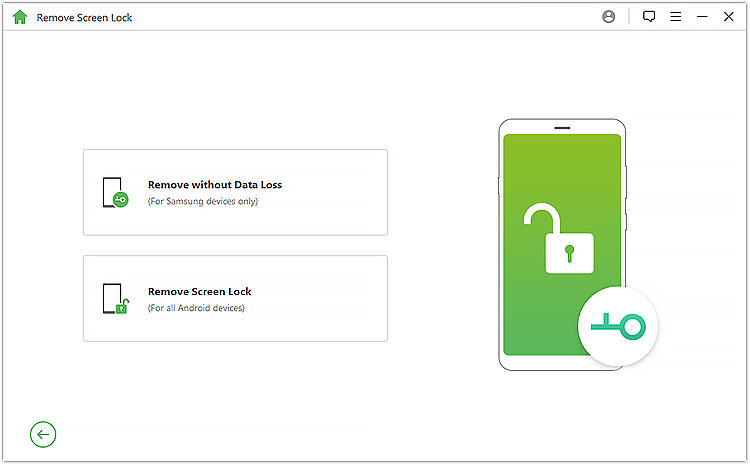 3. Confirm if the information displayed is correct, then click "Start to Unlock" to continue. If the provided information is incorrect, you can tweak it manually.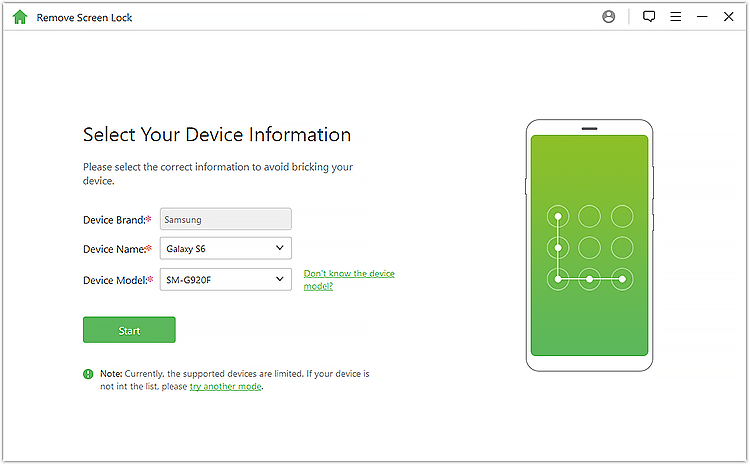 Be patient as the software downloads and send the firmware to your Android device.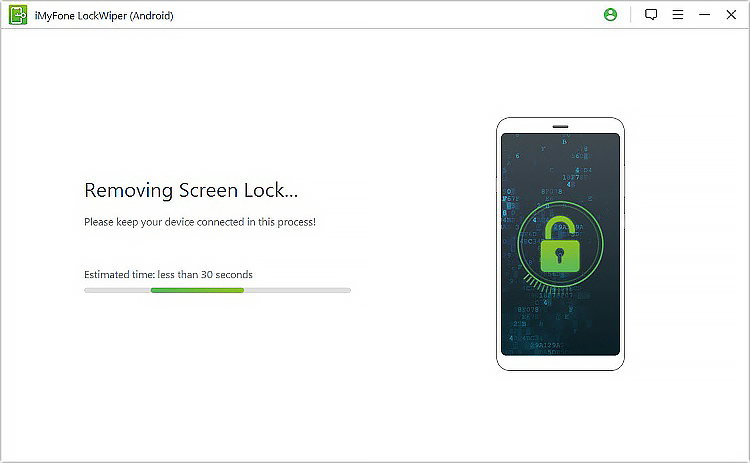 4. Wait for a few minutes as the program unlocks your phone.
Once the process finishes, you've successfully removed your device screen lock.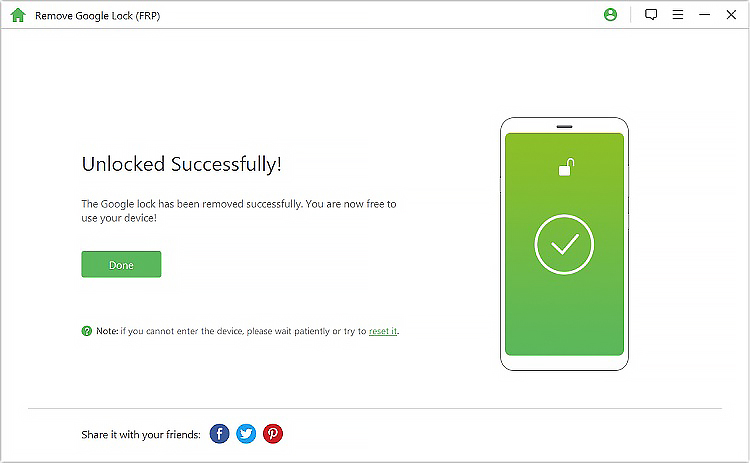 Factory reset Android to get rid of Android Lock Screen.
Factory resetting your phone should be the last option if the above method has failed. When your factory reset your Android phone, you'll lose everything (data and settings) saved on your phone. First, you'll have to boot your device in recovery mode and later wipe its data.
1. Switch off your phone by pressing the Power button.
2. Next hold the Power, Home, and Volume Up keys simultaneously to boot your phone in recovery mode. The key combinations might differ in other Android devices. Here are alternative key combinations: Power and Volume Down or Power, Volume Up, and Volume Down.
3. Release all the keys at once, when your device enters Recovery Mode.
4. Use the Volume Up and Down buttons to navigate the options, and the Power button to select the options. Navigate to "wipe data/ factory reset" option and select it.
5. Your device will prompt you to confirm the selection. To continue click the "Yes" option.
6. Your Android device will then erase all your data and restore it to factory settings.
7. When your device resets, reboot it to the normal mode.
Once your phone restarts, it will be free from passwords or passcode.
Lock mechanisms and bypasses methods.
Android devices come with several lock mechanisms to prevent unauthorized entry. But their also several methods of defeating theses lock mechanisms. This section covers all these aspects in detail.
Lock Mechanisms
Numeric passcode–This comprises a simple four or more numbers like the PIN code for an ATM.
Swipe pattern – It's just like the numeric passcode, but instead of tapping the numbers, you have to swipe one number to another. Swipe patterns are safe because they have more than a million combinations for a six-digit PIN.
Password – Comprise alphanumeric like the passwords you enter on websites.
Fingerprint – It's a biometric method that stores your complete fingerprint scan. Every time you scan your fingerprint, it compares the scan with the saved one. If it matches, it unlocks the device.
Face Recognition–Essentially the same as the fingerprint, but instead of saving a fingerprint scan, it saves a face scan.
Note: Both the Fingerprints and face lock mechanisms have a password or passcode as a backup. This is used if you have allowed another person to access your phone, or the phone cannot recognize your biometric scan.
Another safeguard that prevents restricts unauthorized access to your phone is Force Delay.
The forced delay kicks in for 80 milliseconds after 10 incorrect attempts to enter the password, PIN, or pattern. After several incorrect attempts, the phone will get completely locked but your data will remain intact.
Unlocking Methods
As we said earlier, there are many legitimate methods of unlocking Android devices. These methods can be software-based or account.
Account-based Methods
Google-Account
Today, it's hard to find an Android device without a Google account. The email and phone contacts credentials are often used as password/PIN recovery for this Android device accounts.
Furthermore, the Google account through the Android Device Manager helps users to locate their devices and erase all the saved data or information if someone has stolen it. Or you can use it to unlock your phone screen lock.
Samsung Find My Mobile
This method works the same way as the Google account method. It allows you to locate, lock, or ring your phone through a Samsung Account.
Software Methods
It's possible to unlock your Android phone using third party software like FORecovery. The advantage of using these software methods is that you can bypass your screen pattern or password lock without having to lose all your data or settings. They are fast, effective, and safe to use.
Don't be stressed again if you can't unlock your Android phone, there are numerous legitimate unlocking methods you can use out there. We've only mentioned a few, but you can look for others too.