There is a common question that Android phone users ask online and that is "How can I Hack or remove my screen lock pattern?" It is an important question because that lock screen pattern is what keeps your phone from being accessed by anyone else other than yourself. You are often encouraged to change your pattern as often as you can, preferably every couple of months. It's an important aspect of keeping your data secure at all times. There is a lot that we keep in our phones. You don't just have your contacts on your phone. You probably use your phone to store pictures, access your emails, do your banking, save or download documents and a myriad of other things. Our phones have become an important tool in our lives. Being unable to access your phone because you forgot your lock screen pattern can be distressing.
Most Android phones will allow you to keep entering your pattern at least 5 times before it completely blocks you. If this is where you find yourself, you don't need to panic. There are things that you can do to remove/ hack the lock screen pattern.
Here we discuss three easy solutions to remove a pattern lock. Most people are familiar with a factory reset as a method to solve the issues of access. If you are not familiar with how it is done or have never done a factory reset on your Android phone we will discuss how to go about doing it.
Solution 1: Remove the Lock Pattern with your Google Account.
Solution 2: Delete your lock screen pattern with Android Lock Screen Removal toolkit.
Solution 3: Factory- Reset your androit phone to delete your lock pattern.
Solution 1: Remove the Lock Pattern with your Google Account.
Your phone might be blocked after entering the wrong screen pattern for about five times. When this happens, your phone might tell you to wait 30 seconds before trying for one last time. If the correct pattern still does not come back to you then you can use the Google's Find – My – Device feature.
This usually comes as a standard feature on Android Phones but there are some pre-conditions. The first one is that you need to have a Google Account. The second one is that you need to have enabled the feature on your Android device in order for it to work. This feature is meant to do more than help you locate your phone remotely, but it enables you to remove your screen lock pattern and data remotely as well. Here's how you would go about applying this solution:
Step 1: You will need to get onto Google Find My Device on another device.
Step 2: Sign into your Google account. Click the locked device.
Step 3: Choose "Erase" to delete your data and your screen pattern.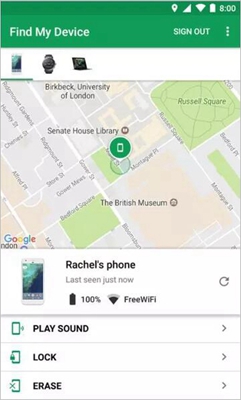 Tip: Check if the feature has been enabled by going to Settings > Account > Google > Security > Find My Device. If it has been enabled, then you will be able to erase your screen pattern remotely. Of course, you can only check this on the actual device so it would be pointless to try and check after the fact. So, if you are reading this on your phone. Do this now, check and enable the feature. You may need to use it in future.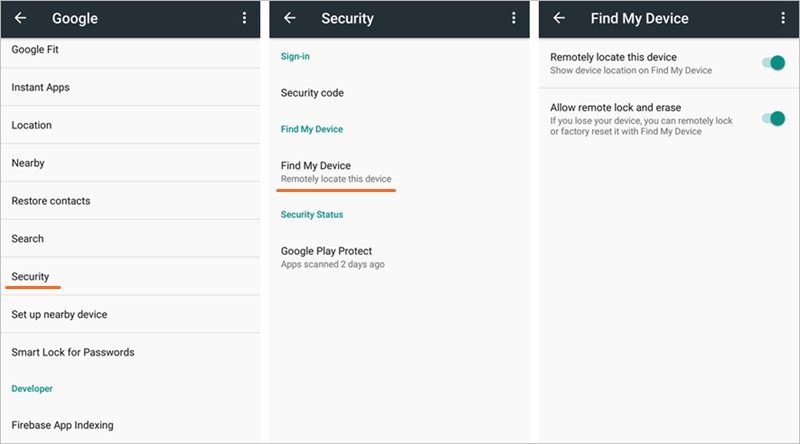 This might seem like an easy fix, but it is a catastrophic fix because it wipes out everything on your phone. So you will not only remove the screen pattern, but all your contact, photos, videos, messages – everything!
Solution 2: Delete your lock screen pattern with Android Lock Screen Removal toolkit.
You can remove your lock screen pattern without affecting any other information from your Android device by using the Android Lock Screen Removal toolkit, you can download for free try the toolkit. The toolkit requires no special skills. There is one issue though: it only works for Samsung and LG smart devices. A version that will work for a broader range of brands is currently being developed.
Step 1: Download the toolkit from the site and install it on your computer. You will get a dashboard with a number of options. Choose the "Remove Lock Screen" feature and click "Start."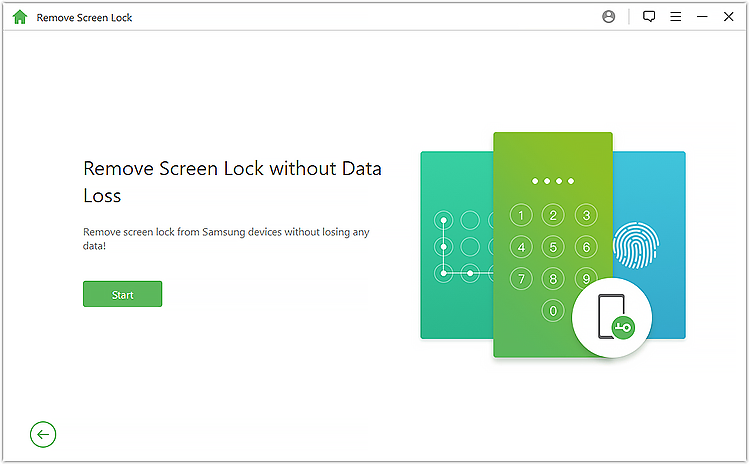 Step 2: Connect your phone and computer with a USB cable. You should get a list of Android phone models (Samsung, LG, Moto, Google Pixel, Huawei) that the toolkit supports. Choose the model of your device and click "Next."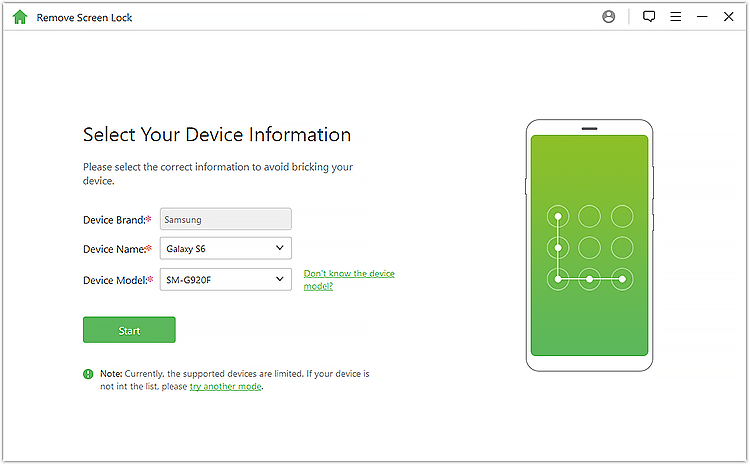 Step 3. Wait for the software to recognize your device in Download mode and then select "Remove" to delete the lock screen pattern. Wait a few minutes for your phone to restart and your screen lock pattern to be deleted.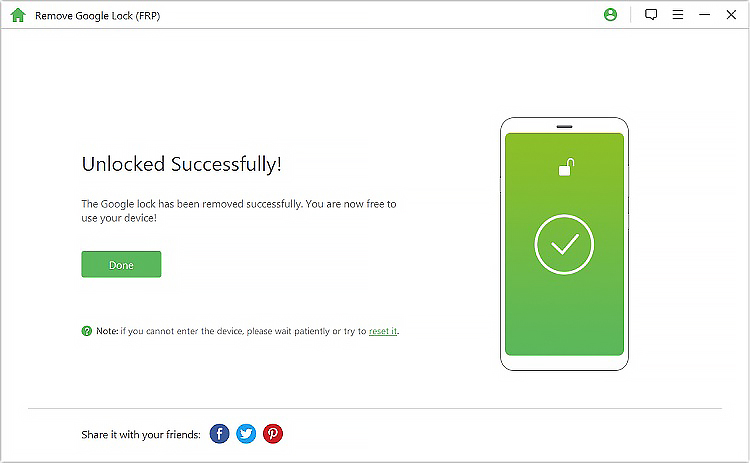 Solution 3: Factory- Reset your Androit phone to delete your lock pattern.
If the first solution does not work, you might have to resort to harsher measures. Factory reset also known as a hard reset is a tough effective method. Follow these steps to hard reset your device.
Step 1. Turn off your Android phone
Step 2. Boot into Recovery Mode.
i. For Samsung device:
Hold the Home/Bixby button + Volume Up button + Power button until your phone boot into software update screen. You will see the following screen.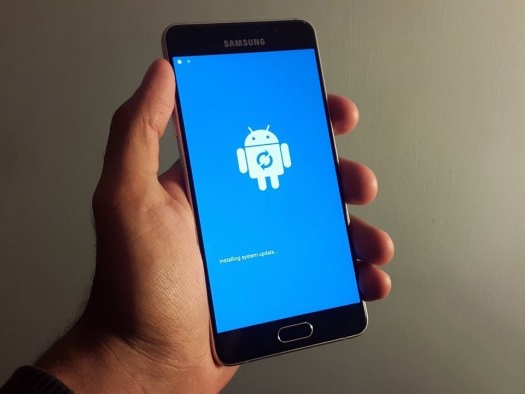 After 30 seconds it will show up a big "!".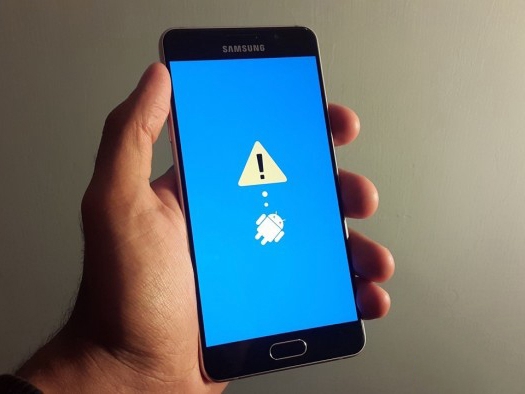 Next after about 1 munite you are in recovery mode.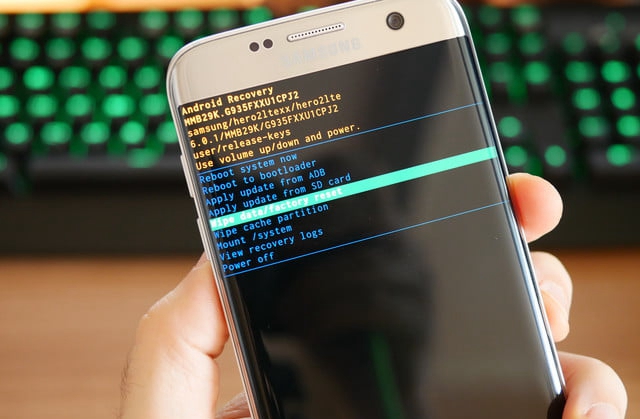 ii. Other Android phones
Press the Power and Volume keys a couple of seconds and it will directly switch to Recovery-Mode.
iii. For a Google Nexus/ Pixel device
a. Press the Power and Volume keys at the same time to get your Android device into Fast-boot Mode.
b. Select Recovery-Mode by using the Volume Up/Down key and then push the Power key to enter.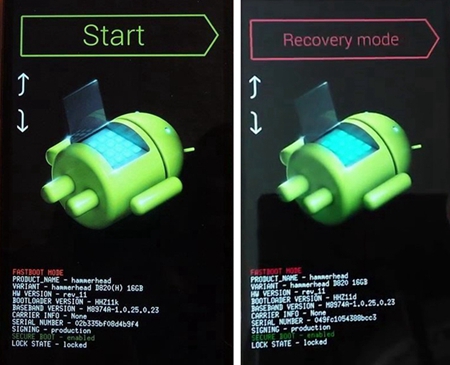 Step 3. Use the Volume Up/ Down to go to the Wipe data/ Factory-reset option on the screen and press the Power key to enter.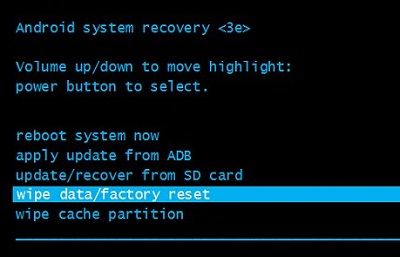 Step 4. Select OK and your Android device will hard reset or go back to the original factory settings and automatically restart.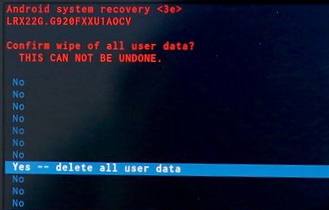 Conclusion
When you compare these three solutions, clearly the best solution is the one that allows you to delete your screen lock pattern without affecting any of your data. Android-Lock-Screen-Removal is by far the most efficient solution.