Millions of people worldwide are using smartphones today. This because smartphones come with a range of features that makes daily activity easy and it can protect your important documents. We use a range of protection methods like passwords and PINs to lock our screen to restrict unauthorized entry into our smartphones.
Unfortunately, sometimes we end up forgetting these passwords or PIN and get locked off our android phones. So what do you do when you have forgotten your password but you still want to access your files? In this guide, we will cover how to unlock the Android PIN/ password while preventing data loss. With no more delay, let's get into it.
How to unlock Android PIN/password without using software?
Unlocking android password/PIN using the custom recovery
Unlocking Android password/PIN via Android Device Manager(ADM)
Are biometric authentication methods safer than PIN/password?
How to unlock Android PIN/password without using software?
What's FORecovery – Android Lock Screen Removal.
FORecovery toolkit is an all-in-one app that allows you to unlock your device if you've forgotten your PIN or password, or remove the previous Google Account. The software allows you to remove the android screen lock password while safeguarding your data file from Android devices (Samsung, LG, Motorola, Google Pixel, OnePlus, etc.). It cost-effective, easy to use, and the best phone unlocking software in the market.
This app can also completely recover lost data from your android device, it recover a wider range of data including image, photo, videos, call history, contact, and others from a wide selection of Android devices (like the newest Samsung Galaxy S20/Note 10, Moto Moto G, Google Pixel 4, OnePlus 8, etc). What's even more interesting is that it works on rooted and unrooted Android devices.
Detail steps:
Step 1. Launch the toolkit on computer. Select the feature "Lock Screen Removal" to move on.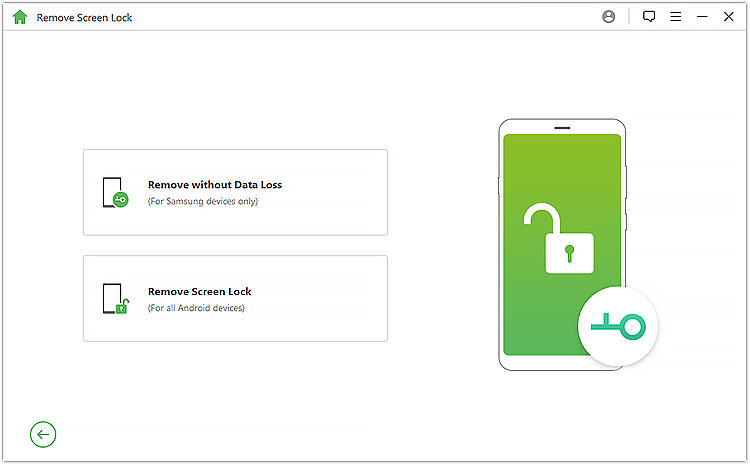 Step 2. Connect your locked phone to computer via USB.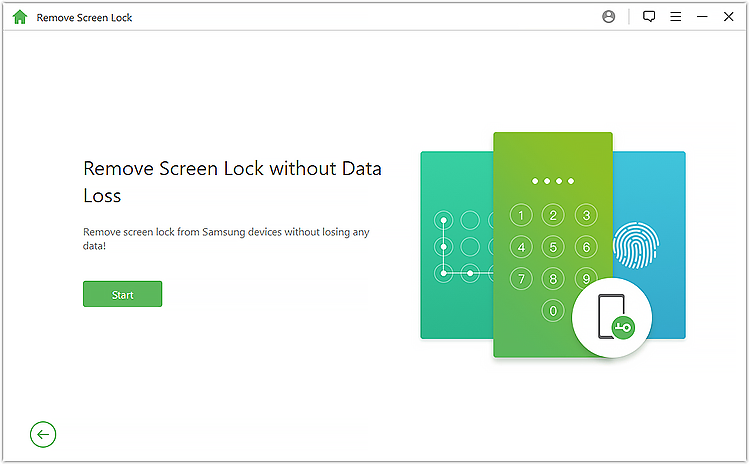 Step 3. Manually select the device model of your phone from drop-down list. Check the brand, device name, device model of your Android phone.
If your device cannot be detected, click the "Don't know the device model" for help. Reconfirm the information and then click
Confirm the information and Start.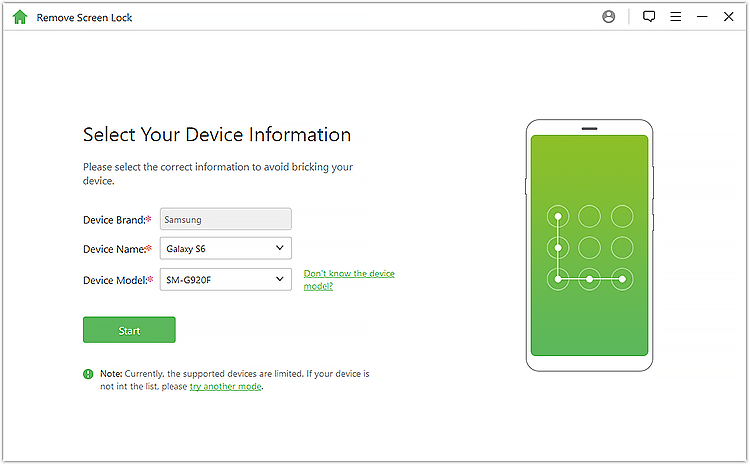 Step 4. it will begin downloading recovery package to overwrite the system file.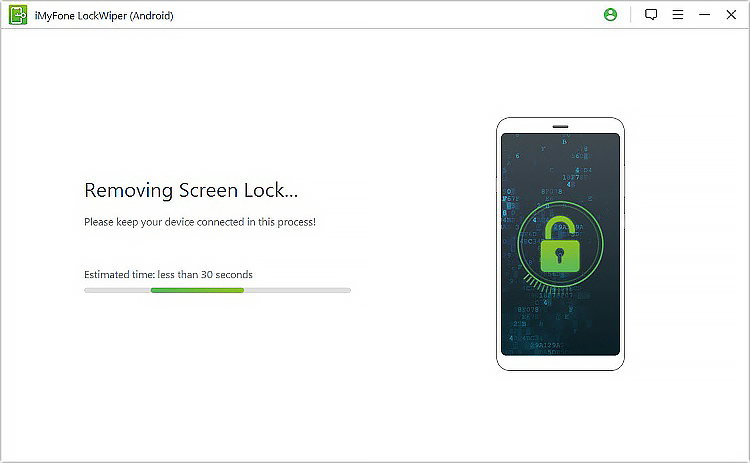 Just wait for a few minutes, the toolkit will display the message that unlocked successfully.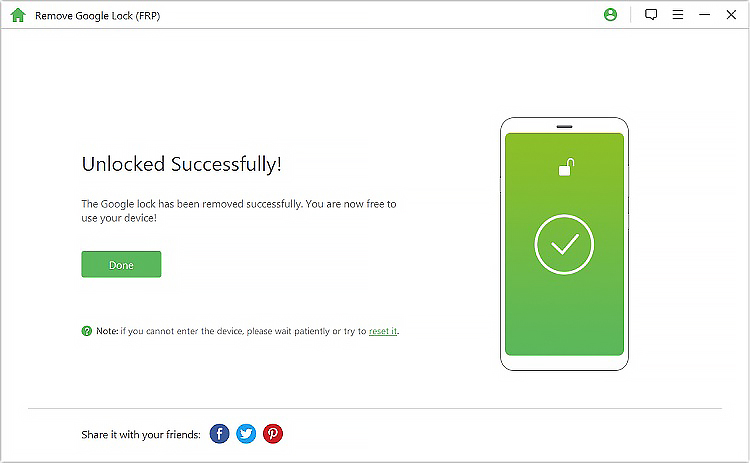 Unlocking Android password/PIN via Android Device Manager(ADM)
By following a few easy steps, you can unlock your locked Android via the Android Device Manager(ADM). This technique uses Google Account to remove your screen lock password. So, installing the Google Account is so paramount for the running of ADM.
The Android device manager gets triggered immediately when your device is turned on. However, you need to be connected to the Internet.
1. Because your Android device is always connected to your Google Account, use an alternative mobile phone or your PC to open this website www.google.com/Android/devicemanager.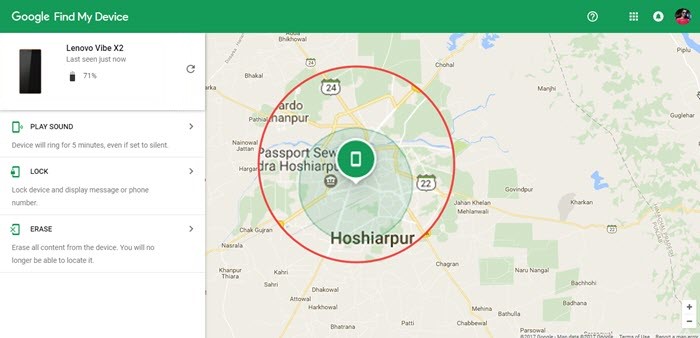 2. Next sign in to your Google account using your credentials. Google initiates a search to find your device. If the device you're planning to unlock isn't auto-selected, select it manually.
3. You'll be provided with 3 options– "Lock", "Ring" and "Erase". Click "Lock ".
4. A new tab will appear, enter a temporary password, and hit on "Lock" once more.
5. If you're successful at unlocking your phone you will receive a message, just below the 3 options mentioned earlier.
6. On the locked Android phone, a new tab will pop up prompting you to enter your password. Enter a temporary password and your device will get unlocked.
7. Once your device is unlocked, head to your phone "settings" > "security". Next, hit on disable to delete your temporary password. Later on, you can replace it with a fresh one.
Unlocking your android phone password or PIN is as simple as that.
Unlocking android password/PIN using the custom recovery
Another way of unlocking your device without losing your valuable data is via the custom recovery tool. For this process to work you need to install the custom recovery process into your phone. You also need an SD card that is responsible for sending a zip file to your phone because your device is already locked.
The custom recovery process reads the Android System folder and rooting of your device if it's not yet rooted. This process is a supported mechanism in all phones and it predicts how the troubleshooting processes the primary configuration sequence.
1. Visit https://forum.xda-developers.com/attachment.php?attachmentid=2532214&d=1390399283, and download a zip file named Pattern Password Disable to your computer, then send it to your SD Card.
2. Slot in the SD card into the android phone and restart it in recovery mode.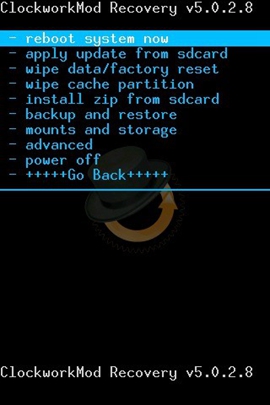 3. Open the zip-files in the SD card, navigate to flash, then restart your phone. Your android phone will boot, then start with no locked screen.
4. If you get prompt for a password or a pattern, just enter a random one and then the device will get open up.
With the help of this technique, you can unlock the locked Android phone while keeping your important data safe.
Are biometric authentication methods safer than PIN/password?
Gone are the days when the phone was only used to make calls, send a text message, and play simple games. Today we use our phones for much more, they are part and person of our daily life. It has never been more important to keep it safe.
Luckily, it's easy to lock up a phone using a password, pattern, and PIN. But now smartphones manufactures are notching things a bit higher by integrating biometric security processes such as fingerprint, iris, and face scanners on both Android and iOS devices. This security update provides users with a quicker, more effective way of unlocking their phones. Let's have to look at these biometric security methods.
Fingerprint
The most secure fingerprint sensor is of Samsung smartphone. Samsung utilizes a secure ultrasonic fingerprint image to map a 3D image of your fingerprint by using ultrasonic waves. Apple's capacitive sensors can trace the ridges of your fingerprint and make a 2D copy of your fingerprint. But according to the company, one out of 50,000 people can be able to unlock your phone. Also, a person can harvest your fingerprint surface and then use it to unlock your device by placing it on the sensor to unlock your device.
Facial
For the past few years' manufactures have been swapping fingerprint sensors for facial recognition techniques which is more secure. According to apple, one out of a million people can be able to unlock your phone using Face ID. Apple Facial ID utilizes a 3D facial recognition to analyses the way shadows reflect on the face when trailed on different angles. However, if an attacker is motivated enough, he/she can fool the 3D facial recognition software and gain access to your phone.
Iris
Out of the two biometric security methods mentioned, iris scanning is considered the most secure type of biometric technique. This is because your iris is more unique than your fingerprint. Even though it's effective, it usually takes longer to scan the iris because a smartphone user has to stare directly into the sensor. It's the most secure biometric security method around.
When all the 3 methods are combined, then you have a complete security system for your smartphone and when one fails the other one will protect your phone from unauthorized access.