There can be many conditions when you'll need to remove your phone's unlock PIN:
1. Unable to enter PIN because of the crashed screen.
2. Forgot the PIN set long ago.
3. Get a second-hand device with locked screen.
4. The kids or others changed the PIN when you didn't notice.
5. Your screen is locked after you have tried wrong PIN many times.
When you are the one who is locked out of your phone, how maddening! For most people facing this headache, factory reset the phone is the most common way to remove screen locks. But the dilemma is that your important data stored in the phone will be erased. Fortunately, you have the chance to save your data while unlocking the Android PIN with Lock Screen Removal Toolkit.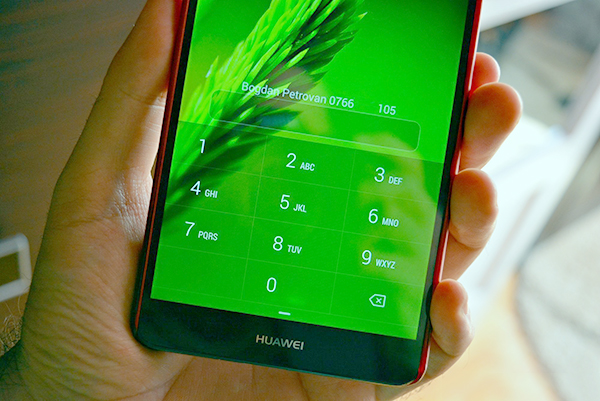 Part 1: Unlock Android PIN Using Lock Screen Removal Toolkit without Data Loss
Part 2: Unlock Samsung Phone's PIN with Samsung Find My Mobile
Part 3: How to Set up Fingerprint Scanning on Android Device
Unlock Android PIN Using Lock Screen Removal Toolkit without Data Loss
Lock screen Removal is a tool for unlocking the Android screen. While using this toolkit to get rid of the PIN, you won't lose any data at all. Not only can it bypass the PIN but also it is effective to remove the password, fingerprint and pattern lock. See the simple steps below. Note that this toolkit temporary supports Samsung and LG only. It will open for more device gradually.
Download WinDownload Mac
Detail steps:
Step 1. After download and install it, launch the toolkit on computer. Select the feature "Lock Screen Removal" and then click on the Start button to remove the screen.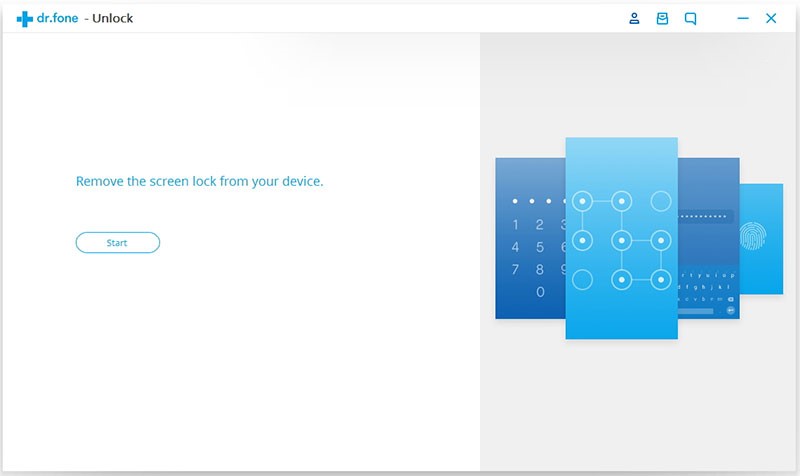 Step 2. Connect your locked phone to computer via USB.
Step 3. Manually select the device model of your phone from drop-down list. Check the brand, device name, device model of your Android phone.
If your device cannot be detected, click the "Cannot find my device" for help. Reconfirm the information and then click
Reconfirm the information and then click on "Next".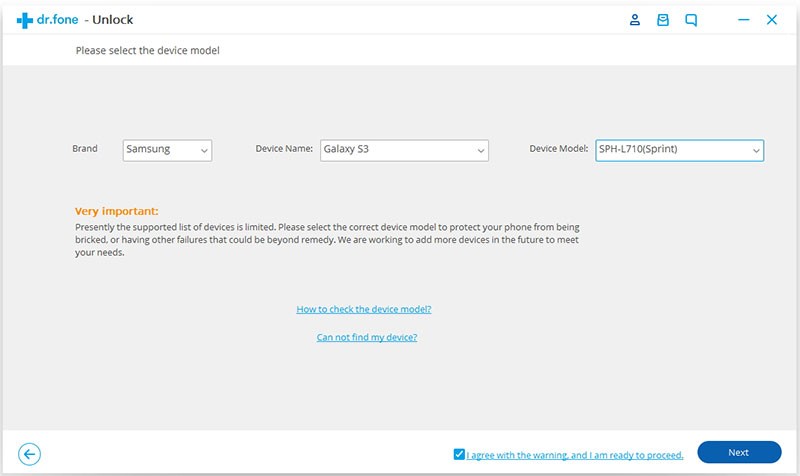 Step 4. Enter the Download mode on your Android device
If you are using Samsung device:
1.Turn off your phone
2. Long press the Volume Down key & Home button & Sleep/Wake button together until you see the Warning screen.
3. Press the Volume Up button once to choose Continue to enter the download mode.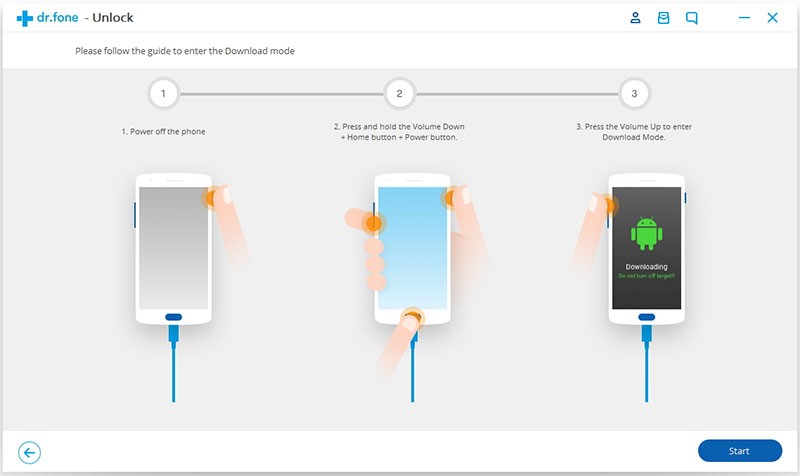 If you are using LG device:
1. Turn off your phone and pull out the USB cable.
2. Long press the Volume Up button and plug in the USB cable while holding the button.
3. Release the button once you access the LG logo, your phone will be in download mode.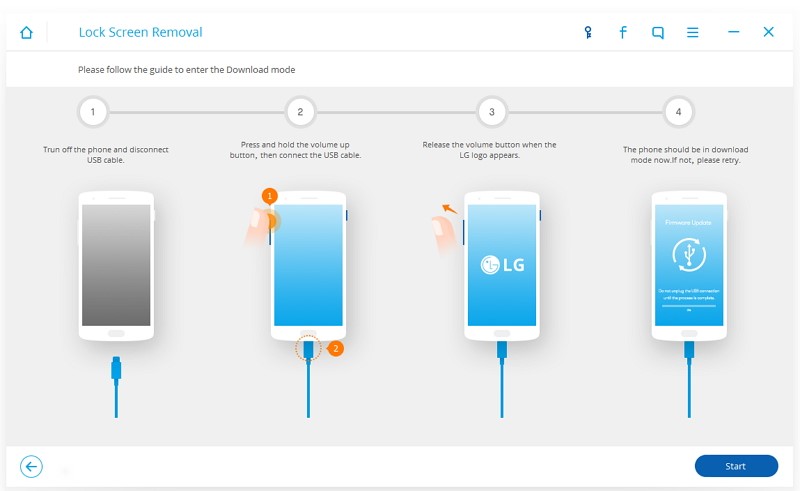 Step 5. After you get your device into the download mode, it will begin downloading recovery package.
Once the process complete, click on the button Remove.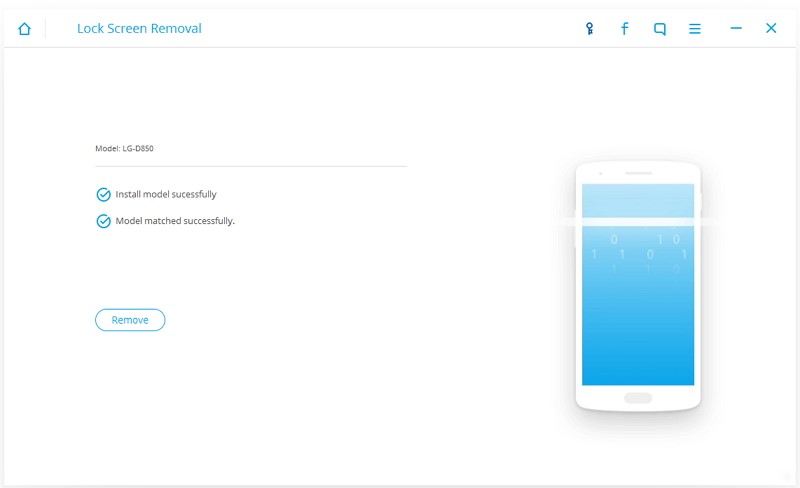 Just wait for a few minutes, the toolkit will display the message that remove password completed. Then you can use your device without the PIN.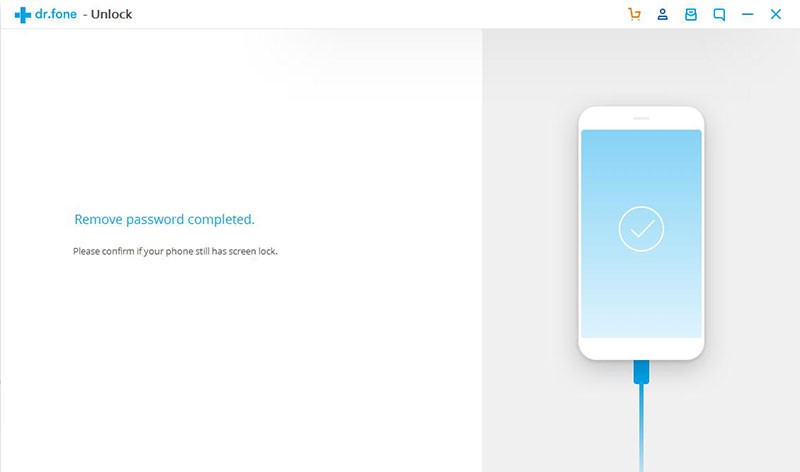 Download WinDownload Mac
Unlock Samsung Phone's PIN with Samsung Find My Mobile
For Samsung users there is another good alternative. That's Samsung Find My Mobile. If you have signed in a Samsung account on your Samsung phone previously, it will activate the feature Find My Mobile by default, you can rely on this feature to bypass your locked screen remotely.
Now connect your Samsung device to the network and follow the steps:
1. Visit the website of Samsung Find My Mobile from browser.
2. Sign in the Samsung account associated with your phone.
3. Then you will see the locked phone and its number displayed at the left top corner. Select "Unlock my device" from the right-side options of the page.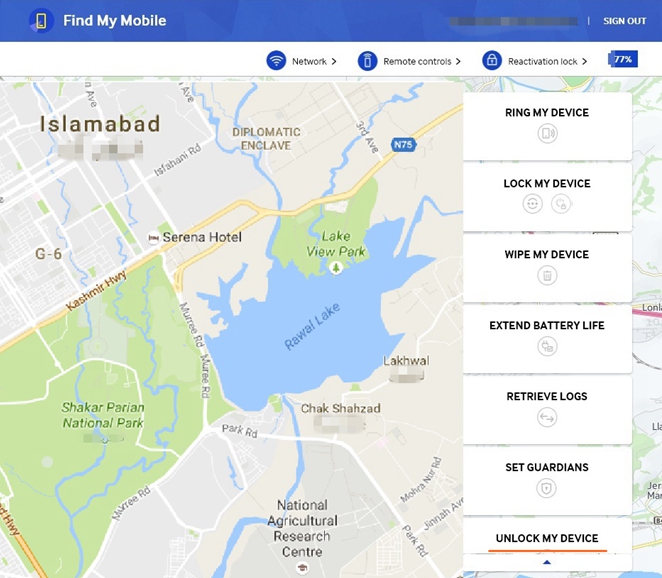 4. Once you enter the correct account and password again, your device will be unlocked immediately.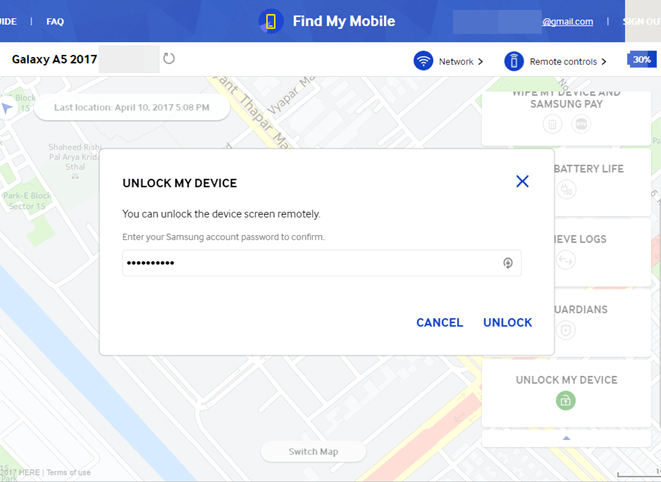 How to Set up Fingerprint Scanning on Android Device
Since more and more Android Phone supports fingerprint scanners, instead of remembering a bunch of complex PIN, password, fingerprint identification is a more convenient way to unlock the screen.
Fingerprint is the safest way to protect your device, for the fingerprints is unique and cannot be changed by others.
Follow the guide to set up fingerprint scanning step by step.
1. Go to Settings > Security/Lock screen and security.
2. Tap on "Fingerprints > Add fingerprint".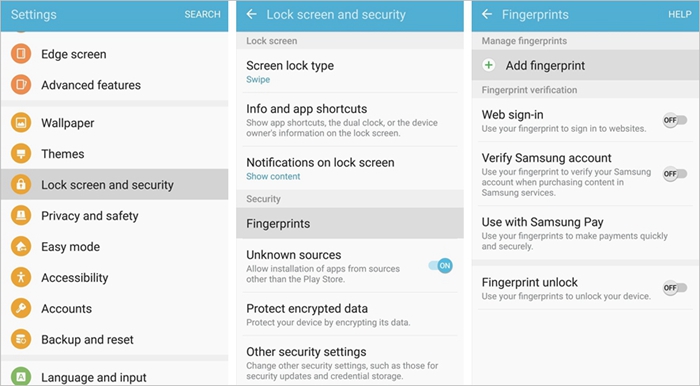 3. You will be prompted to add a back-up code that will be used when the scanner is unable to recognize your fingerprint. Just choose one type of code as your back-up unlock passcode and enter to the bar. Then enter again to confirm.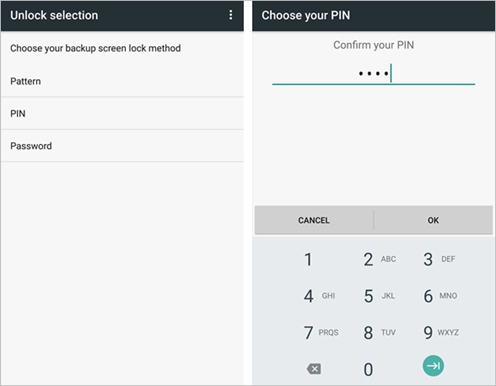 4. Register your fingerprint. Follow the onscreen prompts to finish the register.
5. You can add the other fingerprints by tapping on the "Add another" and repeat the steps. Keep in mind that once you have registered well, tap on "Done".
After complete adding your fingerprint to the screen unlock type, when you want to unlock your phone, you will just need to simply place your registered finger on the scanner, which will let you enter home screen directly.
Conclusion
Here we got some ideas about how to unlock the screen when you forget the PIN, you can use Android Lock Screen Removal or Samsung Find My Mobile to unlock Android PIN without any data loss. Comparatively, the Lock Screen Removal toolkit is the best because it does not require your phone to have associated with a Samsung account, and it also works for LG phones as well as Samsung device. The most important are that it won't let you lose any data. Meanwhile we show you the best bet to lock screen. When you have set fingerprints as the unlock mode, you are very convenient and safe to unlock your phone instead of complicating PIN or password.