Samsung fingerprint lock is a great security measure that protects your privacy by restricting unauthorized access to your phone. However, it can sometimes become a liability, especially if the fingerprint scanner fails to recognize your fingerprints and locks you out of your phone.
Although there are several methods you can use to bypass the fingerprint lock, most of them involve erasing all your data and settings. However, this article is going to introduce you to a way you can protect your data while bypassing the Samsung fingerprint lock. That being said, let's dive in!
1. How to remove/unlock fingerprint lock on Android?
2. How to remove saved fingerprints on Android?
3. What's Android Lockdown Mode and how to use it?
How to remove/unlock fingerprint lock on Android?
Have you been locked out of your Android phone because it has failed to recognize your fingerprint? Please don't worry! FORecovery – Android Lock Screen Removal allows you to breach your device lock screen with no data loss and in the shortest time possible.
This third-party app has a success rate of 98% and will remove your fingerprint lock screen as well as password, PIN, pattern, face lock without requiring any password.
It also works with over 6000 Android devices and smartphone brands like LG, Samsung Galaxy, Motorola, Huawei, and others.
FORecovery also bypasses the Google account verification/ FRP lock from Samsung phones.
The following steps will help you to unlock your android device via iMyFone LockWiper:
Step 1. Download the software to your PC, then launch it.  Next, choose" Remove Screen Lock" and click on "Remove Screen Lock for All Android Devices" to start the process.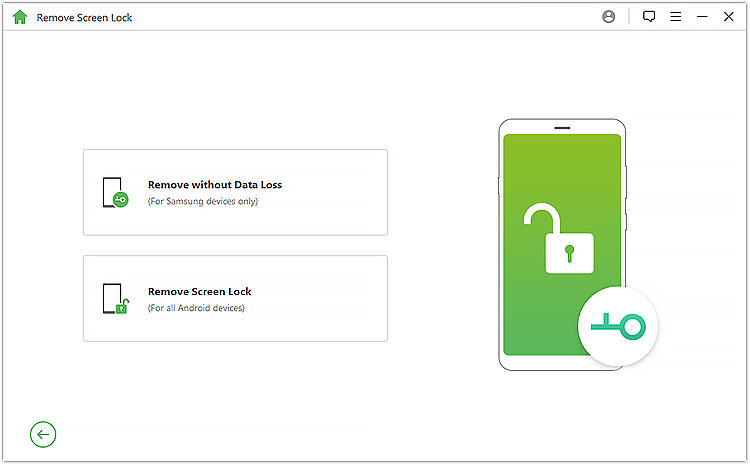 Step 2. Connect your Android phone to your computer using a USB cable.
Step 3. Confirm your phone details display on the interface, then tap "Start to Unlock".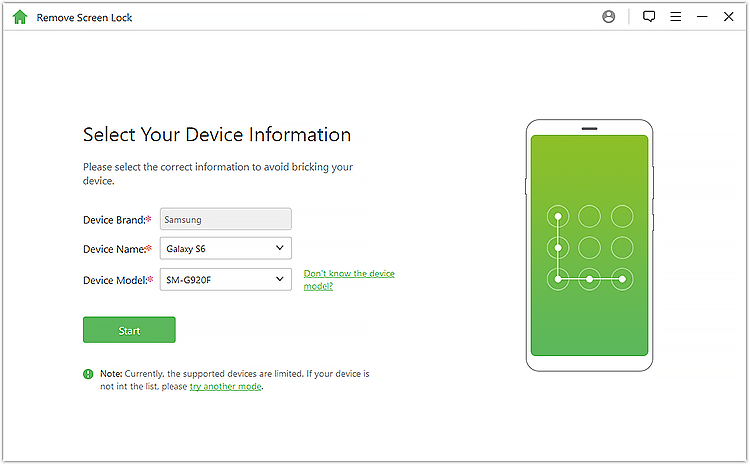 Step 4. Once that's done reset your device to initiate the process of removing the fingerprint lock screen. Wait for a few minutes as the passcode gets removed.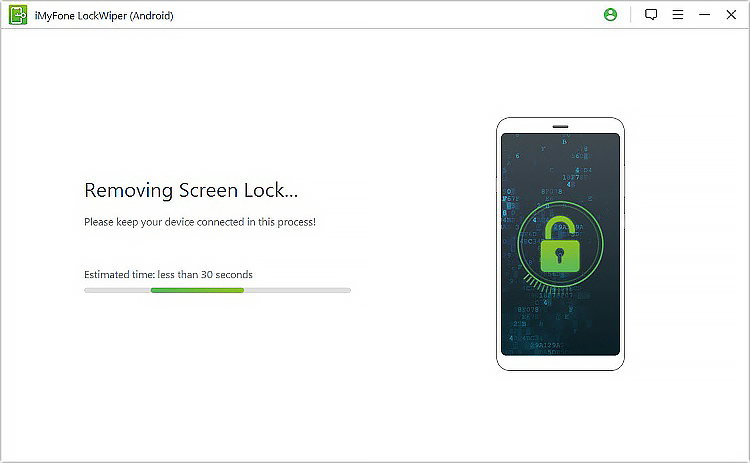 Step 5. You can now access your device without having to input any password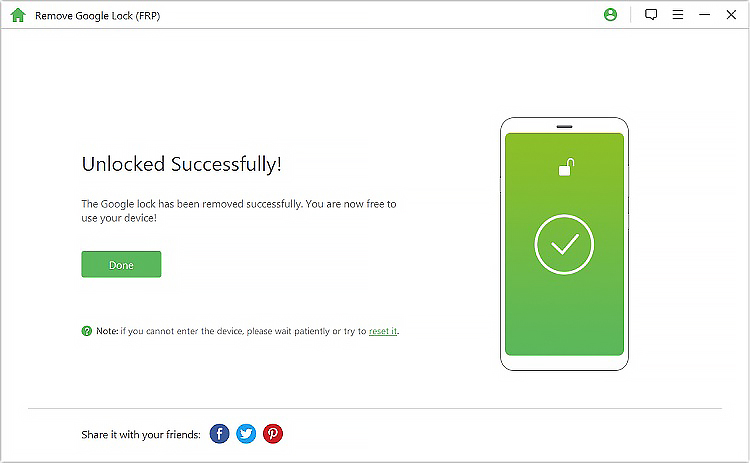 How to remove saved fingerprints on Android?
If your fingerprint has become glitch or is taking time to unlock, you may want to remove your saved fingerprint and redo it.  Don't worry!  Removing fingerprints is even easier than adding them.
Head to Settings
Click lock screen and security
Click on the Fingerprint scanner option (for older Samsung model tap on fingerprint)
Next tap edit
Choose the Fingerprint and tap remove
Now you can add a new fingerprint.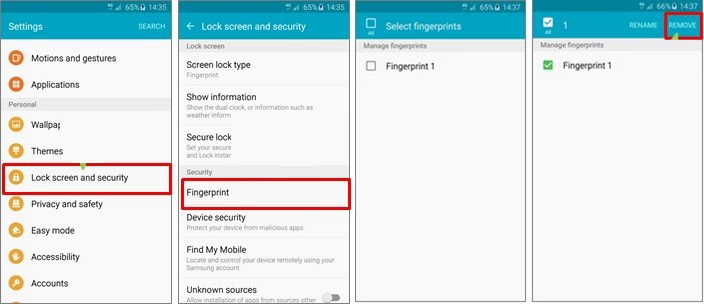 What's Android Lockdown Mode and how to use it?
Android Pie "Lockdown mode" is a new android protection feature that not so many users know about.  It was designed to act as a final resort to keep peeping eyes from your phone.
Once enabled it obscures any incoming notification on your lock screen and disables smart lock setting and biometrics.  Hence, preventing other people from forcing you to unlock your android phone with your fingerprint or face.
Since forcing users to enter their passcodes is illegal in most regions, this could act as a preventive measure against law enforcers with a norm of trying to pry on your data. When you enter your pattern or pin, all the other options get unblocked again.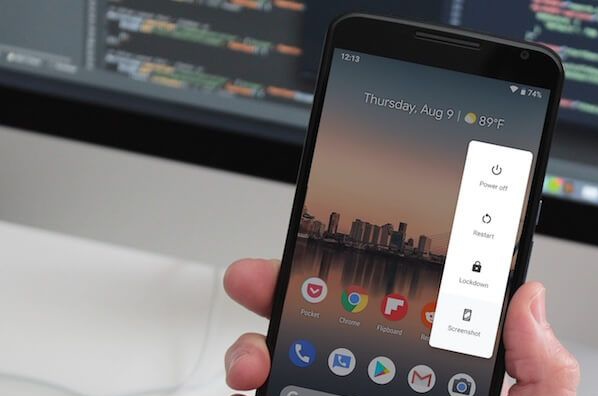 How to enable Lockdown Mode
Enabling lockdown mode in Android devices is a hassle-free process.
First, head to the Setting App on your devices.
Navigate to the Security & Location option
Click Lock Screen Preferences
Toggle on Show Lockdown Option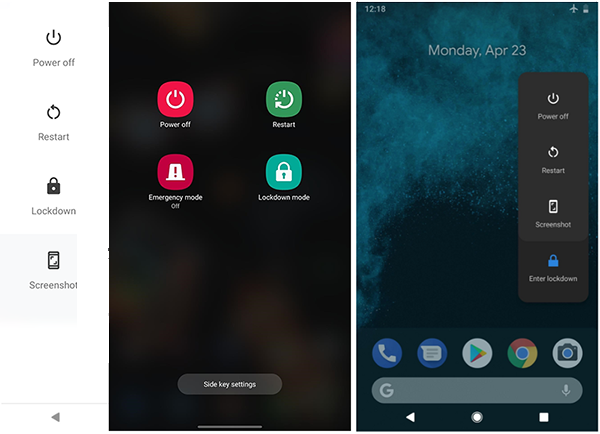 Activate Lockdown Mode
To activate the Lockdown mode, you need to hold down the power button, then tap on the Lockdown mode.
Keep mind this is a one-time use, once you've entered your PIN, Password or Pattern this setting will get turned off.   Every time you need to activate the Lockdown mode, you'll have to repeat the above process.
As you can see this is not a feature you can use frequently since you have to repeat the setup process every time you unlock your phone.  However, it comes in handy when you're in a crowded place where they're many prying eyes.