Fingerprint lock is really a handy and practical way to prevent others from getting into your Samsung. But, it is unexpected that the fingerprint authentication suddenly failed. You couldn't access to your Samsung due to the fingerprint scanner bug or the injured finger. What should you do? Come on, several ways to help you solve the problem of fingerprint lock will be introduced in this paper, you can reset the mobile phone which will erase all the settings and screen lock, and can also use other ways being introduced to protect the data in all while bypassing the Samsung phone screen lock fingerprints. Read on for the keys!
Part 1: Unlock Your Phone with Google Account
Part 2: Bypass Fingerprint Lock with Samsung Find My Mobile
Part 3: Bypass Fingerprint Lock with Lock Screen Removal Toolkit without Data Loss
Part 4: How to Delete the Existing Fingerprint When You are Back in
Unlock Your Phone with Google Account
There is a function called Find My Device in Android phone, which can be enabled to erase device and unlock the device as you have sighed in a Google account. By default, as you have login the Google account, the feature will be turned on. So that means, if you have signed in your Google account in your Samsung, it's available for you to bypass the fingerprint lock, otherwise not.
If you have associated your Google account with your device, and you remember your account and password, let's go on.
Note that this method will wipe out the data making no sign.
1. Visit the website of Google Find My Device on computer browser, or download the Find My Device App from Google Play.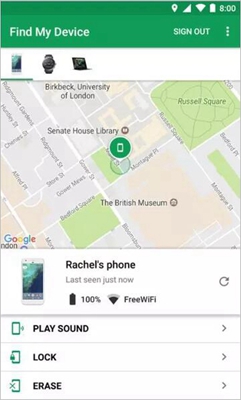 2. Enter your Google account and password.
3. Choose your device by clicking the phone icon.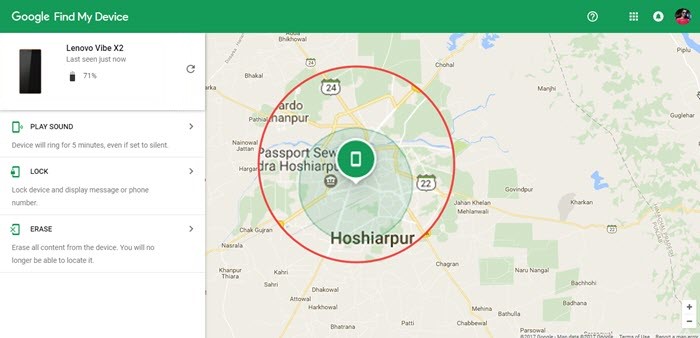 4. Click on "Erase" from the three options on the left side.
Google will erase your Samsung phone, including the settings as well as lock screen, accounts, contacts, apps, pictures, music, notes etc. And after that you can get in your Samsung device without fingerprint authentication.
Bypass Fingerprint Lock with Samsung Find My Mobile
If you have login a Samsung account on the device, you can also remove any form of password lock including fingerprint? And, unlike Google accounts, the method of unlocking through Samsung accounts will not clean your device data. Read on, follow the article and use the Samsung account to bypass the fingerprint lock on your Samsung device.
Similarly you should have registered and signed in a Samsung account before in this device. Follow the steps if you have made sure that.
1. Visit the Samsung Find My Mobile on your computer browser or other device.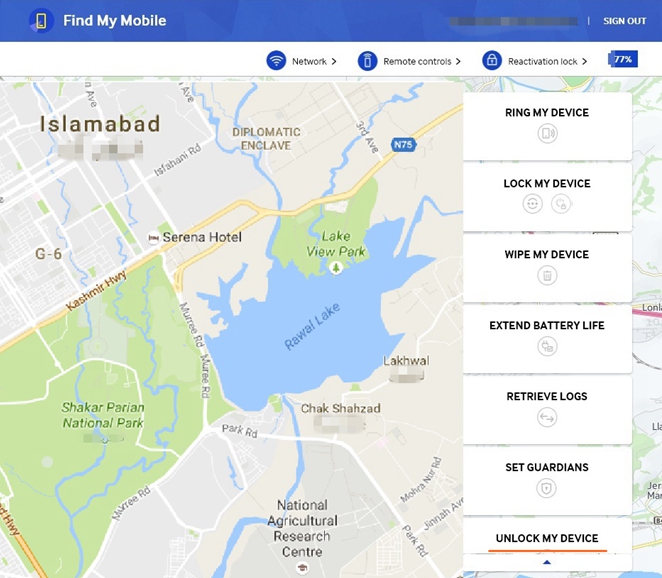 2. Login your Samsung account that associated with the locked device.
3. Then you will see the locked phone and its number displayed at the left top corner. Select "Unlock my device" in right side window.
4. Enter the correct Samsung account and password again, your device will be unlocked immediately without fingerprint identification.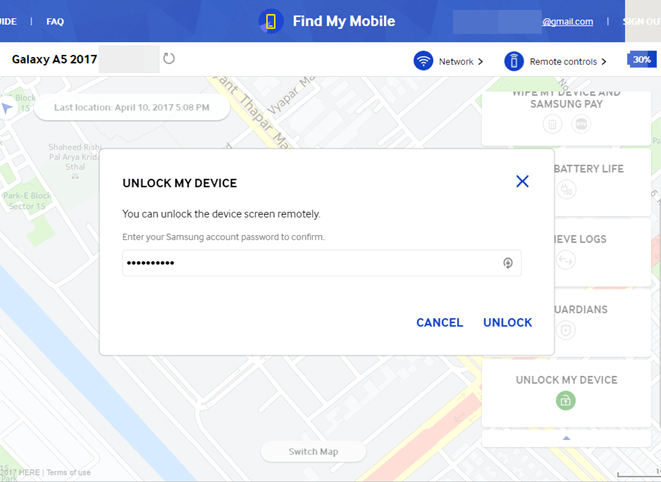 There is another good tweak to bypass the fingerprint lock, and this is what I personally wanted to recommend to you who use Samsung and LG device. You should know that this Android Lock Screen Removal toolkit can perfectly carry the ball that to remove the fingerprint lock without losing data. See details in the next part.
Bypass Fingerprint Lock with Lock Screen Removal Toolkit without Data Loss
Lock Screen Removal is a tool to unlock the Android screen. When using this tool to bypass the fingerprint screen lock, you won't lose any of your data, including all settings, application data, photos, account records, information, and so on. The failure of fingerprints identification will be settled down by several clicks using this tool. Easy and convenient to follow.
Download WinDownload Mac
Above all download the program from its official website and then install it to computer.
Step 1. Run the Android Lock Screen Removal and select "Lock Screen Removal" feature in the main menu. Click Start button once you see it then.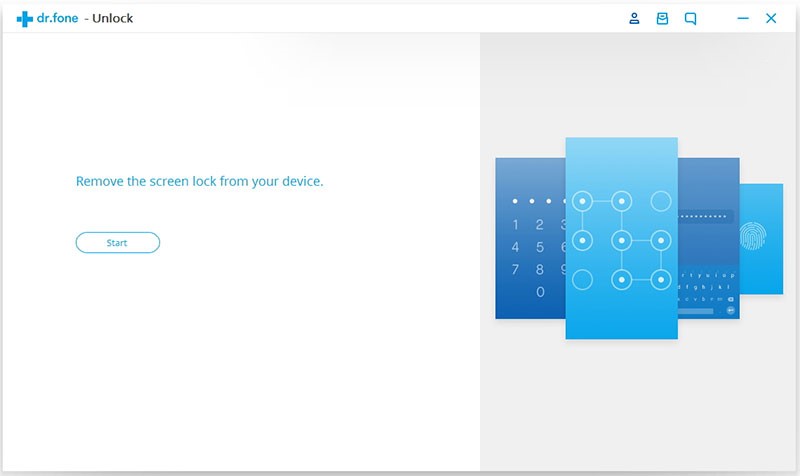 Step 2. Plug your Samsung device into computer via USB for the program to detect it.
Step 3. Select your Samsung model from the list menu by clicking the drop-down arrow. Check the brand, device name, device model of your locked phone. Once you have reconfirmed the information, click on "Next".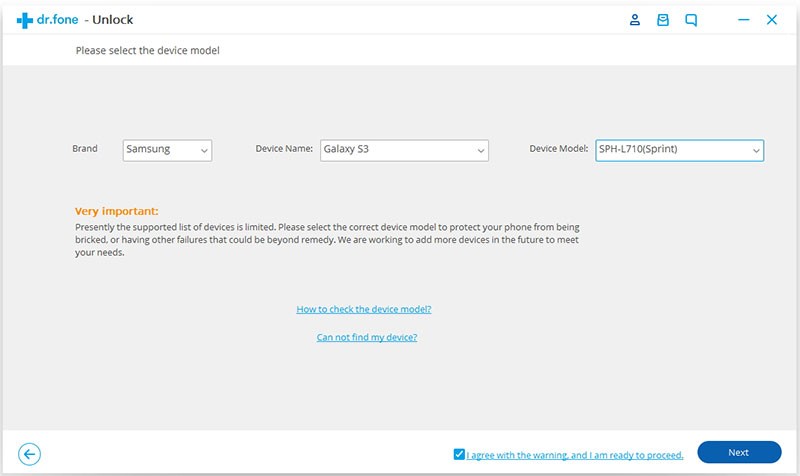 Step 4. Enter the Download mode on your Samsung device.
1. Power off your Samsung
2. Press and hold the Volume Down key + Home button + Sleep/Wake button together until you see the Warning screen.
3. Press the Volume Up button once to enter the download mode.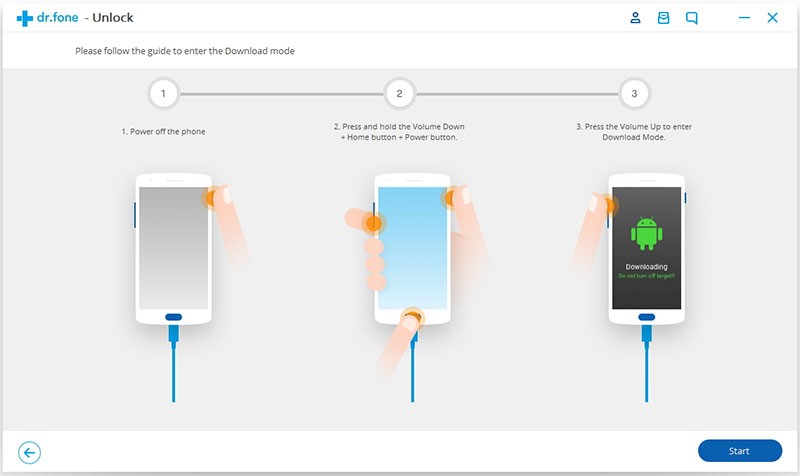 Step 5. After you get your device into the download mode, it will begin downloading recovery package. Just wait for a few minutes. Once the process complete, click on the Remove button.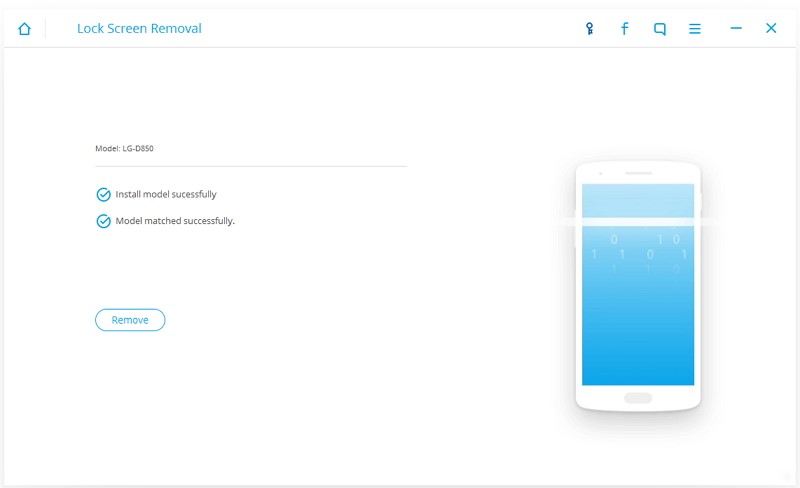 A few minutes later, you can get inside your device even without fingerprint.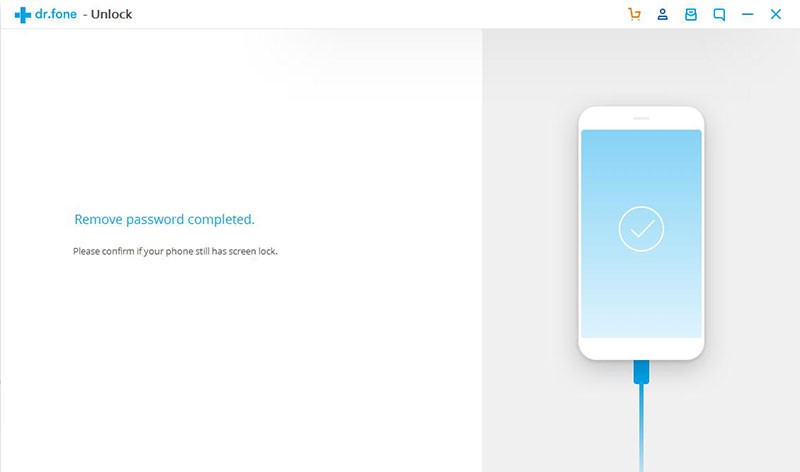 Download WinDownload Mac
How to Delete the Existing Fingerprint When You are Back in
Now, fingerprint lock is removed, and you are back in your device, you should go to settings and delete the existing fingerprint as soon as possible. Otherwise you might be bothered by this fingerprint lock again.
You can delete the fingerprints in the fingerprint manager menu.
1.Go to Settings > Lock screen and security > Fingerprint
2.Tap on Backup password and enter the back-up code.
3.Tap on EDIT in the upper right corner.
4.You will see the fingerprint list you have registered. Check the checkbox of which you are to delete (you failed to use in unlocking).
5.Tap on REMOVE in the pop up. If you delete all the registered fingerprints, the screen lock form will change to the basic type.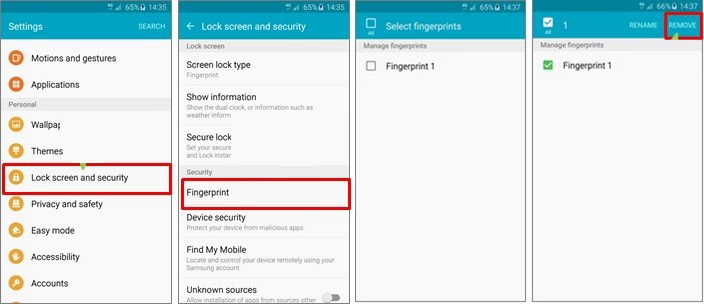 By now, you can add your fingerprints or change the screen lock type to unlock your phone.
Sum up the main points in this paper:
When locked out of Samsung device, you are in need of having the aid of some means, such as Find My Device by Google account, Find My Mobile by Samsung account, and the Android Lock Screen Removal toolkit. Among these measures, it is better to use the Lock Screen Removal toolkit when you don't have Samsung account, because Find My Device by Google account will wipe out the data in your Samsung. On the other hand, when you are back in your device, don't forget to replace the old fingerprint by the new registered one.