Are you one of those technology bugs who loves exploring new gadgets? Wait! I am not going to talk only about the smart phones and their features. Do you want your HTC one Smartphone to act like a super gadget with the advanced functions and the apps you cannot get with the regular Smartphone. So, you can do that by unlocking the Bootloader of your device and gain the root access. Rooting gives you admin level rights on your device. With the admin access you can install some custom apps or even uninstall some pre installed apps. You can even get rid of unnecessary ads by blocking them.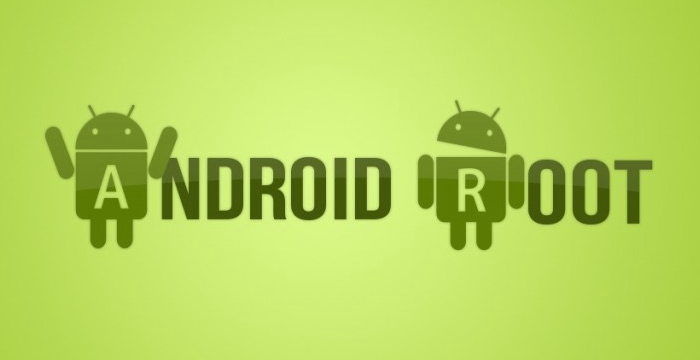 Part 1: Difference Between Rooting and Unlocking the Bootloader
Part 2: Complete guide to unlocking HTC one Bootloader
Part 3: Rooting HTC One with Android Root Toolkit
Difference Between Rooting and Unlocking the Bootloader
Rooting means you gain root access or superuser permissions on your Android device. There are many advantages of rooting. You can get admin level privileges to your phone. You can install custom ROM of your choice and even the apps of your choice. You can remove the unnecessary built-in apps that show the ad pop ups while browsing. Rooting allows you to make several changes on your HTC one device letting you customize the functionality and performance of your device. With a rooted device you will get access to the files that are otherwise unavailable with unrooted HTC one, thus giving you more freedom with your control over the device. However, where there are pros, there is always a room for cons too! If you don't do the rooting process carefully you might end up damaging the device's functionality or you may lose some potential files or programmes important for Android if you accidentally delete them.
What is a Bootloader? Well, Bootloader is the program within every computer, tablet or a smart phone. It is responsible for loading the OS on device. Your HTC One comes with a locked bootloader. And you cannot root your device or install a custom ROM without unlocking Bootloader.  To root your HTC you need to first unlock the Bootloader of your device.
Complete guide to unlocking HTC one Bootloader
Here's the complete hack of how you can unlock the true potential of your HTC One.
Step 1: Before you start the unlocking bootloader and rooting process of HTC one you should consider all the pros and cons. You can end up with an unusable device if you do it incorrectly. But, don't worry, I am here to guide you. All you need to do before starting rooting process is to take some precautionary actions before starting the root process.
· Back up all your important data.
· Don't delete the files that rooting apps recommend for proper functioning.
· Carefully follow the instructions.
Step 2: Visit www.htc.com/us/software/htc-sync-manager/. Go to the site and download HTC sync Manager installer. HTC sync manager allows synchronization of all your contacts, multimedia files or data to and from your PC and Phone. Launch the Sync manager and connect your phone to pc with cable. If you are using anti-virus it may block sync manager, so disable antivirus.
Step 3: Now you need to access HTC's site for unlocking bootloader. Visit www.htcdev.com/bootloader and complete the signup process. Log in to your account.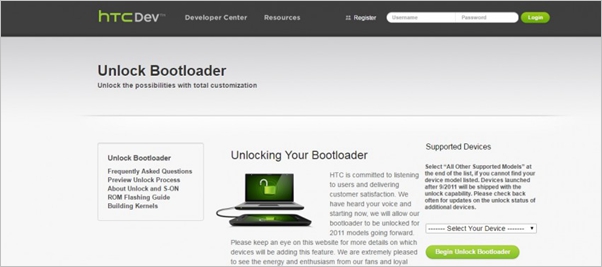 Now you are at Bootloader page. Navigate to the device menu and select HTC one from drop-down menu.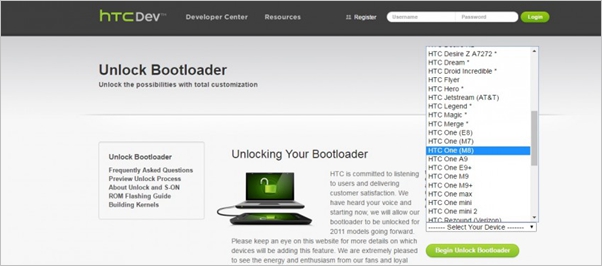 Step 4: Now you are all set to start Bootloader unlocking process. You will see the button 'Begin Bootloader unlocking' button in green. Click on it. And start the process. Disconnect the phone from pc and power off the phone. Now you will be presented with instruction for unlocking Bootloader.
Step 5: Now you need to start the device into Bootloader mode. To do that press and hold volume down button and power buttons at the same time until you see the below screen.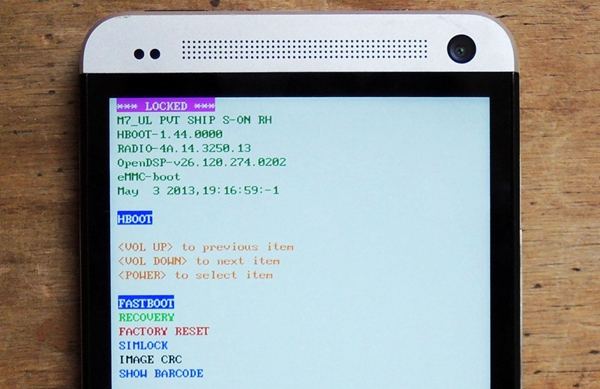 Step6: Now, you need to select the fastboot from the menu. Use up or down volume buttons for selecting Fastboot and confirm by pressing power button.
Step 7: Connect your device to PC and navigate to the fastboot folder.
Press Win+R on your keyboard to open the run window, type "cmd" and press enter to launch the command prompt. In the command prompt window, type "fastboot oem get_identifier_token" and press enter. Then you will get a token, copy the token which start with "Identifier Token Start" and end with "Identifier Token End".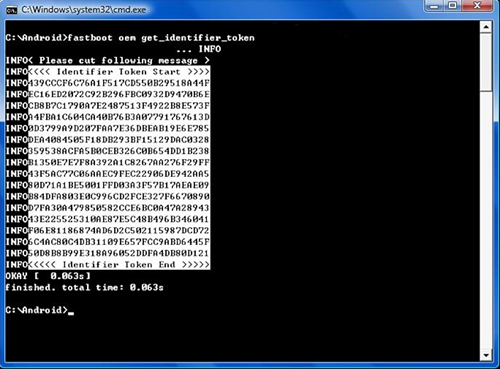 Next on the HTC dev's website go to the third page. You will be clearly shown the next set of instructions to follow on the website. Follow all the instructions and submit. After a moment the unlock code to unlock your device will be mailed to you on your email ID. Download the token and save it into the fastboot folder. Don't forget to name it "Unlock_code.bin"
Step 8: In the command prompt window, type:
fastboot flash unlocktoken Unlock_code.bin.
You will be asked a dialogue on your HTC One "Do you want to unlock boot loader?" Select yes by using volume keys and press power button.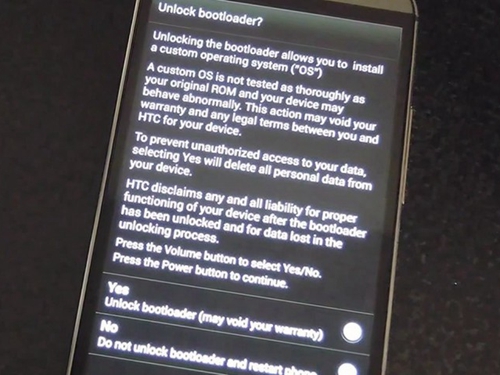 That's it! You are all done with unlocking the Bootloader of your device. Now, the next step you will do is unlocking the power of your HTC device. How? By rooting your device. Read on.
Rooting HTC One with Android Root Toolkit
Android Root toolkit has the hassle free process of rooting and it supports up to 7000 devices. And all your data is safe after rooting via Android Root. See detailed steps on how to root HTC One with this software.
Download WinDownload Mac
Step 1: Download the Android Root toolkit. Install and launch the program, then select 'Root' from the interface.
Step 2: Connect your HTC One to PC. Click on root menu and allow USB debugging. It will connect the HTC One device automatically with the programme.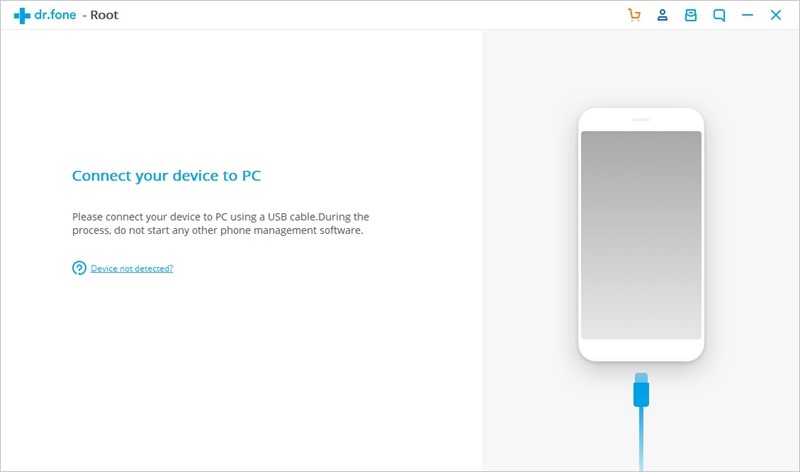 Step 3: After the software detect your device. It will take a few minutes to recognize the device.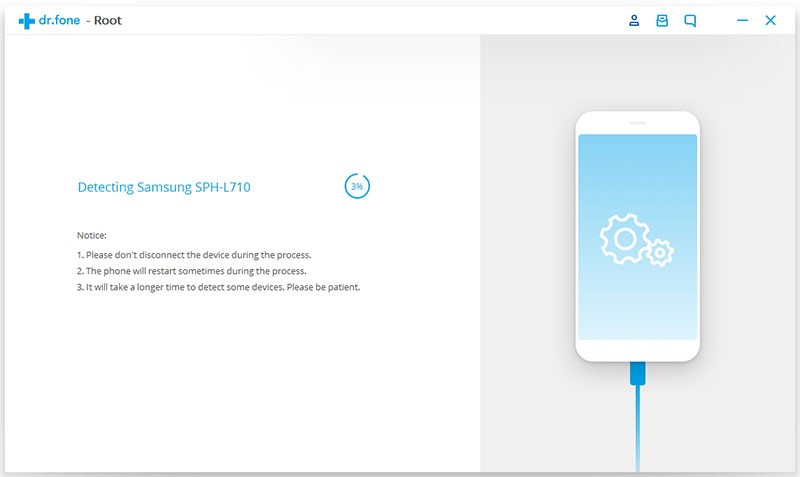 Step 4: After your device is connected you will see the option to root now. You will see a dialogue of confirmation. Then click on the "Root Now" button.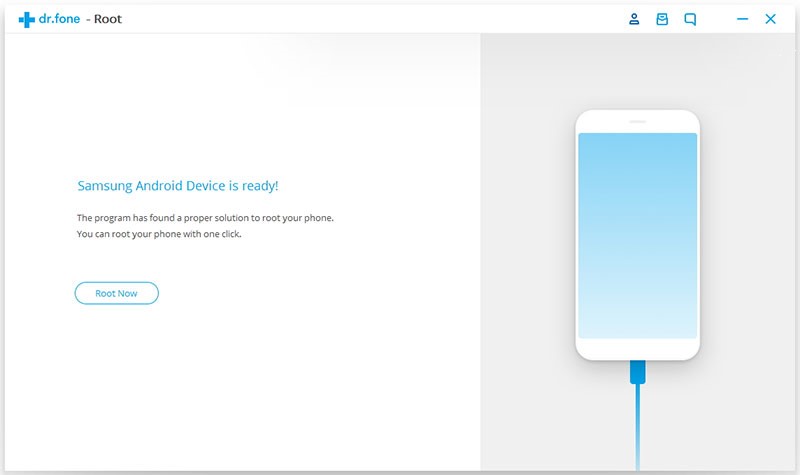 Step 5: Confirm the rooting of device and rooting process will start automatically, wait several minutes and you will get a message of "Root Completed".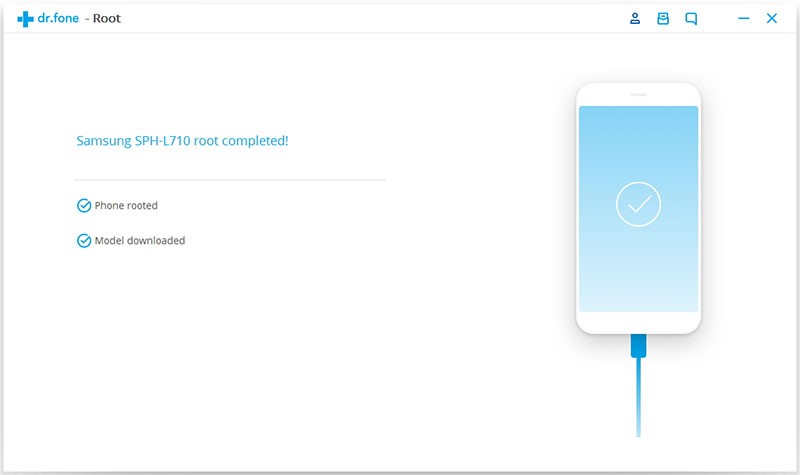 Download WinDownload Mac
Unlocking the Bootloader and rooting HTC One has lots of benefits for techies but, all you need to do is, take some precautions of data backup before you decide to root your device. So? Go rooting if you want more control over your HTC one!