Our mobile phones vary from design and functionality. These devices are specially made to assist us in many tasks personally. Just like any technology it breaks down or hangs on you when you need it the most, You might not have time to take it to an expert since they often break down when you are in the middle of your daily activities. Therefore it is essential to know all the functionality of your Android device. Samsung Galaxy Android devices are known to be high-end devices that have a number of settings and features. In this article, I will take you on everything you need to know on how to soft reset or hard reset your device.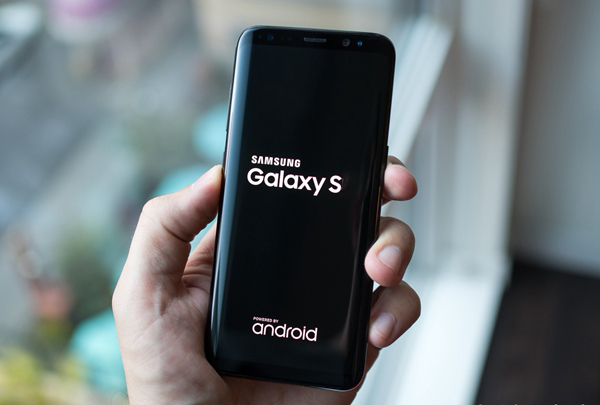 Part 1: How to Soft Reset Your Android Device
Part 2: How to Hard Reset Your Android Device
Part 3: Back up Your Phone Data Before Hard Reset
How to Soft Reset Your Android Device
Soft reset is one of the easiest ways you can rest your Android device. A soft reset means turn off your device and restart, it will shut all functions of your device and start it all over again. Doing this always refreshes your device clearing all running applications, which frees up the random access memory. It often increases functionality and does not affect your data.
There are so many ways you can software reset your device.
Soft Reset from Restart Option
Long press the power button and you can quickly restart your device through the restart option presented.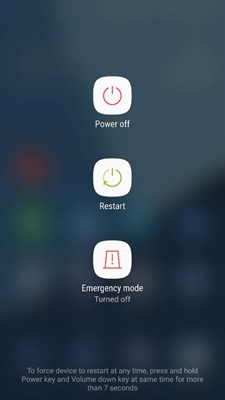 Soft Reset with Hardware Keys (Force Restart)
If your device has frozen with unresponsive screen then you can long press the Power button for about 15 seconds until the phone reboots.
For Samsung device, press and hold the Volume down and Power button for about 15 seconds until the phone reboots.
How to Hard Reset Your Android Device
Hard reset is also known as factory reset. Hard reset option often comes about as a last resort. The process is not as straightforward as software resetting. It is designed this way since it involves wiping clean the entire device. You will lose all your installed applications except those that came with the phone; you will lose text messages, contacts, as well as images. You do not need to worry since arriving at this involves a process that guarantees you are fully prepared for everything. You will be asked to back up everything and exclude anything that you do not need.
The advantage of a hard reset is that you get to restore everything back to its default. The software feel will be as good as new. This feature solves all your software issues. Any virus attack, untraceable files, and unwanted or corrupted files will be removed.
Hard Reset from Settings Menu
The procedure of how to hard reset your phone varies from the model as well as the manufacturer.
For Samsung device, a hard reset is accessed on settings > General Management > Reset > Factory data reset.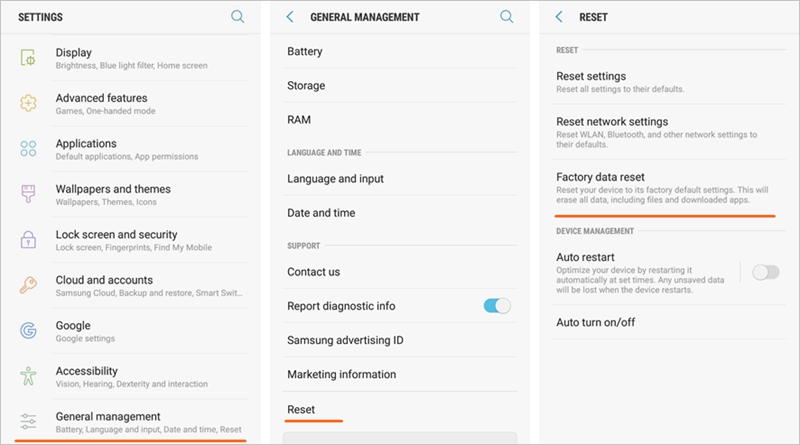 In some cases, you might be asked to scan your fingerprint for approval. If your device doesn't have a fingerprint scanner, your password pin or pattern will be required to complete the process. Usually, this process takes not less than 5 minutes but it varies from different devices.
Hard Reset with Hardware Keys (From Recovery Mode)
Another way to hard reset you devise is wiping phone data in Recovery Mode. This option is often done when the device is completely dead and cannot be accessed by the regular software interface.
To access this feature, you have to switch off your device and boot into recovery mode by long pressing the power button and volume down button. See detail steps of how to boot Your Android phone into recovery mode.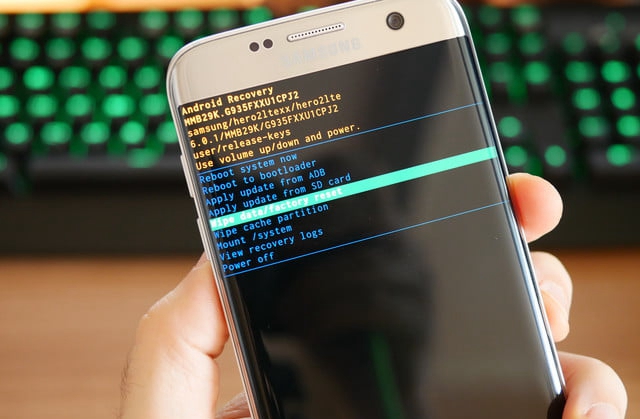 You will get a command prompt screen where you can scroll via the volume down button and choose an option via the power button. Then navigate to "wipe data/factory reset" option to reset your device.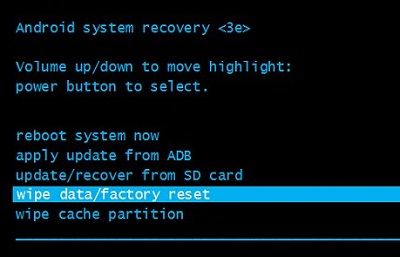 If you are able to access the phone before a hard reset, it is advisable to back up your data.
Back up Your Phone Data Before Hard Reset
There are several data backup and restore applications on the market today. Most of them function by providing an alternative storage option for your backup so that you can clean reset your device including any available memory options on the phone.
With Android Data Backup & Restore software for PC, you have a user-friendly interface where you can view all the files and apps on your device. You can also selectively backup your phone data and leave anything you do not need to your computer.
Download WinDownload Mac
Selectively Back up Phone Data Using Android Data Backup & Restore
Step 1. Download and install the software on your computer. Choose "Backup & Restore" feature from dashboard and connect your device to the computer via a USB cable.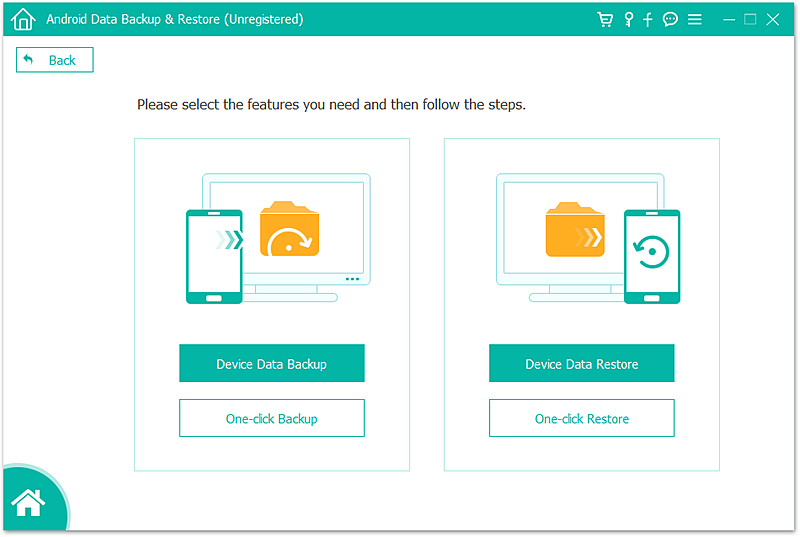 The software will detect the device automatically. Once connected to the computer select the backup option.
Step 2. After that, you will have a menu where you will be able to choose the data that you want to be backed up.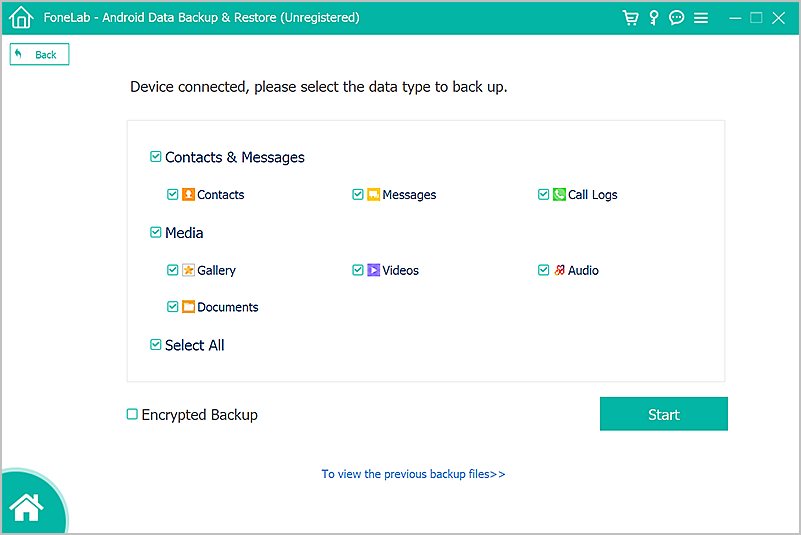 Step 3. Press the backup option after completing the selection and the process will begin immediately.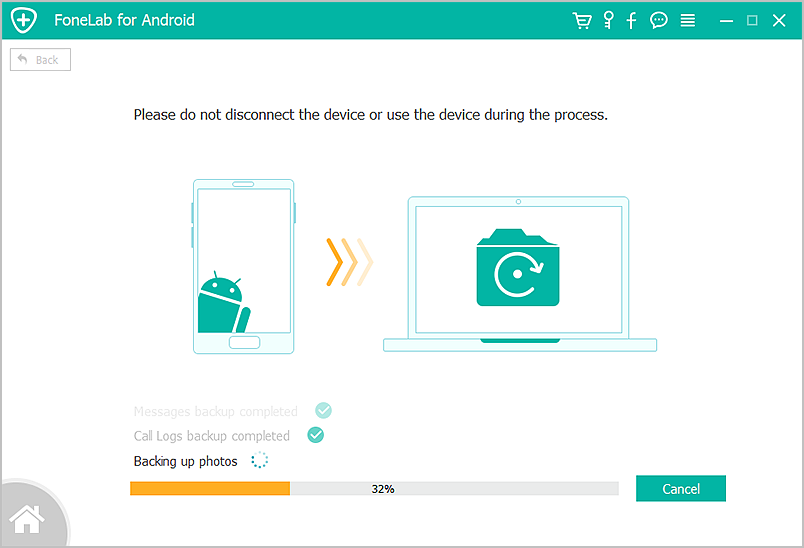 Step 4. The whole process will take time depending on the size of the content being backed up.
The beauty of Android Data Backup & Restore you can view the content of the backup by click on "View the backup" button.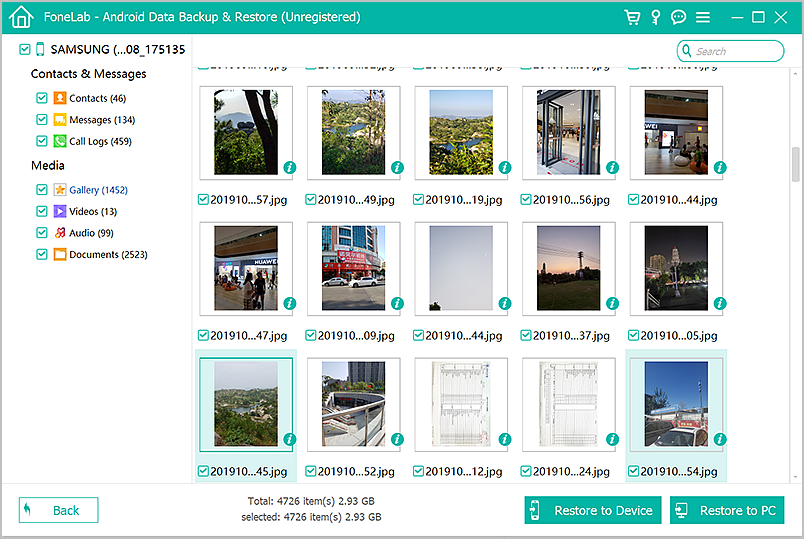 Selectively Restore Phone Data Using Android Data Backup & Restore
After the reset is complete, you can restore your data through the same software in a similarly easy process.
Step 1. Connect your device to computer and choose restore option.
Step 2. If you want to do a complete restore of the previous backup, click the drop-down icon and select the old backup file from the left window.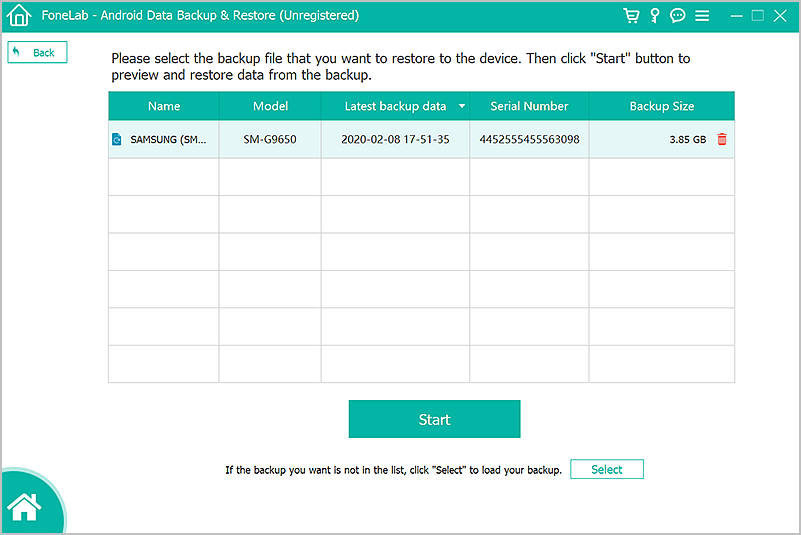 Step 3. Android Data Backup & Restore gives you the ability to micro select what you want to be restored. You can select from a list of contacts and restore what you need while leaving what you deem irrelevant. You also have options of choosing which messages to restore or leave.
After that, click Restore button to transfer data back to your device.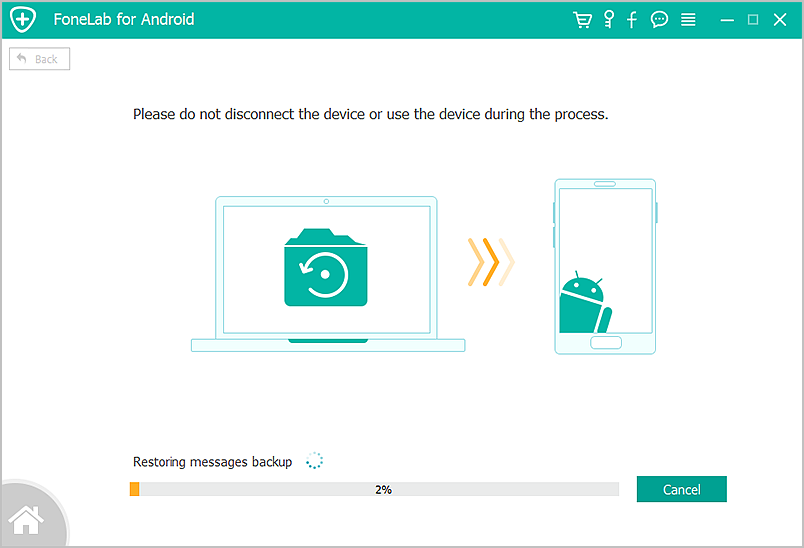 This feature gives you a unique ability to keep data and review them later when you need it. The process of data restore is very easy and takes a few seconds to complete.
Download WinDownload Mac
CONCLUSION
To have a variety of options presents a set of advantages to the user that's why Android Data Backup & Restore is a useful application for the job. You can resume you phone use in a matter of minutes without any lost data. The process is quick and easy to use and the best feature being selective data option in a third party safe storage. With this options, I believe that the nightmare of data loss and hustle of restoration from a virus attack or a hanging device is easy.
Why not have your data in a safe location such as your computer, free from any loss and accessible whenever you need it. We hope that with this information your back up and restore problems will be a thing of the past.