Data on your Samsung Galaxy include bank information, login accounts, E-mail and more confidential information that cannot be divulged. Sometimes you want to delete some data in order to secure your privacy, so you can tap the delete button or perform factory reset, or use your Google account to delete. However, you probably don't know that, by simply restore factory settings, the data deletion isn't traceless and permanent, but actually the deleted data can still be recovered and viewed through some technology and skill. In fact, there are loads of data recovery tool you can use to recover deleted data from Android. What's fortunate, you will be introduced an Android Data Eraser toolkit for your Samsung Galaxy. All above will be explained in detail as follows.
As we mentioned just now, to wipe out your Galaxy data, factory reset is a universal way many people used to do.
Part 1: Factory Reset to Wipe Samsung Galaxy
Part 2: Completely and Permanently Wipe Samsung Galaxy, Nothing Can Be Recovered
Part 3: Remotely Wipe Stolen Samsung Galaxy with Google Find My Device
Factory Reset to Wipe Samsung Galaxy
Although it is said that performing a reset on your device will erase all the settings and data in it. After factory reset, you will not view any data stored before, but they are not permanently deleted, unfortunately, the deleted data can be easily recovered by some recovery tools. After all, if phone doesn't have very important privacy data, follow the guide to reset in settings menu:
On your Samsung galaxy, go to Settings > Reset > Factory data reset, make your confirmation.
Note that if you want to save some data of your Galaxy, you should take a backup to keep the data you want before starting factory reset.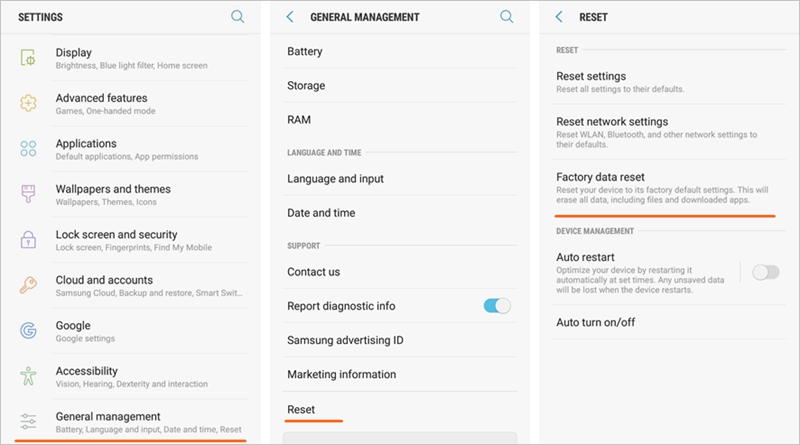 Is there any way to truly delete your private secrete data completely? Pleasure to answer you, you can permanently erase your Samsung Galaxy with the toolkit called Android Data Eraser. Once you use this toolkit to delete your data, none of them could be recovered anymore. Let's see how it work.
Completely and Permanently Wipe Samsung Galaxy, Nothing Can Be Recovered
Data Eraser ensures that your information is permanently deleted and cannot be recovered by any data recovery tool. It clears browsing history, cache etc. to protect your personal information from leakage. The Android data eraser ensures that your privacy is secure by permanently deleting deleted files, clearing browsing history, caching and protecting your personal information. The specific steps are behind.
Note that you had better make a backup to save what you want to maintain, otherwise it will erase all data on your Galaxy.
Download WinDownload Mac
Step 1: Launch the software on computer and select "Data Eraser" from the features. The first time you use the toolkit will take a few times to open.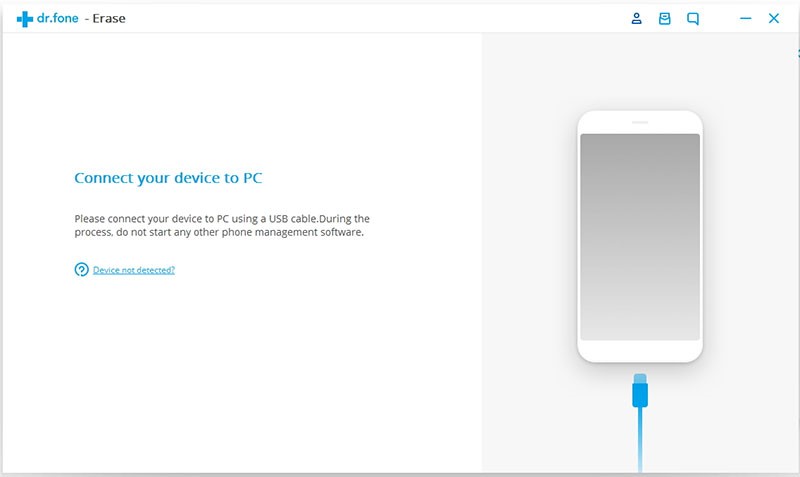 Step 2: Build a connection between your Samsung and computer via USB cable. Once it is connected, click on the button "Erase All Data".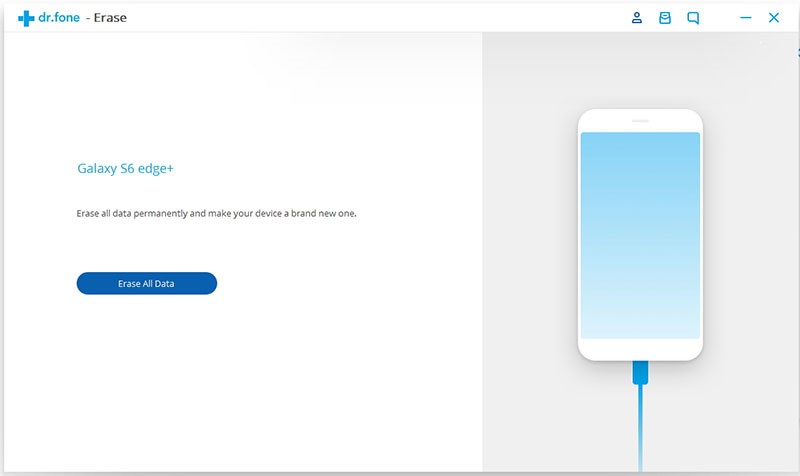 Step 3: Confirm that you are going to delete all your data, if you are sure, type the word "delete" into the bar and then click on "Erase Now" to clean anything.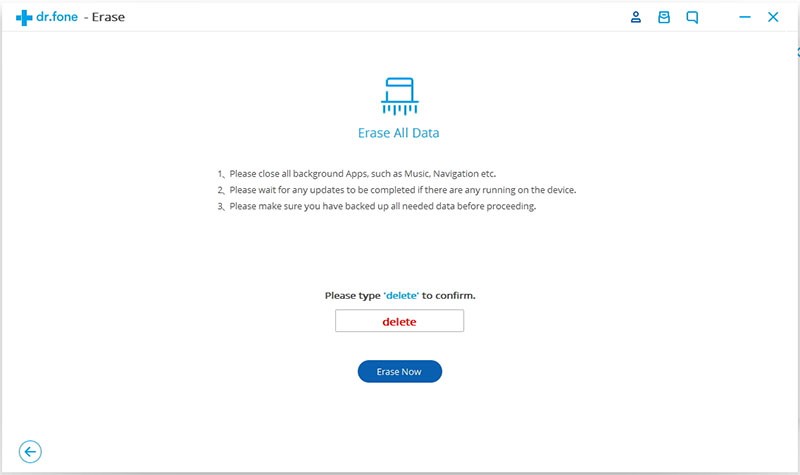 Step 4: It takes some time to erase data on your Galaxy, the waiting time depends on how much data are in your Galaxy. During this step, don't disconnect your Galaxy from computer. Keep it until it finishes.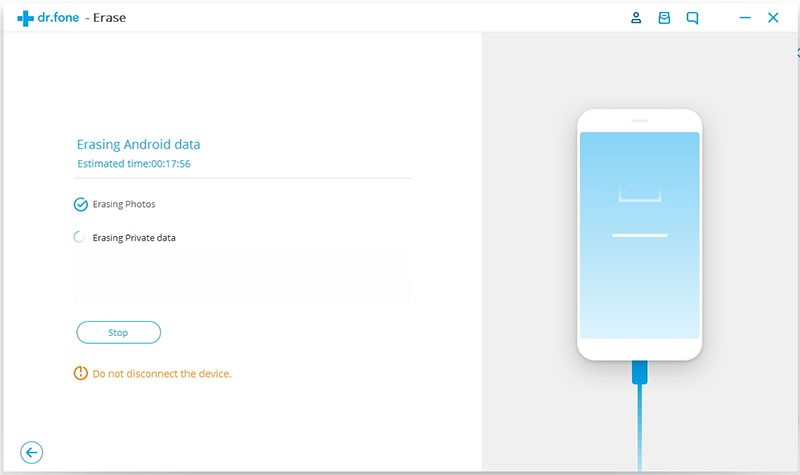 Step 5: The last step, tap "Settings" > "Backup and reset" > "Factory Data Reset" on your Galaxy to complete the erasing processes.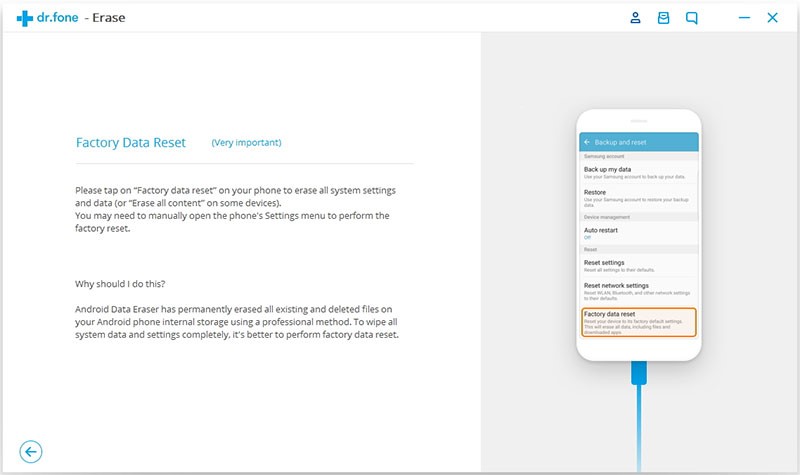 Later you will get a message that erase completed. Till this point, all your private information has been erased permanently.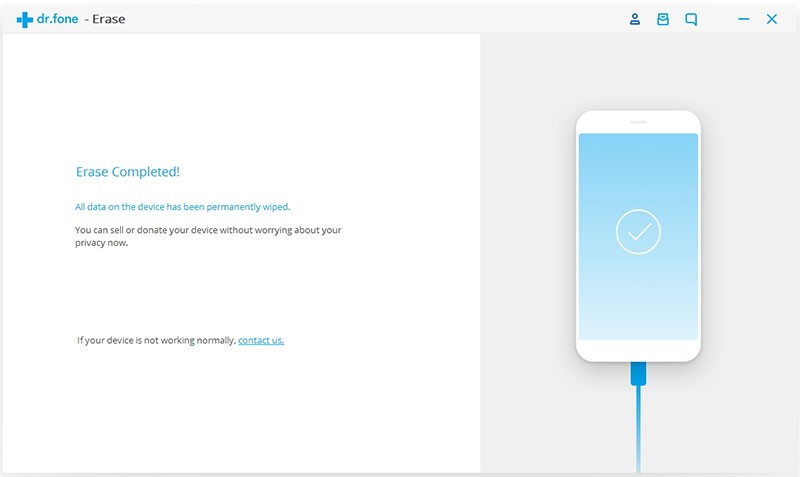 Download WinDownload Mac
Remotely Wipe Stolen Samsung Galaxy with Google Find My Device
If your phone is stolen, is there any way to remotely erase your phone data to avoid revealing your privacy information? Take it easy, you can use Google Find My Device feature to remotely erase all the privacy to prevent leakage by others.
Google Find My Device helps you remove all the data on your Android phone, reset the lock screen password, and track your Galaxy positioning. To use all of this feature, you just need to create a Google account and associate it with your Galaxy in advance. Then we can move on as the steps below.
Above all, you must have signed into a Google account on your Samsung Galaxy, which will automatically activate Google Find My Device and Remote Lock and Erase.
Step 1: Visit Google Find My Device on the internet on computer or other devices.
Step 2: Sign in your Google account with correct email and password.
Step 3: You will come to the home page of Find My Device. Select your Samsung Galaxy at the top left.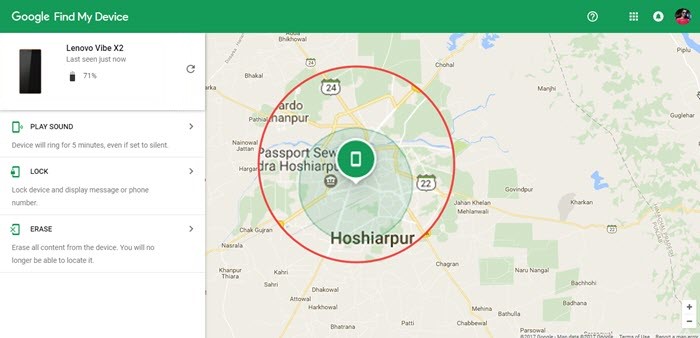 Step 4: There are three options in the sidebar, click Erase.
Enter your account and password to make confirmation. All the data on your selected phone will be wiped out then.
However, deletion outcome from Google Find My Device is also the same as factory reset, the deleted data can be recovered by some recovery tools if you need.
Sum up the three methods by which you can wipe out your Samsung Galaxy, with their respective advantage and disadvantage.
Factory reset
Pros: Wipe out most of data on your Samsung Galaxy
Cons: Cannot completely wipe Android data so that the deleted files may be recovered using data recovery tool.
Google Find My Device
Pros: Remotely wipe data of stolen Android device
Cons: Deleted data might be vulnerable to some recovery tool, means data is possible to be viewed.
Data Eraser toolkit
Pros: Easy to handle; Permanently delete data; Multifunction
Cons: Not free.
If you want to completely and permanently erase your Android device, Data Eraser is recommendable. After all, privacy is more important than money.