The camera is a great invention that let us capture every moving and treasured moment. However, after every happy party and trip taking many photos, you will probably be upset by one of the biggest problems: the storage of smartphone is so limited. And under the mountain of photos, at some point of time, you will not be able to store new photos, or the older photos will be picked out. What's more, photos take up a large amount of data, if not careful, because of the limited memory, accidental deletion, or virus attacks, your photos may disappear leaving you regretful. Therefore, in order to protect your Galaxy photos from being easily lost, backups should be made regularly.
Part 1:Backup and Sync Galaxy Photos with Google Account
Part 2:Backup Galaxy Photos to computer with Android Data Backup & Restore
The most common way for many Android users to back up photos is the Google Photos. Download the Google Photos from the Google Play Store and configure it on your Samsung Galaxy S8/S7/S6/S5 etc. This app will be a great assistant to back up and sync your accumulating Galaxy photos. Learn more about how to use Google account to back up photos from the guide below.
Backup and Sync Galaxy Photos with Google Account
Once you have installed the Google Photos and signed into your Google account, check the steps one by one. Then your device's photos and videos will save to your Google Photos library automatically.
Step 1: Launch Google Photos app on your Galaxy and sign in your Google account.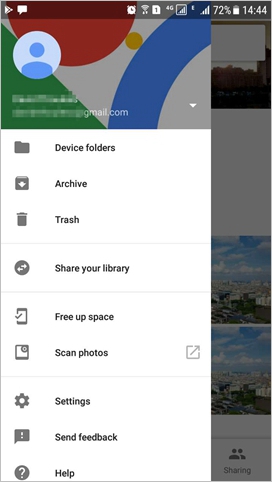 Step 2: Tap the menu icon at the left top corner.
Tap "Settings" > "Back up & sync", switch on the toggle button for "Back up & sync".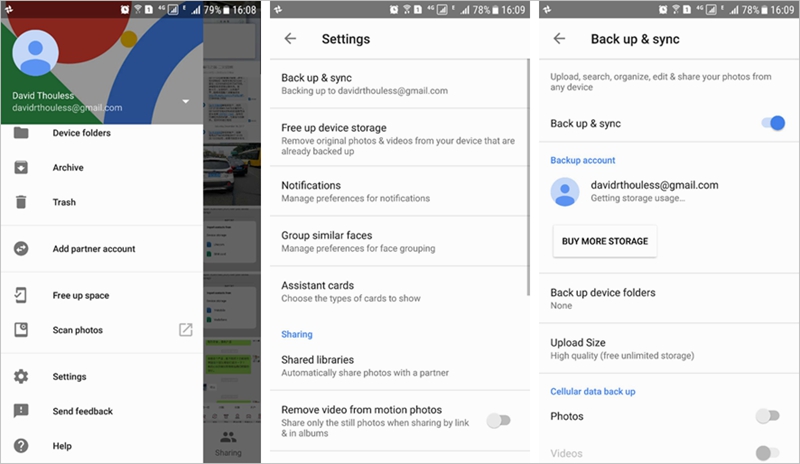 Step 3: Now all your photos will be synced to the cloud automatically when your phone is connected to Wi-Fi. You can check your synced photos from Google Photos or Google Drive on computer browser or other devices.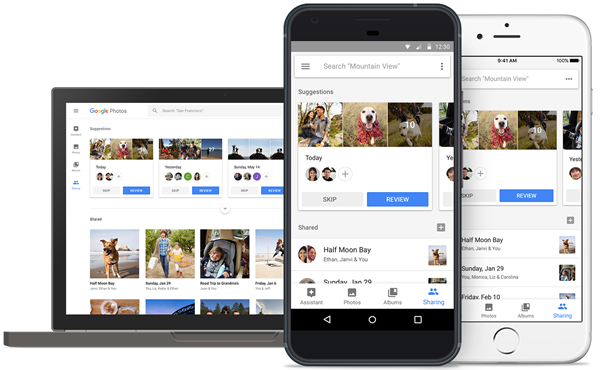 Note:
1. Google Photos sync your photos to cloud and other synced device, if you deleted a photo on device or Google Photos, it will also be deleted from other synced devices and move to Google Photos' Trash, which will be permanently deleted after 60 days.
2. By default, your Google Photos backup are limit photo resolution to 16 megapixels and Google Photo gives you unlimited storage space.
3. You do have the option to upload your photos at higher resolutions (for some device with 21 MP camera), but the Google Photos storage will count against 15GB free storage of your Google Drive quota. You can choose the upload size of your photos in App settings > Back up & Sync > Upload Size.
The disadvantage of Google Photos is that if I delete a photo on Google Photos, that it will also be deleted from other synced devices. If you want to safely store photos to your computer so that you can still retrieve them from your local backup files even if you accidentally delete them on your phone, try the Android Data Backup & Restore Toolkit to take a complete back up of your Galaxy photos. This toolkit is safer and efficient, providing you unlimited storage space. See the details in next part.
Backup Galaxy Photos to computer with Android Data Backup & Restore
With the Android Data Backup & Restore toolkit, photos on Samsung phones cannot be easier to be backed up. When performing backup and restore data, we should avoid data redundancy, and this efficient software can back up your Samsung photos to your computer, supporting you to view them and restore just as specific as what you want from backup to your Samsung devices, reducing unnecessary data. Now, let's look at how to back up your photos by Android Data Backup & Restore toolkit.
Download WinDownload Mac
Step 1. Run the toolkit and select the "Data Backup & Restore" among the features in the dashboard.
Connect your Galaxy to computer with USB cable.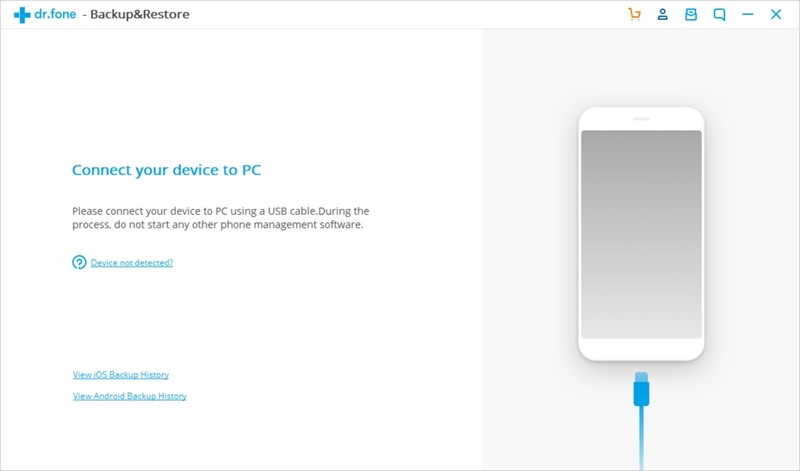 You need to enable the USB debugging if you haven't turned it on before, just follow the instruction from the window.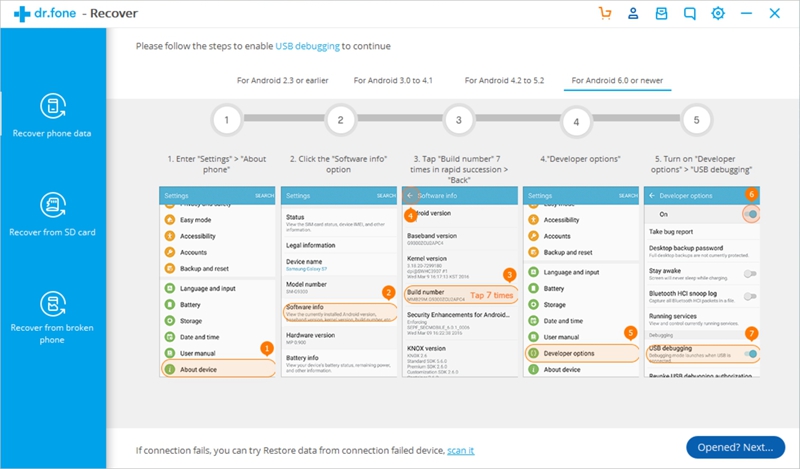 Stpe 2. If your Galaxy is connected, click on the Backup button.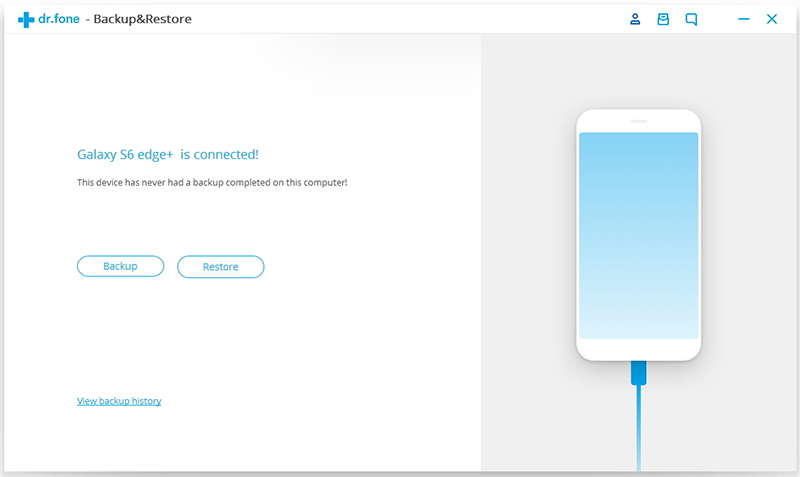 Step 3. Select file types to back up
Once it occurs the window asking to select the file types, by default all is selected but you can check the option box to select "Gallery". Next click on "Backup" button. The backup process will immediately start.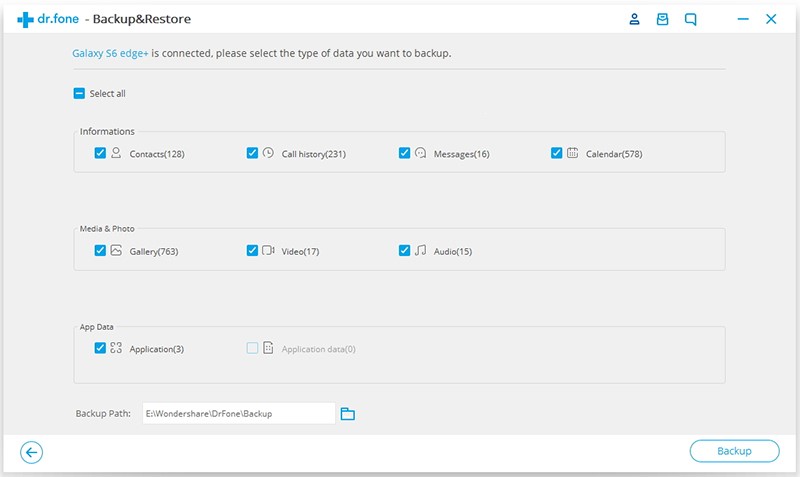 What you need to do now is to wait for the backup process complete. Please don't disconnect your Galaxy, don't use it or delete any files on it during the backup process.
A few minutes later, you will get a message that Backup has been completed.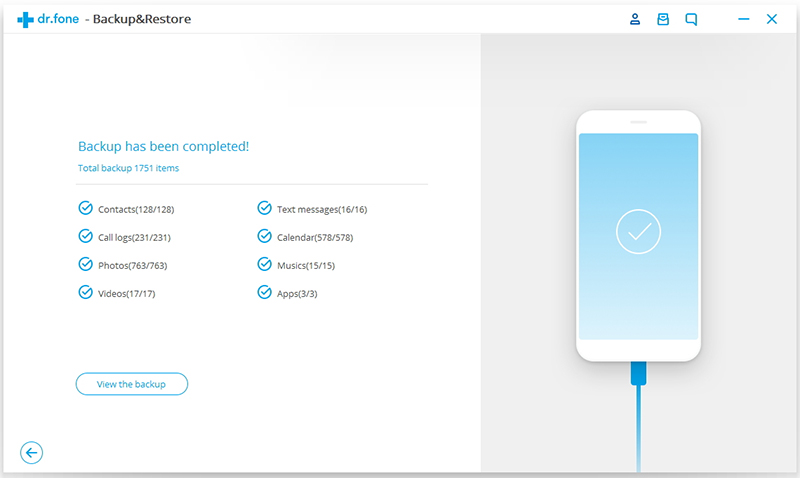 You can click on "View the backup" button to view your backup photos.
View Your Backup Photos Easily
This toolkit has the shimmer that it is very easy for you to view your backup files.
Next time you want to check your backup photos, go back to the dashboard and choose "Data Backup & Restore", next click on the "View backup history" and choose a backup fie to preview.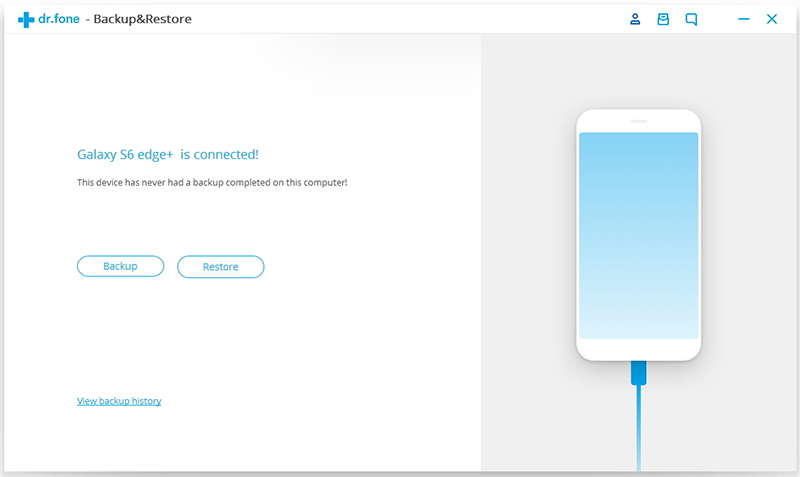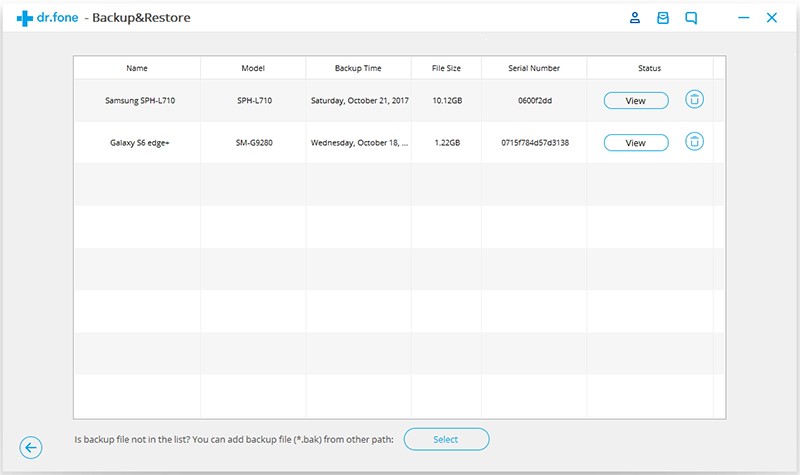 Click on the file type and preview the content in the main window.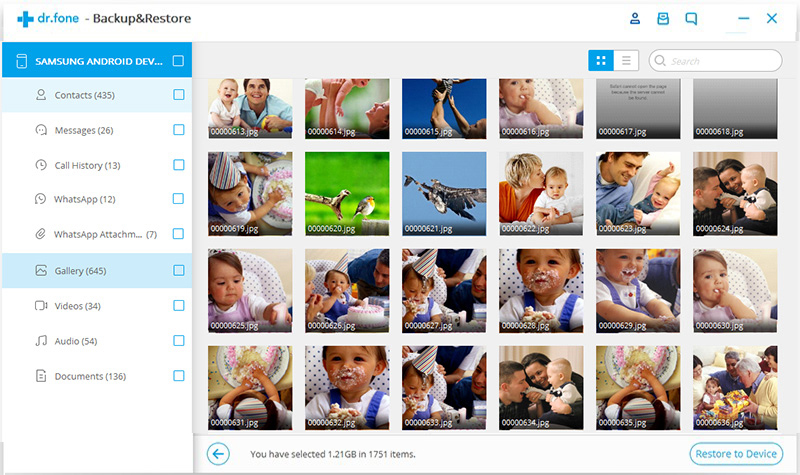 With the help of Android Data Backup & Restore, whenever you want to restore the backup data, you are able to selectively choose backup file to restore to any Android device. Just select the backup history and click on Restore button, then selected photos will transfer to your device conveniently.
Google account may not be so handy when you need to restore the photos to the device. The sync feature has a hidden risk of data loss in a certain extent. If you want safer and multifunctional tool, recommend you turn to Android Data Backup & Restore toolkit.