Even though iCloud is the most effective way to back up your WhatsApp messages on iPhone. You might experience some issues during the backup process such as storage is full and others. Or get a 'Couldn't restore chat history' error when you restore WhatsApp chat on your new iPhone.
These issues make it harder to restore your WhatsApp messages to a new iPhone. This is the reason why most people are always searching for a way to transfer their WhatsApp messages without using iCloud.
If you're in such kind of a situation and you need help, then you've come to the right place. Here you'll find some helpful solutions to your problem.
1. One-click to transfer WhatsApp data between iPhone without iCloud backup.
2. Restore WhatsApp data to new iPhone via iTunes backup
3. Tips: Transfer WhatsApp chat history via iCloud backup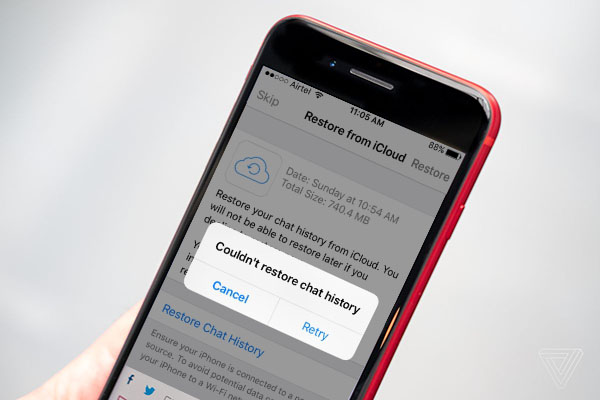 One-click to transfer WhatsApp data between iPhone without iCloud backup.
FORecovery – WhatsApp Transfer is a complete phone data transfer software that lets you transfer your WhatsApp data directly between iPhone devices.
Besides that, you can also backup or restore your WhatsApp data. This toolkit works with all iPhone models including iPhone 11, iPhone X/XS, earlier iPhone 8/7/6 and most Android devices.
To use the data transfer toolkit to transfer your WhatsApp data between iPhone, follow the steps below:
Download and install the software into your computer. Connect both your new and old iPhone via a USB cable.
Launch the toolkit, then select the "WhatsApp Transfer" option from the main window.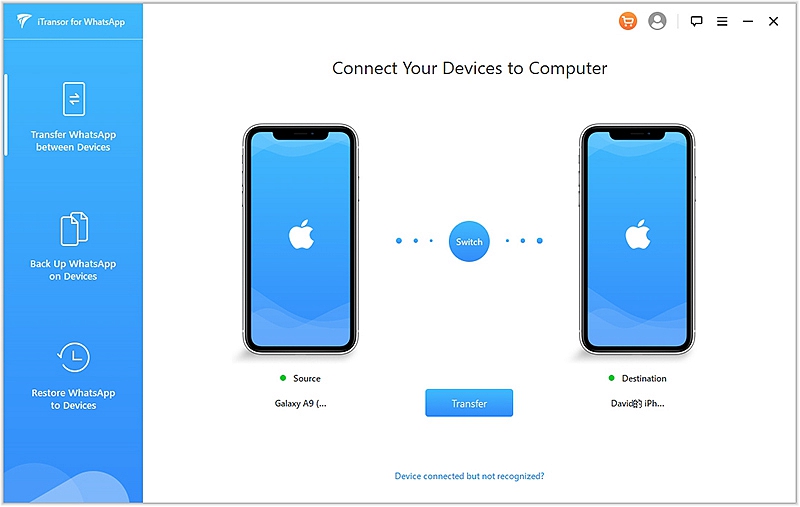 Head to the WhatsApp section and click "Transfer WhatsApp Messages" to initiate the transfer of WhatsApp data between the devices. The program will provide you the snapshot of both devices so you can make sure they're correctly marked with the new iPhone as the targeted device. If not, use the flip button to correct their position.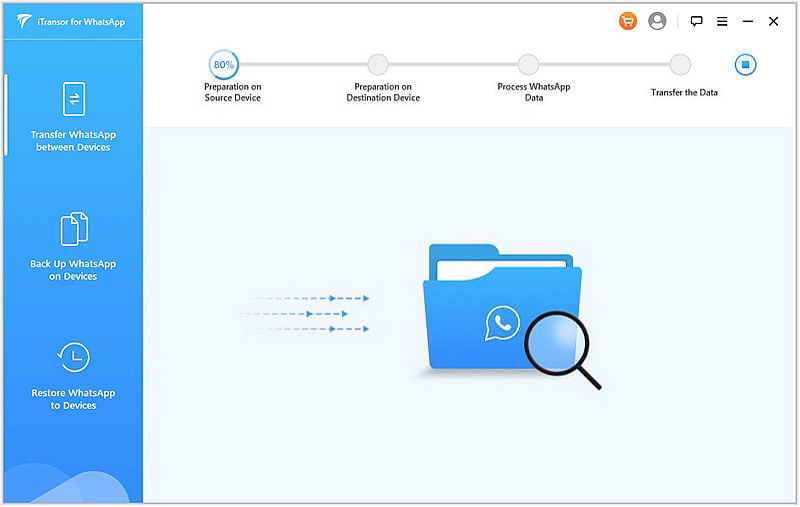 Now, click "Start" and the WhatsApp data will get transferred from your old device to your new device. If you're already using WhatsApp on the new iPhone, the program will erase the existing data. If you want to proceed with the process, just agree with the warning prompt that appears.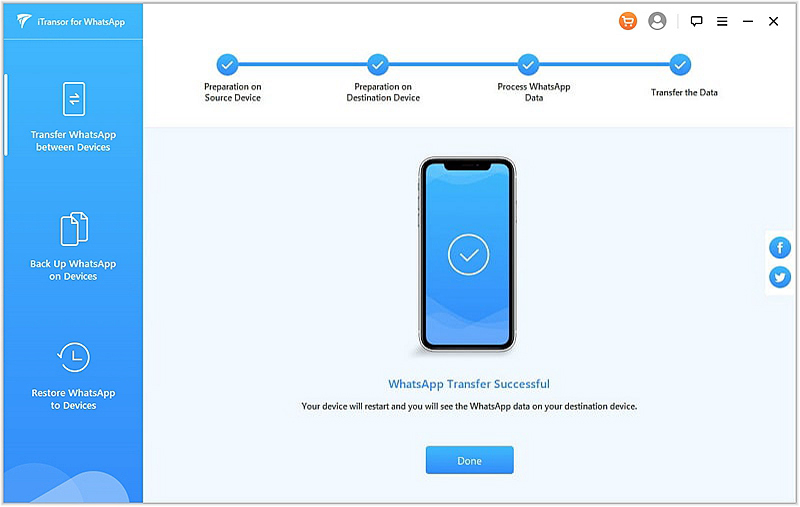 Throughout the process ensure your device remains connected to your computer.  Once the transfer process is complete, the program will notify you. Remove your devices from your computer and restore the newly transferred backup content.
Restore WhatsApp data to new iPhone via iTunes backup
iTunes is the official tool that comes in the mind of most Apple users when it comes to iPhone data and Apps like WhatsApp data backup and restoration. It's quite effective at backing up and recovering WhatsApp messages and other App data on iPhone while it will make a fully backup and restore of your phone data.
If you've already backup your old iPhone's data on iTunes, you can restore it to your new iPhone through the steps below:
Launch iTunes on your Window or Mac OS computer and log in using your credentials.
Connect your iPhone to your computer via a USB cable and click "Trust this Computer" on your iPhone.
Tap "Restore Backup" in the iTunes interface.
Next, click "Restore" to restore your latest phone backup which including the WhatsApp data backup.
You must restart your device while ensuring it's connected to your computer. Once the restoration process is over wait for a few minutes until your iPhone completes synchronizing with your computer.
Finally, disconnect your device from your computer. You can now access your WhatsApp data from your device. This process is easy and fast.
Tips: Transfer WhatsApp chat history via iCloud backup
WhatsApp offers iPhone users a build-in chat history migration method via Apple's iCloud. However, it's not a direct WhatsApp chat transfer, you must back up the chat history first to iCloud, then restore it from iCloud to your new iPhone.
These steps will help you transfer your WhatsApp chat history via iCloud backup:
Head to your iPhone's setting menu, hit on your Apple ID on the top, and find "iCloud".
Next, navigate down and find "iCloud Drive", turn it on and ensure you've turned on the WhatsApp option.
Head back to WhatsApp, click "Settings", find "Chats", then "Chat Backup" and click "Back up Now". This will help you back your WhatsApp chats to iCloud.
Finally, log in to your WhatsApp account in your new iPhone. Once your phone number has been checked, you'll receive the option to "Restore Chat History", click it and restore your WhatsApp chat history backup to your new iPhone.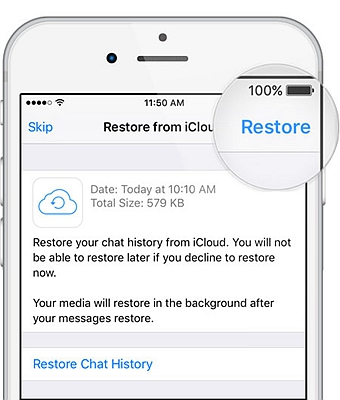 Now that we've come to the end of our article, we hope you'll make use of these methods to transfer your WhatsApp data between your iPhone devices.