Guest Mode is a feature that is available in Android Lollipop 5.0 and newer versions. This is a mode that can be used when a phone's owner hands it to another person and does not want them getting access to private data. It is no longer a matter of asking friends and family to respect your privacy (which is often ignored anyway) but making them have to respect your privacy. Guest mode is a great feature that many people love but few know how to use it. Here is a guide that you will find useful.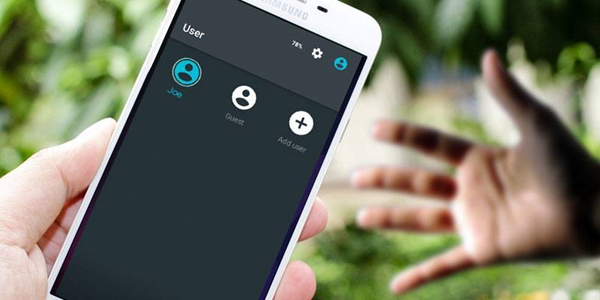 What is Guest Mode?
Phone owners can create a personalized account for guests who use your phone often. When you switch to guest mode, it will be as if it's a brand new phone, and all of your data is inaccessible in guset mode. You can use the guest mode to protect personal stuff. From apps to texts to images, the things you would like to keep to yourself are protected from prying eyes.
However, guest user will have access to the apps that are installed by phoen owner and settings like WiFi and Bluetooth, And guest user can install apps after adding his own Google account, as well as store their files and apps.
How to Switch to Guest Mode
Learning how to use guest mode on Android will depend on the phone that you are using. In most makes the process is the same.
1. Swipe down from the top to open the quick settings panel.
2. Tap the 'person' icon at the top right.
3. Tap on 'Add guest.'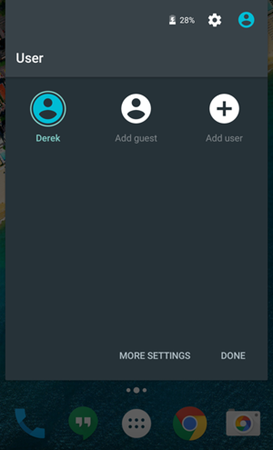 These steps will open the guest mode and you can now hand over your phone to the person borrowing it without a worry.
Alternatively you can use the long method (if there is no 'person; icon in your quick settings panel) starting by opening the settings app. From there, tap on 'users and accounts' then 'users' then 'guest.' Set up the profile by clicking on 'Add New User' and then 'OK.'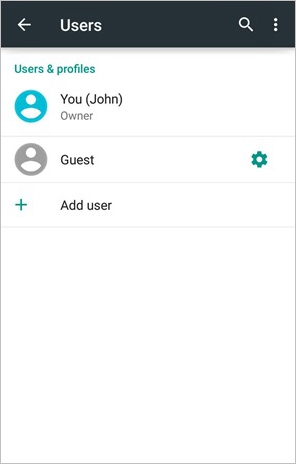 The owner of the phone can control what can be accessed in guest mode. For instance, in the Nexus tablet users can control what can be used on the tablet. Owners also have the discretion of determining whether guests can make calls using the phone and whether they can add other users from the lock screen. To change these, the settings app is the one to use. Data and storage used by guests can also be checked if the owner wants to.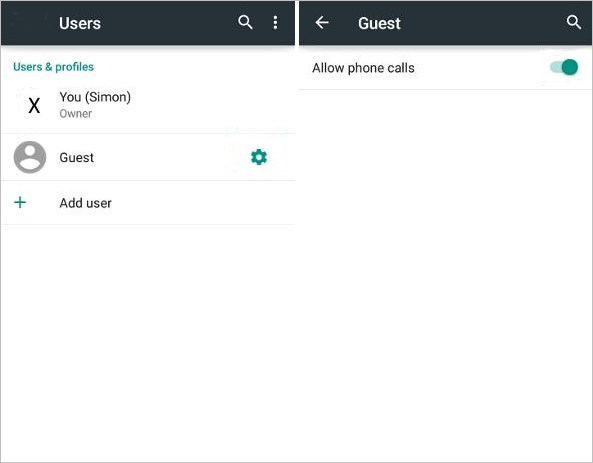 After the guest is done using your phone and you would like to get back in control and view all personal apps and files here is the procedure to follow:
1. Swipe down from the top to open the quick settings panel.
2. Tap the 'person' icon at the top right.
3. Tap on 'remove guest.'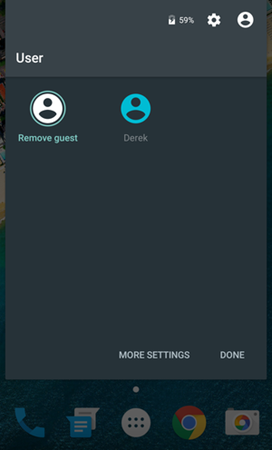 4. You will be required to provide verification that you are the owner. This can be either a fingerprint scanning, passcode or password that you had set earlier. So, be sure to remember the password you use when setting up the guest mode. You will then have control over what you can do on the phone and you can use it without restrictions.
The truth is that the process of opening and closing the guest mode differs from one phone to the other. Be sure to go through your phone to learn how yours is done. A good source of information is its users manual.
Bottom line
Guest mode is a really cool feature that helps Android users maintain the privacy they desire without being stingy. You can hand your phone over to anyone who wants to borrow it without fear that they will peek into your private stuff. Learn how to set it on and you will be happy with just how great the feature is.
It is important to note that not all phones will allow you to use guest mode but those that do are really cool. Most that are run by Android 5.0 and later do have this cool feature. Try it today!