You have entered the wrong passcode on an iPhone many times, and finally, your device has been disabled. Maybe you just bought a second-hand iOS Device, but you are worried about its prior user accessing it. Or, you are sure you have forgotten your pin or password, and the only way to access your device is to disable it and hope to access it again. Well, the good news is, there is hope beyond an inaccessible iOS Device. In this article, I have shared two ways to unlock iPhone if you forgot iPhone passcode. You should, however, note that these are not, and cannot be ways to hack an iPhone. Instead, you will only be able to bypass conventional techniques used to lock an iPhone. The first method is the typical way Apple wants you to use, which might limit some users because you need to have your Apple ID password. The second, method, however, is a more ingenious solution since you don't need your Apple ID.
Method 1: Restore your iPhone with iTunes to bypass passcode (Apple ID password is required)
Method 2: Restore your iPhone to bypass passcode using 'iOS Unlock' (without Apple ID)
Method 1: Restore your iPhone with iTunes to bypass passcode (Apple ID password is required)
For this method, please make sure your device is charged up to at least 20%. You also need iTunes on a Mac or PC to restore your iPhone.
Step 1. If iTunes is open on the computer, first close it down and connect your iOS device then open iTunes (if it doesn't open automatically).
Step 2. Force restart your iOS device using any of the following methods for the version you are currently using.
• If your device is iPhone 6s, iPod touch or iPad with a Home button press and hold down power and Home buttons simultaneously and wait for the recovery mode screen.
• On iPhone 7 or iPhone 7 Plus, press and hold down volume down and power buttons simultaneously. Do this until the screen changes with the recovery mode option.
• For iPhone 8 or later, or iPhone X/XS/XS Max/XR, iPhone 11/12/13 or later, quickly press and release volume up, then quickly press and release volume down, after which you press and hold down the power button. The same applies to iPad with Face ID.
Step 3. You will then notice the Restore or Update option, choose to restore.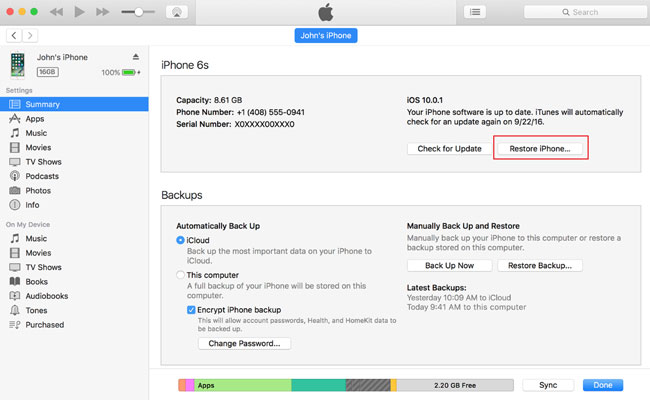 Step 4. Wait for the restoration process to be complete and then set up your iOS device for use.
Remember, depending on the device you are using, you might be required to enter your Apple ID with this method.
Method 2: Restore your iPhone to bypass passcode using 'iOS Unlock' (without Apple ID)
iPhone Unlock toolkit is a revolutionary desktop App that allows you to gain access to any iOS device if it is locked, disabled or forgot the passcode, Touch ID and Face ID can't be accepted. iPhone Unlock works seamlessly with all iOS devices, including the newest iPhone 13, iPhone 12/11 series, iPhone X/XS and the earlier iPhone 6/7/8 with iOS 15.
If you just bought a second-hand iPhone, iPhone Unlock toolkit helps you to gain control over the previous owner and use a new Apple ID. Now your iDevice cannot be tracked using a previous Apple ID, the last iCloud account will be as good as gone, and your device cannot be accessed by an earlier user, no matter what they try.
Download WinDownload Mac
This is how you can use the iPhone Unlock toolkit to access an iDevice whose password, passcode or pin you forgot. You can even use it to bypass the fingerprint lock system. Just like with the first method, all data on the iOS device will be erased after passcode bypass and the iOS version on your device will automatically be updated to the latest version.
Step 1. Launch the software on your computer and select Unlock Screen Passcode, then click Start.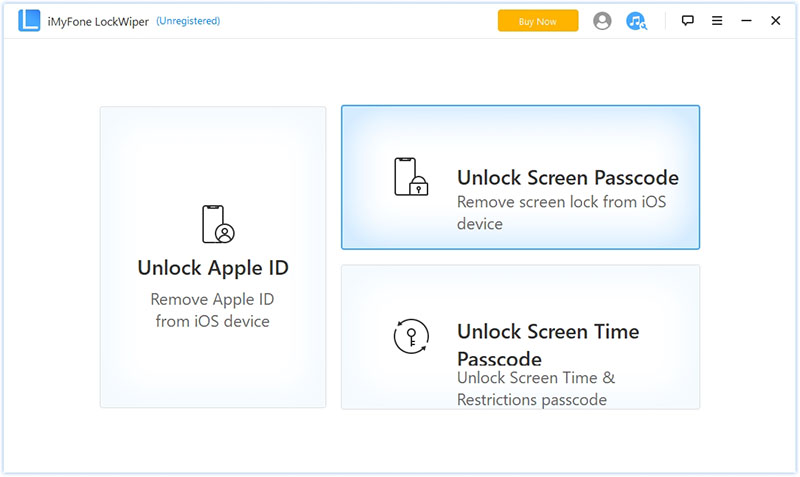 Step 2. Connect the device you are working on to the computer using a USB cable and click Next to begin loading device information.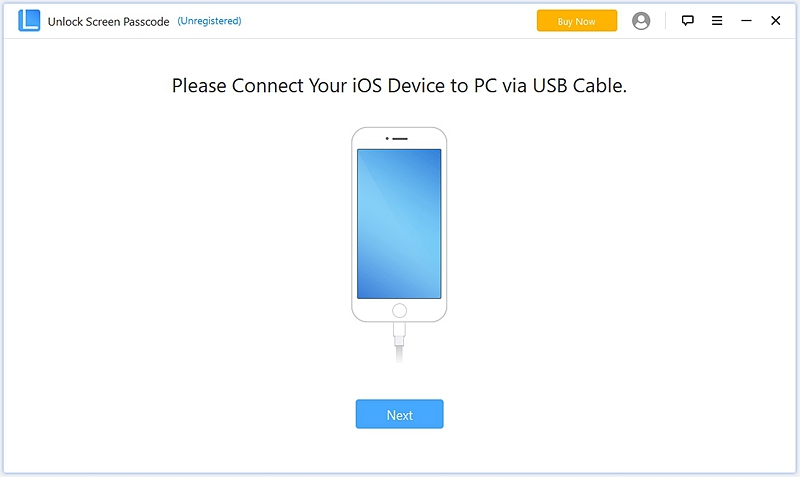 Step 3. Since the software automatically detects your device model, all you have to do is choose the firmware version and click Download. If the download fails, click Copy to alternatively download the firmware from your browser. If, on the other hand, you have already downloaded the firmware package, click Select to add it.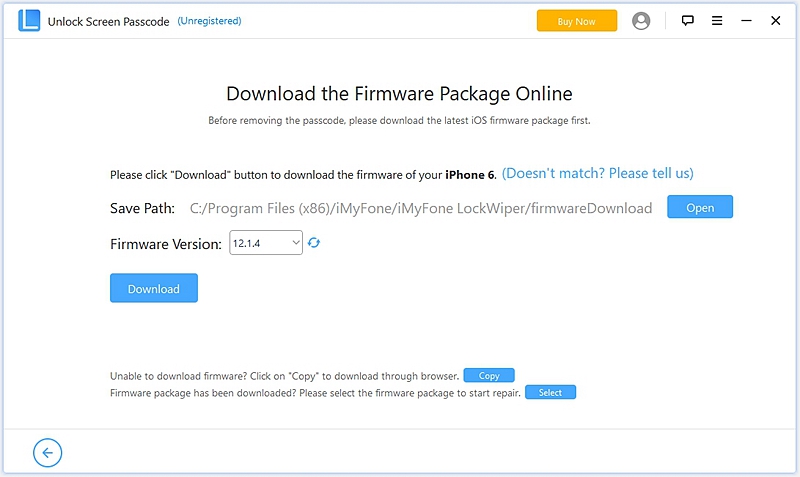 Step 4. Now let the firmware download and verify, then click Start to Extract.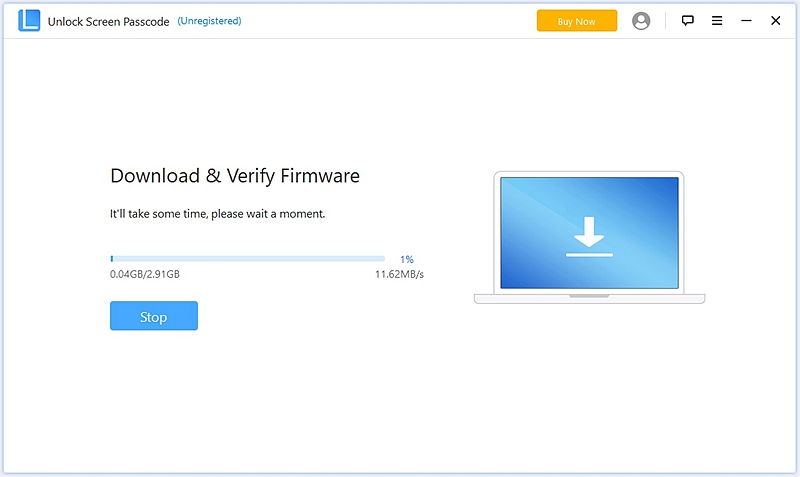 Step 5. Once the extraction is complete, click on Start Unlock. Read the notice and enter 000000 to confirm the next action and click Unlock. Your iOS device will then enter recovery mode to unlock your passcode.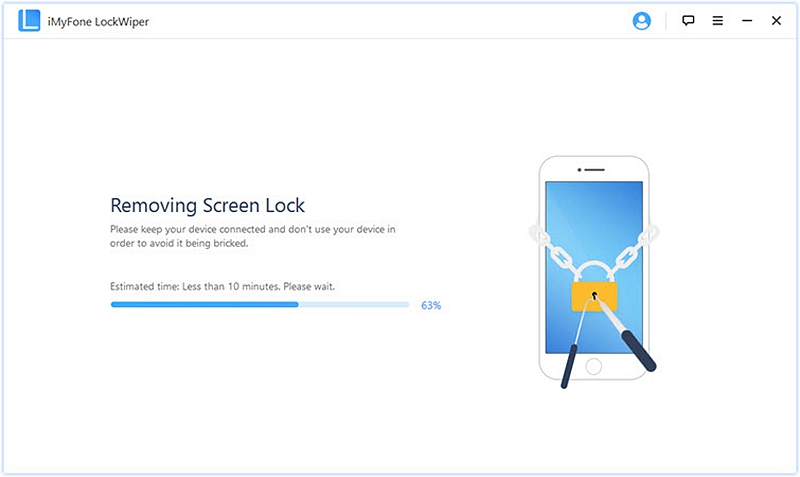 In case this doesn't happen automatically, you will receive manual instruction on how to get the device into DFU/Recovery mode.
As you may have noticed, you do not need an Apple ID to use iOS Unlock toolkit to bypass your passcode. It is the easiest and most ingenious way of gaining access to any iOS device without worry and hassle.
Download WinDownload Mac