Apple has continually improved the capabilities of their smart devices. One of the intuitive developments was the incorporation of Siri in the iOS operating system. Siri is a virtual assistant and takes voice commands from users to perform different actions on the smart devices. The utility of this new feature has been expanded and now it is possible to operate all your Apple devices using the Siri functionality.
Siri supports a wide array of speech commands. With Siri, you will be able to schedule alarms and reminders, change phone settings, and easily search the phone and the internet. The functionality can also work harmoniously with third-party apps such as Whatsapp, and Facebook Messenger. Thus with Siri, you will be able to perform a myriad of actions on your phone without even touching it.
In this article, you will get the 4 best new features with Siri in iOS 12 iPhone X/XR/XS. Read up to the end and be sure to try them on your iOS smart device.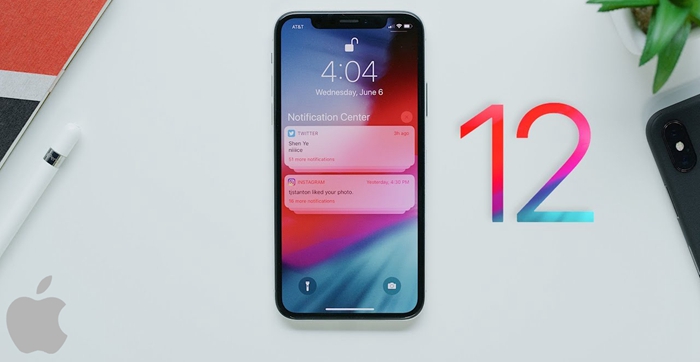 Customize Siri Suggestions in iOS 12
How to Create Siri Shortcut
Use Siri to Translate Language for You
Get Siri to Read and Reply WhatsApp Message
Customize Siri Suggestions in iOS 12
The suggestions which you get from Siri are derived from a continuous analysis of your device user trends. This analyzes makes Siri make correct guesses what you wish to do, your browsing patterns, your favorite apps, and even your waking up time. This analysis and correct prediction of your behavior is enabled by machine-learning capabilities incorporated within the Siri software. Not only will Siri make correct suggestions on what you want to do, but it will also continually learn and master your voice such that it cannot take commands from third-party voices who may want to use Siri voice commands on your device.
So should you be worried about your privacy?
It is true that Siri collects enormous user data. You need not worry about your personal data privacy. Apple team has gone a step further to ensure that you have a full control of all the data which is collected by the Siri software. To accomplish this, Apple uses end-to-end encryption standards such that it's only the server storing your information and the Siri software which comes with your IOs operating system which can decipher and interpret your personal data.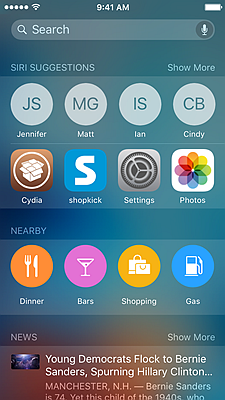 Follow the steps below to customize Siri Suggestions in iOS 12
1. Launch the settings app on your device.
Scroll downwards and tap on the "Siri & Search" settings.
2. Under "Siri & Search" settings, look for Siri Suggestions' and select this option.
Below this, you will find an interface where you can customize your Siri suggestions. The suggestions options which will be displayed include; suggestions on search, suggestions in look up, and suggestions on lock screen.
3. Tap on the button on the right side of each option to toggle between OFF and ON options on each suggestion. You can as well tap the "About Siri Suggestions and Privacy" to learn more about how your information is handled by the Siri software.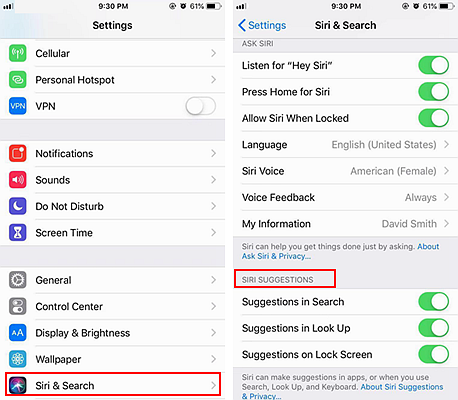 How to Create Siri Shortcut
Smartphone shortcuts are important as they help you save on the time spend accessing a given functionality on your device. Siri has an integrated capability to help you create such needed shortcuts. Usually, Siri will recommend certain shortcuts to you after performing certain actions on your phone. However, these recommendations are not usually exhaustive and you may, therefore, need to manually create extra shortcuts.
Below are the steps on how to create Siri Shortcuts:
1. Launch the settings app.
Swipe the list of settings and select "Siri & Search" option.
2. On the "Siri & Search" interface displayed, scroll downwards and tap on the "More Shortcuts' menu option to access extra shortcuts.
These extra shortcuts usually reflect the actions which you performed recently on your phone. To get a list of all possible shortcuts, tap on the "See All' tab.
3. To add a given shortcut, tap on the Plus (+) button on the right side of a given suggestion. Siri will then take you through several steps to record the trigger word which will be needed to perform this action. The first prompt after hitting the Plus button will be a requirement to record the command phrase which will be needed to launch such an action.
It is advisable that you choose a phrase which is memorable and suggestive of the action needed to be performed. For instance, if you have a phone contact by the name "Mary" and you would like to have a shortcut to call Mary, one of the best and memorable phrases would be; "Siri call Mary for me". This is just an example, you can create your own memorable phrase for performing such actions.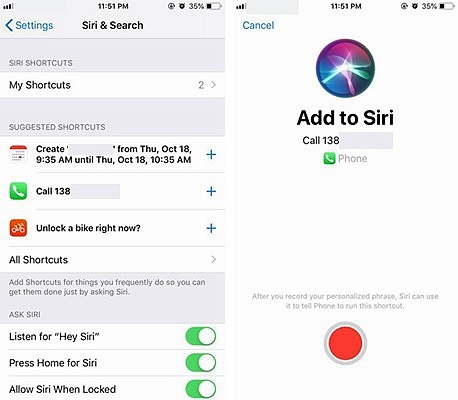 4. After creating your desired phrase for the selected action, just tap on the "Done" tab at the top of this interface to finish the shortcut creating process. Repeat the same process to create several shortcuts.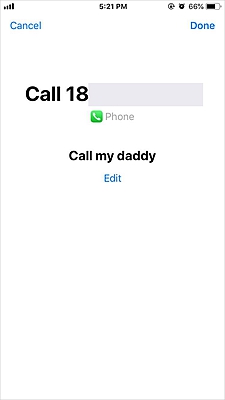 Once these shortcuts are created, you will be able to command Siri to perform those actions by issuing voice commands which have these phrases. For instance, if you have already saved the "Siri call Mary for me" phrase, then next time you need to call this contact, just speak out this phrase and the Siri software will fetch Mary's contacts and call her.
Use Siri to Translate Language for You
There are occasions where you may be faced with the challenge of translating one language to another. Siri has this capability integrated within itself. Not only will Siri translate the phrase or the words for you but it will also give you the pronunciation of such words in the new language. This feature is a must-try for those who love to visit new countries and spent vacations in foreign countries.
To perform this action, follow the steps below:
1. First, see to it that the default language is set to your first language. You can set this to either US English or UK English.
2. The next stage will involve issuing a voice command to Siri to launch it. If you have customized Siri to launch in the screen-locked state, then just say "Hey Siri" to launch the software. If you have not, then unlock your device and pull up the Siri interface.
3. Use the natural conversation commands to let Siri translate your English sentences and phrases to a language of your choice. For instance, to command Siri to translate an English phrase into the German language, you can issue out this command;
"How do you say Help me with some water' in German?".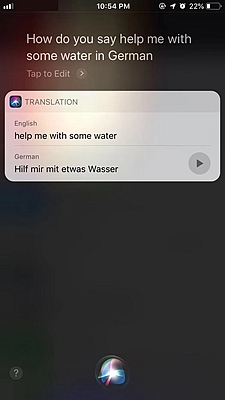 Experiment with different phrases and see how this intuitive software handles such commands.
Get Siri to Read and Reply WhatsApp Message
The final feature which completes the 4 best new features with Siri in iOS 12 iPhone X/XR/XS is the ability of the Siri software to read and reply Whatsapp messages. Learn to use this feature and you will be able to read and reply to Whatsapp messages even without touching your Smartphone.
This is how you can do this:
1. First, ensure that you are running at least version 2.17.2 of Whatsapp or a later version. The previous versions do not have the Siri functionality incorporated within the app.
2. The third step will involve ensuring that the Whatsapp app can communicate with Siri. To set this option, go to settings and select the Siri menu option. Scroll downwards and tap on the App Support and turn the Whatsapp support on. With this set, you will be ready to use Siri Whatsapp feature.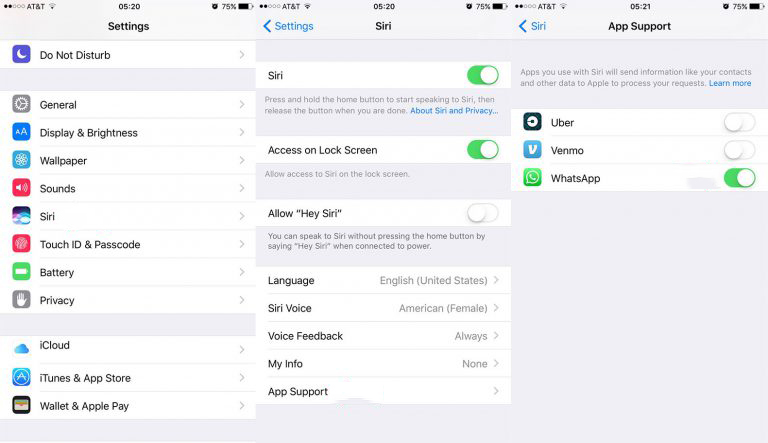 3. Once you get a notification for a new Whatsapp message, just launch Siri by issuing this voice command; "Hey Siri". After this, issue this voice command to Siri: "Read me my latest WhatsApp message". Siri will let you know the sender, read the new message to you, and ask you whether you will like to reply. You can then say "Yes" and dictate the new message. Once you compete dictating the message, there will be an option for you to allow Siri to send the message or to withhold it. In short, this Siri feature functions in the same way a real personal assistant would.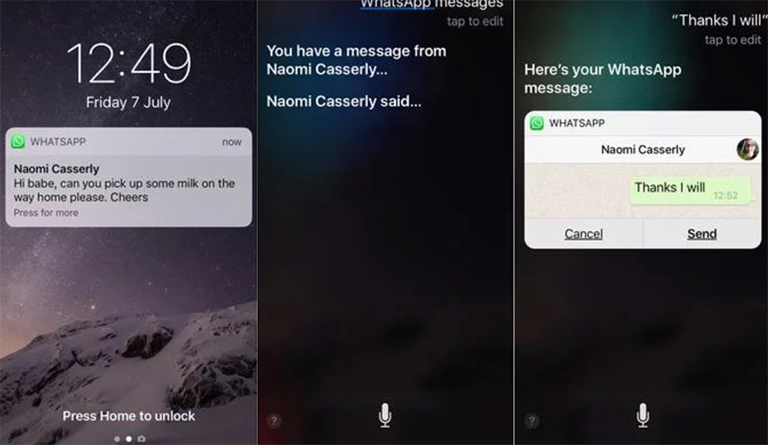 Conclusion
It is clear that the 4 best new features with Siri in iOS 12 iPhone X/XR/XS which were added recently make Siri be one of the most intuitive software functionalities in iOS series. Play around with these features and see how you can best optimize the performance of your iOS device. These new features will surely amaze you.