Do you want to change your iPhone carrier from Sprint the third largest carrier in the United States to another new network provider? If you have bought a used iPhone tied to Sprint or you are Simply deciding to switch to another network, you will first have to unlock your iPhone. Only then can you proceed further. So first let's see how to unlock Sprint iPhone with 3 methods which will help you unlock Sprint iPhone.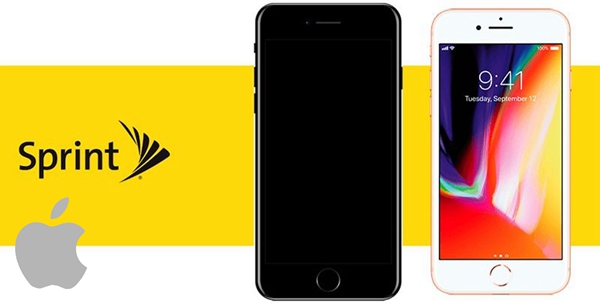 Method 1: Unlock Sprint iPhone with Unlock SIM
Method 2: How to unlock Sprint iPhone by Sprint Customer Care
Method 3: Unlock Sprint iPhone using third-party services
Method 1: Unlock Sprint iPhone with Unlock SIM
This method works on all models and iOS supported iPhone X, iPhone 8, iPhone 7, etc. Once unlocked you can use in any popular USA carriers.
First, have your sprint network iPhone with your wireless internet on. Then remove your Sprint SIM card from your iPhone. Get another SIM card from a network you want and enter it in your iPhone. It will automatically go to the screen activation required.
Hit the 'try again' button after connecting it to your wi-fi first. Your screen will show a blank page which states 'SIM not supported' message.
So now open your tiny SIM card tray and insert a small black chip called r-SIM 12 also called the unlock chip. Make sure its protruding metal part faces down. It will fit snugly in the slot, on top of it place your new SIM. Hit try again button which will again show you the 'SIM not supported' page.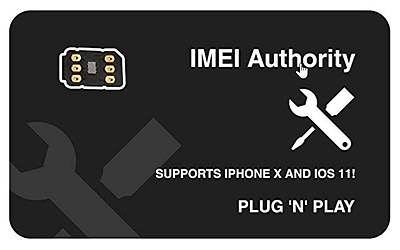 Hit the home button and dial the emergency call button now and type in *5005*7672*0# and hit the dial button here scroll down till you find, ICCID Code, 89014103279529155542. If it doesn't work search on the net for a new one. The ICCID number changes often. After entering the ICCID Code hit send. It will dial your phone, and the screen will show a page stating 'Setup Ok' hit the 'Accept' button and switch off your iPhone.
When you switch on your phone your phone will automatically now start with your new network carrier. The screen will say 'Activation Required', swipe it, choose a wi-fi which will already be connected. Hit next and your screen will show you your new network provider. Set up your touch id and voila your iPhone is successfully unlocked. You will need to leave the unlock chip inside your phone with your new SIM card for it to work. You will have to order this unlock chip from Amazon there are many vendors who will assist you.
Method 2: How to unlock Sprint iPhone by Sprint Customer Care
If you want to switch network and unlock your iPhone you need to fill up the required forms and request for unlocking the device from your Sprint Customer Care if you are a valid customer. If the phone was purchased after 2015, Sprint will unlock it for use within the US. If you had purchased it before February 2015 you have to request them to unlock your phone. You will need to apply for both Domestic (US) and international unlocking processes separately.
For domestic unlocking, you must be in Sprint network for at least 50 days. Your dues cleared and your iPhone must not be reported as lost or stolen. Your application should be enclosed with any penalties or dues fees for early termination. You should be a valid account holding customer for international unlocking of the device active on your account. Each phone number on this account can unlock two devices within a 12 month period.
If your iPhone is blacklisted or a stolen property it can be unlocked and used outside the USA but won't work in the US. Older versions than 5s won't are compatible with other networks as they were designed to work for specific networks. So don't invest in such old models. Newer versions of iPhone will work with all popular USA carriers.
If you are a valid customer of Sprint, call its Customer Care service (1-888-211-4727) separately for domestic as well as international use and follow their instructions. Once your device is successfully unlocked, all you have to do is switch off your phone, remove the old SIM card, and replace it with your new SIM to start using the device as it switches on.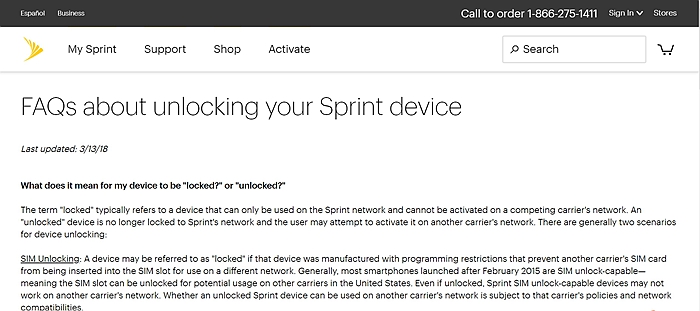 Method 3: Unlock Sprint iPhone using third-party services
If you do not want to wait for a lengthy unlocking process you can engage a third party service. Third-party services charge you a consultation fee to unlock your phone. But its hassle free and completely worth it. All it takes is 3 to 8 working days to get your work done. You can engage services of any third party vendor by applying on websites like Direct Unlocks. Go to the vendor's site, in this case, the directunlocks.com. Fill in your details, your name, email id, carrier details, your iPhone model number. Just pay their consultation fee with your credit or debit card and you are done. You can also track the progress of your unlock progress as it goes along.
Another highly recommended third-party service provider is Keys2iPhone. Log on to their website https://keys2iPhone.com/. Log in your iPhone model, select the current carrier. You will need to enter the IMEI number of your device, which is a 15 digit number unique to your handset. Next, you have to pay your unlocking fees which differs from model to model and the existing network. This is a much-expedited process which takes just 2 to 3 working days.
Another cool service worth a mention is the UnlockPolice. Apart from iPhones it also lets you unlock most popular smartphones. You can log in on UnlockPolice.com and get started. This service takes around 10 working days to unlock smartphones. You can log in on UnlockPolice.com and get started. Enter your phone's manufacturer, click on 'unlock my iPhone', pay for the unlocking charges and place your order.
When buying a used or refurbished iPhone keep these points in mind. As even these models don't come cheap. An older model like the 4s is not compatible with most networks. So don't invest in them. It's safer to buy any model after the 5s and clock in beforehand the unlocking charges you may need to pay. Blacklisted or stolen models cannot be operated in local networks within the US. To make sure it isn't stolen look for the IMEI (or MEID) which is a 15 digit number unique to your handset. Copy this number on CTIA phone checker. Then click 'I am not a robot' option. It the portal reports in green the instrument is fine but a red notification reports a lost or stolen piece. Lastly, check battery and hardware for damage.
Hope these methods will help you guys unlock your Sprint iPhone. Choose a method which is most convenient for you and enjoy your switch to a new network provider.