WhatsApp voice calls has certainly replaced the network calls making the experience of voice calls even better – but do we know all the tips and tricks to make this experience even more heavenly? In this section we are going to take you through the WhatsApp voice call tips and tricks you didn't know of and make you understand the secrets behind improving your experience!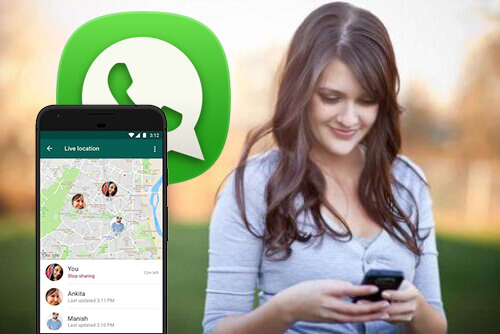 How much data does WhatsApp call use?
How to improve WhatsApp call quality
How to view a chat while you are making a call
How much data does WhatsApp call use?
Now for the people who think that the WhatsApp calls are actually free – well it isn't! The application makes use of the mobile data for making calls which in turn costs the person in the form of network packages which are demanded by the telephone networks for keeping your data connection intact.
Typically a WhatsApp voice call uses about 1MB of data for every 5 minute call. This applies to both the dialer and the receiver. To best avoid the usage of too much of data one can try to close all the background applications working while they are on WhatsApp call to save wastage of the data and make use of Wi-Fi Networks as much as possible to cut down on the expensive mobile data as compared to Wi-Fi Connections.
How to improve WhatsApp call quality
WhatsApp is a one in a million applications with billions of users making use of it daily. There is no doubt that addition of the voice call and video call features has only turned it into a wholesome experience bringing all sorts of connections in one place. But often while being on voice calls the users experience network issues, decreased voice quality, impaired video quality and other issues. While the network choice can be easily blamed for it there are several ways through which one can improve the WhatsApp call quality.
• Connect to Wi-Fi whenever possible
There is always fluctuation in mobile data networks depending upon your location. While some areas would offer you a smooth internet connection other areas would provide no coverage at all. To make an effective WhatsApp call with improved quality it is best to turn on the Wi-Fi and connect to it as and when possible. Wi-Fi Networks stay stable in a certain area and lets you communicate on WhatsApp voice calls with better quality.
• Make use of "Low Data Usage"
There is always a provision made for people who are running low on data or want to save their data usage. WhatsApp too has made this adjustment available to the users for bringing about the optimum use of their network while still experience the best of WhatsApp features.
Go to WhatsApp "Settings" and tap "Data and Storage Usage", you will see an option to turn the "Low Data Usage" option active. When you switch this option ON the application utilizes the data to the optimum brining improved Whatsapp call quality.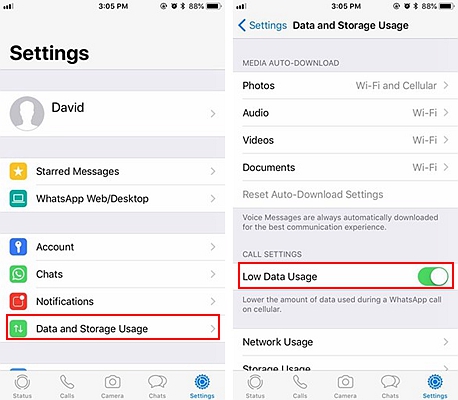 How to view a chat while you are making a call
Often when answering a WhatsApp voice call the entire screen is covered with the call screen making you assume that you cannot use any other feature while being on call. But the users can actually view a chat, make conversations and even check stories while being on a call. To do this simply follow the process:
• Touch the chat bubble on the call screen i.e. the icon with the chat bubble
• You will be taken to the conversations page and this will turn the call screen into a status bar on top of the screen.
• You can now chat with your friends while being on a call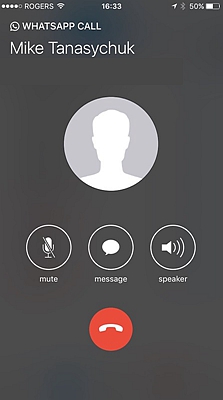 To return to the call screen again, you just have to tap on the green status bar on the top of the screen.
The interesting thing to note here is that users can even view chats while being on video calls. To do this one simply has to zoom out the video call screen by the touch of two fingers on their touch screen mobile handsets. This will minimize the video call while displaying the other person's image in the same way earlier. You can check on the conversations and return back to video call by tapping on the minimized video icon.
Try to make use of the WhatsApp voice call tips and tricks you didn't know and experience for yourself how easy it can be to make use of time and resources while improving on your experience. Certainly your problems of impaired WhatsApp voice/video call quality will lower down a few notches!