Let's say you purchased a brand new OnePlus 6T. You were using an Android phone till then which contains all your contacts, important messages and photographs etc. The question lingering in your mind is how you will be able to transfer all your data to this new OnePlus smartphone.
No worries.
Now there is a great app designed exclusively to transfer your data from Android phone (OnePlus and non-OnePlus phone) to the OnePlus 6T. It's called OnePlus Switch App! Here's how you can use it: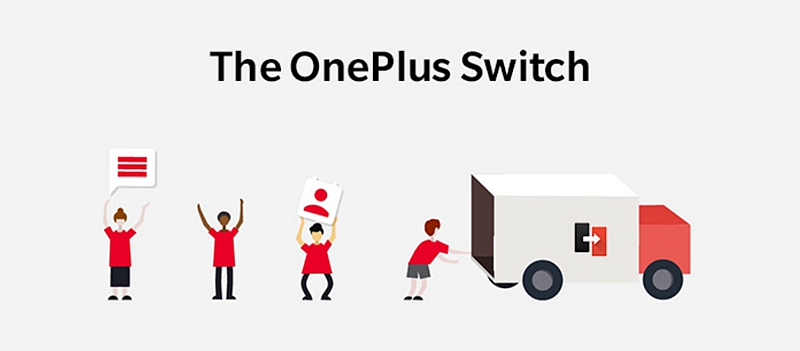 How to Use OnePlus Switch to Transfer Phone Data to OnePlus 6T
How to Use OnePlus Switch to Backup and Restore Phone Data
How to Use OnePlus Switch to Transfer Phone Data to OnePlus 6T
With OnePlus Switch, data migration from the old phone to OnePlus 6T just got easier. The only condition for such a transfer is that you should be using at least Android 6.0 or above in your old phone. If that be so, you can use OnePlus Switch to easily transfer your data to OnePlus 6T.
To carry out the data migration, you need to follow a few simple steps.
1. Install OnePlus Switch on both the phones. It will require a few permissions which you should provide in order to make the data migration possible.
2. You should select New Device on the phone. Having done that, you need to select the device type whether OnePlus or Android. You will then see a few guidelines which you should follow.
At the end of the guidelines, you will see a QR code on your screen.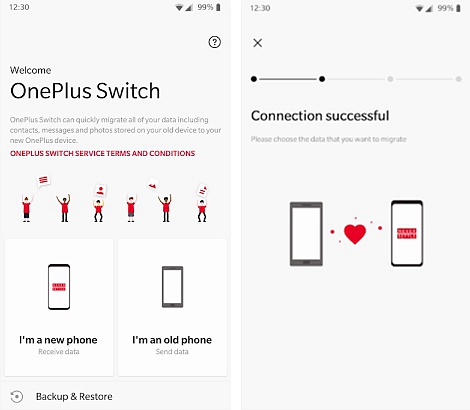 3. On the old Android phone, you need to tap on Start in the given app so that you can start the QR code scanner. Once it starts, you need to keep your camera pointed at OnePlus phone to capture the QR code.
4. Now it would be possible for you to transfer whatever data you want. However, you will need to select the data that you want to transfer. As far as the app is concerned, it will allow you to transfer the following data types:
Contacts
Call logs
Messages
Calendar
Pictures
Audio
Video
Applications*
Other files
With respect to applications, please note that you will get the apps without the saved App data.
5. Once selection is done, tap on Begin Migration. This is going to take time as there would generally be a lot of data that you want to migrate. Given the volume of data, battery in your phones may or may not endure till the migration is over.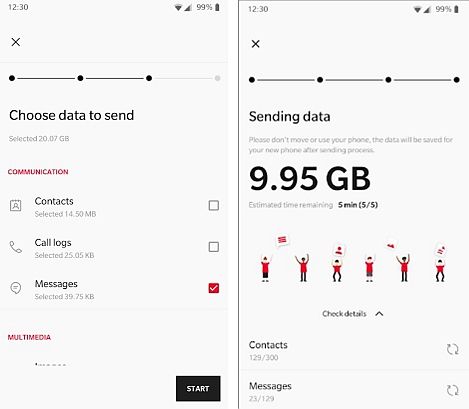 So it's a good idea to keep your phones on charge while the data migration happens. It will save you from any hiccups during the data migration process. It may take an hour or more time depending on how much data you have in your old phone. It's hard to say how much time will be required but you can rest assured that data migration will be smooth with the help of OnePlus Switch.
The work on making OnePlus Switch better is still on. Efforts are now being made to support older devices. The work is also going on to support iOS devices and procure saved App data.
How to Use OnePlus Switch to Backup and Restore Phone Data
To backup and restore phone data has become quite important in this age of electronic wear and tear. You can anytime need to reset factory settings due to repair or something else and you would be left wondering what to do regarding phone data.
There's one more problem in backing up and restoring phone data. Storage facility in smartphones has just got bigger. 128GB is no longer a surprise so if you decide to backup your phone data through a USB cable on to a computer, it would take ages to complete the task.
What's the way out then?
Only if you are using the OnePlus device, you are fortunate because OnePlus has got this amazing app called OnePlus Switch that you can use to backup and restore phone data.
Here's how you can use it to backup and restore phone data:
Back up Phone Data
For backing up your phone data, go to settings, then advanced and then tap on OnePlus Switch.
When you are there on OnePlus Switch app, you will see "backup and restore" right at the bottom. When you tap on it, you will see two options- New Backup and Restore Backup.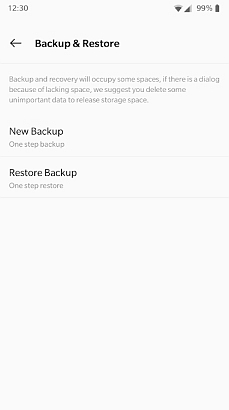 If you want to backup your phone data, opt for New Backup. Once you do that, you will be asked to select the phone data that you want to backup. At the moment, you can backup contacts, call logs, messages, notes, pictures, audio, video, applications and also something like ring tones which form the part of system info.
When you backup applications, you should bear in mind that you will not be getting any saved app data along with the applications that you backup.
Once you have selected the data you want to backup, you got to tap on Backup Now. The good thing is that the app also points out the size of the backup in the sense that how much of your phone data you are about to backup.
After backing up is complete, tap on Done. Your backup is done! OnePlus Switch will save your backup data in a folder named Backup/MobileBackup.
Restore Phone Data
As far as restoring your phone data is concerned, it can also be done quite easily.
Once you have completed the update or resetting your device, all you got to do is transfer the Backup folder mentioned earlier to your phone. Go to Backup and Restore and then tap on Restore Backup. Then select the files that you want to restore. Like magic, OnePlus Switch will restore all your data- contacts, call logs, messages, pictures, audio, video etc.
Parting Note
As it is evident, when you buy a brand new OnePlus 6T, OnePlus Switch is a fantastic solution as far as data migration is concerned. That's not enough; OnePus Switch is also great in the way it can backup and restore your data.
In the age of large amount of data that phones are designed to store and carry, it's difficult to tackle a situation wherein you lose data or have to manually backup on a computer through a USB cable.
At such a time, it's amazing how OnePlus Switch can save you from the trouble of migrating your data from the old phone in a painful way. Moreover, you can also backup and restore your phone data in a matter of a few simple steps.
What it accomplishes is that OnePlus Switch sets you free from the worries regarding your data and everything else. You can simply go ahead and enjoy your new OnePlus 6T!