Today, we will learn how to do some special tricks with the enhanced features the phone provides. These features include;
Taking Photos with Voice Command
Taking Selfies with gestures
Taking Photos with Voice Command
With the two 12 megapixel cameras that the Samsung Galaxy Note 9 possesses, it is no surprise that the phone takes incredible pictures. But that's not all, if you, maybe, decide to not want to use your hands, why not use your voice? This Voice Command feature was specifically
designed to help out with taking pictures as the Note 9 phone is a really big phone and can be quite a handful (literally). This feature is embedded in the Settings menu in the camera app, so you would need to go over there to activate the option.
3 Simple Steps To Enable Voice Commands On Samsung Galaxy Note 9
– Get onto the Camera App.
– Tap on settings (it is just at the top right corner).
– Search for the "Voice Control" option and tap on it when you find it.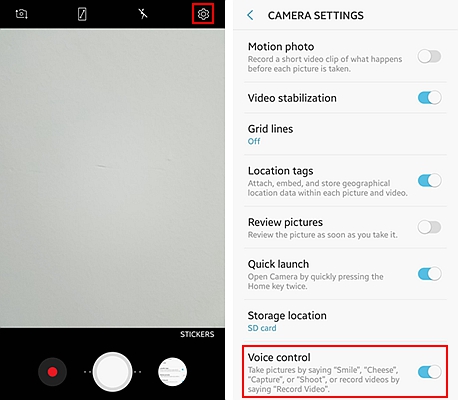 Once all these are done, you are ready to use voice commands to make your picture taking way more convenient and easier. To take these pictures, all you need to do is say "Cheese", "Shoot", "Smile" or "Camera". You can also record videos by giving the command "Record Video". These commands activate the Voice Control function for the camera, making it easier to have fun taking pictures with friends and more convenient due to the size of the phone.
Note
However, while enabling the voice control for your camera, you will also need to disable Bixby's always-on Voice Wakeup feature so as to prevent obstruction and to enjoy the camera voice command uninterrupted. Having both on is like putting on your Wi-Fi whilst sharing your hotspot or trying to put on your mobile data while on flight mode, they just can not work together.
Pros Of The Use Of Voice Commands For Taking Photos
– It is very comfortable and convenient, especially for such a big phone.
– It is easy to use.
– You can show off a bit. Yes I know it's not a good thing to brag but this is more feeling good in public than boasting of your possessions.
– It is fun, especially when you take pictures with your friends and family.
– You can even accommodate it with a selfie stick for an even more amazing experience.
– Comes in handy when you need to take a group photo with no one to help take it.
Cons of Using Voice Controls on Camera
Who says there are cons? This is simply mind boggling tech! However, as with other gadgets and their features, there is always a tendency for;
– Addiction.
– Boredom – It gets old.
– Laziness – It's just too easy, c'mon.
Taking Selfies with Gestures
Samsung Galaxy Note 9 also lets you take selfies using palm gusture or use the phone's heart rate sensor.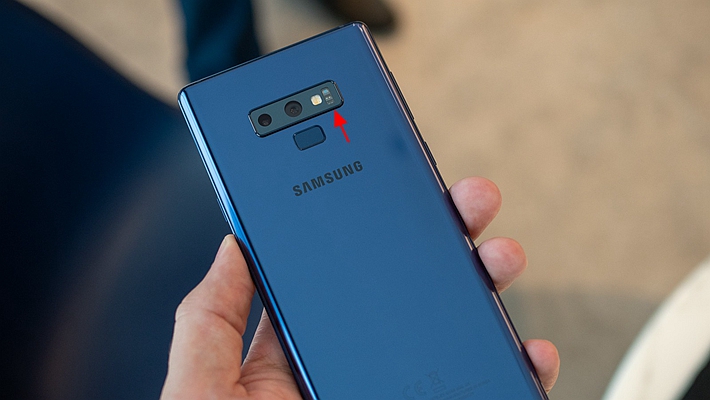 Steps To Activate Selfie Gestures
– Go To Camera and tap Settings icon
– Tap on Shooting Methods
– Switch on 'Show palm' and 'Tap heart rage sensor'.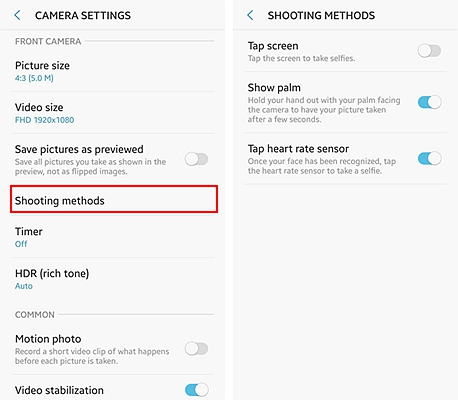 Since it supports the camera app, you can now proceed to take some really good selfies, which is great as with such a big phone, you can take selfies with one hand.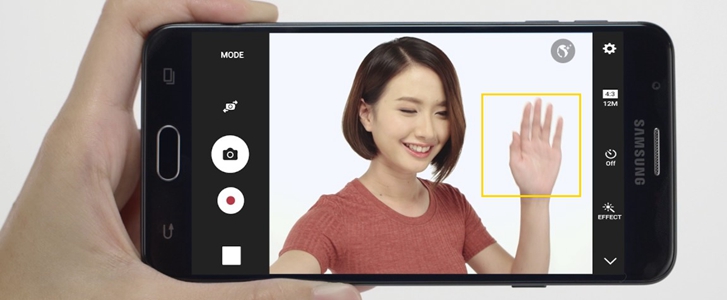 Pros Of Using Gestures
– It's very easy to use
– It's convenient
– You can take selfies with just one hand
– You can use the selfie stick.