There are a thousand and one reasons for downloading your Facebook Messenger chat history. Likely, you may wish to save a conversation from your Facebook Messenger or just have a backup to your messages away from Facebook. Maybe you could be having that bad habit of accidentally deleting messages from your phone. But now you can try to find a better way of keeping some messages or data safe from this discussion.
Whichever the case, you can achieve your objective only if you know how to go about. In this regard, Facebook has come up with a better option where you can download and save specific data among other things.
In this article, you will learn how to save Facebook Messages on your iPhone and Android, how to download a copy of your Facebook Messenger chat history and how to save photos and videos from Messenger to your phone automatically.
Download a copy of your Facebook Messenger chat history
Save photos and videos from Messengers to your phone automatically
Download a copy of your Facebook Messenger chat history
In this case, you can select the kind of data you want to download and then save it where you can retrieve when it is needed. The following steps will help you to download and save a copy of your Facebook Messenger chat history.
Step 1. You can access your Facebook App and then proceed to open the Menu located at the top right-hand corner of your smartphone screen. Then scroll down right to the bottom to tap on "Settings & Privacy" icon. Another screen or page will show up.
Step 2. On the new page, look for "Settings" and select it to get to the next form of action.
Step 3. Once the next screen appears, scroll downwards to find "Access Your Information". Go ahead and tap on "Download Your Information". A new page will open up with several options.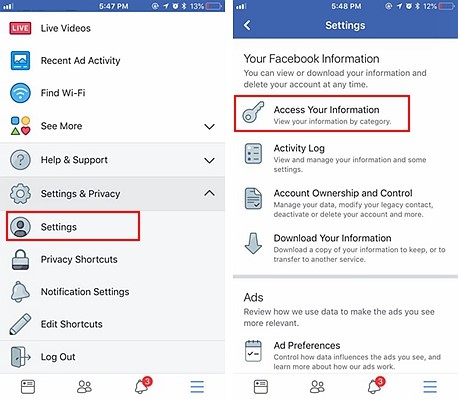 Step 4. Among the options on this page, select the appropriate data to be downloaded from your Facebook. At this point, click on the "Deselect All" before clicking on the "Messages" section in order to download your Facebook Messenger chats only.
Step 5. By now, you may scroll down to find "Create File" option and then tap it. Apparently, Facebook will start preparing to download your messages and the process will last up to fifteen minutes in relation to the size of your data.
Step 6. Before your messenger chats are downloaded, Facebook will send a "Notification" where you will be required to click in order to get directed to download summary. Scroll to click on the "Download" and wait for a short while as your Facebook Messenger Chats are being downloaded.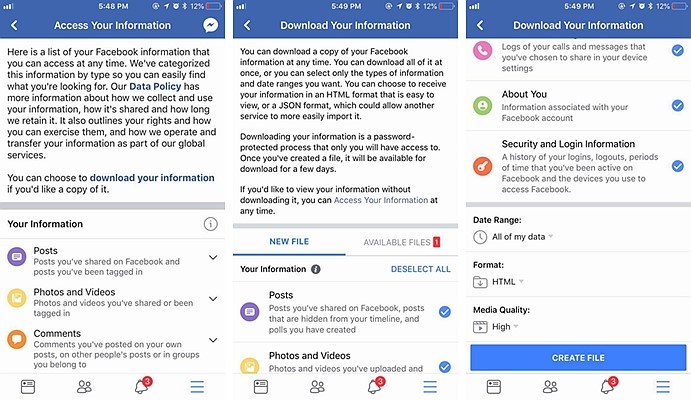 Save photos and videos from Messengers to your phone automatically
If you take a photo or video from your Facebook Messenger app and send to another user, there will be no video or photo saved on your device. But the app gives you an opportunity on how you can save videos and pictures on your camera roll for future access.
The following simple steps will help you to achieve your goals using either an iPhone or Android smartphone.
Step 1. To begin with, you need to launch the Messenger application on your iPhone smartphone home screen.
Step 2. After launching the app, go to the home screen and select the "Settings" tab.
Step 3. On the screen, go to "Save Photos to Camera Roll and turn it on. At this point, all your pictures taken inside your Facebook Messenger will be moved to Camera Roll and saved there.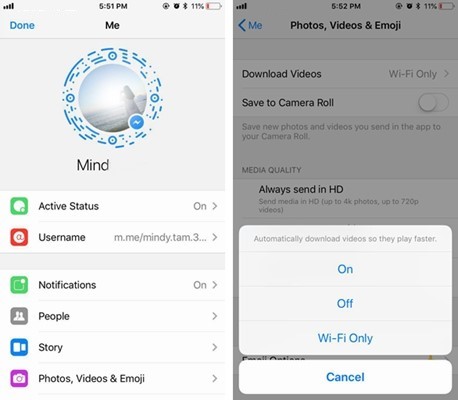 For the incoming photos from your friends, you can save them to the Camera Roll through this simple procedure:
The moment you receive a photo from the other person, you need to long-press on it and then select "Save". In this case, no prompt window will appear but the photo will be saved immediately after tapping save.
Conclusion
Facebook Messenger is an essential tool for both iOS and Android users. This is attributed to the fact that you can do a lot more with these wonderful operating systems. You can share photos, videos and most significantly, the text messages within the shortest time possible.
As technology improves, we keep on finding better ways of enhancing what it brings. Therefore, it is obvious that you can download and save your messages, videos, and photos using Android or iOS for future reference when needed.