Samsung Galaxy S10 comes packed with exciting camera features. Some of these features can only be found in this model only. If you want to learn new tricks and tweaks to use on your Galaxy S10 Camera, simply stay a while and follow along. You will be amazed at what your smartphone camera can do.
If you are a camera enthusiast and you would like to take advantage of the latest camera features, then I believe you should consider exploring the capabilities of Galaxy S10 Camera. The rear camera comes with a variable aperture and has a 12MP telephoto camera, a 12MP wide-angle camera and a 16MP ultra-wide camera. The front selfie camera has a resolution of 10 MP with autofocus feature which is excellent in capturing clear and balanced selfies, and an additional 8MP RGB depth camera for Samsung S10+.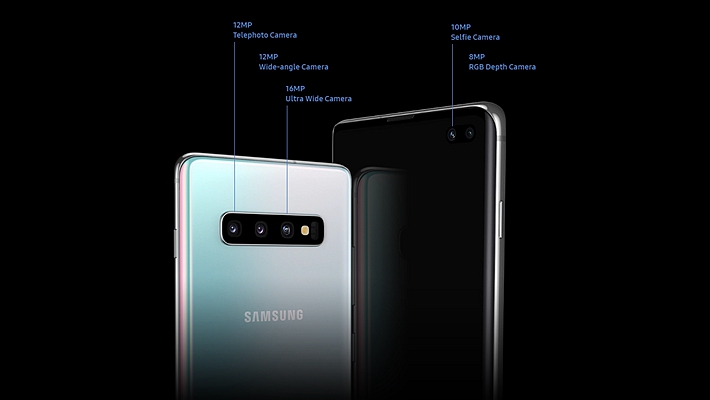 You could as well not be a camera enthusiasts in the strict sense but you love to take excellent shots from time to time. There are myriad instances when you may need to utilize your camera. It could be when you are vacationing in an exotic location or those still moments while you and your loved ones are relaxing at home. You may also intend to use the smartphone's camera to capture professional photos in official meetings and distribute them to your work colleagues or upload them on social media. All these can be done on your Samsung Galaxy S10 camera.
This article will give you three new Samsung Galaxy S10 camera features you need to know and leave you to try out these features on your own.
1. Use Live Focus to blur the background
2. Record Super Slow Motion video
3. Converting the Super Slow Motion Video to GIF
1. Use Live Focus to blur the background
Regardless of whether you are a professional camera person or you have little information on how to properly use a smartphone camera, the Galaxy S10 camera settings are easy to find and quick to implement. The camera comes with several shooting modes, one of these being the live focus mode.
Samsung-style Portrait mode
The live focus mode is used when you wish to focus on a specific object and blur the background. This is effective when your chief aim is to capture a person or an image and leave very few background details. It is ideal for taking photos in public places or when you want to add a certain level of art without laboring much.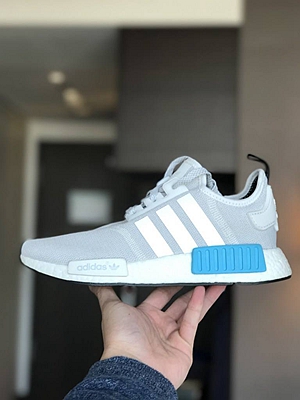 To switch your camera to live focus mode, follow the steps below:
1. Pull the application drawer and launch the camera app.
2. Swipe across the screen to access the different camera modes. You will get several modes such as Food mode, optimized for food photos, Hyperlapse, for time-lapse animations, among others.
3. Tap the Live Focus mode to activate it.
This mode uses the two rear lenses incorporated in the Galaxy S10 to bring the image to a clear focus. To achieve this, the two rear cameras converge their focus on the object at the center while giving lesser focus to the background. The resultant effect is a clear image with a stylishly blurred background. You can take several photos while at this camera mode and experience some of these artistic background blurs achieved using this mode.
Taking nice selfie
You can also use the live focus feature to tweak with selfies and get that ultimate selfie photo. One of these is the selfie focus which enables you to blur the background of a selfie and give a clear focus on your face. When you are taking a selfie, the live focus opiton is the same with selfie focus option on the earlier model like Samsung Galaxy S9, Note 9.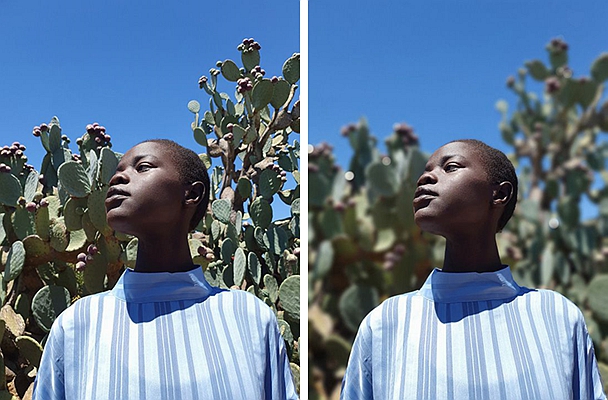 To accomplish this;
1. Launch your camera app.
2. Swipe upwards or downwards to switch between rear and front cameras.
3. Once you have switched to the front camera, select the Selfie focus mode from the different selfie modes listed at the top of the preview camera screen.
4. Adjust your face and camera and take several selfies. You will notice that unlike the normal selfie portrait photos, the photos taken while this mode is on, have a blurred background.
2. Record Super Slow Motion video
With Samsung Galaxy S10, it's easy to record super slow motion and convert such videos to GIF. To achieve this, you will need to first switch the camera mode to Super Slow-Mo which will allow you to record slow-motion videos. The in-built hardware circuitry powering the camera is quite powerful and switches to 960 frames per second capture rate once the camera is switched to the super slow motion mode.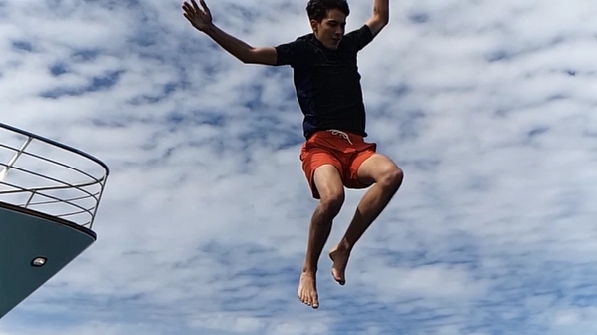 Compared to the usual video shooting rate of 30 frames per second (fps), the 960fps is ultra-fast and consumes much storage space. You may, therefore, find out that you have filled u your storage space quickly if you do a video spanning several minutes while the camera is in the super slow motion mode.
During the playback session, the frames captured at the rate of 960 fps are played at the usual speed of 30 frames per second. This implies that the motion captured during the super slow motion recording is played at a slowed speed of 960/30 which gives a factor of 32. With such a speed, a video which was recorded on the super slow motion mode for 1 second takes 32 seconds during playback.
To switch to Super Slow-Mo mode, launch your camera app and swipe across the screen. Look for Super Slow-Mo and select it.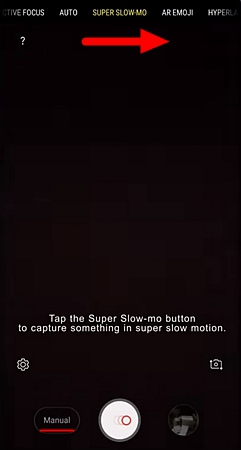 Once you activate this mode, you will get an option for auto/manual recording modes. When the auto mode is selected, the camera automatically detects any motion within its area of focus and starts recording the video immediately. The manual state allows you to manually start and stop the video recording process.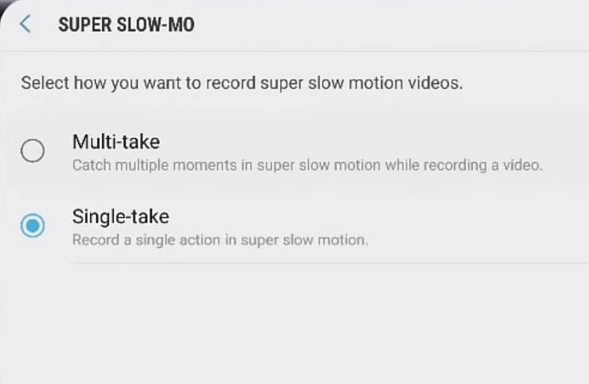 3. Converting the Super Slow Motion Video to GIF
After you have recorded your video you can easily edit it and share it with your friends or even change it to a GIF. To edit the video follow the steps below:
1. Tap the three overlapping circles at the center of the slow motion video thumbnail to launch the video editor.
2. At the bottom of the video editor interface, look for a scissors-shaped icon. Select this icon to edit the start and the stop point of the video clip.
3. Save the edited video by tapping the "Save" icon at the top right side of the screen.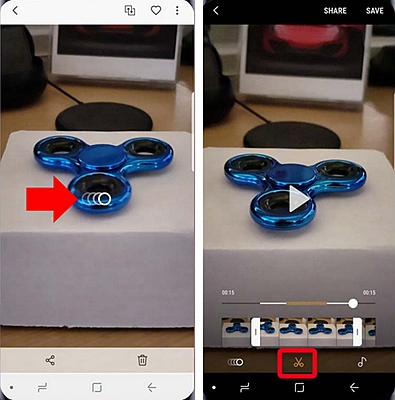 4. After trimming the clip to your desired length, you can easily convert the video to GIF file. To do this, open the gallery app and highlight the clip.
5. Click the details icon on the upper right side of the gallery interface to get extra details about the selected file.
6. At the bottom of this screen, you will see three GIF options. These include Loop, reverse, and swing. Choose your desired GIF option. Once you are done, tap the "save" button to save the new changes.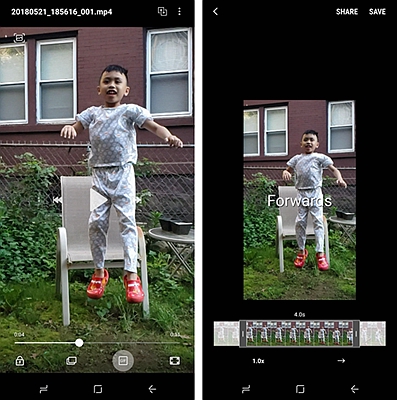 Conclusion
You have got some of the new Samsung Galaxy S10 camera features you need to know. You will agree that these camera features are not only intuitive but give you more control over your smartphone camera. Enjoy these new camera features and shoot amazing photos and videos to share with your friends and network or just to preserve them for yourself and your posterity.