You might know that the Galaxy Note 9 is the most powerful phone on the market today. You get all the fantastic capabilities in one slim and elegant package. It has large memory capacity, followed by strong ram capabilities, incredible cameras front and back, and an S Pen. The S Pen is included when you buy the smartphone it is put in specially designed space in the structural phone body. With excellent style and yellow color. But it is not only for writing as we would expect from a pen. In fact, it does much more, you can use it as a remote control for the camera, presentation aid, change your favorite tracks when listening to music.
The Galaxy Note 9's new S Pen works with Bluetooth technology, so it can be used remotely but not from a very great distance, maybe in time this will come, but not at the moment. It has a battery in it, and you can charge it inside the phone, and it only takes for about 40 seconds which great, you don't need your phone to be charging it uses the power of the phone's battery. You can customize your settings on how you use your S Pen. If you have a talent for drawing or your kids, need something to keep them occupied, give them your smartphone and let them use the pen. When you have disabled power saving, you can use other pens, but when is enabled you can't. You can edit and share pictures or other digital media you use. Tired of typing messages, you can use your pen just pull it out go to your apps and start writing. It accurately transforms your writing into typed messages.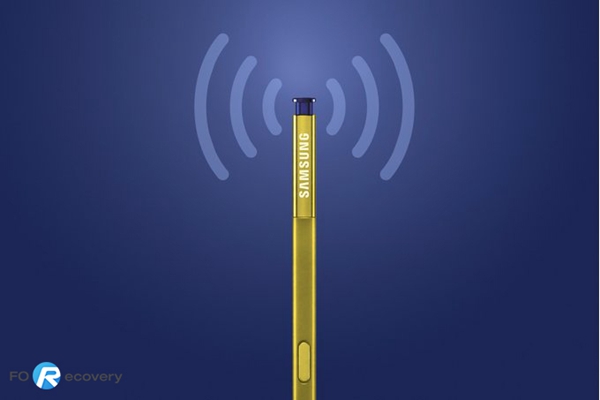 Now let's go over the 5 Best Features of the New Bluetooth S Pen. We have chosen what you can do with your Samsung Galaxy Note 9. Here are the 5 Best Features of the New Bluetooth S Pen.
Use S pen remote controls
Write Screen Off Memo
Custom your Air Menu
Single and double press action
Unlock your phone with S Pen
Use S pen remote controls
To do this first, you must go into setting and activate remote controls into the S Pen menu. Now you are all set for successfully use of this feature. Your pen interacts with the screen and all of its features. You can check it out with your camera, let's be honest you'll use it often. Just make sure you've enabled it in settings. Otherwise, you can't use it. It does not stop there almost every function can be done with the remote controls of your pen. Not only limited to taking pictures but writing, presenting, phone security and many more. Just don't forget to have it charged.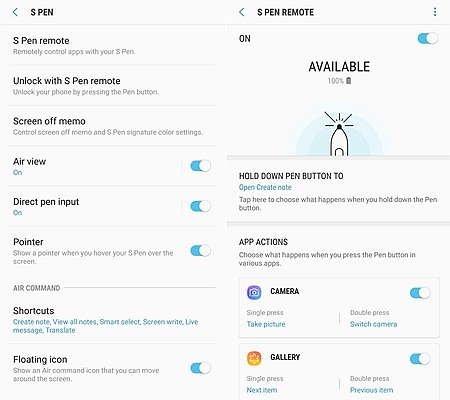 Write Screen Off Memo
You need to write something in a hurry, and you don't need to unlock your phone. To do this, you must activate the feature in your device settings options, go to Lock Screen and select action memo on the lock screen. When this is enabled just to pick up your smartphone take your pen out and start writing immediately.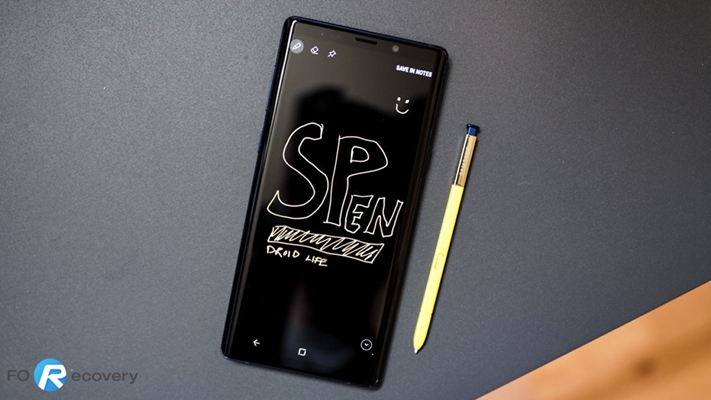 Go and activate the signature S Pen color and the text you're writing will be the same color as your pen. All the text you've written is automatically saved into your notes. It can come in handy, just imagine rushing your way on foot, and you need to unlock your phone, go to "notes" and type all the information. You can write whatever you want, no more hustling this feature covers that.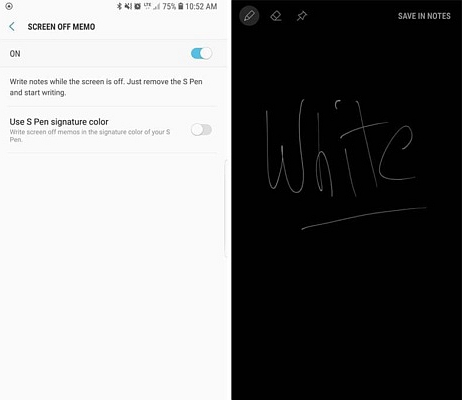 Custom your Air Menu
This smartphone has Air Menu command, this feature allows you to access the s pen features faster. It is automatically activated when you take out your S Pen. You can customize your menu, just go and tap on the settings icon it is located in the left corner when you open the Air Menu. Next, choose what app you want, and it will be added to your customized list. To check if you were successful just see your menu list. an is as simple as you can see. You can change the icons positions, which one to be higher or lower, just as you like. They made it so user-friendly, and it saves you time and losing yourself when you are tired, working or just need to do things fast.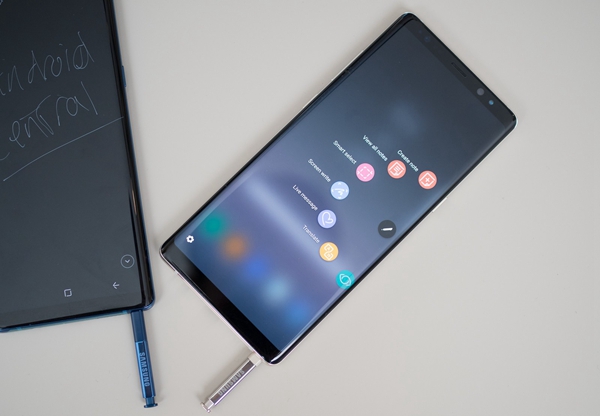 Single and double press action
When you press the pen button one, it takes you a photo, and by pressing it twice, it changes between your front and back camera nice right. As mentioned if you are using your media you can also find your pen helpful. You can just play or pause your video, and if pressed twice as we said earlier it changes your music or video track. You are recording voice and can't hold your phone close to you, no problem it's the same as before press one, and you start recording, press again you stop. When presenting something on your smartphone, it can be annoying to scroll every time. The S Pen comes into play again press one for new and double press for the previous slide. This same procedure is also used in your gallery while looking at your pictures. You can set it when pressed long to take immediately to your camera or some other app of your choosing.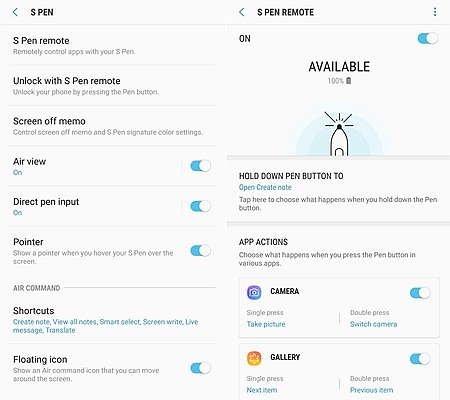 Unlock your phone with S Pen
Phone safety can be improved with your pen. You can use it for unlocking. First, you'll remove all other security measures and again only by using your pen will have access to your home screen. You can individually customize how many times you will press for designated command. It can be set to one, two or long pressing, and all that, especially for every app. So we see that the S Pen has a lot of exciting and practical ways for a user to have a more relaxed experience. By taking the full advantage of the features of the pen, you will have several ways of doing different operations with a smaller amount of time.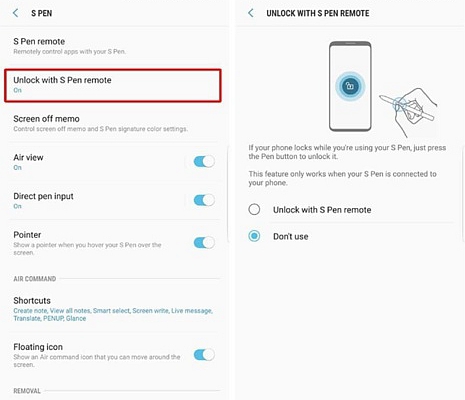 We covered the most essential features of the Galaxy S Pen. There are many possibilities for its usage. It indeed is a beautiful invention and addition to Note 9. If we forget to mention something it ok, with so many features. Now take your smartphone and pen and start applying some of the tips we shared here. You'll experience what we were talking about and why this is so helpful. Maybe you will be inspired to discover some new features or use your pen in a different way altogether. Remember to check the About S Pen settings on your phone they are great beginners guide to its practicality and features.