Samsung Galaxy Note 9 is a spectacular phone designed to perfection. It's great for professionals, and for anyone looking for a great high-end smartphone. When you have a good smartphone, it's easy to be extremely reliant on it. And while that is great, it may not be the best thing to do if you aren't so sure about its security.
If you own a Samsung Galaxy Note 9, and fear it being stolen (which is a possibility), then ensure that you have got the right security measures tucked in. And in this article, we will guide you to do that.
The First Step
What does the Service do anyway?
How to locate and lock my phone?
Other Uses of the Samsung's Find My Mobile Services
The First Step:
As soon as you get your Galaxy Note 9, you'd be setting up your own Samsung account, just like in any other Samsung device. Now this is the account that will help you in connecting with the Samsung Find my Mobile Service.
Go to the Setting Menu on your Note 9, and select 'Lock Screen and Security'. This will open up a page with different categories. Click on the Find my Mobile feature. Now that the page for it has opened, you'll see a whole lot of options and your Samsung Account information on top. Enable all the options.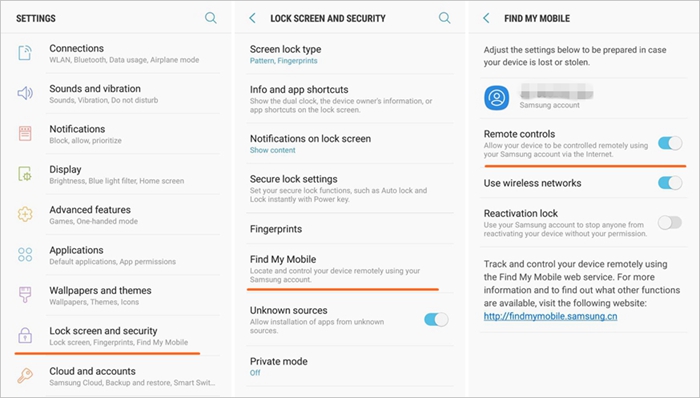 What does the Service do anyway?
One of the main things at risk when you lose your phone is your data. It is true that it would be quite heartbreaking to lose a phone that did cost you a good amount, but data is invaluable. So if somebody did you steal your phone, or if you lost it and somebody has got access to it now, then you need to make sure that the data in the mobile phone is protected at all costs.
So when your phone is no longer in your pockets or vicinity, you need to get to work right away. Overall Samsung's Find my Phone services is all about offering remote security control over your device.
And if you misplaced your Galaxy Note 9, then you can either wipe the data remotely, or ring your phone. And also interestingly, you can track the location of your device.
How to locate and lock my phone?
As soon as you realize that you've lost your phone, go to your PC, open the internet browser and type 'Samsung Find my Mobile Service'. Now open the website and log into your Samsung account. As soon as you do that, a map should show up, click the Switch map button to find the previous and current location of your Galaxy Note 9 (Google's Android Device Manager helps you track your phone).
If the location shows up, and you know the place, then go there and retrieve your phone. In case you think it had been stolen, then avail police assistance rather than going to the spot alone.
In case the location is not visible on the map, you have got three options to choose from:
Ring my Device: This option is for when you think that there is a high possibility of you misplacing the phone, i.e. – it's somewhere nearby and you'd like to find it by your ringtone.
Lock my Device: Well, now that you have remote access to your Note 9, you can lock your phone without having any physical access to it. Chances are for you to have misplaced it while leaving it unlocked. Or maybe you never had any password to begin with.
Wipe my Device: This option is for when you have lost all hopes in finding your device. Select the wipe my device option to clear all the data in your phone to protect the most precious aspect of your personal device.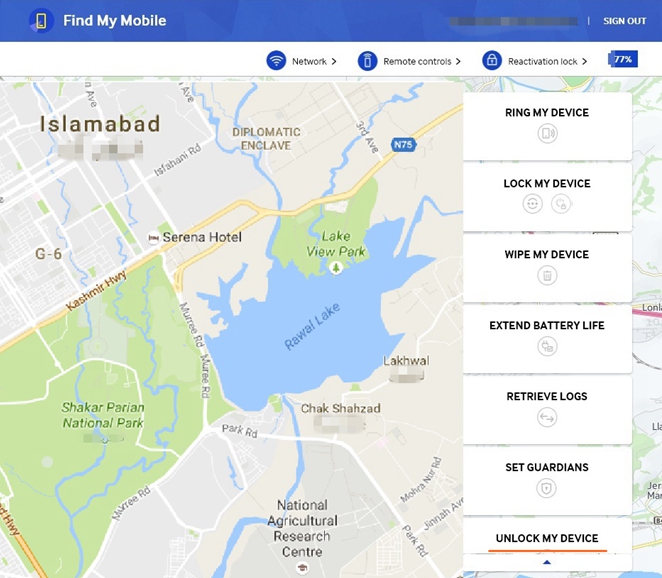 Other Uses of the Samsung's Find My Mobile Services
How to unlock my Samsung Galaxy Note 9 if I'd forgotten my password?
While this features of Samsung is great for locating the device, and has in fact helped thousands out there, the Find my Mobile service is not just about locking the screen, or wiping the data, or tracing the phone when stolen or misplaced.
Too often, many find themselves in a grim position when they forget their phone's password. This is extremely frustrating, and after a certain number of attempts, you can't try anymore due to security reasons.
In that situation, it is only wise that you don't let anyone else gain access to your phone to help out. Rather, simply follow the most secure method.
Log into your Samsung account on the Find my Mobile site, and click on 'More', now click on 'Unlock my Device'. Once you do that, your phone will be unlocked in a few minutes and a notification will appear. However, you might have to wait it out if your network connection is poor.
Whether your Note 9 is stolen or if you've misplaced it, it can be quite disheartening but you must be on your feet to protect the personal data.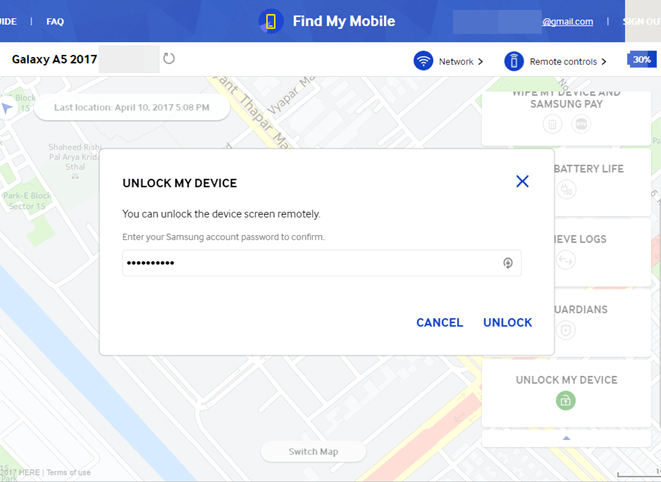 The Samsung Find my Mobile service is a great feature that you should consider enabling on your phone. The steps are simple, and it is all about turning on those toggles. Benefit the most out of this option by enabling all the options under Find my Mobile option, and also by familiarizing yourself with all the options offered by Samsung.