Every action taken while on social media has implications. However, on Facebook, you have the power to control these implications. For example, you can control the friends who can view and share your posts. If you post a picture of your family on holiday I am sure you do not want everyone to be viewing or sharing their pictures since you want to protect them.
It is possible to change your audience each and every time you post on your timeline. This can be done quickly by clicking on the question mark symbol and adjusting who can see your posts or send you Facebook friend requests.
You can also restrict your posts such that they will not be viewed by the various Facebook groups you have joined. Imagine a scenario that you called your boss and said that you are sick then later you decided to go out. If you decide to post that picture while you are having fun, it's only logical that you do not want your colleagues to see that post. For this reason, it's wise to implement this restriction either per the given post or you could make it an overall option.
Privacy Checkup
Limit Who Can See Your Past Posts
Remotely Log Out
Privacy Checkup
The fact that every action while on Facebook has sharing and privacy implications that you need to consider before posting on Facebook is very helpful. When posting a selfie or a family picture of you and your kids, consider which among your many Facebook friends could share it.
There have been a lot of demands from governments and Facebook users around the world to regulate the process of securing Facebook accounts. Due to this pressure, the process of managing Facebook privacy is now easier.
The process includes basic privacy options and advanced privacy options:
Basic Privacy Options
This a user-friendly guide which lets you regulate who can see your posts and send you friend requests. You can even block users using the question mark symbol.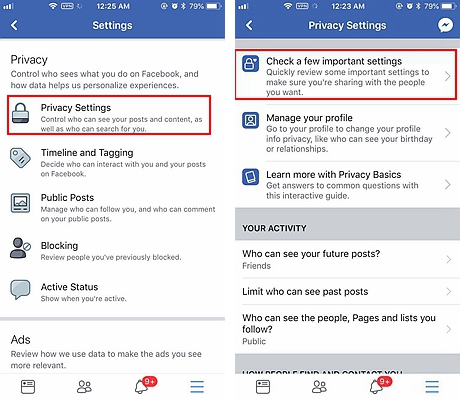 The basic privacy option allows you to secure the following:
– Posts – Check the default sharing setting and select the Friends setting which we recommend over the public option. Celebrities and people who use Facebook pages to generate business interest can choose the public option.
Using the custom option you can exclude some of the Facebook friends whom you do not want to see your posts. This option comes in handy if you only want a certain group of your friends to see your post. For example, if you only want your college friends and classmates to see your late-night party escapade photos while at the same time hiding the post from your colleagues at work.
Remember you can always change the sharing setting at any time. This can be done by clicking the sharing button situated on the left of the post button.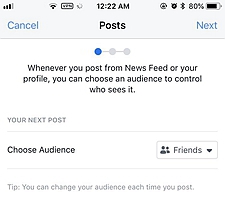 – Profile – You can restrict the personal information you share on your Facebook profile. For example for your birthday, you can leave out the year you were born but you can include the date and the month you were born in. In this way, your Facebook friends will be able to wish you a happy birthday without knowing your exact age.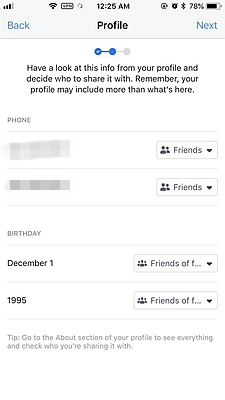 – Apps – This setting helps control which friends can see the apps you have installed. All the apps including that Candy Crush that you really enjoy playing — or the Instagram you forgot all about — has a permission to post to your friends not unless you instruct it otherwise.
You can even delete the app if you no longer use by clicking on the x button.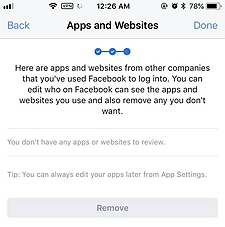 Advanced privacy option
The advanced privacy option lets you exert more control over what you share and whom it is shared with. It's always wise to review this at least once every year. The setting allows you to do the following:
– Restrict the people who can see your stuff.
– Review past posts and posts that you have been tagged in the past. You can even remove embarrassing tags that you were tagged by that distant friend in college.
Limit Who Can See Your Past Posts
You can limit the people who can view your old posts on your timeline. This reverts all your old posts from the public setting to friends setting. However, if you tagged a friend in the post, their friends can still see it since it is the default setting for tagging friends.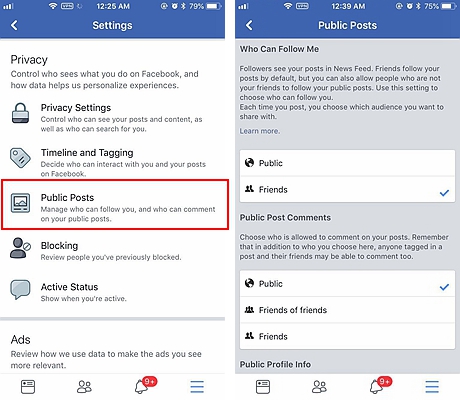 Remotely Log Out
On a mobile phone:
– Open Facebook.
Depending on the mobile device you are using, the tap button is either located on the bottom right corner of the iPhone screen. It is located at the top of the Android screen.
– Tap on the Settings > Security > Security and login.
You will then see the option 'Where you're logged in'
– If you wish to log out, tap on the 'Log out' button located on any locations you want to log out. Every item on this list corresponds to any device which you have used to log into Facebook. Tapping the 'Log out' button will close both the session on the device. It will also remove that item from the list.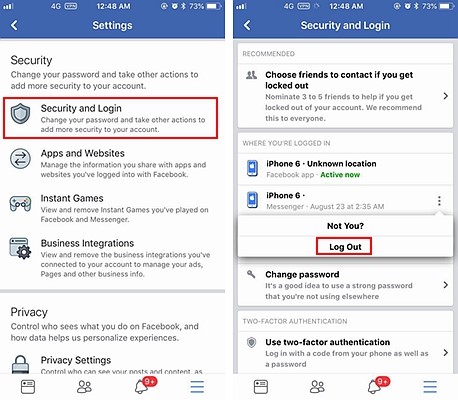 On the desktop:
– Go to the Facebook webpage.
Click on the setting, then click on the security tab located on the top left side of the Facebook page.
– Click on the where-you-are-logged-in tab which is located towards the bottom of the options page.
Select a platform and click on it. The Facebook desktop organizes log in sessions by devices used to log in. selecting one lets you see all the instances you have logged into Facebook using your selected device.
– To log out of Facebook, click on 'Log out'. This will log you out of Facebook from the locations on your selected device. This will also remove the item from the list.